On September 8th, Lynk & Co 08 was officially launched in Beijing, with prices ranging from 208,800 to 288,000RMB. The prices for the 5 models are as follows:
The 120 Long-Range Pro is priced at 208,800RMB,
The 120 Long-Range Halo is priced at 215,800RMB,
The 245 Super-Long-Range Halo is priced at 235,800RMB,
The 220 Four-Wheel Drive Performance Halo is priced at 261,800RMB,
The Time-Limited Edition is priced at 288,000RMB.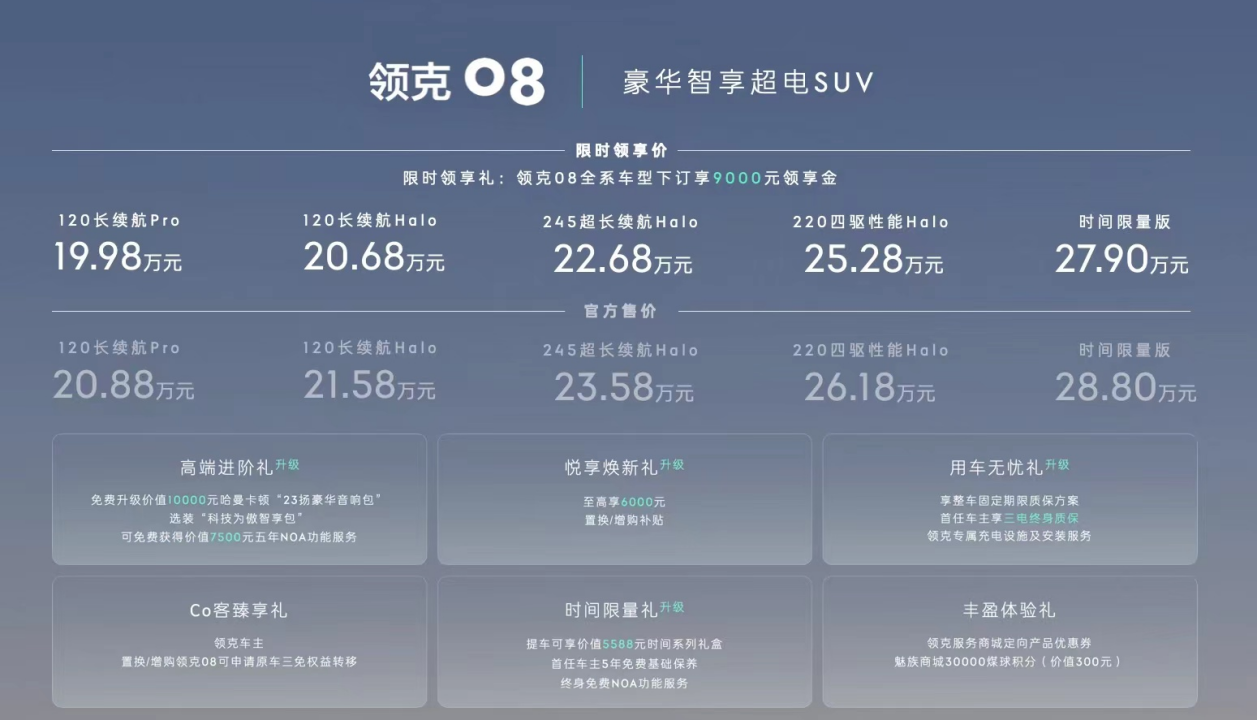 However, Lynk & Co also released a limited-time discount of 9,000RMB, so the actual price range for booking Lynk & Co 08 during this period is actually 199,800 to 298,800RMB, which puts the Lynk & Co 08 into the price range of less than 200,000RMB, although it's just a step away from 200,000. In addition, during the limited time period, Lynk & Co 08 can also be upgraded for free to a high-end upgrade gift package of Harman Kardon 23-speaker audio worth 10,000RMB, a swapping purchase gift worth up to 6,000RMB, and a worry-free car using gift of three-electric lifetime warranty policy for the first owner.
As the first new energy strategy model based on CMA Evo architecture by Lynk & Co, the Lynk & Co 08 has many highlights. For example, Lynk & Co's latest design language, the industry-leading Flyme Link car internet ecosystem, and the EM-P super extended-range electric solution, demonstrate a very comprehensive and excellent product capability. It's clear that Lynk & Co 08, as a very important product during Lynk & Co's transition to new energy, has made significant investments in design, power, and intelligence.
Lynk & Co's Brand-New Design Still Appeals
As the first mass-produced car after the evolution of urban opposition aesthetics, Lynk & Co 08 adopts the design language of the concept car The Next Day, guided by the Swedish Styling Center, achieving a good fusion of fashion, personality, sports, and technology. This not only ensures the recognizability brought by the brand-specific design elements, but also has the technological elements that a new generation of smart cars should have.
The horizontal front light strip has multiple light effects, coupled with daytime running lights called the light of dawn officially, showing a strong sense of the future. However, what deserves the most praise for Lynk & Co 08 is the side design. The body size of 4,820 mm makes it look very slender, and the design tends towards simplicity, such as frameless outer rearview mirrors, flat side windows, hidden door handles, etc. Of course, the most eye-catching is the design of the outer rear-view mirror pillar, which not only stands out but also hides sensing hardware like cameras well.
But for Lynk & Co, the exterior design seems to always draw debate, and the design language of the 08 is no exception. However, such controversy certainly won't carry over to the interior, where the Lynk & Co 08 continues to maintain a consistently excellent sense of refinement while also excelling in creating a technical ambience. The cockpit design of the Lynk & Co 08 features a technology-floating-island as its core, integrating AR-HUD and high-quality sound seamlessly.
Moreover, as a smart luxury mid-size SUV designed for families, the Lynk & Co 08 also boasts quite a spacious interior given its wheelbase stretches to 2,848mm. Lynk & Co claims that the 08 has a space utilization rate of 71%, comparable to that of a long-wheelbase model from top-tier luxury brands.
Based on this, the Lynk & Co 08 has created an egalitarian space experience. The entire vehicle features light-embrace-type Nappa high-grade leather seats, with both front seats supporting heating, ventilation, and massage functions, and the rear seats supporting massage functions, truly achieving comfort parity between front and rear seats. Unique among its peers, it also has quad-seat massages, accompanied by a luxury Harman Kardon 23-channel sound system with a 1600-watt speaker power, 7.1.4 channels, and four virtual venue modes.
Debut of 7nm mass-produced chip, intelligence no longer a weak point
In the field of intelligence, Lynk & Co has shouted the slogan "far ahead and still ahead". Their confidence is rooted in the Lynk & Co 08's onboard, China's first proprietary vehicle-grade 7nm mass-produced chip – Longying No.1. These dual chips are integrated with the Antola 1000Pro computing platform, with an NPU computing power reaching 16 TOPS, all processing capabilities are industry-leading, fully meeting various cabin intelligence needs.
Based on this, the first Lynk & Co 08 is equipped with a new intelligent car machine LYNK Flyme Auto. Not only is the system operation "as smooth as a flagship phone", but it also achieves features like natural air conditioning, a full-view mirror, small window mode, and smart navigation bar. Moreover, the Lynk & Co 08 is also the first to equip an industry-leading mobile phone and car machine interconnection solution – Flyme Link, allowing users to enjoy a seamless connection between hand and car, achieving full sharing of applications between the mobile phone and the car machine, as well as flexible invocation of hardware and software, satisfying more intelligent and diversified user needs.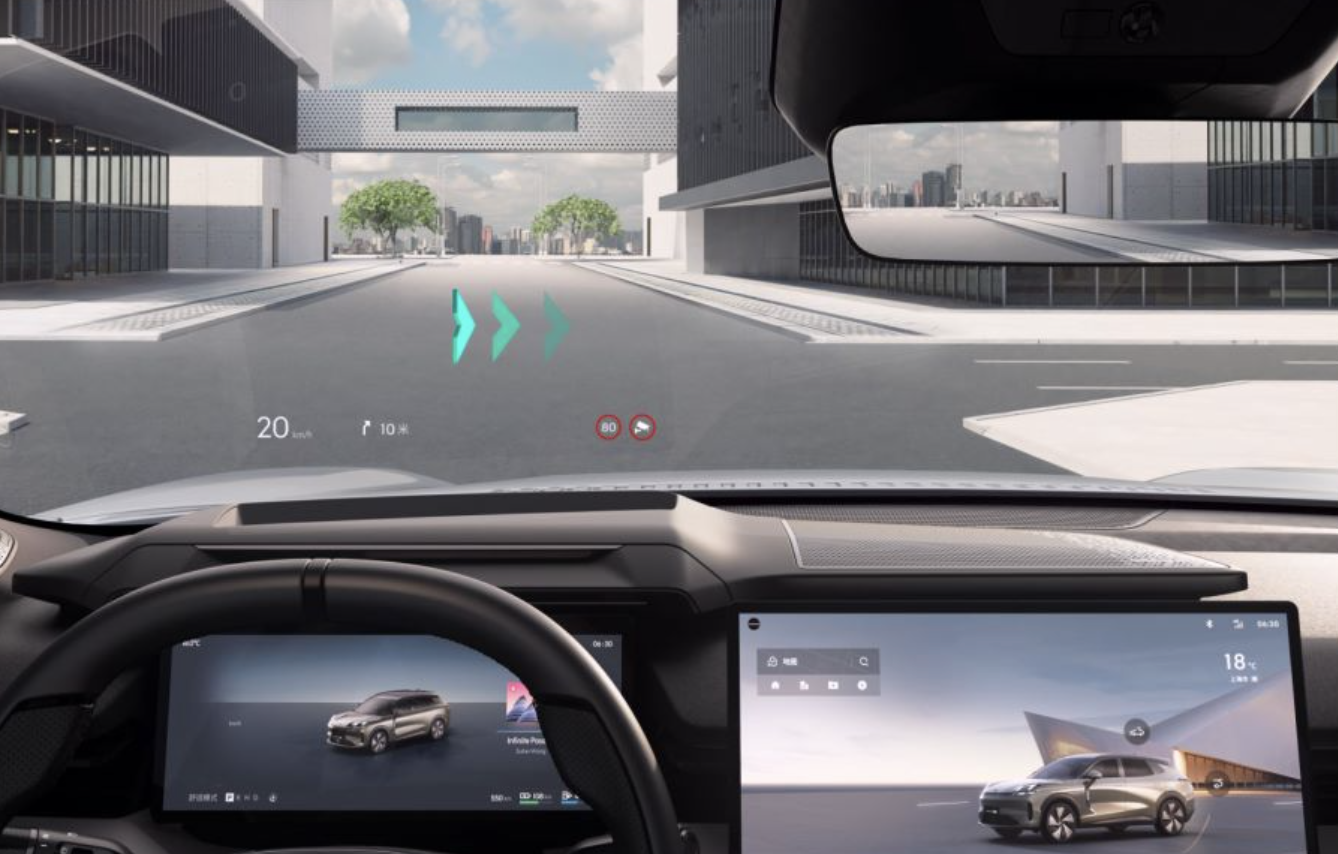 Driving assistance also only announced hardware information this time. The Lynk & Co 08 is equipped with the Huashan No,2 Intelligent Driving Platform, equipped with two A1000 integrated chips for parking, with a total power of 116 TOPS. There are a total of 5 millimeter-wave radars, 4 panoramic cameras, 6 omnidirectional perception cameras, and 12 ultrasonic radars for perception, which can achieve high-speed navigation-assisted driving based on high-precision maps, but needs to wait for subsequent OTA to activate.## The New EM-P Hybrid Solution: 0-100km/h in just 4.58 Seconds
Representing Lynk & Co's first step towards intelligent hybridization, their model 08 boasts innovation in its power configuration. Integrated with the EM-P super range extender electric solution, it incorporates a series-parallel structure. The system supports a three-motor four-drive configuration, with the P1 motor primarily generating electricity and supplementing torque during sudden acceleration. In contrast, P3 and P4 serve as the main drive motors, working in parallel with the engine. This is complemented by a 1.5T four-cylinder hybrid engine range extender, with the system delivering a combined power output of 436 kW, and a total torque of 905Nm. Lynk & Co asserts that the car can reach 100 km/h in just 4.58 seconds.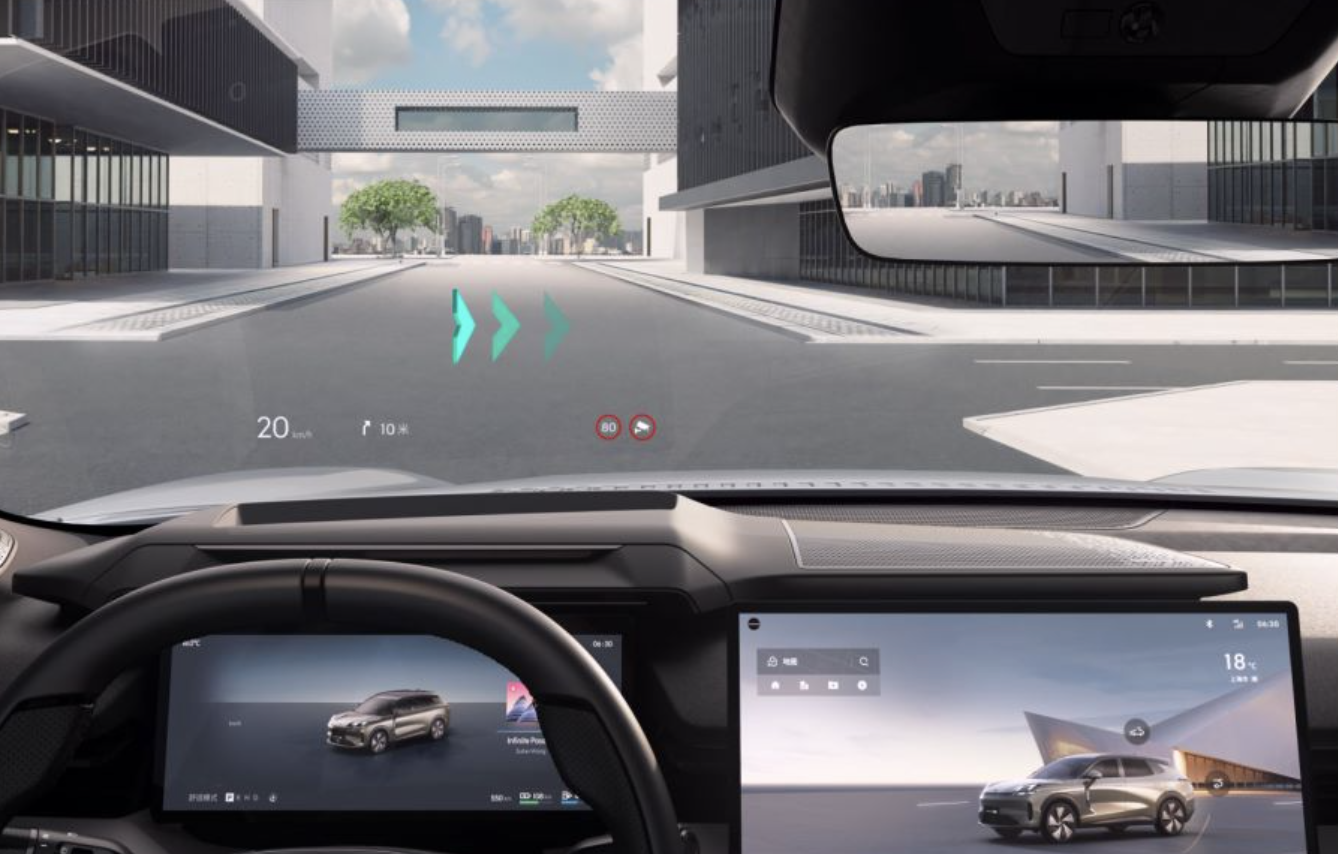 Though the structure seems vaguely reminiscent of Galaxy L7's Thor hybrid, they differ considerably in structural design, motor placement, and power output. For instance, both have three-gear transmissions, but their internal structures are distinct. The Thor deduces from the planetary gear structure, while Lynk & Co 08 features the parallel shaft scheme. Engineers confirm that the parallel shaft transmission offers higher efficiency ensuring superior power response while also maintaining fuel economy.
Lynk & Co offers a specific reason for their choice of P3 over the commonly seen P2 in plug-in hybrids – P3 can directly drive the wheels, which results in higher transmission efficiency. Moreover, it accommodates larger motors ensuring better performance under electric power. Given its impressive power and SUV configuration, the vehicle provides a strong acceleration sensation.
In terms of electric capabilities, the model 08 from Lynk & Co comes with a 39.6kWh ternary lithium battery pack, offering 245km of pure electric range as per the CLTC. It's currently one of the best in hybrid electric range. The fast charging power can reach up to 85 kW and can output an external power of 3.3 kW, ideal for camping essentials like induction cookers.
Conclusion
As Lynk & Co's most noteworthy product this year, the 08 model showcases a remarkably comprehensive product strength. Plug-in hybrids around a price point of 200k are rare, and none are as all-encompassing as the model 08. In design, finesse, intelligence, and power, Lynk & Co 08 is undeniably leading in its price range. The starting price of just under 200k boosts its competitive edge even further. As long as Lynk & Co can maintain the delivery schedule, the model 08 has a highly promising prospect of becoming Lynk & Co's best-selling product, accelerating the journey towards a sales volume of one million units.
This article is a translation by ChatGPT of a Chinese report from 42HOW. If you have any questions about it, please email bd@42how.com.