Author: Bai Zhengming
Hybrids truly possess a magical charm.
Hybrids seem to eliminate all bottlenecks in the development of the automotive industry, making the imperfections of pure electric vehicles negligible; they appear to be the optimal solution of the present era.
Chery, embarking on a comprehensive new energy transformation for all its brands, also prioritizes hybrids. Starting from the fourth quarter of 2023, the most popular Chery models will have C-DM hybrid versions, heralding a new era for this self-proclaimed "scientific and technical" automaker.
Let's review the four key technology areas under Chery's new energy strategy.
Mars Architecture: comprising the Physical Platform Architecture, EEA 5.0 Electronic Architecture, Chery-OS, and chipset;
Kunpeng Power: including hybrid-specific engines, hybrid transmissions, electric drive, batteries, and 5 core technology domains of hydrogen energy;
Majestic Lion Intelligence: covering intelligent cabins and autonomous driving;
Galaxy Ecology: focusing on intelligent cloud platforms, smart data, intelligent upgrades, and ecosystem partners.
The long-awaited E0X electric platform and the newly introduced super hybrid platform are the two major achievements resulting from the Mars Architecture.
Chery's E0X platform stands out in driving experiences, covering A+ ~ C class SUVs/SDs/MPVs, offering five, six, and seven seats. Additionally, it features optional 180-degree rotating seats, zero-gravity seats, 1000 TOPS autonomous driving, and Chery Smart Cabin 6.0.
The platform provides both pure electric and range-extended modes, achieving over 700km of range, 150km of driving energy replenishment in 5 minutes, 3 seconds of 0-100km acceleration, and 12kWh/100km energy consumption. The first vehicle based on the Chery E0X platform will be launched in the market in the fourth quarter of 2023.
Chery's third-generation super hybrid platform focuses on power, range, economy, comfort, driving control, and safety, while also offering intelligent four-wheel-drive across all terrains. Notable potentials include a 0-100km acceleration as fast as 4.26s, a 37kWh battery providing a 165km pure electric range, over 1400km of total range, and a fuel consumption of 4.2L/100km when charging.
Chery's Super Hybrid platform also boasts high adaptability in both form and powertrain, covering A to B class sedans, SUVs, and MPVs. It supports various seating options, such as five, six, and seven-seat configurations, and is compatible with 1.5T to 2.0T hybrid engines. Additionally, it can be paired with hybrid transmissions offering varying power and torque in 1-speed and 3-speed options.
Built on this hybrid platform and powertrain, Chery introduces a new marketing term – C-DM High Performance E-Hybrid, with CDM standing for Chery Dual Mode. High performance is the key advantage of C-DM: it takes 3 seconds to accelerate from 30km/h to 70km/s and only 3.6 seconds to go from 90km/h to 120km/h. Clearly, the ride will be a breeze.
By 2024, Chery will launch over 20 C-DM models, including new vehicles such as Starlight Jasper, Chery Tiggo 9, TJ-1, and Jetour Voyager, as well as iterative products for the Jetour X70 and X90 series.
With Chery's technological approach and product blueprint for electrification established, it's time to delve into its accompanying intelligent solutions.
Chery's intelligent cockpit and autonomous driving are overseen by Xiongshi Technology and Dazhuo Intelligence, respectively.
Their leaders have impressive backgrounds: Xuebin Wu, who returned from overseas studies, leads the intelligent cockpit, while Junli Gu, who has previously contributed to the research and development of autonomous driving systems at Tesla and Xpeng, is now paving the way for Chery's journey towards autonomous driving.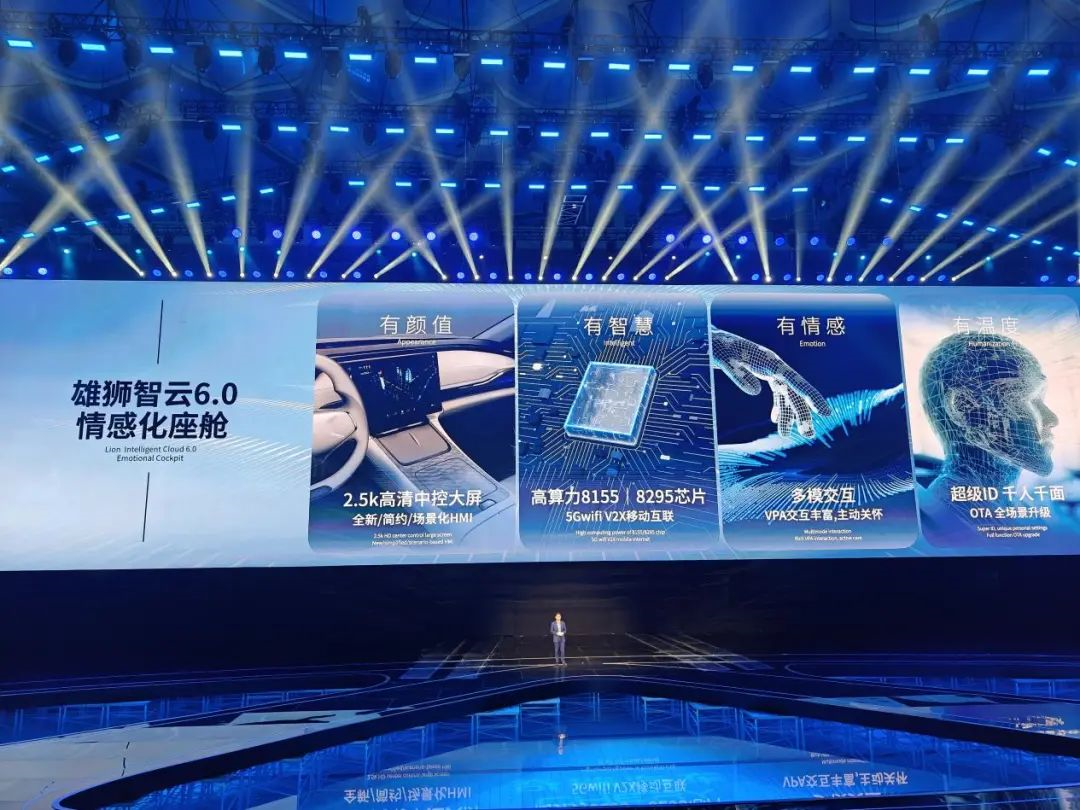 Chery's latest Lion's Wisdom Cloud 6.0 "Emotional" Intelligent Cabin features a hardware configuration that includes a 2.5K central control screen, Snapdragon 8155 or 8295 chipsets, and support for 5G communication.
In terms of software experience, it offers ID services with "one person, multiple vehicles; one vehicle, multiple users," innovative intelligent travel and entertainment functions, as well as a "mobile health space" concept, including onboard health status monitoring.
Chery's autonomous driving technology has now reached the Chery Pilot 3.0 system: AI computing power can reach 1000+ TOPS, the number of LiDARs can be extended to 1-5, cameras to 13, and other sensor components to 30.
Chery states that this autonomous driving system has over 16,000 hours of driving verification data and over 8,000 test cases, aiming to create an experience that encompasses urban areas, highways, and parking.
As Chery works toward intelligent cabins and autonomous driving, the ultimate focus remains on "effectiveness."
As car companies enter the new energy era, creating a new series and brand for the expanding market is a common operation, and Chery has followed suit.
First is the new energy vehicle brand iCAR, targeting 25 to 35-year-olds in second and third-tier cities who enjoy online shopping and technology products, rolling out SUVs, sedans, and more priced between 150,000 and 300,000 yuan.
iCAR is headed by CEO Bao Siyu, who says a major feature of iCAR is "direct connection to users," aiming for 7×24 hour full-scene response and targeting pain points with scene-based intelligence. This suggests that product, sales, and service may be the key innovation focus points for the iCAR brand.He teased us with a hint about the brand, revealing more information during the event on April 16. Reportedly, the off-road-oriented SUV iCAR S56 and the two-door sports car iCAR GT will make a joint appearance at the Shanghai Auto Show.
With the high-end positioning of the new series "STERRA", the Lixiang brand will launch B to C class sedans, SUVs, and MPVs priced between RMB 200,000 and 500,000, "Designed for warm, technology-driven middle-class families."
The STERRA series will be built on the E0X platform, featuring an ultra-comfortable lineup of electric intelligent products, including pure electric and extended-range options boasting features such as 800V high-voltage supercharging, ultra-low wind resistance, smart cabin, ultra-large space efficiency, and air suspension system.
Two new models are coming soon for the STERRA series: the mid-to-large electric SUV STERRA ET and the mid-to-large electric sedan STERRA ES.
As for Chery's positioning of its existing passenger car brands, Chery targets millions of families, Lixiang focuses on the high-end market, and Jetour Automotive specializes in the "Travel +" niche market. The emergence of the iCAR brand and the STERRA series also signals Chery's readiness to enter more markets in the new energy era.
In 2022, the penetration rate of new energy vehicles in the Chinese auto market reached 25.6%, with domestic brands accounting for more than half of the market share. For Chery, which achieved global sales of over one million in the same year, the tipping point from policy-driven to market-driven in the new energy vehicle sector has arrived.
Throughout the five-year implementation process of the YaoGguang 2025 strategy, Chery will build over 300 YaoGuang laboratories with an investment of more than 1,000 billion yuan. This automaker will employ more than 20,000 R&D personnel, of whom over 10,000 will be dedicated to software development. Yet, no automaker can escape the massive transformation investment required besides Chery.
Can Chery, as Zhang Guozhong said, "win this automotive revolution"? Only time will tell. What is certain now is that this is Chery's another full-hearted commitment.
(END)
This article is a translation by ChatGPT of a Chinese report from 42HOW. If you have any questions about it, please email bd@42how.com.