Author | Nie Yiyao
On August 22, 2007, the third assembly plant of Chery Automobile in Anhui Wuhu was festively decorated as the 1 millionth Chery car rolled off the assembly line.
There are many important days in the history of Chery's development, and this day is definitely one of them. It's not just about going from a "small grass shed" to "one million vehicles," but also about a major plan conceived by this leading independent brand.
This plan is to pursue brand premiumization, a counterattack route that no independent automaker can bypass. Chery embarked on this journey with great fanfare at the end of the same year it entered the "Million Vehicles Club."
Despite a bumpy road to premiumization and numerous near-death experiences, Chery's horn call for premiumization has become a symbol of Chinese automotive brands' upward ambitions.
Many years later, on April 7, 2023, the Beijing Water Cube's exhibition area and auditorium were bustling with excitement. Hundreds of people gathered to watch the "2023 Chery New Energy Night" themed "Technology, Evolution."
This event was based on Chery's outstanding achievements in 2022, with "sales breaking through one million vehicles" and "revenues surpassing RMB 200 billion" for the first time. It was also an indication that the inflection point of the new energy segment had arrived, and it marked the beginning of Chery's full-fledged transition to new energy.
For Chery, this time is even more important than the milestone reached in 2007.
Accelerating the Race to Comprehensive New Energy Transformation
To be fair, Chery's actions in transitioning to a new energy strategy were not fast. In 2022, as BYD made rapid progress in the new energy race, firmly establishing itself as the leading independent brand and dominating the new energy segment, major independent brands realized that the turning point of the new energy race was imminent, and the transformation could not be delayed.
Compared to other independent brands, Chery's action in transitioning to a new energy strategy was a tad slow, which may be due to Chery's focus on quietly making profits.
In 2022, Chery's cumulative sales reached 1,232,700 units, a year-on-year increase of 28.2%. Among these, exports were 451,300 units, a year-on-year increase of 67.7%; new energy vehicle sales were 232,800 units, a year-on-year increase of 112.9%.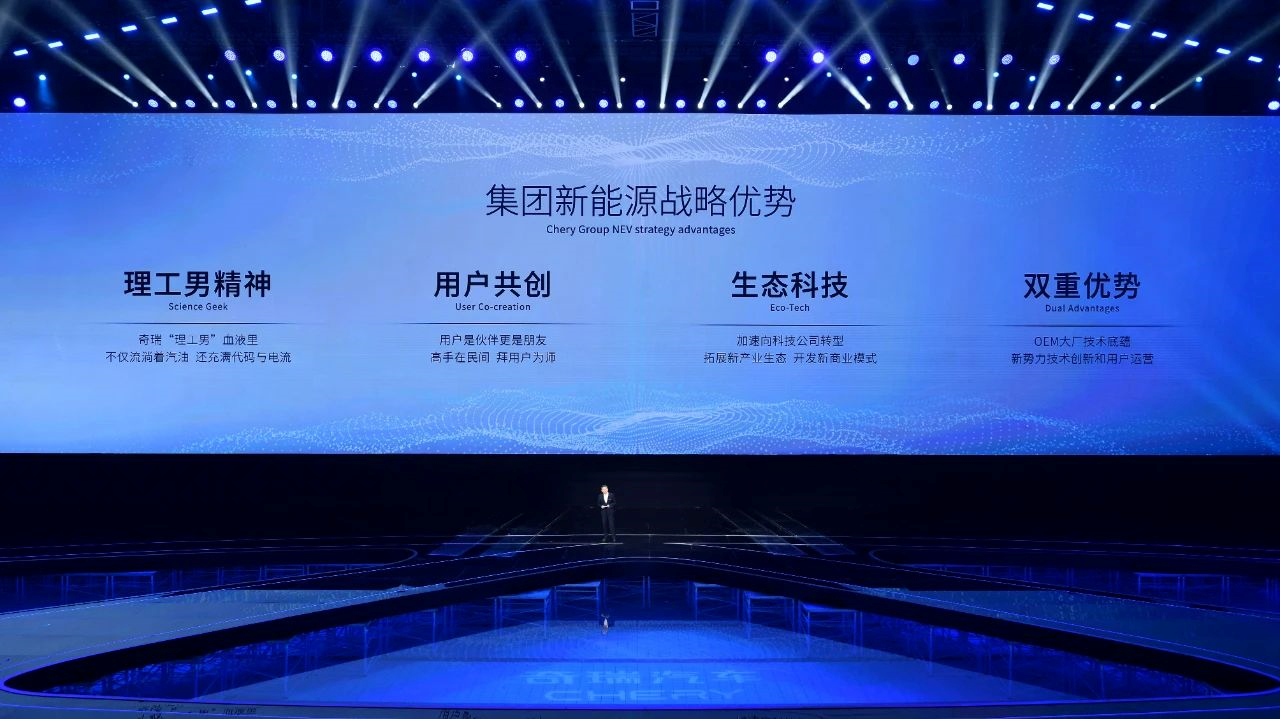 In terms of revenue, Chery achieved RMB 208.6 billion in 2022, the best performance in its 25-year history.
These results are excellent and hard-won, but upon closer analysis, some shortcomings can be found: First, one-third of Chery's sales are from overseas markets, indicating that its domestic market competitiveness is still insufficient. Second, over 80% of Chery's new energy vehicle sales came from its small Ant and QQ Ice Cream models priced below RMB 100,000. This means that Chery lacks a presence in the mainstream market for vehicles priced between RMB 150,000 and RMB 300,000.Chery Automobile has been in the new energy field for 24 years, which clearly does not align with its original intention nor with its competitive requirements facing the turning point of the new energy track.
Active or passive, the transformation of Chery's new energy strategy is imperative.
"Chery will fully accelerate the electrification and intelligentization, going all out to achieve high-quality development in Chery's new energy era," said Zhang Guozhong, Executive Vice President of Chery Automobile Co., Ltd.
As for the approach, Chery's solution is comprehensive and systematic, covering multiple dimensions such as routes, brands, platforms, technology, products, and talent, to fully embrace new energy and upscale the brand.
Regarding routes, the development strategy will further deepen multiple technology paths, including hybrid, extended-range, pure electric, and hydrogen energy. The core R&D layout will be formed in conjunction with batteries, motors, and electronic control systems, adopting a "four verticals and three horizontals" structure.
In terms of brand, the new energy brand iCAR will be launched, along with the new energy lineup STERRA under the Exeed brand. iCAR and STERRA will join Chery's brand, Exeed, and Jetour to form a new "4+1" brand matrix.
For platforms, two impactful structures will be introduced under the Mars architecture – the super hybrid platform and the E0X high-performance electric platform.
Regarding technology, 135 new technologies supporting the two platforms will be introduced, including intelligent and ecological technologies. Some of these are the third-generation hybrid technology, battery technology, electric drive technology, Chery's self-developed full-stack CHERY-OS, Lion Intelligence Cloud 6.0 smart cockpit technology, intelligent driving technology, and the Galaxy ecology.
In terms of products, the iCAR brand mainly targets the 150,000-300,000 RMB passenger car market, covering sedans, SUVs, etc., and providing systematic intelligent solutions. STERRA will cover the 200,000-500,000 RMB pure electric and extended-range market, including sedans, SUVs, MPVs, and more, with products entering the European Union simultaneously.In terms of talent, in September 2022, Chery released the "Yao Guang 2025" plan, proposing that in the next five years, over 100 billion yuan will be invested in R&D and more than 20,000 R&D talents will be cultivated, including over 10,000 software talents.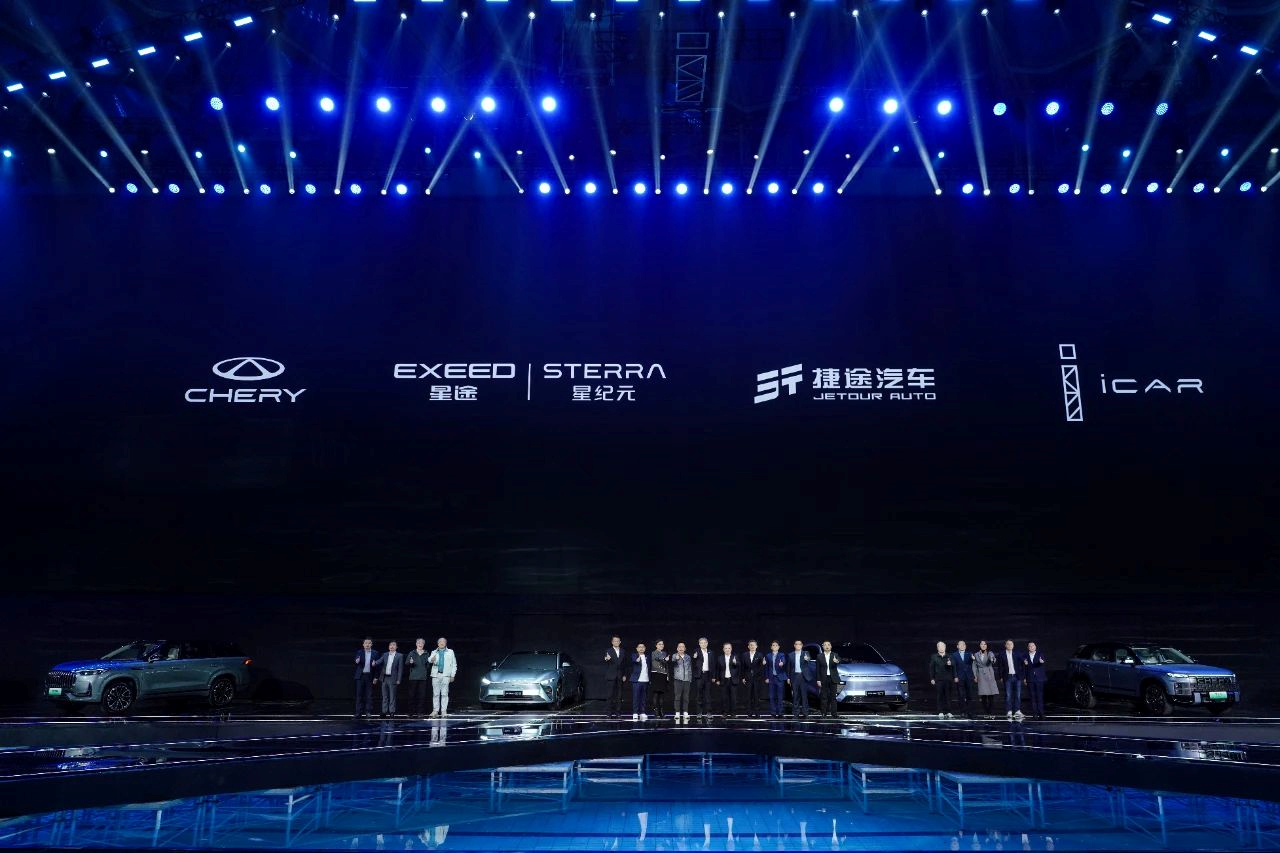 During Chery's New Energy Night, we can see that in Chery's R&D powerhouse, Wu Xuebin is steering the intelligent cockpit domain, while Gu Junli is the "ace" in the intelligent driving domain.
Chery's comprehensive new energy campaign has already shown great strategic planning capabilities. How they will execute the next steps is yet to be seen.
iCAR+ Star Era STERRA, Breaking through high-end with full force
Since Chery began exploring new energy in 1999, it has been in the new energy vehicle race for 24 years. At that time, Tesla had not yet been established, BYD was still OEM-ing lithium batteries, and Chery had already started the path of independent R&D in new energy technology.
However, the competition in the new-energy arena is not only about being the first but also about being innovative and having continuous progress. Stagnation or falling behind would lead to elimination.
Whether it's new energy or high-end branding, Chery has long been perceived as having an early start but facing difficulties in making breakthroughs and backing down when challenges arise.
For new energy, Chery seemed to be always spinning around in micro electric cars like Little Ant and QQ Ice Cream. They once launched the "heavyweight work that gathers Chery's new energy technology essence", the Big Ant, but its 149,800 yuan price tag seemed somewhat lacking in confidence. Low customer acceptance led them to give up and focus more on volume-driven micro electric cars.
In terms of high-end branding, Chery faces similar awkward situations: daring to test the waters but reluctant to sustain firepower output. Such was the case with the former Qoros and the later Exeed. The beginnings were always fascinating, but the journey grew more and more lonely.
Chery needs a deeper brand upgrade, requiring true high-end branding to securely position itself at the turning point of the new energy race; otherwise, it will be left behind forever.
iCAR, and STERRA of EXEED Star Way, are the opportunities and anchors for this transformation, which Chery sees clearly. After gaining clarity, it is crucial to implement properly and perform well.
"STERRA of EXEED Star Way will unswervingly practice the mission of building Star Way into China's high-end independent brand," which illustrates Chery's persistence and determination.
Jin Xin, Executive Deputy General Manager of the EXEED Star Way Marketing Center, said that STERRA marks the beginning of a new upward journey for the Star Way brand. It will contribute more Chinese wisdom and strength to help accelerate the growth of China's automobile industry and lead the innovative development of the global automobile industry, realizing the beautiful vision of "wherever it goes, it becomes Star Way."
iCAR is a "new force" brand driven by user thinking, introduced by Chery in response to the new energy and intelligent trends.
Bao Siyu, Deputy General Manager of Chery Holding Group, Executive Deputy General Manager of Chery, and iCAR CEO, said, "iCAR aims at young people aged 25-35, mainly focusing on Tier 2 and 3 cities to create the most user-friendly third mobile travel space."
According to Chery's plan, the existing Chery New Energy will be assigned to the iCAR brand. iCAR automobiles will focus on the A0-B class pure electric + extended-range new energy market, primarily targeting a price range of 150,000-300,000 RMB for passenger cars. Three models, S56, E05 (iCAR GT), and E06, are set to be launched. Official news states that the S56 and E05 (iCAR GT) models under iCAR will make their first appearance at the Shanghai Auto Show in mid-April.
As for STERRA of EXEED Star Way, it targets middle-class families with a focus on the 200,000-500,000 RMB market, covering B-to-C class, sedan, SUV, MPV, and various body shapes of pure electric and extended-range products.At this New Energy Night event, two new models of STERRA: the STERRA ES and the STERRA ET made their debut. The STERRA ES is positioned as a mid-sized pure electric sedan, while the STERRA ET is positioned as a mid-sized pure electric SUV. Both models will be built on the E0X platform, with the first model officially launching in the fourth quarter.
The "4+1" brand matrix of iCAR, STERRA, Chery, Starway, and Jetway will form a new pattern to fully support the upward development of the Chery brand: "Chery" targeting ordinary households; "Jetway" deepening the "Travel+" niche market; "iCAR" catering to young users; "Starway" targeting high-end markets; and "STERRA" aimed at middle-class families.
22 years ago, Chery passively exported 10 Fengyun sedans, beginning the brand's journey toward the global market. Since then, with its highly cost-effective products, Chery has thrived in overseas low-end markets, and even relied on export performance to save its domestic business.
To date, Chery has established more than ten factories globally and has more than 1,500 dealerships or service outlets, exporting to 64 countries and regions, including CIS countries, the Middle East, South America, and Africa. Chery's globalization journey has evolved from "going out" to "going in."
However, Chery has yet to cross the hurdle of taking the brand "upward."
This situation mirrors Chery's position in the domestic market. As a leading independent brand, Chery has penetrated thousands of households in China, but remains stuck in the "upward" phase.
In September last year, Chery launched the "Yao Guang 2025" plan. Within just half a year, Chery leveraged new energy to set sail for an upward brand trajectory. The waves of new energy and premiumization are becoming faster and more unstoppable.
With the wind at its back, Chery aims to soar high. Let's hope this time Chery can successfully "rise above."
This article is a translation by ChatGPT of a Chinese report from 42HOW. If you have any questions about it, please email bd@42how.com.