Author | Roomy
Editor | Zhou Changxian
Cage is a rule.
Wei Jianjun once described it as "if we haven't undergone disruptive changes, then we will be the ones disrupted; if we don't dare to break through the rules, then rules will soon become a created cage."
Three months ago, Wei Jianjun, who had been steering the Great Wall for 32 years, once again "disrupted" the company and made a "major operation" to its organizational structure. This inward-looking reform represented a "make-or-break battle" for transformation.
The core of the change is the formation of a new "strong back-end, large-middle platform, and small front-end" structure, with the huge organization previously broken down and segmented to form a "one car, one brand, one company" format.
The goal of the reform is very clear. When the new executive team appeared for the first time under the title of "chief officer," Great Wall President Mu Feng used the four words "full assault" to demonstrate their determination. "Great Wall Motors will take on a full assault toward the strategic transformation of new energy with greater ambitions, stronger efforts, and more resolute determination."
We never doubt Wei Jianjun's determination and perseverance to accomplish something. Starting from when he took over Long city industry, which was in debt of 2 million yuan when he was 26, and he "just wanted to find some small opportunities in the big market," to "focusing on the SUV field," making the HAVAL H6 the leading SUV model of Chinese brands, and establishing WEY, breaking through the distinct price lines between independent brands and joint venture brands, etc.
Upon reviewing these past events, I want to use "Breaking barriers" to describe Wei Jianjun's attitude of not giving up without struggle. Speaking of risks, it can be said that this time is a moment of "no way but forward or perish, with hope still alive."
What kind of changes will Great Wall bring to break the rules again?
This time, Great Wall's self-reform has brought out all its trump cards. However, many are worried because the rules of gasoline cars, which have lasted for over a hundred years, have become less important, while the rules of the electric age are in the hands of others.
Great Wall has thought it through
In the afternoon of February 27th, two hours before the launch of the HAVAL Second Generation Big Dog, Li Ruifeng, the Chief Growth Officer (CGO) of Great Wall Motors, who had just been appointed for three months, had an honest communication with the media.
Some say "Great Wall is in a hurry," but after hearing Li Ruifeng's sharing of Great Wall's future momentum and strategic layout, "AutocarMax" instead felt that "Great Wall has thought it through."Before, the transformation of Great Wall in electrification felt reluctant and even described as "a hesitant battle" by some due to the circumstances which forced it. Now, Great Wall exudes a sense of "no destruction no creation" from both inside and out.
However, having just passion is not enough to figure out how to make a breakthrough. Great Wall's approach is first reflected in an honest attitude which involves a clear assessment of the company's situation and market trends. As Li Ruifeng stated, "in terms of sales, Great Wall has indeed fallen behind". But he also knows that focusing only on sales does not solve the problem. The reasons for poor sales must be identified.
This is self-examination. And there is a need for a thorough understanding of the situation.
"I greatly respect and acknowledge the contributions made by new forces in the automobile industry for new energy," Li Ruifeng said. Each new force enterprise adopts a different strategy, either focusing on product definition or on intelligentization. This has provided a good business model reference for the traditional automobile industry and puts significant pressure on Great Wall to explore breakthroughs in the field of new energy.
"Staying competitive in the new energy market is key to long-term success," this is Great Wall's current attitude. When it comes to transformation, rushing without a clear plan can disturb the whole process. "Patience is a virtue" to keep the rhythm on track.
It is much like a philosophy that requires cultivation.
However, the market does not seem to give Great Wall enough time to cultivate its philosophy. In less than a month after adjusting its organizational structure, Tesla launched a round of "big price cuts", with orders soaring rapidly and yielding immediate effects. The power of price cutting is evident.
Following this trend, BYD, which just won the title of the 2022 global sales champion for new energy, also implemented price cuts, significantly increasing the pressure of competition in the domestic electric vehicle market. Will car manufacturers such as Great Wall follow and join the price war or wait and see? This tests the mentality of a company.
Li Ruifeng answers that there are two stages, one practical and the other long-term. The present practical stage requires that they must not sit and wait for death. As Wei Jianjun said in an interview in 2019, "There is an old saying in Baoding that it's better to lose money standing than to wait while sitting and lose everything."
"Looking at the whole new energy market, I can say this: if you don't keep up, you will fall behind," Li Ruifeng said. He also knows that the ability to succeed depends on a company's comprehensive strength and the tactics and strategies for keeping up.He believes that Great Wall has the capability: "We are not afraid of price wars. We can face them because we have the sufficient advantages of our five major brands." In fact, Great Wall has the ability to face combat. With 32 years of car manufacturing experience and reserves, nearly 20 years of technological investment, good DHT hybrid technology, comprehensive layouts such as forest ecology, honeycomb energy, coffee and intelligent driving, etc….
"In the short term, we can indeed offer benefits to consumers by providing some sales. Euler will follow the price reduction and PHEV will also have a new pricing strategy. Pickups and Tanks are the moats that ensure Great Wall's profits."
At the same time, Great Wall is also considering how long the status of occupying the market through lowering prices can last. Can this model continue, or do they have to wait until they are in the first camp to do this again? How many brands can stick to this during this process?
"It takes courage and long-term competitiveness to face combat for either quantity or profits," which requires Li Ruifeng to speak of "long-term."
Now, all five of Great Wall's major brands have a clear attitude. Since China's new energy vehicles have already taken the lead in the global auto market, if they win the market scale and sales by means of price wars, they are just winning the short-term market, at the expense of losing long-term competition.
"We have also conducted sufficient thinking within the company and believe that transformation is necessary. It is also necessary to spend significant resources and capital to strive for a breakthrough. We must enter the first camp as a new energy brand in the competitive market of scale."
This process is a long-distance run, and there is no answer to who will eventually reach the finish line. Just like NIO's founder Li Bin once said, running two or three kilometers is meaningless; we need to "hold on."
How to "hold on"?
How to "hold on" is a question Great Wall must answer. After all, there are many dreams that time cannot carry.
According to the current layout of new energy products, sales scale, and market influence, Great Wall is not in an advantageous position. They have a lot of technical cards but cannot play them, forming no market perception, which Great Wall must solve first.
Do you still remember the judgment before the release of Haval H6? If the new sequence of the Haval brand, which plays an important role in Great Wall's system, cannot create a technological influence on the product lineup and cannot complete transformation on the pricing system, then Haval and even Great Wall's new energy transformation will fall into difficulties again."The window period left for us now is very short," Li Ruifeng also understands that the situation is pressing.
As the penetration rate of new energy vehicles gradually increases, it means that consumers' usage habits for fuel vehicles are "irreversible." Once consumers' usage habits are widely changed, the situation facing Great Wall will become very unfavorable. It should be reminded that the speed of this change is accelerating.
In order to not be left behind by the times, Great Wall asks itself: Does the enterprise have comprehensive competitiveness? Does it have cost advantages? Does it have economies of scale? Does it have technological leadership advantages? Can it adhere to the essence of making cars for the long term, and can it achieve technological parity?
"These are all dimensions that we need to consider," Li Ruifeng said. After comprehensive consideration, they are condensed into two dimensions: completing the organization reform of the "541" model and making subtraction on the product side to create a star single product.
Among them, "5" refers to the establishment of five centers, including brand, channel, user, digitization, and sales service platforms. At present, the organizational structure of the five centers has been completed. "4" refers to four operational groups, including the Weihe Tank Operational Group, the Euler and Salon Operational Group, the Haval and Pickup Operational Group, and the overseas market operational group.
"The establishment of the four major operational groups is Great Wall Motors' reflection on the excessive number of categories and brands in the current market," Li Ruifeng's words are actually somewhat "opposite" to the establishment of many new brands in the current market. But for Great Wall, it is the right choice. It can also be said that it is a return after Wei Jianjun's review of Great Wall. He previously said, "Expanding the business too much will often waste too much energy and has no commercial value."
Great Wall Motors has made a major adjustment to its organizational structure, with only one core concept, which is to return to "one Great Wall" and make the same voice in the global market. After all, because of the multitude of brands and complicated model names, consumers' understanding of Great Wall was not clear. This is a terrifying thing.
In addition to the integration of operational units, in order to let people who can hear the gunfire make decisions, the product side also needs to make subtraction and create star single products. This is another decision made by Great Wall Motors after deep thinking.
The plan of Great Wall is to boost the profits of pickup and tank brands with PHEV and EV cars from Haval new energy and WEY brands, as new energy cars are becoming more popular. In addition, there will be some EV models to fill the gap in the compact and midsize car categories. ORA is the main channel for the comprehensive new energy initiative.
This year, Li Ruifeng, the head of product planning at Great Wall, laid out the product layout for each brand under the Great Wall umbrella.
Haval will unveil seven new PHEV and EV products as a vital element in the transformation to new energy. This includes the recently launched Haval Dog II, which will create a new single product in the dog category; WEY wants to create a flagship 6-seat SUV model, the Blue Mountain, and will also launch MPV, commercial, and sedan models under the WEY brand. Tank 500 PHEV and Tank 700 PHEV models will also be launched to enrich the tank series.
Li Ruifeng revealed that although there are more than a dozen new new energy products to be launched, rhythm is more important than speed, and creating a single high-quality product is more important than launching multiple products for the sake of it.
"The ideal product layout for Great Wall is to have only one high-quality single product available in each main price range and level range, and there will not be two products crowding the same segment," Li Ruifeng said.
"Now, Great Wall has enjoyed the same dividends as Haval H6 in terms of building quality products, similar to the Tesla model," he added.
To achieve the overall transformation of new energy, both a single high-quality product and overall sales volume are necessary, which must be backed by core technology brands. Brand categories and quality single products are the core of the ideal situation beneath the Great Wall umbrella.
However, after clarifying thoughts on the organizational structure and product layout, how to promote these brands has become a thorny problem.
Reflection and Return
The level of determination for transformation indicates how obvious the painful sensation is. It is necessary to mention the harsh reality that Great Wall has faced in past years.
Although Great Wall has been emphasizing the uniqueness of each product category, the leading battery technology, and the intelligent layout, it has not had strong support from a "quality single product" in the new energy era, which makes it difficult for consumers and the market to identify with the Great Wall as a technology enterprise.This is not only a neglect of Great Wall's full-stack technology layout in recent years. From another perspective, as traditional car companies are transforming in the same way, it adds to the intelligent leading image of new car forces such as Tesla and WmAuto. This is not only the case for Great Wall, but also for other car companies such as Volkswagen, General Motors, and Japanese brands.
Looking back on the past two years, the biggest problem in Great Wall's transformation is that there has been no fundamental change in product structure, sales system, or marketing mode. In the end, it is due to the swing between "quantity or profit" and being handcuffed in transformation.
These are all fundamental factors that have caused Great Wall to hesitate and led to them being ignored in this transformation. Therefore, it wasn't until I finished communicating with Li Ruifeng that I felt "Great Wall, has figured it out."
"The new energy transformation is a very large systematic engineering. It's a battle of ability, not just a simple product launch or short-term sales growth achieved by a product. It's not even about which product has a good design or explosive pricing, or even about directly reducing prices with a non-profit attitude. Li Ruifeng believes that this is not the way to win the new energy battle.
Although Li Ruifeng has figured out the situation, he hasn't explained how to deal with the current situation very thoroughly. He said that everything will have an answer on March 8.
However, Li Ruifeng reflected on some of the previous brand strategies.
For example, he admitted that there were many flaws in the promotion of the "WEY" brand. Now, it needs to become "professional people doing professional things." In the future, the marketing and branding of Great Wall Motors will be led by expert personnel, operating in a professional and systematic manner.
For example, models like the Haval H6, PHEV, or Mocha, Latte, which support the new energy transformation, have a heavier footprint of fuel vehicles. Taking the Wei brand Mocha as an example, the DHT version has not added much content, with DHT+8155 chips+NOH containing many unopened functions. The overall appearance, interior, space, size, configuration, etc. are all similar, so why is the DHT-PHEV version more than 100,000 yuan more expensive than the fuel version?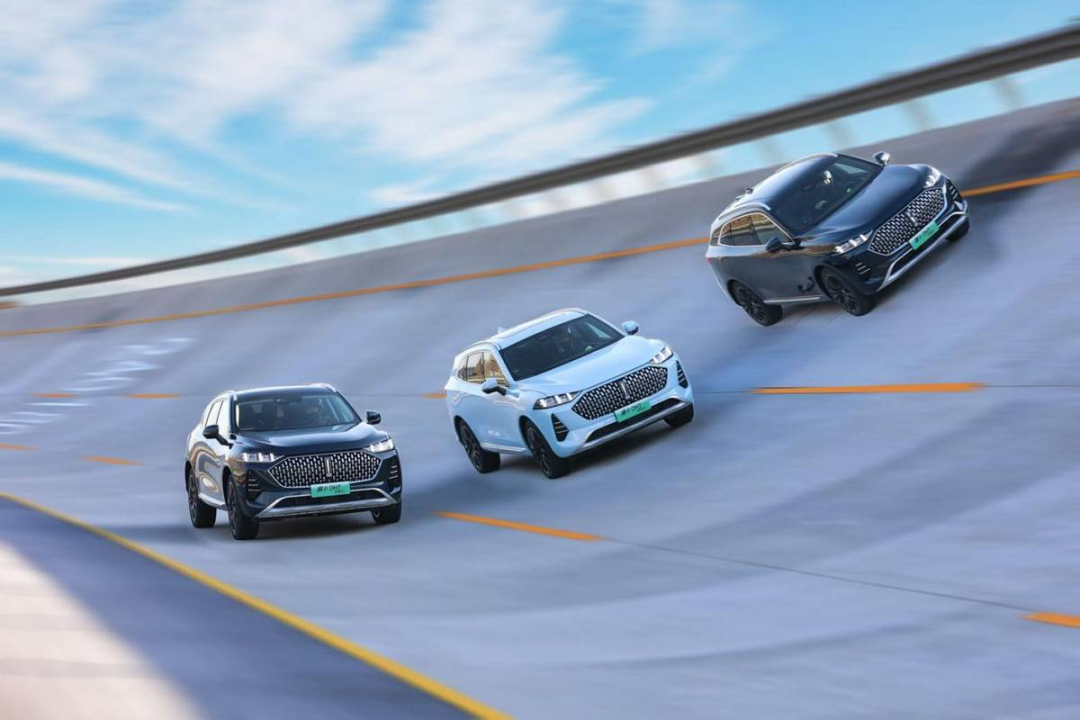 The shift from gasoline to electricity is a chronic problem for traditional car companies, and also a serious obstacle to Great Wall Motors' transformation. In the future, the development and research of new designs in the pure electric field and new product categories have distinct characteristics and possess new energy attributes.
For example, why isn't Great Wall Motors' large technical reserve well-perceived in the market? Is it because the DHT hybrid technology is not good enough, or is there an issue in the product strategy?
Obviously, it is the latter. The complicated product line system lacks sufficient competitive ability in the underlying architecture. Once technological accumulation fails to form a scale in the market, the product strategy will become long-term problem.
Therefore, on March 8th, Great Wall Motors will announce some new naming methods for new series, which will be renamed in the original way. For example, the Hafer fuel car will adhere to the H series and dog category, and the new energy car will be a new series without any special name that might confuse the consumers.
In fact, it is a difficult process. As Wei Jianjun once said, "The last product is not that difficult, it is very difficult to remove a product." Focus, reflection, and return are all "bone-scraping therapy" for oneself.
The Haval Second Generation Big Dog is the first heavyweight product for Great Wall Motors geared towards intelligent new energy this year, and its success or failure is crucial. In addition to products and technology, talents and channels are also required to sell this model well.
"We adhere to the principle that each dealer's inventory is the same as our factory's inventory. Rather than using the wholesale quantity as our assessment target, we sell the dealer's inventory to customers, and it becomes a joint assessment indicator for the factory and the dealers after the vehicle registration." Li Ruifeng said that only when the manufacturers make common profits with the dealers can they achieve the core goal.
Products, technology, supply chain, and channels all seem to be in place, and everything is ready to go. Whether it can be done depends on the Haval Second Generation Big Dog, which will be put to the test.
In conclusion:
In the micro-film "A Letter to Great Wall Motors' Partners: How Great Wall Motors Can Survive Next Year" released in 2020, Wei Jianjun stated that the biggest crisis is a lack of crisis awareness. He claimed that Great Wall Motors' fate is hanging by a thread.In the past two years, despite facing the risk of "hanging by a thread," Great Wall Motors has been hesitating yet resolute in response to the pain inflicted by the market. Fortunately, the pain has now become strong enough, and so have their previous hesitations turned into determination.
This can be seen from the fact that Great Wall Motors has lowered their targets for 2023, with sales not less than 1.6 million units and net profits not less than 6 billion yuan. This represents a 40% decrease in sales target and a nearly 50% decrease in profit target.
Such adjustments indicate that Great Wall Motors has made a choice between "quantity or profit" and has prepared for the long-term. As Li Ruifeng said, "In the new energy vehicle market, only those who can withstand the pressure can go far."
We look forward to seeing Great Wall Motors break the rules once again.
This article is a translation by ChatGPT of a Chinese report from 42HOW. If you have any questions about it, please email bd@42how.com.