Unsold, discount, "Audi has pure electric new energy" – Independent brands and new forces launched an offensive against traditional luxury brands in 2022 with new energy and intelligence, winning the first battle.
Are the traditional luxury brands panicking?
At the year-end performance communication meeting on January 4, 2022, Qian Peiji, the president of Volvo Automobile's Greater China Sales Company, described Volvo's 2022 as "just being alive", but also showed a calmness – the outcome is still unknown.
In 2022, Volvo sold 162,000 vehicles, a year-on-year decrease of 5.5%, but was one of the less affected among the second-line luxury brands. Volvo's market share rose 0.1 percentage point last year. The dealer inventory was very low at the end of the year, and "the market share has improved a little bit, and the confidence of the dealer's distribution system is still there."
However, being less affected than old rivals will not play a decisive role in the new game.
In 2022, Volvo's pure electric vehicle sales increased by 201% year-on-year, but the cumulative insurance volume as of November was only 1,945 units, which is too small compared to NIO's and Ideanomics' monthly sales of around 30,000 units, and Volvo's goal of having 50% of its sales from pure electric vehicles by 2025.
But Volvo doesn't seem to be in a hurry right now. Why?
The new energy shockwave in the luxury market
Even in 2020, when the epidemic began, luxury brands did not experience such a severe decline.
As of November 2022, Mercedes-Benz, BMW, and Audi sold 704,000, 694,000, and 577,000 vehicles respectively, a year-on-year decrease of 0.34%, 9.51%, and 9.68%, respectively. The second-line luxury brands with fewer new energy products, weaker channel power, and weaker brand appeal had a greater setback: Lexus sold 167,000 vehicles (in the first 11 months), a decrease of 17.1%, and Cadillac sold 198,000 vehicles, a decrease of 15.1%.
Overall, the capacity of the traditional luxury car market declined by 8%, with annual sales falling from the expected 3 million units to 2.5 million units, and terminal prices falling by 5%.
"Without doing their work thoroughly, they will face shocks. The reason why traditional luxury brands have had a difficult start in the Chinese new energy market is that they did not seriously study the Chinese market and just copied the global experience," industry insiders said.
The peculiarity of China's electric vehicle market lies in intense competition and market prices.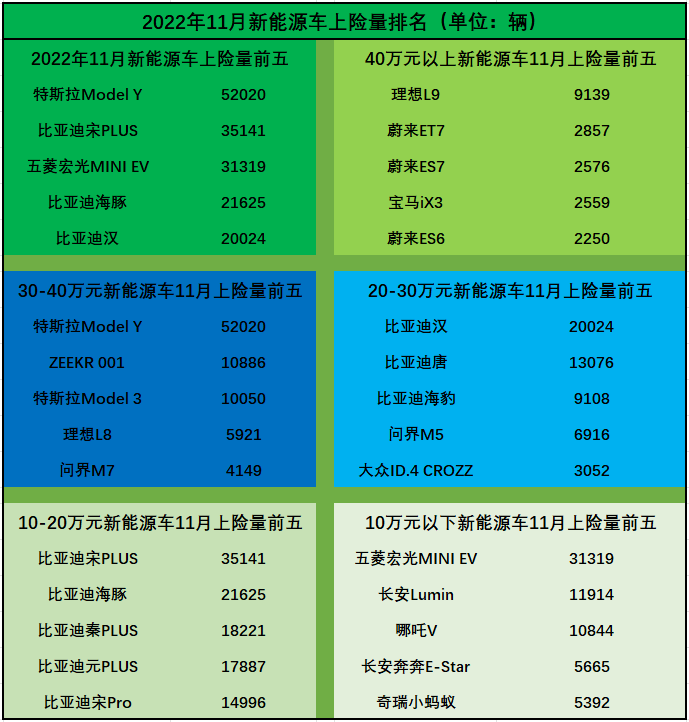 In China, the main brand of new energy is completely controlled by Chinese brands and new forces, and different brands and products dominate in each price segment.
However, there are differences between China and foreign countries.
In 2022, Tesla's Model S, Model Y, and Model 3, Chevrolet's Bolt and Ford's Mustang Mach-E are the absolute dominant forces in the US electric vehicle market. In Europe, in addition to Tesla, "old faces" such as Fiat, Volkswagen, Peugeot, Ford, BMW, and Kia still dominate, and the gap with Tesla, which is in the top position, is not unattainable.
In terms of market prices, the Chinese electric vehicle market is "dirt cheap," while Europe and the United States are still profitable.
Research by industry trend analysis organization JATO Dynamics shows that since 2015, the average price of electric vehicles in Europe has increased from 49,000 Euros to 56,000 Euros, the average price in the United States has increased from 53,000 Euros to 64,000 Euros, and the average price in China has decreased from 67,000 Euros to 3,200 Euros, which is lower than the price of fuel-powered cars.
"Traditional luxury brands have had a difficult start in China's new energy market because they did not study the Chinese market carefully, but merely copied their global experience. Because although the new energy markets in the United States and Europe have changed somewhat compared to the gasoline car era, they are not a dramatic change. This leads to traditional luxury brand electric products entering China without a serious analysis of whether the products are suitable for China, digital experience, online shopping processes, consumer access are not sufficient, which makes them inferior to buying elevators and new forces." Insiders said, "Traditional luxury brands should clearly recognize this point, rather than stubbornly believing that the previous system will be successful.""`
"For global companies, it is important to understand that the Chinese market is different. If you want market share, you will have to face a difficult process, and it may take three to five years to make a profit in overseas markets. How to develop the Chinese market is a big challenge for all multinational companies."
Brand Drainage, Fixed Prices, and Non-Inventory Electric Operation System
Can Volvo respond to the challenge and develop the Chinese market?
"Now, the EX90 has received over 7,000 orders in just one or two months in the United States, which puts pressure on us. China shouldn't be worse than the United States," said Ching-Pei Hung.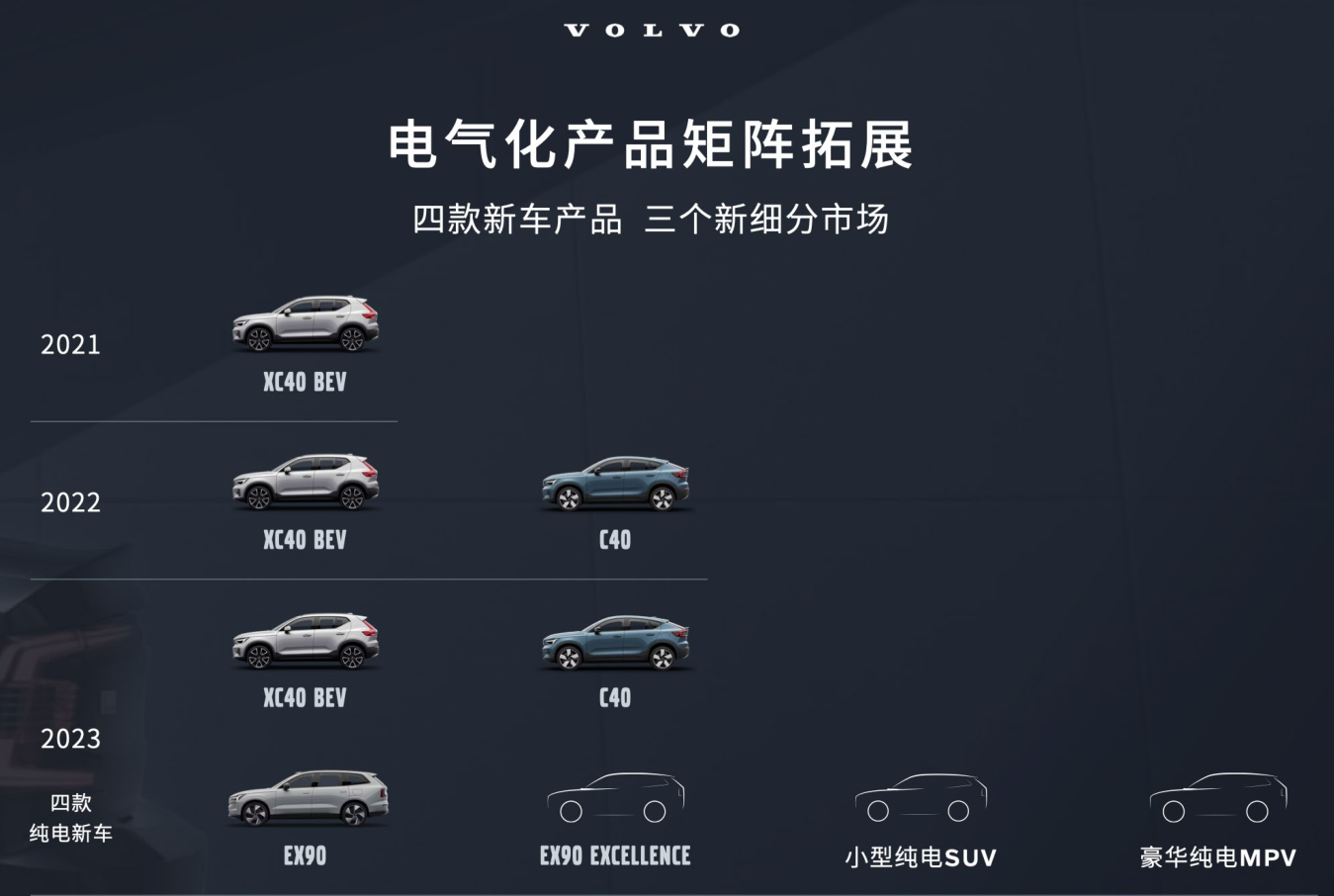 In the second half of 2023, Volvo will enter a period of accelerated electrification and release four new products, including the first pure electric flagship product, the large SUV – EX90. It is equipped with a central electronic architecture, laser radar, driver awareness system, self-developed BMS battery management system, as well as the high-end version "EXCELLENCE", a small pure electric SUV, and a luxury pure electric MPV.
Hung believes that Volvo's transformation over the past three years in product, brand, business model, and digitization will support the large-scale implementation of electrification. "In the past three years, the only really good experience is the brand transformation. We have only gone halfway in the other three things, so it is also a challenge we will face in 2023."
At the brand level, Volvo has already completed the transformation from lead flow to brand drainage. NCBS (New Car Buyer Survey) shows that the brand + safety factor is the primary reason for consumers to buy Volvos.
Hung explained that through brand drainage, Volvo achieved 100,000 natural first-time visits to stores for several months in 2022. This means that at least 20,000 vehicles will be sold in the showroom.
Brand drainage is built on a new business model and digital platform.
Despite only having two new energy products, the XC40 pure electric and the C40 pure electric, in the past two years, Volvo has explored a direct sales model based on supermarkets, with a fixed price and no inventory (in major cities) for new energy products. "Most of the pure EV sales were achieved by our direct sales team in supermarkets. We didn't aggressively promote it."

After the trial, Volvo hopes to replicate the core of this direct sales model, the fixed price and no inventory, within its existing dealer network. This model is a stark contrast to the previous dealer's responsibility for stocking inventory and earning the price difference, requiring a thorough reform of the dealer's sales and profit model, and a disruptive challenge to the manufacturer's management and operation model.

On the hardware side, Volvo currently has three types of outlets: manufacturer-operated direct stores, dealer-operated city supermarkets, and 4S shops specializing in new energy.

Manufacturer-operated direct stores are mainly located in first-tier cities such as Beijing, Shanghai, and Shenzhen, fully operated by the automaker, and their primary task is to sell cars, with sales leads delivered by dealerships or direct stores.

Dealer-operated city supermarkets are operated by dealers, and the brand provides some subsidies to ensure that dealers will not lose money in the short term. Meanwhile, a direct sales team of 3-4 people is dispatched to assist the operation of city supermarkets and train a store manager. After 3-6 months, they will withdraw.

The 4S shop specializing in new energy is mainly located in provincial capitals.

On the software side, Volvo has been actively building a new digital operation system for the past two years.

"The essence of digitization is to improve management efficiency, and change the entire management model with the digital model. In our view, the demands of both B and C ends are simultaneously met," said Qian Peiji.

For B-end users, Volvo has established a new pre-sales and after-sales system, which can achieve transparency in terms of pre-sales product information/pricing and after-sales service component pricing/progress, thereby improving the consumer experience and becoming a tool for efficiency management in dealer stores.```

<p>

Digital communities for C-end users need to increase tolerance and responsiveness to demands in operation.

</p>

<p>

"Since everyone likes private domain traffic, we must increase tolerance and let users in the private domain speak the truth. Customer complaints should be responded to positively, which means that the entire system must respond quickly, giving official opinions within a few hours and telling customers what the solution is. This is actually a big challenge for the entire after-sales system. Interacting with customers in the community is not difficult and giving gifts is not difficult, but the difficulty lies in whether the questions they raise can be answered."

</p>

<p>

"There are two types of matrices on software and hardware, both of which will be extensively promoted next year. The sales department has strong and weak agents, and the operation is very complicated. The ultimate goal is to ensure a flat price and ensure that dealers don't prepare inventory in major cities." Qin Peiji said: "Next, we are considering building large delivery centers like new forces and setting up customer reception centers/delivery centers at the entrances of warehouses. After-sales service will still be provided to dealers, and these various modes will be explored."

</p>

<p>

Currently, Volvo has opened 25 city center stores (hypermarkets), and more than half of the dealers have successfully transformed their sales volume and profitability. In 2023, Volvo plans to open more than 60 city center stores throughout the country.

</p>

<p>

"Our long-term transformation is not just an empty phrase."

</p>

<p>

At the end of the interview, he said, "Long-term transformation is difficult for leaders of any automaker. Because the cycle of doing this work is too long, it may not be completed during one term of office. But if you don't do it, there will never be another term of office." 

</p>

<p>

This kind of wording is difficult to hear from traditional luxury brands--with a bit of tragedy and decisiveness.

</p>

<p>

However, one should not underestimate the determination of traditional luxury automakers to strike back.

</p>

This article is a translation by ChatGPT of a Chinese report from 42HOW. If you have any questions about it, please email bd@42how.com.