Author | Zhu Shiyun
Editor | Qiu Kaijun
Advanced production of hub motors, solid-state batteries, self-developed 800T chips and operating systems… As Red Flag joins the new energy race, they have made many moves, but is the "wind" strong enough?
On January 8th, Red Flag released their new energy brand strategy. Xu Liuping (pictured above), party secretary and chairman of China FAW Group Corporation, announced that Red Flag aims to achieve a total sales volume of one million units by 2025, including sales of over 500,000 new energy vehicles; by 2030, sales will exceed 1.5 million units, with new energy vehicles becoming the mainstay.
However, in the first 11 months of 2022, Red Flag's new energy car license plate ownership only amounts to 28,127, which means that they must increase their sales by about 17 times in three years to achieve their target of 500,000 units sold.
This scenario is reminiscent of 2018 when Red Flag announced that they would reach 100,000 units sold in 2020 and 300,000 units sold in 2025, despite their annual sales being less than 5,000 units. However, in 2022, Red Flag's annual sales reached 310,000 units, exceeding their 2025 target.
Three years later, can Red Flag once again replicate such a "flagship" performance? Can the new energy Red Flag still hold its own?
Intensive Production of "Black Technology"
When the brand began its revival in 2018, Red Flag's only reliance was probably the "Red Flag" brand itself. By 2023, Red Flag now has "flags".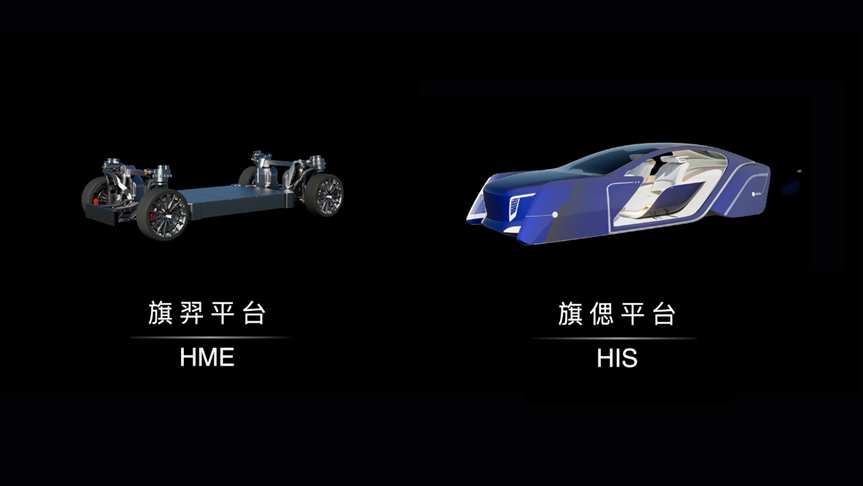 At the press conference, Red Flag unveiled the Flagship Electric Mobility and Intelligence (FMEs), a high-end electric intelligent superstructure developed in the second half of 2019. FMEs includes two major platforms, the "Flag Yix" and "Flag Si," which cover core technologies in electrification and intelligence and will be put into mass production by the second half of this year.
Red Flag plans to gain an advantage mid-game by taking the form of advanced production in front of technology.
The battery used in the Flag Yix adopts a "high flame-retardant gel electrolyte," i.e., a semi-solid-state battery, with an energy density of up to 260Wh/kg, which can further improve safety. At present, CATL's latest Kirin battery can achieve an energy density of 255Wh/kg.Before, new car-making forces like Nezha announced the use of semi-solid-state batteries, but no delivered products were seen in the end. The Dongfeng Langtu Zhui Guang, which will be launched in 2022, announced that its 82kWh battery pack will use the industry's first mass-produced semi-solid-state battery and plans to deliver it in the first half of this year.
Beyond batteries, according to the demo animation, Qiyi's electric drive system will use four independently driven hub motors, which eliminate the intermediate transmission mechanism and distribute power directly to the wheels. It can also achieve independent steering of all four wheels, making turning around and crab walking a breeze.
However, because of limitations in the overall vehicle structure and wheel structure, hub motors present considerable challenges to the control and comfort of the vehicle and to their own reliability and durability, making them impossible to mass produce.
Additionally, high-power charging of 600 kW, wireless charging of 22 kW, and technology like the skateboard chassis are currently only available on a small scale, or have yet to enter the market at all.
In terms of intelligence, the Qisai platform will include two heavy-duty weapons: the Hongqi-developed Qizhi chip with 800 TOPS computing power and the FAW OS, which is a strong real-time, highly compatible, widely open, and low-latency vehicle operating system with a latency of only 30 microseconds.
"Lacking cores and souls (operating systems)" has always been a core pain point in China's intelligent automotive industry. Currently, top new car-making forces, such as Weilai, already have plans to develop their own high computing power chips, while Dongfeng Soft, and Huawei, are trying to create their own vehicle-level operating systems.
The synergy of self-developed hardware and software has been repeatedly validated in Tesla. Relying on its self-developed vehicle operating system, FSD chip, and upper-level autonomous driving algorithm, Tesla has pushed "complete autonomous driving" to its North American customers at a computing power of 144 TOPS.
Qisai's autonomous driving system will incorporate technology like large-model perception fusion, high-precision five-source positioning, self-learning path planning based on massive data, and multi-modal AI behavioral decision making. According to an official statement from Hongqi, it is capable of achieving point-to-point autonomous driving on primary roads with less than 0.5 takeovers per hundred kilometers.
15 models + overseas marketsBased on the flag architecture, Hongqi is going to launch three heavyweight new energy products in 2023 and 2024.
E001, which will be launched in the second half of this year, is positioned as a B-level pure electric high-end car, with a main endurance of 600km to 1000km. Its battery can be charged, swapped and upgraded, and it consumes 12.9kWh every 100km. The maximum acceleration from 0 to 100km can be achieved within 3 seconds. It also comes with intelligent multimodal active emotional interaction, ultra-high-speed OTA up to 5GB per minute, and cloud real-time synchronization function.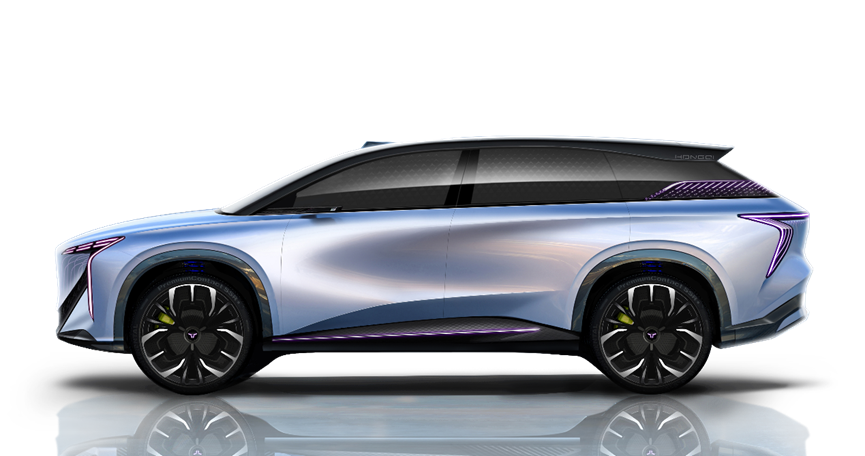 E202, which will be launched at the end of this year, is targeted at family users and positioned as a B-level pure electric SUV, equipped with an 800V super fast charging system. It only takes 5 minutes to charge and it will run for another 300km. It also has intelligent air suspension and intelligent four-wheel-drive system. Meanwhile, the automatic driving system can cover most scenarios, such as high-speed, urban-area and parking.
E702, which will be launched in the first half of 2024, is positioned as a C+ flagship high-end pure electric car.
Hongqi officials said that E702 is equipped with an advanced intelligent driving safety chassis system and accurate automatic driving system, bringing a "zero" impact floating experience, and it has a "butler-style" automatic driving function that can take control of the vehicle under any weather and scenario conditions. The globally first 5D cinema dynamic effect, equipped with a 7.1.4 channel and a 2800W Dolby panoramic sound system. It'll be available on the market in the first half of 2024.
In the next three years, Hongqi will launch 15 new energy intelligent products covering all segmented markets including sedans, SUVs, and MPVs. Therefore, Hongqi will stop investing in traditional fuel vehicle technologies and production capacity and allocate all technology and new production capacity to new energy vehicles from the second half of 2022 onwards.In addition to the intensive product promotion, Hongqi plans to build over 700 Hongqi experience spaces, over 1000 service networks, and 600,000 energy supplement terminals overseas by 2025. The overseas sales proportion will exceed 10%, and by 2030, it is expected to contribute to 25% of Hongqi's global sales.
Hongqi needs the next "wind"
Whether it's the all-in resources or the comprehensive application of cutting-edge technology, Hongqi's determination to move forward after five years is evident. However, turning this determination into sales will likely face even greater challenges than five years ago.
First, where does the new power come from?
In 2018, the chairman of China FAW Group Corporation made a series of drastic reforms, such as dissolving China FAW Group Corporation Automotive Engineering Research Institute, adjusting the organizational structure, and carrying out collective internal competition among over 8,000 employees, which brought new innovation and vitality to Hongqi.
However, five years later, in addition to the start-up companies with inherent internet genes such as WM Motor, there are also traditional enterprises that have initially built new mechanism modes, such as EAON Auto and Jike Auto, as well as tech giants such as Huawei and Xiaomi.
These competitors not only have advanced organizational modes but also fit the positioning of "national brands". Hongqi's previous mechanism and brand advantages will face enormous competitive challenges.
Second is the system adjustment of brand and product structure.
Hongqi's 310,000 vehicle sales come from 15 models, and the mainstays are still the H5 and H9 fuel vehicles.
At the same time, Hongqi also proposes a multi-brand strategy: under the main brand of "Hongqi," four sub-brands-"new energy vehicles," "energy-saving vehicles," "Hongqi premium cars," and "super sports cars"-will be established, and each sub-brand will have relatively independent ideas, signs, and design languages under the unification of the main brand and overall concept.
Hongqi has also officially launched its new energy brand logo. This logo has caused a lot of discussion because it is similar to the Landtourer logo.
# Multi-brand strategy and the transition between fuel and new energy products in the sales system has never been an easy task. Some traditional brands have been exploring this area for years either without success or with little results.
Can Hongqi complete the system transition in three years and achieve fast sales growth?
Ultimately, there is the pressure of the overall market.
On January 9, Wang Guoqiang, Deputy Secretary of the China FAW Party Committee, stated that by 2022, FAW Group will achieve a vehicle sales volume of 3.2 million units, operating income of 630 billion yuan, and profits exceeding 49 billion yuan. The 7.7% profit margin will reach the average level in the automotive industry.
However, it is worth noting that FAW's sales are still mainly concentrated in FAW-Volkswagen and FAW-Toyota. In the context of China's new energy products rapidly occupying the joint venture market, Hongqi is likely to face the question of "when will it become profitable" in a shorter timeframe.
Five years ago, Hongqi set an "unthinkable" FLAG and eventually achieved it. Five years later, in a more competitive arena and a more severe market environment, can Hongqi "duplicate" Hongqi and continue to lead in new energy? The answer will be given by the market.
–END–
This article is a translation by ChatGPT of a Chinese report from 42HOW. If you have any questions about it, please email bd@42how.com.