Author | Yun Ge
Wenjie's impressive performance in the new energy vehicle market, with three consecutive months of sales exceeding 10,000 units, has attracted widespread attention in the industry.
With the dual support of Huawei's technology and channels, Sitech-SY (Wenjie) transformed from a marginal automaker under the Chongqing Sokon Group to the new energy vehicle manufacturer with the highest level of "华" in the market.
As a brand deeply cooperating with Sitech-SY and Huawei, AITO Wenjie has created the fastest industry record of achieving sales of over 10,000 units in 87 days since its launch on March 5th. In October, the Wenjie series delivered 12,018 units, marking the third consecutive month of delivering more than 10,000 units and ranking among the top three in the new carmaking forces, second only to GAC Aion and Neta Auto. It can be said that Sitech-SY has started "cheating mode" after teaming up with Huawei.
However, the rising sales have not brought profits to Sitech-SY. According to the announcement released by Sitech-SY, the company's revenue reached RMB 23.123 billion in the first three quarters of the year, an increase of 101.96% year-on-year. But as revenue rose, losses became increasingly serious. The net loss in the third quarter of this year was RMB 947 million, an increase of 57.3% year-on-year, and the cumulative net loss in the first three quarters reached RMB 2.675 billion, with a further expansion of the loss.
On one hand, it has achieved great sales growth, while on the other hand, the losses are getting more and more serious. It is hard not to be skeptical that Sitech-SY, which is already considered to have "lost the soul of car making", is "losing money and gaining attention" for Huawei?
Cheating Mode
Wenjie's sales performance owes much to the AITO Wenjie brand. Deliveries of the Wenjie series reached 12,018 units in October, accounting for 99.7% of the total sales.
Regarding the Wenjie brand, this is not Sitech-SY and Huawei's first exploration together. In April 2021, Huawei participated in the development of the new SF5 model of Sitech-SY as a supplier.
With the new SF5 from Sitech-SY, which had the support of Huawei technology and retail network, cumulative sales reached 8,169 units in 2021, a ten-fold increase compared to 2020. However, failing to exceed 10,000 units of sales for the whole year was clearly not a desirable result for Huawei.
Therefore, in December 2021, the two sides launched a brand new brand – AITO Wenjie – through the Smart Selection cooperation model. Compared with the supplier cooperation model of SF5, Huawei chose to participate deeply in the design of the car model for the Wenjie brand, and provided core technical support to Sitech-SY."`markdown

Currently, the cooperation between the two parties seems to be going smoothly. According to data, WENJIE has launched hybrid models M5, M7 and pure electric model M5 EV. In terms of market performance, after breaking the delivery volume of 10,000 in August for the first time, the delivery volume of the WENJIE series reached 10,142 vehicles in September and 12,018 vehicles in October. Achieving a record-breaking delivery volume for three consecutive months has propelled WENJIE to become a leading brand in the market.
Why has WENJIE's sales increased so rapidly? On the one hand, it is due to the support of Huawei technology and product planning, and on the other hand, it is due to Huawei's strong offline sales network and industry influence. This can also be seen from Gelanlu's industry data. As of the end of the third quarter of 2022, WENJIE's pre-sale functional stores have surpassed 1,000, covering 53 cities, which is far ahead of other new car makers.
At the same time, Huawei's brand reputation is also a powerful tool for Siles in quickly acquiring a customer base. In other words, Siles has become a dark horse in the new energy vehicle market, thanks to Huawei's ability to turn everything it touches into gold.
Doubts
Under the huge wings of Huawei, Siles has soared to great heights, but doubts about "loss" and "losing its soul" also cloud the company.
According to financial reports, Siles has accumulated losses of 6.228 billion yuan in less than 3 years. Siles explained the expansion of its net loss by saying that "as the sales volume of the WENJIE series rapidly increases, related costs and taxes are also increasing; at the same time, the continuous rise in the prices of raw materials such as chips and power batteries, the continuous investment in product development and market promotion, and other factors have led to losses".
Take the first half of this year as an example. According to the announcement by Siles, its sales, management, research and development, finance and other expenses totaled 2.808 billion yuan in the first half of the year, up 113.17% year on year, with marketing expenses reaching 1.459 billion yuan. Siles Group stated that the increase in sales expenses was mainly due to the increase in promotion and sales service fees for new energy vehicles. This has also caused Siles to be criticized by the industry, with some insiders saying that "its sales performance is more based on money-driven principles".
Faced with the expanding losses, Siles Chairman Zhang Zhengping said at a special shareholder meeting in July this year that he aims to achieve profitability in 2023. However, with the investment in sales, factories, and new product M9, it is unlikely that Siles will see profits so soon.
"`If the concern of losses is the first worry of the cooperation between Siles and Huawei, then "lack of soul" is another risk.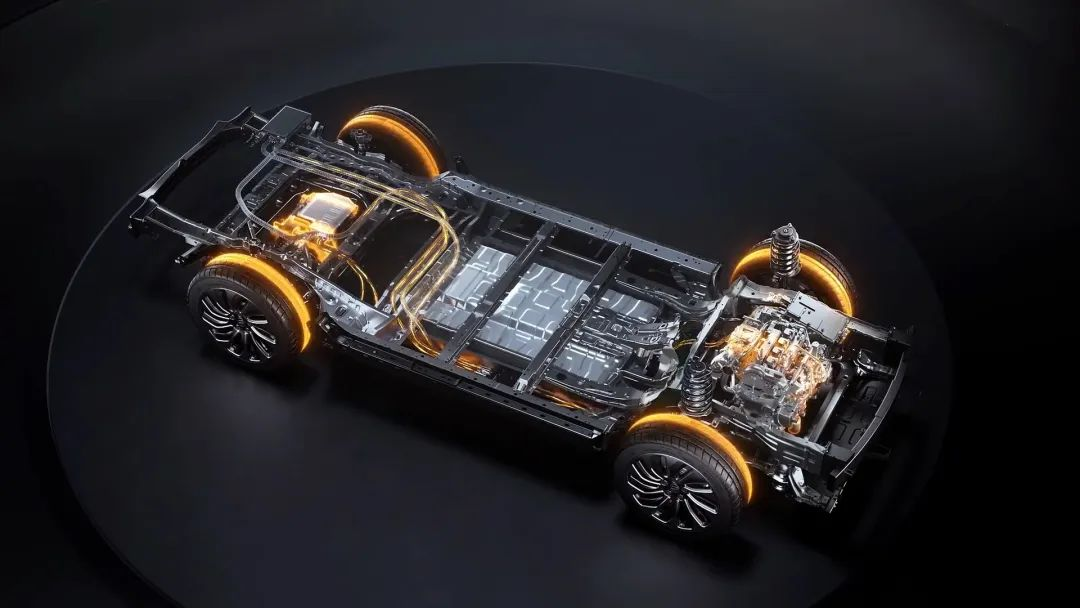 Although Siles has quickly risen in the field of new energy intelligent vehicles by relying on Huawei's technology, both the Huawei Drive ONE pure electric drive and range-extending platform and the Hongmeng cabin ,as well as the core components of the iQ series models are almost all created by Huawei, and the sales end also relies on Huawei's sales network. In other words, the iQ series models under Wanjie are almost irrelevant to Siles.
In cooperation with Huawei, Siles has a high degree of openness. Both the technological and sales ends are dominated by Huawei. Relevant personnel said that Siles "has almost responded to all of Huawei's requirements." Siles's full dedication to Huawei is unacceptable to many automakers and is also the most criticized aspect.
Some industry insiders believe that Siles has almost no core competitiveness by using Huawei's overall solution, and has gradually become a "contract manufacturer" by handing over its own soul to Huawei. The concept of "soul" comes from Chen Hong, chairman of SAIC Group. He uses the body and soul to describe the state of car companies and third-party companies such as Huawei in the direction of autonomous driving, and states that SAIC cannot accept giving its soul to an overall solution supplier.
Regarding this, Zhang Xinghai, the founder of Xiao Kang, said, "The concept of soul is actually a problem within the circle of friends. This is a selection between each other. We judge based on completing what we want to do and what users want in the fastest time window."
Huawei does not want to lose cooperation partners, and car companies do not want to lose their souls. Finding a suitable way of cooperation is important. The software gap of traditional automakers cannot be effective in the short term by investing a large amount of funds, and Huawei's current situation is not suitable for entering the car manufacturing industry with heavy assets. Finding one's own role and positioning in the upstream and downstream of the industrial chain and achieving symbiosis and win-win is the ultimate solution.
Win-win
The outside world doubts that Siles is "losing money and bragging" for Huawei, but in the eyes of both parties, this may be a mutually beneficial and win-win business.In the fierce competition of the new car-making forces, many once well-known traditional independent brands are struggling between life and death, such as Zotye's delisting, Lifan's bankruptcy, Hawtai's debt, and Cheetah's acquisition, all indicating that independent brands have entered a period of elimination and integration. Changan Automobile Chairman Zhu Huarong even bluntly stated that 80% of Chinese brands will be shut down or merged in the next 3-5 years.
For Xiaokang, instead of waiting to die, it is better to take a chance. Therefore, Sitech upholds the concept of openness and inclusiveness and carries out deeper cooperation with Huawei. Zhang Xinghai even publicly stated: "If BMW comes to talk to me about joint venture car production at this time, I won't do it. I will resolutely cooperate with Huawei in cross-border cooperation."
There is no doubt that doing things and doing them well is Siteth's current choice and their strategic opportunity that cannot be sought after.
Since cooperating with Huawei, Sitech's stock price has been skyrocketing, with a maximum increase of more than 10 times, and the highest market value of 110 billion yuan, which was something Xiaokang Group could not have imagined or achieved before.
On the other hand, Huawei also urgently needs to turn around its consumer business through the automotive industry. "After being sanctioned, due to the lack of 5G chips, the shipping volume of high-end phones plummeted sharply. Selling cars can help retail stores survive and help retailers make money," said Richard Yu.
So why did they choose Xiaokang? The answer is also simple: Huawei can take the lead in the cooperation between the two parties, while Xiaokang has more than 20 years of experience in complete vehicle manufacturing and an Industry 4.0 smart factory in Chongqing.
Thanks to the open mentality of both parties in the cooperation, Sitech has become the fastest landed, highest participation, and best-reputed company among Huawei's cooperative enterprises in the automotive industry.
With the hot sales of the WEY brand, Sitech has ushered in its shining moment, and Huawei has also proven itself through it. However, their cooperation is not worry-free. At least the bent A-pillar of M7 has sounded the alarm for both parties, reminding them that they need better product power to win market recognition.
In addition, how to maintain the leading advantage among Huawei's many partners after the expansion of the Huawei Select model's circle of friends will be another problem that Sitech must consider. From Siteth's perspective, the key to long-term growth still lies in self-breakthrough and self-growth.
关于我们
我们专注于生产高品质的 汽车座椅套 和 方向盘套,拥有超过 10年 的制造经验。
我们的优势
拥有自己的工厂
高度自动化的生产线
专业的设计团队
我们的产品
| 产品名称 | 材质 | 颜色 |
| --- | --- | --- |
| 顶级座椅套 | 真皮 | 黑色、棕色、米色 |
| 舒适座椅套 | 人造革 | 黑色、灰色、红色 |
| 时尚方向盘套 | PU | 白色、玫瑰金色 |
This article is a translation by ChatGPT of a Chinese report from 42HOW. If you have any questions about it, please email bd@42how.com.