Author: Chen Nianhang
"The mountain and sea platform, supercomputer platform, 800V silicon carbide electric drive system, and all-new actuator system have become the upward technological foundation of the Nezha Automotive brand."
The Joys and Worries of Nezha Automotive
In today's intelligent electric car industry: the aura of the founder, the roster of investors, user services, brand promotion, batteries/chips, autonomous driving, smart cabin, monthly sales, expansion overseas…
Looking at these aspects, Nezha Automotive wasn't receiving much attention for a long time in the past and didn't lead ahead of a few competitors.
Without the aura of the founder, without a luxurious roster of investors (the red-clothed teacher Zhou Hongyi is an exception), and being a not very strong presence in terms of brand itself, it is natural that Nezha Automotive wasn't as discussed and focused on as "Weilai" among consumers.
But for some unknown reason, since June 2021, when Nezha Automotive's monthly delivery volume exceeded 5,000 cars, to October 2022, when the monthly delivery volume exceeded 18,000 cars (note that this is not the insured amount), in just over a year, Nezha Automotive has completed an epic sales "counterattack," catching up with the first-tier "Weilai." Moreover, it has drawn a very beautiful continuous growth curve, indicating that the recognition of users is getting higher.
In terms of channels, Nezha Automotive already has 395 stores, 103 directly-operated sales stores, covering 206 cities, and has entered Southeast Asia, South Asia, the Middle East, and the European Union in terms of overseas expansion, with overseas orders breaking through 6,000 cars. In the first 10 months of this year, Nezha Automotive's total delivery volume was nearly 130,000 cars, and the current delivery has exceeded 220,000 cars.
These are reasons for Nezha Automotive to be happy.
However, many people may ask, "Where has Nezha Automotive sold its cars? Who is buying Nezha Automotive?"
Some may also say, "Nezha Automotive sells mid-to-low-end cars, and the early technology content was not high, and low pricing of individual vehicles made it easy to sell. Therefore, it has strong appeal in the sinking market, but remains a "non-mainstream" presence in terms of brand."
From the sales channel perspective, Nezha Automotive has three major channels: toB, toG, and toC.
In the early days, Nezha Automotive relied more on the B-end ride-hailing market and the G-end government official vehicle market, so it got off the ground by relying on this model which was economical and had cost-effectiveness. looking at the data of Nezha's first model, N01, B-end sales accounted for more than 50% in the past, coupled with G-end, then C-end could only account for a small part.However, this situation did not last long. Relying solely on the B and G markets was not sustainable, so it was necessary to tap into the much larger C-end market. Therefore, Nezha also launched some car models with stronger product capabilities to attract more C-end consumers. Looking at the sales for the entire year of 2021, private C-end users accounted for more than 90% of sales, while the B-end ride-hailing market share shrank to around 8%. The G-end had an even smaller share, which is a positive sign.
However, most of Nezha's current users are in third, fourth, and fifth-tier cities, targeting small town and rural youth groups. Indeed, it relies on the sales of single bikes priced at around 100,000 yuan to claim the title of sales champion for new forces, which cannot be denied.
But Nezha also does not want to stay this way. It is pursuing an upward brand strategy. For example, Nezha's latest model, the Nezha S, is a B-class car with a price range from 200,000 to 340,000 yuan, with both extended range and pure electric versions, although the high-priced Nezha S has not been delivered yet.
Therefore, how to improve the brand is currently Nezha's biggest concern. To achieve this, Nezha can invest in research and development of new technologies and continuously launch new car models, aiming to break through its consumer circle and increase the profit margin of car sales.
Nezha believes that technological innovation can provide users with better products and services and will be the key to determining the final destination of the new energy vehicle industry.
Upward Branding Requires Technological Innovation
On November 21st, Nezha announced the launch of their own technology brand, Haozhi, focusing on the core components of intelligent electric vehicles, including intelligent supercomputing platforms, electric drive systems, extended-range systems, and more.
Under this technology brand, the core components will be integrated upstream and downstream, achieving resource integration and technology fusion, to create core technologies that support product development across the entire industry chain.If we add Nezha's self-developed intelligent electric vehicle platform, the Shanhai Platform, unveiled at the Guangzhou auto show in November 2021, "HAOZHI" technology brand and the "Shanhai Platform" will become the two cornerstones of Nezha's future technology and product development. Nezha's vice president and CTO, Dai Dali, also revealed the investment in research and development. Nezha has assembled a research and development team of more than 3,000 people, with 55% of them being technical talent, and research and development investment exceeding 20 billion yuan, with more than 2,000 technical patents.
Next, let's take a closer look at Nezha's new technology brand, "HAOZHI." Among them, the most core central computing platform, 800V silicon carbide high-performance electric drive system, and high-efficiency range extender system are also at the forefront of the industry, where most OEMs are currently positioning themselves.
"HAOZHI Supercomputer": Mass production in 2024.
"HAOZHI Supercomputer" is positioned as the next generation of intelligent automobile central supercomputing platform, which is actually the concept of cabin-drive fusion, evolving from multiple domains to centralized domains.
Nezha has gone through several stages in terms of vehicle electronics and electrical systems:
The first generation is a distributed architecture: distributed architecture + CAN as the backbone network + some domain controllers (including 30 CAN node ECUs and 16 LIN node ECUs). This generation of architectures is applied to vehicle platforms such as Nezha V/Nezha U.
The second generation is domain centralization architecture, which uses a multi-domain controller + Ethernet architecture.
This generation of architectures uses multi-domain controllers to integrate more functions with high-performance processor ECUs, such as gateways, intelligent driving, power, cabin, body, and other domains. It supports high-speed communication and exchange between various domains in the vehicle, and integrates more intelligent control and service functions. This generation of architectures is applied to vehicle platforms such as Nezha S/Nezha U-II.# The Third Generation – Haohzi Supercomputer
The third generation of Nezha's platform, named "Haohzi Supercomputer", will adopt a central computing architecture. Nezha has set a two-step plan for it:
Haohzi Supercomputer 1.0: Three domain controllers will further integrate ECU functions on the basis of the second-generation architecture. Gateway domains, intelligent driving domains, and power domains will be merged into one domain to support the intelligent functional upgrade of the next-generation Nezha S model.

Haohzi Supercomputer 2.0: With the deep fusion of functional domains, Nezha will further evolve the three domain controllers into one computing platform, that is, Haohzi Supercomputer 2.0.
Haohzi Supercomputer 2.0 adopts a "central + regional" architecture. This architecture will integrate multiple heterogeneous processors to provide the computing, storage, communication, and management capabilities required by the entire vehicle. This architecture is currently being planned and developed and will be used in Nezha's next-generation platform models.
The core of Haohzi Supercomputer is the central domain controller, which is equivalent to the powerful and highly integrated brain of smart cars. NVIDIA Thor is also moving towards this goal. Nezha has also cooperated with NVIDIA and may cooperate with them on the Thor platform in the future.
The central domain controller of Haohzi Supercomputer will have three major features: high computing power, large-capacity storage space, and a rich interface.
High computing power: Up to 1000 TOPS, supporting various domestic and foreign automatic driving chips with large computing power. Currently, Nezha Motors, Huawei MDC, Horizon Robotics, and NVIDIA are all working on the cooperation of self-driving chip technology.

Strong storage capacity: 8-64GB of memory and up to 1TB of storage, capable of storing high-precision maps, audiovisual entertainment, in-car big data, etc.

Rich interface extension: Multiple Ethernet interfaces, cameras (8 million pixel cameras, panoramic view, side view, front and rear view, and cabin monitoring), 20 CANFD interfaces, screen display, supporting 5G-V2X T-BOX access, vehicle-road coordination, and more.
Haohzi Supercomputer platform can collaborate with four regional domain controllers to build a highly intelligent platform using SOA service software architecture and become a central computing platform for smart cars.The abilities that this platform can achieve include:
Firstly, central computing: a solution that integrates automatic driving, audio-visual entertainment, and vehicle control; high computing power brings strong data collection, distribution, and analysis processing capabilities.

Secondly, on-board AI deep self-learning capability, which can continuously adapt to the user's habits and provide personalized services.

Thirdly, designed according to functional safety architecture to meet the safety requirements of advanced intelligent driving, and equipped with national secret chips to ensure information security.

Fourth, the Haozhi supercomputing platform combines with the 5G T-BOX to achieve high-bandwidth, low-latency communication between the end and the cloud, enabling ultra-fast OTA upgrades, cloud deep learning, and algorithm iteration.
In addition, the Haozhi supercomputing platform will have two product forms, namely version 1.0 and version 2.0 mentioned earlier.
Version 1.0 consists of the intelligent driving domain unit and the intelligent control unit.

Version 2.0 consists of the cabin and driving integrated unit and the intelligent control unit.
Of course, the three boards can also be used separately as domain controllers, combined into the basic version, standard version, and super version of the Haozhi supercomputing to adapt to different vehicle model demands (low, medium, and high configuration), which can be mounted on cars in 2024.
With the help of the Haozhi supercomputing, Nezha's next-generation car model's intelligent cockpit and intelligent driving will be developed on a platform with continuous iteration capability. In addition, in the future, the cockpit and intelligent driving domains will be bundled together to realize a single computing platform drive.
2. Haozhi Electric Drive: Mass Production in 2023
As an intelligent electric vehicle company, the electric drive is a core technology module. The new electric drive system launched by Nezha Automobile this time has two major highlights: Silicon Carbide (SiC) and 800V high voltage.
I believe that industry insiders are definitely familiar with these two technologies, which is also a battleground for new car-making forces.
Nezha's new electric drive platform consists of three parts: silicon carbide electronic control unit, oil-cooled flat wire motor, and high-precision gear reducer. The system adopts a three-in-one high-integration design, with high-voltage, high-speed, and high-efficiency as the three major highlights.The performance parameters of this electric drive system are as follows: peak motor power of 250 kW, maximum motor speed of 21,000 RPM, maximum motor torque of 420 N·m, and maximum output torque of 4600 N·m.
The Haohzi electric drive system will empower Nezha's Shanhai platform. Vehicles built using this system will have longer range, higher energy recovery efficiency, and better power performance, resulting in an overall better driving experience.
So, why is that? It all starts with the structure of this electric drive system.
This system uses a highly integrated design with a built-in cooling cycle structure.
The motor and reducer share a shell, and the cooling pipelines are shared with the controller.

Fully integrated circulating oil cooling structure.

Short, low-resistance water cooling and heat exchange structure.
Now, let's take a closer look at the three major components inside this electric drive system.
SiC Power Control: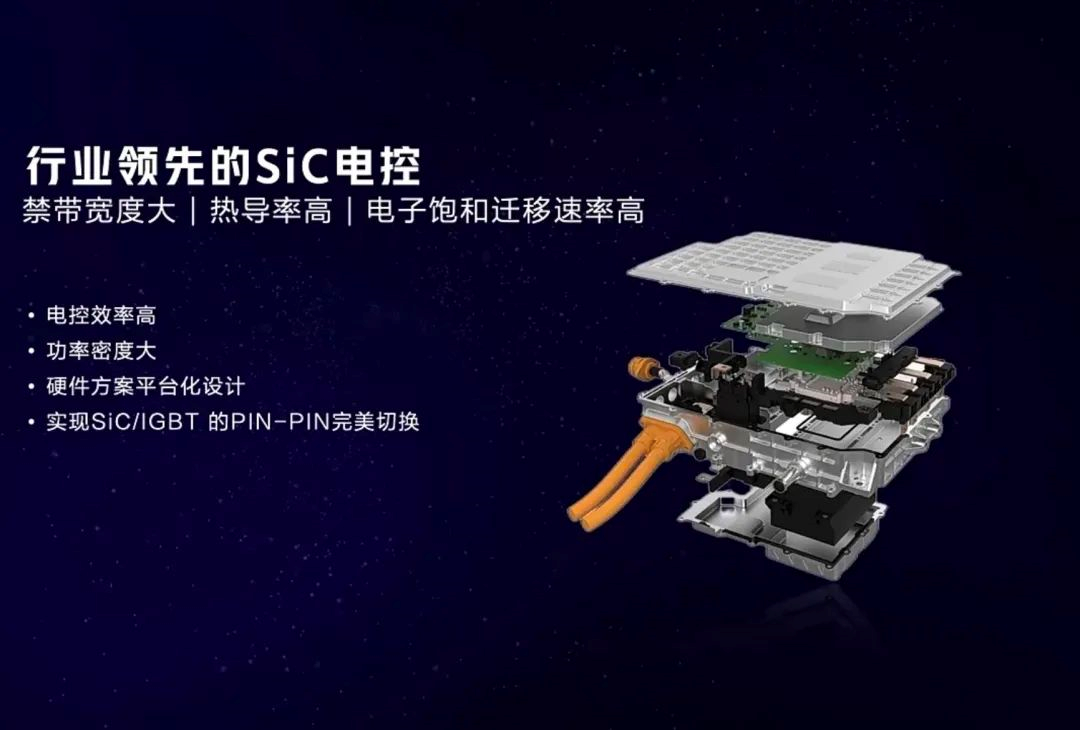 The SiC power control unit can operate stably at higher temperatures, is suitable for high voltage and high frequency scenarios, and can achieve higher operating efficiency with lower losses, enabling high-frequency operation over 20 KHz.
Based on hardware platform design, it can achieve PIN-PIN switching of SiC modules and IGBT modules, suitable for 800V medium voltage and 800V high voltage platforms.
Compared to silicon-based IGBTs (Insulated Gate Bipolar Transistors), this SiC power control system has a smaller size, higher frequency, and lower switching losses. This enables the electric drive system to maintain stable high-speed operation under high temperature and high voltage.
In addition, it can reduce the power device losses of 400V SiC by 30%-50% and 800V SiC by 50%-70%.
To sum up, the application of silicon carbide brings six major advantages:
The controller temperature decreases by 5-8 degrees, the motor temperature decreases by 8-12 degrees, and the system runs more reliably.

The CLTC comprehensive efficiency increases by 3%-5%, and the vehicle's maximum driving range increases by 8%.

The drive system noise decreases by 5-8 decibels, resulting in a quieter driving experience.

It supports 800V fast charging, allowing for charging of 200 kilometers of driving range in only 5 minutes.

The battery discharge current decreases, which is beneficial for battery thermal management.

The controller power density exceeds 50kW/L.
The brand-new generation of flat wire motors:
The electric drive system of NIO's NIO ES8 also has innovations in the motor.
The main innovations are:
A brand-new generation of multi-wire combination, with a higher slot filling rate (the percentage of slot space occupied by coil winding).

A new type of trapezoidal magnetic circuit that improves the utilization rate of the flat wire magnetic circuit structure, with a 20%-25% decrease in DC resistance.

A flat wire with a multipole slot platform that supports model series and has high compatibility, resulting in a higher manufacturing line utilization rate.
Relying on multi-stage multi-wire flexible platform production, the latest generation of flat wire motors has high power density, high efficiency, and light weight.
The motor's high-efficiency area accounts for 90% of the total area, with a continuous power density of 3.5 kW/kg and a peak power density of 8.7 kW/kg.
The new rotor's conductive structure design brings a compact and concise structure, making assembly more convenient. The high-efficiency conductive effect results in more reliable bearing operation and a lower friction coefficient, prolonging the life of the conductive components.
Fine-toothed gearbox:
This electric drive system also utilizes a global fine-toothed gearbox to reduce vibration by 45%, resulting in smoother and smoother operation at high speeds of up to 20,000 RPM, a 5-8 decibel reduction in noise, and better NVH performance for the vehicle.
In addition, the entire electric drive system adopts oil cooling, utilizing a newly designed oil tank structure: a more compact volume, lower stirring oil loss, and smoother semi-active design.
With all these technological innovations, the 800V silicon carbide high-performance electric drive system of the NIO ES8 has many highlights that consumers can appreciate.- Overall driving range increased by 8%
5 minutes of charging for 200 km of driving range
0-100 km/h acceleration in 3 seconds
System noise reduced by 5-8 decibels
…
According to NIO's plan, their self-developed 800V silicon carbide electric drive system will be installed on vehicles in 2023, and a series of platform products will be gradually rolled out.
The product lineup includes mid-pressure, high-pressure, 135kW, and 270kW permanent magnet motor systems, as well as asynchronous motor systems. The permanent magnet and asynchronous systems only differ in rotor design, while the controllers will be modular and manufactured.
Considering so many automakers (such as Weltmeister and NIO) are all pushing for 800V, the pressure on China's power grid in the future can be seen.
3. NIO's Breakthrough in Range Extenders
In addition to pure electric vehicles, the Chinese auto market is now benefiting from range-extended electric vehicles, and NIO is following this trend.
NIO began experimenting with extended-range electric vehicles with the NIO S model, but according to the latest information, the NIO S extended-range version still uses EA Power's 1.5T range extender, which has a power output of 85kW. Outsourcing the range extender is only a temporary measure for NIO, as they will eventually make parts in-house.
This is why the launch of the Haozhi technology brand brought about new range extender products from NIO.
Here are the direct advantages:
The Haozhi high-efficiency three-in-one range extender is 5-10% smaller in size (integrating engine, generator, and generator controller), suitable for a coupe-like NIO S (in the front compartment); 10% cost savings; 5% higher efficiency; and 3-5 decibels lower NVH.
The main reason for these advantages is the architecture design. The new range extender integrates the rotor with the flywheel, eliminating the flywheel; the generator is integrated with the GCU (generator control unit) to reduce high-voltage connectors and high-voltage harnesses; the rotor is directly connected to the crankshaft without any transmission connections or gears; and there is no diesel particulate filter in the engine.The result of this is a reduction in the number of components, a decrease in cost, and a decrease in the overall size of the range extender, allowing it to be installed in the engine compartment of a sedan.
The range extender has four operating modes:
Pure electric mode: a range of 300 km without reserving any battery power, equivalent to a driving range of over 400 km.

Range extension + battery charging: When the battery is supplying power, the generator starts to charge the battery to ensure that the battery level does not drop below the minimum level.

Range extension + battery jointly driven: Meets the requirements of high power and long-distance driving for vehicles under conditions such as sudden acceleration and uphill driving.

Range extension mode: When the battery is critically low, the temperature is extremely low, or there are charging and discharging faults in the power battery system, the range extender can operate on its own.
In addition, the power mode of this range extension system is automatically adjusted based on driving conditions.
Based on these specifications, Nezha's range extender currently has a competitive advantage in terms of performance, efficiency, noise reduction, and cost over similar models in the domestic market. In the future, more efficient range extenders will be developed to meet the needs of different vehicle models.
It remains to be seen when this new range extender system will be applied to Nezha's production models.
This entire computing platform, electric drive system, and range extender system are only the initial components of the Nezha Haohzi technology platform, which will continue to be optimized and expanded with new technical content. Users can look forward to Nezha's subsequent models.
However, after the launch of the Haohzi technology brand, many pre-order users of Nezha S-models expressed their disappointment since the new technology was released without first delivering the vehicles, leaving them behind in the technological race.But this is the result of technological advancement. The iteration speed of intelligent electric vehicles will far exceed the replacement speed of models in the era of fuel vehicles in the past, even comparing to the iteration speed of intelligent smartphones. The revolution has just begun.
In the end, it still depends on how NIO will implement these technologies and whether they can truly turn these technological advantages into product competitiveness. After all, electric vehicle consumers now are half product and technology experts, not easily fooled.
Finally, do you think that when these innovative technologies are all applied to NIO vehicles, can NIO leap from a 100,000-yuan-level vehicle brand to a 300,000-yuan-level one?
This article is a translation by ChatGPT of a Chinese report from 42HOW. If you have any questions about it, please email bd@42how.com.