Is the "Panoramic Door" really necessary?
During the outbreak in Shanghai, Ideal Auto frequently made headlines not because of anything else, but because of the upcoming new car, Ideal L9. So, why does a new car generate so much hype?
In terms of appearance, Ideal L9 continues the design language of Ideal ONE, but upon closer inspection, it is found that the trunk did not adopt the most popular "panoramic door" design online. A netizen named @Li Xiang on Weibo offered some opinions on why the panoramic door design was not used when interpreting the details of L9.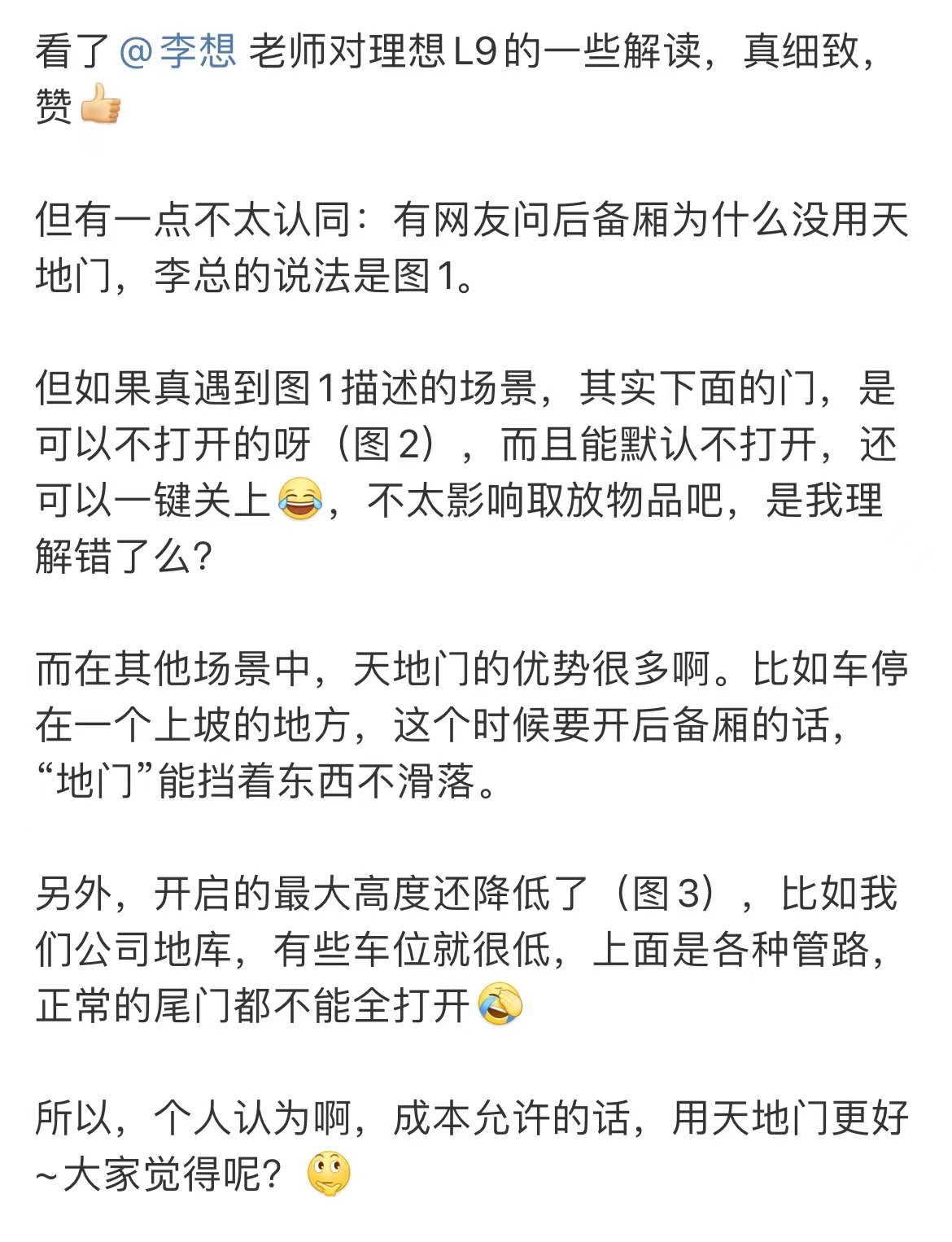 Li Xiang later posted on Weibo that whether or not to choose a design similar to the panoramic door mainly depends on three aspects: "functionality, cost and weight," and it was only after in-depth research and repeated verification that the decision was made to abandon the panoramic door design.
So, many car enthusiasts still don't know what is meant by the "panoramic door."
Panoramic door? Is it a sect in martial arts novels?
The opening methods of common car tailgates (trunks) in the market can be divided into four major categories: "upward opening style," "left and right opening style," "side opening style," and "up-and-down opening style."
Upward opening style
This is the most commonly used tailgate opening method. However, this method is used less often on larger-sized vehicles. This design is simple, practical and low-cost. It is more suitable for use on urban SUVs. The advantage is that the trunk opening is large and easy to open, while the downside is that it is inconvenient to close the trunk on an SUV that is too high. However, if equipped with a one-button electric tailgate, it will be much better.
Left and right opening style
No need to say much about this. The large opening is convenient, but it is not widely used for vehicles, only a few models, including Iveco!
Side-opening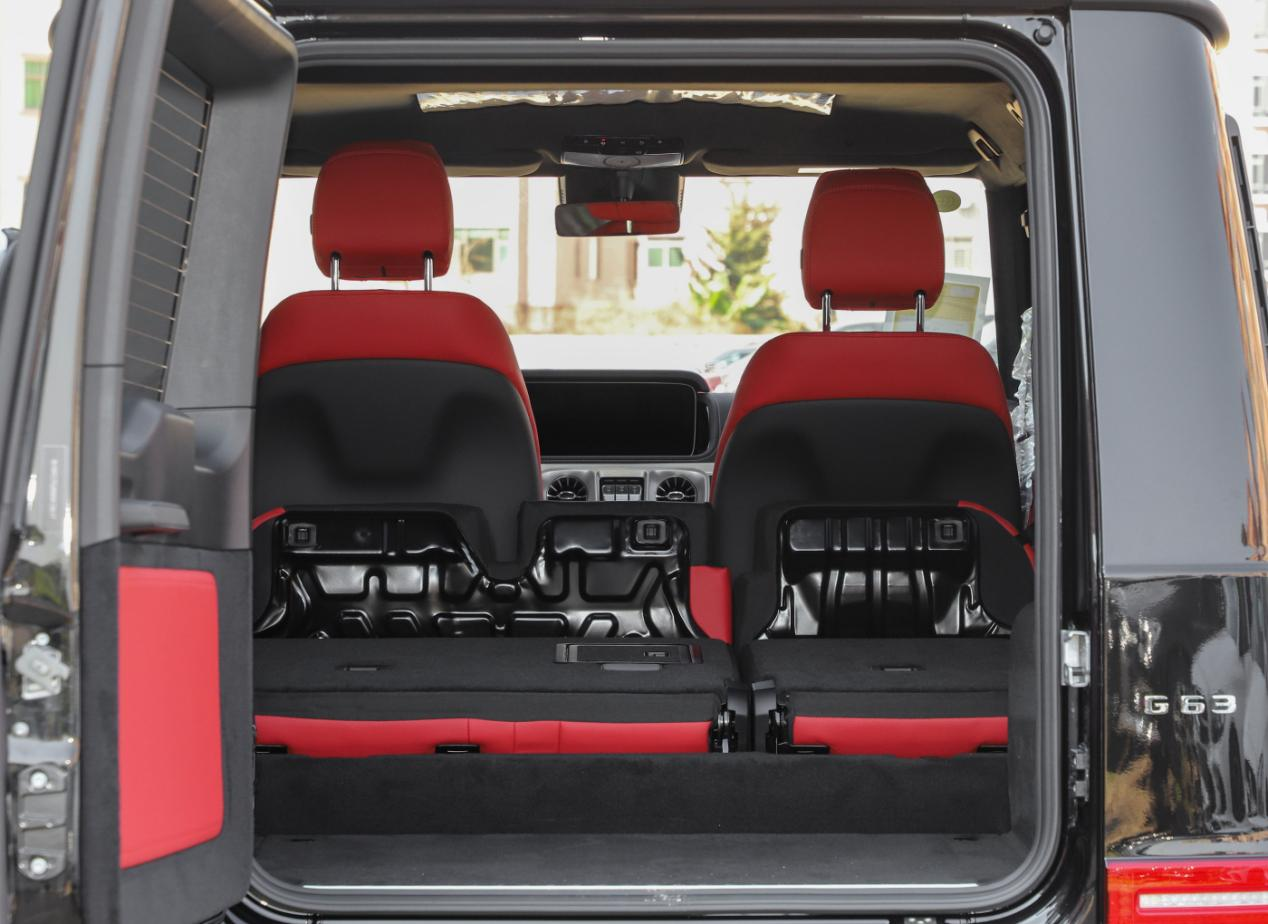 The side-opening is more commonly used in tough SUVs. Like the hood-opening, the difference is in the opening direction, and the load-bearing capacity of the rear door is increased. It can be hung with a spare tire, enhancing the rugged off-road feeling. It can also be equipped with off-road equipment such as external toolboxes and entrenching shovels. One disadvantage is that it is easy to be squeezed by the car door in strong winds, and another is that it is not convenient to open when parking spaces are small and there is a wall behind it.
Up-and-Down Opening (Commonly known as Gullwing Doors)


The infamous gullwing doors! Hahahaha, it sounds like a sect in a martial arts novel! From both a design and a user perspective, this rear door opening method is the most reasonable in SUV models. It is very convenient to open both the upper and lower halves, and only the lower half needs to be opened when taking or placing small objects.
Moreover, when driving an SUV for camping or fishing, after opening the lower tailgate, there is a small platform at the rear of the car for you to rest on, and your pants will not touch the dust on the rear bumper. The weight of the tailgate is reduced, which reduces the pressure on vulnerable parts such as the hinge and lock.
It can also prevent the risk of items falling out of the trunk when parking on a slope!
(The Cullinan's downward-opening door really has two small chairs with backrests!)
Of course, there is another exception!
The up-and-down and side-opening style of the JEEP Wrangler (self-invented term)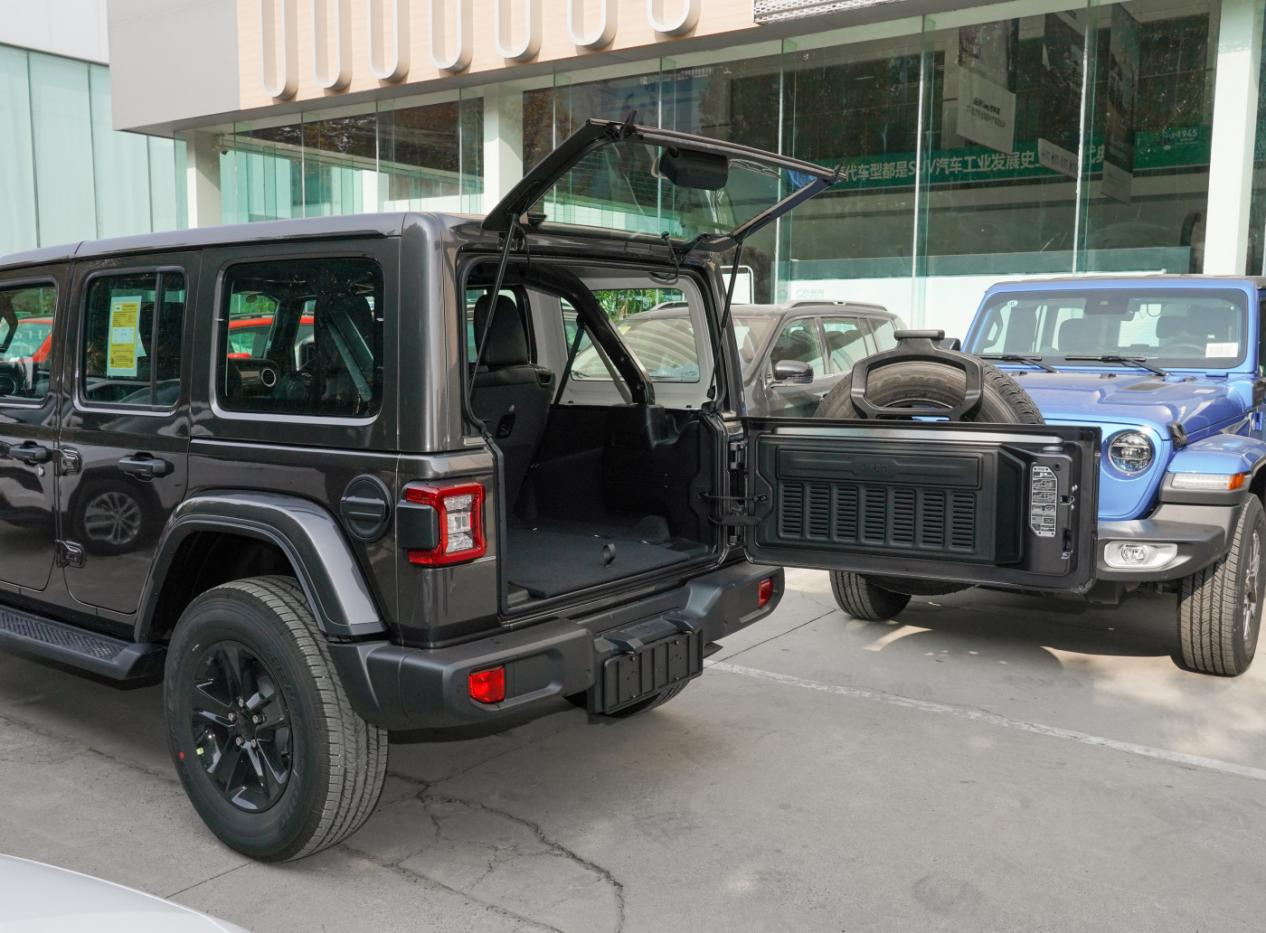 ## What's the Meaning?
So, do you think the design of Sky-Earth Door has any meaning? Is it frequently used in certain situations? And should we develop a product feature like Sky-Earth Door as urbanization progresses? Your comments in the comment section are welcome. 🙂
This article is a translation by ChatGPT of a Chinese report from 42HOW. If you have any questions about it, please email bd@42how.com.