The new AITO M7 has sent a fresh 'shockwave' through the Chinese car market.
On the last day of the National Day holiday on October 6th, the number of pre-orders for the AITO M7 exceeded 7,000— marking an impressive figure of over 50,000 pre-orders just 25 days after its official launch.
In fact, the day before, on October 5th, the M7 racked up over 3,500 pre-orders, a surprising achievement in itself for the auto market. The following day's results revealed that the AITO M7 had secured over 10,000 pre-orders in just two days. This success was considered a 'miracle' by Yu Chengdong, who posted about it on his circle of friends on October 6th.
He further noted, "Coming back from the brink is truly no easy task."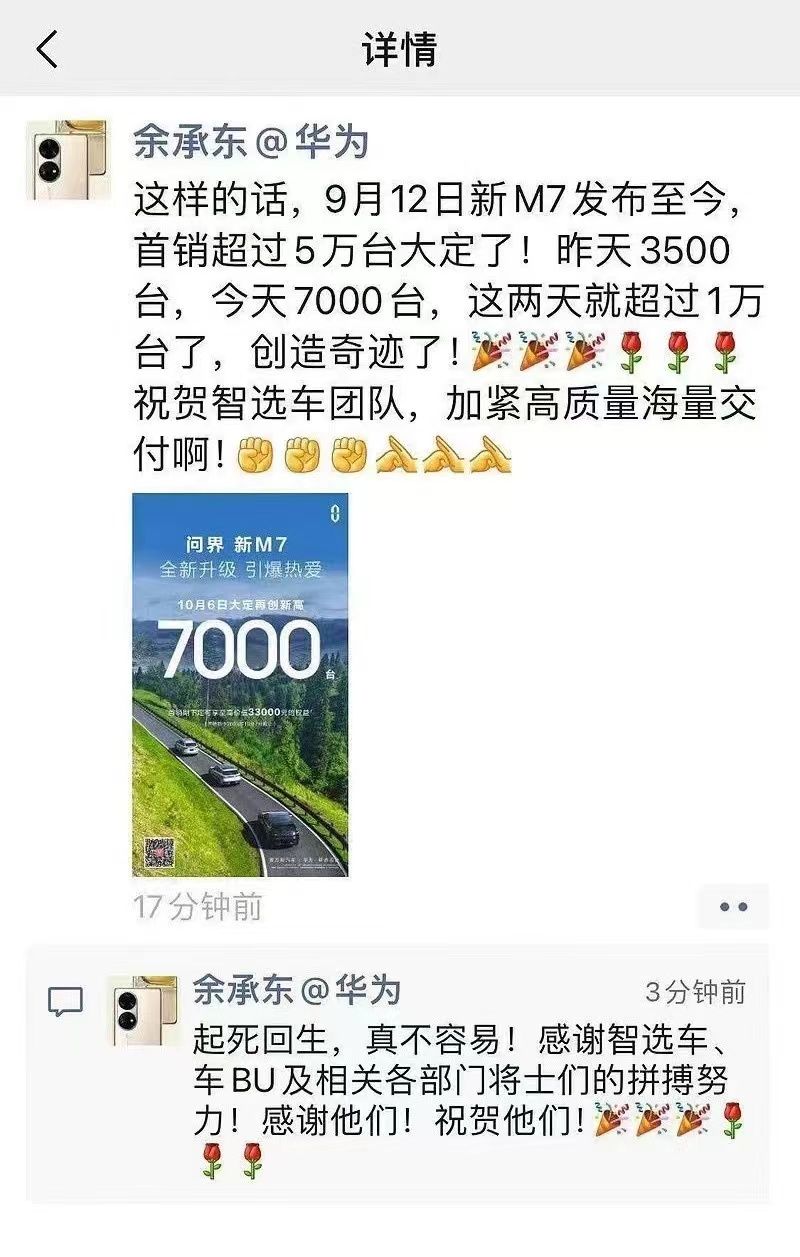 From a product perspective, the AITO M7 emphasizes 'great intelligence, spaciousness, and superior safety'. Its main selling point is the sophisticated ADS 2.0 intelligent driving system that it employs, enabling not only advanced intelligent driving support for highways and urban areas but also smart parking capabilities. The AITO M7 also introduces a spacious five-seater version, with an internal effective space L1 reaching 3,338mm (L1 refers to the length from the foot pedal to the rear tailgate inside the vehicle, an objective measure of effective internal space). On the safety front, in addition to a redesigned body structure for passive safety, it is the first to introduce a full-direction collision avoidance system.
From a pricing standpoint, the starting price for the AITO M7 is 249,800 Yuan, bringing the entire product's price range down to the 250,000 level. In reality, the AITO M7 has also added new dimensions for the customer's car purchase options, including the five-seater and seven-seater versions, intelligent driving versions, and non-intelligent driving versions. The two intelligent driving versions with the 'Max' label are priced at 309,800 Yuan (five-seater) and 329,800 Yuan (six-seater), respectively.
Moreover, to boost sales growth, during its initial launch period, the AITO M7 has also rolled out a rights package worth 33,000 Yuan.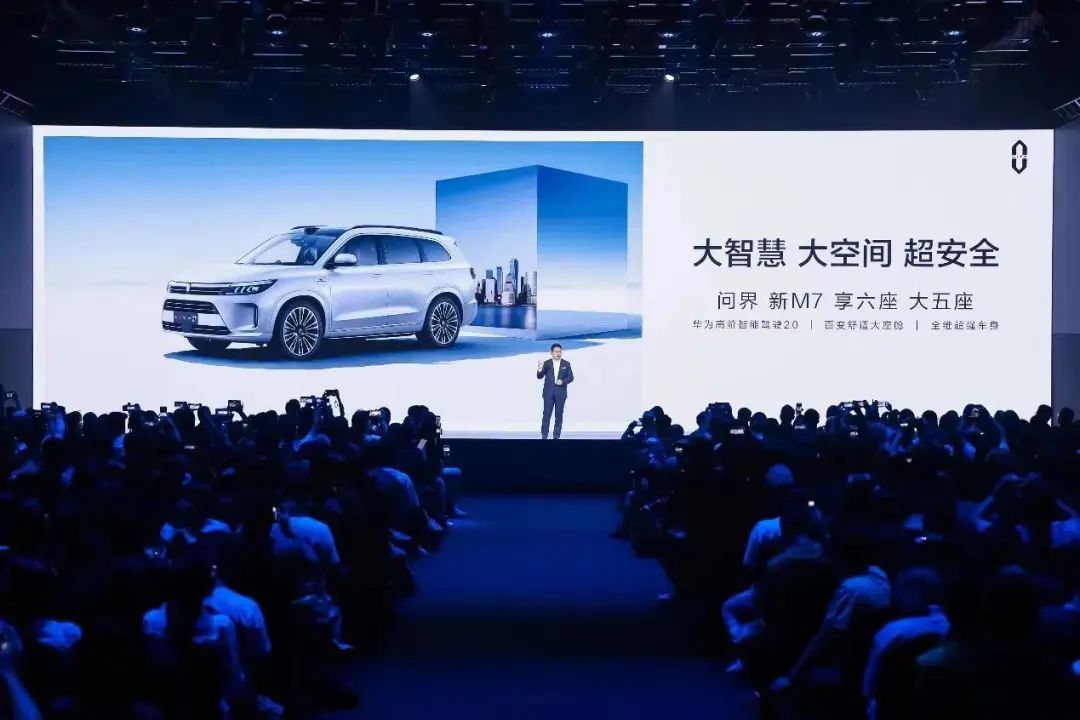 Of course, the AITO M7's initial sales period coincided with the launch and sale of Huawei's Mate 60 series and the resulting attention on Huawei's chips. Although this cannot be directly associated with the AITO M7's pre-order quantity, it's undeniable that it significantly increased the attention garnered by the Huawei brand and the footfall in its offline terminal stores. This allowed the new M7 to engage with more potential car owners, thereby facilitating an increase in pre-orders.
So, how did those who chose to pre-order the AITO M7 come to their decisions?
For this, we got in touch with 10 customers who have placed an order for the new AITO M7, and had in-depth discussions with them about their decision-making process – through their authentic voices, we might be able to get a glimpse into why the new AITO M7 has become such a sensation.
Customer "Undeniable Merit": Without Smart Drive, I wouldn't even notice this brand
City: Xi'an
Purchased Version: AITO new M7 five-set Smart Drive edition
Customer's Own Words:
I placed the order on the evening of October 6, for the five-set Smart Drive version with software package.
I have been in a dilemma for a long time before buying this car since I didn't actually have an immediate need, although I had the idea of replacing my current one, this was strictly considering a fully electric model. Because I already own a hybrid (BYD Qin DM-i).
As a heavy user of Smart Drive, I have to drive myself from Shaanxi to Hunan 2-3 times a year, each time covering about 3,000 kilometers. Smart Drive can really liberate me. During the just-concluded double holiday period, I completed a 3,000 km drive, the lane keeping and adaptive cruise of BYD Qin DM-i can considerably reduce fatigue, but it still left me exhausted, so I really need a Smart Drive system that is highly available and reliable.
For my second car, I need an SUV. The initial driving feel of Xpeng G9 was not good, my wife outright rejected it. Moved by G6 after it was launched, but issues with appearance and long delivery time, along with > less comfort settings, kept me waiting until now. LI is a brand I found hard to surpass during my car purchase process, my wife really likes LI L7, its larger rear seat space, beautiful appearance, it even has good sales, I have been following it since Car and Home were established, but in the end, I didn't choose LI.
I also seriously considered avatr 11, it has more hardware solutions than AITO, featuring two more lidars, but I can't accept its interior design.
To be honest, I am a person who pays special attention to new energy vehicles, the sales of AITO vehicles are average, I didn't pay much attention because I just couldn't find where it was attractive, it's hard to say that the appearance is good; before new M7 Smart Drive broke out, I couldn't find any attractive points. But this time, the breakthrough in the Smart Drive of AITO new M7 and the superposition of Huawei mobile power have captured too much attention, the promotional effect of mass Smart Drive reviews on short video platforms is too good.
The store arranged a test drive of the M5 Smart Drive edition, covering only a short distance of about 5 kilometers. If my expectation before the test drive was 100 points, I could only give this test drive 70 points, barely passable. It probably was the test drive specialist wanting to show off its Smart Drive ability too much, resulting in abrupt lane changes, avoidance, acceleration, and deceleration throughout the process. However, taking into account reviews from various short video platforms, I am still confident in its Smart Drive, so I placed an order anyway.
Of course, this new M7 is not fully electric, I still placed the order. Like I said earlier, what moved me was the Smart Drive, Huawei, and price advantage compared to LI; without Smart Drive, I wouldn't even notice this brand – although I know that new M7 will eventually introduce rear-drive Smart Drive and fully electric options, I don't want to wait any longer.If the whole decision counts for 10 points, I would say, in my case, 8 points go to Huawei's brands and tech competencies. Huawei's imprint is everywhere from In-vehicle infotainment system, intelligent drive system, chassis control, to suspension tuning. Huawei has indeed infused this car with a soul. Moreover, as an employee of a state-owned enterprise, I recently switched from the Apple ecosystem to the Huawei ecosystem due to work reasons. The integrated ecology of the mobile, watch, and earphones is also a factor I took into consideration, albeit not a major one.
Car owner 'Nuohan Dad': I've been researching new energy for a long time, but I ended up making an impulse purchase
City: Jinhua
Purchased Model: AITO M7 Five-seat Intelligent Version
Car owner's statement:
I pre-ordered it in August. Back then, I was looking at the Max version because I was focused on Huawei's intelligent drive technology. In fact, I inspected the old version of AITO M7 last year. However, without the intelligent drive, its competitive edge didn't seem so prominent with only the HarmonyOS cockpit. So I didn't consider it anymore later.
Originally, I didn't intend to buy a new energy car. I was just interested in this field and had done some research, but without any impulse to make the purchase. Considering the needs of my two kids, my next car choices boiled down to a 5-meter MPV or SUV. Post test-driving, the DENZA D9 seemed to fit the bill, yet there was no impulse to buy it either. I also test-drove avatr 11, but dismissed it due to inadequate space.
Come June, I watched videos on the M5 Intelligent Version's capability. Realizing my susceptibility to distracted driving, which has almost led to accidents, I went for a test drive of M5 Intelligent Version. However, it fell short in size compared to my expectation.
Despite this, I still had my sights set on AITO. As more and more new energy cars are resembling smartphones, those without OTA (Over The Air) updates are less competitive. AITO, with its Huawei backing, enjoys higher OTA frequency than other brands.
Moreover, in the area of intelligent driving, Huawei stands out. I noticed on the short video platform that only Huawei dares to livestream testing of their intelligent drive, whereas other brands have had instances of the backend being disconnected during live demonstrations of their intelligent drive vehicles. Consequently, I have faith in Huawei's intelligent drive.
Admittedly, aside from Huawei, other manufacturers have also done well in intelligent driving. The performance of most vehicles on the highway is basically similar. However, I'm more fond of the urban NCA instead of highway NCA. And given that Huawei is advancing a mapless solution, and the city I live in will likely roll out urban NCA this year, I pretty much don't have any other choices.
What I want to underline is that despite having studied new energy for a long time, I never felt an impulse to place an order. My goal is very clear. Conversely, the intelligent drive technology became the reason for my impulse purchase. Of course, buying this car is also due to Huawei's substantial investment in it, including the chassis and material quality. Otherwise, I wouldn't even consider it. This is a very practical concern.
One additional point—after deciding to purchase, I recommended four customers to the user center, and three of them placed their orders—all choosing the Intelligent Version.
Car owner 'Mi Long': I went way over budget this time.Location: Chongqing
Purchased Model: AITO new M7 – Five-seater Intelligence Driving Version
Car-owner Testimony:
The AITO new M7 was announced for pre-sale in late August, and I visited to inspect the engineering vehicle on September 2nd. Having identified no substantial issue, I made the purchase, choosing the five-seat intelligence driving version.
I already own an electric vehicle, but needed another now with my parents retiring. My initial intention was to get a car worth around 100 thousand. I scoured through many options, but cars like LI L7 and NIO ES6 were clearly over my budget. DEEPAL S7 and Tank 300 were considered as well, but decisions remained unmade. AITO's previous model M5 caught my interest but failed to impress due to a perceived lack of smart features.
Admittedly, I overshot my budget significantly this time; initially, I had only planned to spend 150 thousand. The irony is, I have no interest in cars, let alone driving them – an unusual disposition for a man, I realize. Hence the emphatic need for intelligent driving.
My work is strenuous, and I sometimes read messages while driving. It's risky business and NCA can help alleviate this danger. My parents, in their recent retirement, take frequent road trips. My dad smokes in the car to stay alert on these trips, so having NCA would be a great safety improvement.
I'm a loyal Huawei consumer, and I follow their new product releases and discuss them with fellow enthusiasts. After watching Huawei's Intelligent Drive reveal, I was convinced it would satisfy my stark need.
Brand names don't play a role in my purchase decisions. If Tesla could offer intelligent driving of similar capabilities domestically, I would have considered it. After comparing all options, I find Huawei's Intelligent Drive superior to other options such as Xpeng and LI.
I also reviewed avatr 11. I was initially drawn to its four-seater version, but the limited space and flamboyant design turned me off.
So when the M5 Intelligent Drive version was unveiled this year, I was instantly intrigued. However, the steep price was a deterrence. My perceived fair price was 250 thousand, with the NCA Intelligent Drive package requiring an additional 18 thousand. Taking insurance and other fees into consideration, it seemed like poor value. But soon I was pretty set on buying it. The news of the M5 Intelligent Drive version's release finalised my decision.
I would have certainly preferred a fully electric model, but no such version was available. While the vehicle's internal systems were also taken into account, they had much less impact on my overall decision.
To be honest, my budget was nearly fully tapped with the intention of purchasing the intelligent driving version. Estimated to cost 330 thousand in total, I gradually accepted the price. The final 10 thousand discount came as a joyous surprise.
---
Owner 'Xin': The product quality compelled me to buy
Location: Guangzhou
Purchased Model: AITO new M7 – Five-seater Intelligence Driving Version
Car-owner Testimony:
I made a major deposit on the night of August 29th.Previously, I drove an older model Highlander. It was relatively old with high fuel consumption. Despite not being troubled about the fuel cost, I found it a little inconvenient. That's why, since the end of last year, I started hunting for a new car. Initially, I was not considering new energy cars, instead looking at options like the Explorer.
As a taller person, I prioritize vehicle space — it made many models, including BYD, AION, and GAC, unsuitable. I investigated pure electric brands like avatr and Xpeng as well, but their interior space could not meet my needs. Plus, sometimes I perform long-distance driving, leading me to consider either Plugin hybrids (PHEVs) or Hybrid Electric Vehicles (HEVs).
One day when I was out shopping with my family, I visited the LI showroom and test drove the L9. The experience was nice, and the desired model was available for immediate purchase. But, by a twist of fate, some matters cropped up, and I could not make the purchase immediately.
Later, I test-drove the L9 again and noticed during that when parking automatically in a tight space, the car stopped. Considering that my wife also has to maneuver the car, I decided against making a purchase.
Next, I searched online for reviews about automatic parking systems. I found in a Bilibili video that AITO's M5 Smart Drive version performed quite well. But for me, the M5 Smart Drive had major shortcomings — a lack of sufficient space and no sunshade, making the roof too hot.
I've been following AITO for quite some time, as there's an authorized Huawei store in my area. I was also considering the older M7 model, but it did not have a five-seat version. Then, in late August this year, just when Huawei launched its smartphone, the new M7 was also introduced. I had a good conversation with my sales representative, and this led me to book the vehicle.
One reason for booking the new M7 was that it now comes in a five-seat version, which satisfies my desire for space.
Responder selected: Qingdao
Selected Model: AITO's New M7 Five-seat Smart Drive Version
Owner's Testimonial:
I placed a small deposit on this vehicle on August 27, and then made a substantial deposit at a local car show in Qingdao on September 9. I chose the five-seat smart drive version.
Last year, I planned to purchase an additional new car. I had looked into the old M5 model because of my interest in Huawei. To be honest, I was not satisfied with the older M5, as it lacked Huawei's Smart Drive technology and was not deep enough; however, its control and quality were passable. I also test drove the older M7 model, and I felt its chassis was good but not the quality. The six-seat version's space was not satisfying, and it had a hefty price tag.
In late July of this year, the previously owned Star Yue L that I drove had an accident. I chose to declare the car a total loss and decided to replace it. Initially, I considered the AITO M5 Smart Drive version, but it was a bit small. Compensation for the damaged vehicle was slow to process, so I kept putting off the purchase. This delay resulted in the introduction of the M7 Smart Drive version.Throughout my search, I have considered various brands and models including electric ones. I considered Xpeng G6 and G9 as well as ZEEKR 009; I found their driving styles appealing but a tad costly. However, I ultimately gave more preference to plug-in hybrids. I had test-driven LI L9 and L7 and found the overall experience pleasing and comfortable. As a result, L7 maintained a spot on my list of options and at the final filtering stage, I was left with L7 and M7.
The decision to go for the new M7 was heavily influenced by its advanced driving capabilities, which was a key decisive factor for me.
I have been exploring smart driving since around 2010, starting with ACC followed by LCC. These advancements made my long-distance driving experiences much more relaxed. With a personal preference for self-driving, I have always been keen on auxiliary driving aspects.
My interest in Huawei's smart driving capabilities stemmed from my status as a long-term Huawei user who always follows the company's developments. After the release of the AITO M5 Smart Driving version, I saw many live videos (not edited ones) online which bolstered my trust in Huawei's smart driving capabilities.
On personally trying out the M5 Smart Driving version, by the time the new M7 was released, I had already established a high level of trust in Huawei's smart driving capabilities. The uncertainty surrounding LI L7's smart driving became a major drawback.
One of the other deciding factors for buying the new M7 was the price, considering the attractive starting price of around 250K. The new M7's five-seater version offering larger interior space was yet another bonus. Even though the model I chose cost a bit over 300K, had I chosen the LI L7, I'd only get the Air version at that price.
Generally, I based my purchasing decision on rational factors; Huawei's brand influence had minimal impact on me. If there was any such influence, it kindled my interest in M9 but I couldn't wait.
Also, I had concerns about AITO's delivery capability since my blind order delivery got delayed, posing another challenge for AITO.
Car Owner, Mr. Fenghua: I've Gained Confidence in Smart Driving
City: Taiyuan
Version Chosen: AITO new M7 Six Seater Smart Driving version
Owner's Statement:
I placed the order on September 18th. After the launch of the new AITO M7, friends encouraged me to consider it. A few days later, I visited the showroom and within half an hour, I made the purchase.
This purchase was an addition to the two gasoline cars already owned. Due to work needs, I felt a six-seater vehicle was needed in the house. Considering fuel economy and a certain range anxiety, I hoped for a hybrid or plug-in hybrid model with a budget between 300K and 450K. So, I considered models like LI L8, Lynk & Co 09, Weipai Lushan among other plug-in hybrids, as well as brands such as BYD, SAIC GM, and VOLVO.
The reason I didn't consider LI L8 is I felt the exterior didn't match my aesthetic preference. I test-drove the Lynk & Co 09 but I felt it lacked in intelligent features. For instance, it didn't instill enough confidence in terms of lane keep assist.
So, the new M7 had quite an appeal to me. I was aware of some issues with the old M7 and some people advised against it. However, seeing some actual test videos shown by the salesperson, and knowing that Huawei invested 500 million in improvements, boosted my confidence.
The model I chose has the smart drive, aside from the six-seater layout. To be frank, smart driving isn't a must for me, but it is for my wife who is a novice driver. Her main requirements are AEB and parking guides. Of course, I also need NCA to alleviate fatigue while driving at high speeds.
I wasn't quite trusting of autonomous driving at first, but I gradually built up my confidence. There are many reviews about autonomous driving on station B, and eventually, I test-drove AITO M5 smart drive edition. I became more accepting of it when tested on my usual routes.
Also, being a Huawei mobile user myself, the interaction between the car and mobile was a point for me to consider. Furthermore, part of my decision to buy it was to support local products.
Car Owner 'Teapot zw': Cars without smart driving might not sell next year
Location: Kunming
Model: AITO new M7 five-seater smart drive edition
Owner's statement:
I made a small reservation in late August, and made the full reservation on September 17th for the five-seater smart drive edition. I already owned a gasoline car, and this was an addition. Given range anxiety and the long journeys I make 7 or 8 times a year, I wanted to buy a plug-in hybrid or an extended-range vehicle, with a budget around 300,000 yuan.
From July this year, I started looking at "NIO, Xpeng, and LI". I was really impressed by LI, including fridge and big screen features, but some configurations were lacking so I left it out.
My attention to AITO came due to my Huawei fandom, from the earliest M5. I prioritized smart features over electric features.
I believe smart cabins are no longer the core, but smart driving is. I feel that, by next year, if your car does not have smart driving, it might not sell.
Ever since Huawei's earliest collaboration with ARCFOX, I have been interested in the implementation of autonomous driving. Coupled with my daily traffic congestion, I was indeed desperate for something to ease my fatigue. After seeing videos and live broadcasts about Huawei's autonomous driving capabilities, my doubts gradually disappeared.
I made some comparisons myself and found that AITO was indeed a bit advantageous. I test drove the AITO M5 smart drive edition, but it was too small. Besides smart driving, smart cabins were also my concern.
Being a Huawei mobile user myself, I care enough about all things interconnected.Additionally, Huawei's commitment of investing 500 million Yuan for improvement, as stated in their launch event, assures me of their dedication to overcoming the issues of the past. Therefore, even though I had some doubts before, they are now cleared.
Moreover, the pricing is quite appealing, with the starting price being lower than my budget. Although as add-ons were included, the overall price slightly exceeded my budget, I still consider it a cost-effective purchase.
Car owner 'Doraemon': I expected it to be phenomenal, but not this incredible
Residence: Hangzhou
Purchased model: AITO New M7 five-seater for the intelligent-drive version
Doraemon shares:
I put down a preliminary deposit on August 27th and a final deposit on August 30th for the rear-drive five-seater model. However, after the launch on September 12th, I switched to the intelligent-drive version.
As a newcomer to driving and purchasing my first car, I've given this decision considerable thought. I needed an SUV with ample space, ruling out many joint-venture car brands, and it also had to be a new energy vehicle. Xpeng G6 was an option, but the fear of mileage anxiety ruled it out. Hence, I was left with very few alternatives.
I also considered LI, but it was beyond my budget, which eliminated LEAPMOTOR and DEEPAL off the list as well. Consequently, I settled on AITO.
I had previously considered the AITO M5. However, after a test drive, I found its space to be limited, a primary aspect for me when buying a car. If priced right, I would've likely opted for the intelligent-drive version of M5.
The intelligent-drive feature wasn't a strict necessity for me. So, I initially planned on getting the New M7 without it. After looking into it, I found the system's capability was not on par with human driving yet. But I knew Huawei had empowered the car with several features besides smart cockpit, hinting at more to come.
Contrary to the intelligent drive, I place more significance on the car machine since it considerably affects driving experience. Therefore, in this car-buying decision, the weightage of the car machine had overpowered intelligent drive.
However, I changed to the intelligent-drive version after they announced the NCA intelligent-drive package would have a discount of 15,000 Yuan, making it incredibly tempting. Without this discount, I would have had to spend an additional 20,000 Yuan for the intelligent drive. Armed with the discount offer, I decided to go all in.
Thus, it became an impulsive spending spree, going from 249,800 Yuan to 309,800 Yuan, a staggering increase of sixty thousand Yuan.
My parents' preference was leaning towards BBA because the price was similar. Some people questioned whether I should purchase LI in this price range. However, I value having a technology moat. Thus in my opinion, AITO is a car under 300,000 Yuan, and it boasts a more superior cost-performance ratio compared to LI.
Besides, this decision was also influenced by my understanding of automated driving becoming a trend. Buying a car at this stage ensures the inclusion of intelligent drive in the future.
Actually, there's another reason for me buying a car this time. Even though I am not a Huawei phone user, my last company was with Huawei, so there's a bit of sentimentality involved. I have always been keeping an eye on Huawei's journey and it feels like it wasn't easy; I had thought that this car would be a big hit, but I hadn't expected it to be so impressive.
Car Owner 'Xiao Wo Sun': Over Budget, But Still Great Value
Location: Shenzhen
Model Purchased: AITO M7 Six-seater Smart Drive Edition
Owner's story:
I placed my order on September 17th, choosing the 6 seater Smart Drive Edition.
My previous car was a gasoline vehicle, but it wasn't in my name. This purchase can be considered my first buy; in fact, I planned to buy a car the year before last, but I kept putting it off until this year around May or June, with a budget around 300,000 RMB.
These past few months, I first considered the BYD Tang DM-i for its fuel efficiency, but as I work in the cockpit industry, I wasn't impressed by its performance in that area and decided against it.
I proceeded to evaluate the Galaxy L7 and DEEPAL S7, which were quite decent, but the price wasn't right, so I planned to continue looking. I also checked out NIO. The overall experience was excellent, but considering my need for long journeys to my hometown, I decided a hybrid or range extender would be more suitable. That led me to Lynk & Co 09 and Wei-brand Blue Mountain.
I also examined the LI L8; it was the car I was most torn about. Initially, I was looking at the five-seater L7, but later found the six-seater L8 more suited to my needs. Its design and performance were commendable, but after a test drive, I realized my wife got car-sick in the backseat. Furthermore, the L8's LIDAR version was too expensive and over budget, so I let it go.
The reason for considering the LIDAR version was because I had a particular need for intelligent driving, especially high-speed NCA, which has become a must-have feature for me. More importantly, I wanted AEB. You could even say the final deciding factor for me buying the new AITO M7 was largely down to AEB.
I noticed AITO quite early, but had initially not included it as a potential option because I thought it was a cooperative product. However, after visiting the showroom and assessing it in person, I felt it was pretty good, although M5 Smart Drive had an issue of being too small. Still, its AEB capability was impressive.
I found out about Huawei's AEB capability mainly through a colleague who was also car shopping and recommended it to me, telling me that Huawei's intelligent driving and active safety were exceptional. I watched some videos on Bilibili and was quite impressed as well.
As someone working in the cockpit industry, the cockpit is a major consideration for me; without the intelligent cockpit, BYD would have been a good option too. AITO has been focusing on its cockpit over the past couple of years, especially the connection between the phone and the car, which is where its strength lies; as a Huawei phone user myself, this factor is particularly important to me.
For me, the most critical aspect of the cockpit is its ability to continue evolving and remain stable over the long term. For instance, brands like 'NIO, Xiaopeng, and LI' can consistently invest in and upgrade their cockpits, whereas other brands might face some risks.In the end, I spent more than three hundred thousand on this car. That was over my budget. However, I think the overall cost-effectiveness is relatively high—it is worth it. Of course, even though I consider myself rational, there's a little bit of Huawei support mixed in, truth be told.
Car Owner 'Mao TaoTao': The real test for it is delivery now
Current City: Shenyang
Select Version: AITO new M7 Five-Seat Intelligent Drive Edition
Car owner's narration:
I made the reservation on September 17 for the five-seat intelligent drive version.
This time I am buying an additional car as I already have a gas car. After assessing my needs, I looked at gas cars but none quite satisfied me. So, I turned primarily to new energy options. Living in the northeast, I think having a range extender brings more advantages than battery swapping, creating less anxiety.
As a female driver, I focus on the car's exterior and am equally interested in things like its battery, motor, and electronic control, as well as smart driving. After going to an experience shop near my home, I first checked out BYD but rejected it based on its appearance. NIO's exterior is okay, but I don't like its battery swap design. I also went to see LI, but it didn't really move me.
I don't really understand cars, but I made an effort to learn. Generally, I'm more confident in Huawei, such as its capabilities in battery, motor, electronic control and intelligent driving. Of course, I didn't just blindly trust, but watched many videos to understand it better and ensure its safety.
I went to see AITO, initially looking at the M5 intelligent version, I even did a test drive. My family thought the space in the M7 might be slightly more, and the price wouldn't differ too much, so we decided to wait for the M7 intelligent version.
The reason I chose the intelligent version is mainly because of the active safety capabilities the intelligent control brings, including AEB. I watched some videos about this model's intelligent control and AEB on station B, hence I have greater confidence in it. Furthermore, I believe LiDAR can also enhance safety.
Another factor is my strong demand for intelligent driving. I experienced its high-speed NCA during the M5 intelligent test drive, which was really good, mainly stable. This is why I really need the NCA. Actually, I'm a bit lazy, so I'm more than happy to use intelligent driving features; as long as it can handle the maneuver, I hope the car will undertake it.
Many veteran drivers may have doubts about intelligent control. However, unlike them, I am keenly aware of my weaknesses and choose to use technology to overcome them. Hence, my acceptance of intelligent driving is particularly great— of course, this is after the test drive experience; it instilled confidence in me.
Apart from intelligent control, I also care about the performance of the car machine. As a Huawei mobile user and owner of other Huwaii products like tablets and watches, I think the connectivity between mobile and car machine is very important, especially the terminal interconnection; it's super convenient.
However, for me, the reason I ultimately bought this new M7 intelligent version, is based on the vehicle itself. I think it is a good product launched at an appropriate price, which then got noticed by more people at the right time—of course, the real test for it now is the delivery.### Final Thoughts
In this exchange, range extension, intelligent driving, and space have become the three core product labels for these car owners to choose AITO's new M7—if there is another consideration, it is its price and discounts.
Interestingly, in the process of their car purchase, LI Series emerged as the model most frequently compared by the interviewees, especially the L7. However, they eventually chose AITO's new M7 primarily due to its intelligent driving capabilities and price.
Worth noting, all of the ten pre-order car owners we engaged in this dialogue, without exception, chose the intelligent driving version of AITO's new M7, among whom eight chose the five-seat intelligent driving version.
While they might not be able to represent the choices of all AITO's new M7 pre-order car owners, their selection of the intelligent driving version is genuine and reflects the growing influence of autonomous driving on car purchasing decisions. More than that, even those users who do not regard autonomous driving as a necessity are exceptionally interested in the active safety features derived from the intelligent driving capabilities of AITO's new M7, particularly AEB.
This showcases the value that AI-empowered intelligent driving can achieve for users from another perspective.
Of course, during our communication, these car owners also expressed their concerns about delivery delays. Currently, due to the vast volume of orders, the estimated delivery times of their vehicles have all experienced various degrees of delays. This is stirring complaints among car owners. Hence, for AITO, ensuring the product delivery of pre-orders is progressively becoming a critical challenge in the foreseeable future.
This article is a translation by AI of a Chinese report from 42HOW. If you have any questions about it, please email bd@42how.com.