On September 22, 2023, the first 'Urban Base' showroom of JISHI Motors across the nation officially began operation in the Financial Street of Jingan District, Shanghai. Concurrently, the Delivery Center 'Shanghai Songjiang JISHI Basecamp' also commenced operation.
According to official information, JISHI Motors plans to construct 17 Experience Showrooms, 11 Delivery Centers and 11 Service Centers in 17 cities across the nation before the end of this year. These cities include Shanghai, Beijing, Shenzhen, Chongqing, Guangzhou, Suzhou, Chengdu, Wuhan, Hangzhou, Nanjing, Tianjin, Ningbo, Qingdao, Zhengzhou, Wuxi, Changsha, and Xi'an.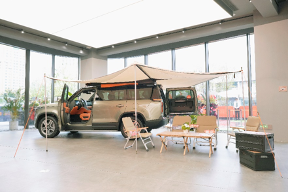 Additionally, JISHI Motors will also establish 62 Authorized Sheet Metal Spray Painting Service Centers in 55 cities.
In celebration of this event, JISHI Motors has introduced a brand-new 'First Owner' car purchasing priviledge. Consumers who pay 5,000 yuan as earnest money before September 30 (inclusive) and complete the purchase of JISHI 01 before November 16, can enjoy this special purchasing benefit.
Yan Feng, Co-founder and CEO of Loriot Intelligence, stated that JISHI Motors is the successful embodiment of Loriot Intelligence's techno-empowering at BEIJING's automobile manufacturing plant. He also expressed his special thanks for the trust and support from WeiQiao Group.
After all, upon strategically investing in Loriot Intelligence, WeiQiao group increased the technological investments in BEIJING's car manufacturing factory, with a view to enhance its Super Factory's capability in intelligent manufacturing. A total investment of 1 billion US dollars would be utilized for the research and development of full aluminum car bodies, integrated die-casting technology, and short-process intelligent manufacturing factory project.
Zhang Bo, Chairman of WeiQiao Group, stated that WeiQiao Group will continue to increase investments in JISHI Motors, and plans to strategically invest in Loriot Intelligence. Both parties will proceed in deep cooperation in all aspects.
This article is a translation by ChatGPT of a Chinese report from 42HOW. If you have any questions about it, please email bd@42how.com.