At the 26th Chengdu International Auto Show, Kia made a grand appearance with a fresh booth design, a new product lineup, and a novel brand image. The highly-anticipated EV6 was officially launched at the Expo. Furthermore, the new model EV5, designed specifically for the Chinese market, has officially started pre-sales.
At the Auto Show, Kia expressed confidence in the importance of the Chinese market to Kia's global strategy. In order to cater to the new energy automobile market in China, Kia has officially announced its electric vehicle strategy, offering high-tech, high-quality, and safe electric vehicles. In the first half of 2023, Kia's global sales reached a record new high of 1.58 million units, further boosting its confidence in its development in the Chinese market. For the Chinese market, Kia plans to continue increasing technology and R&D investment to keep up with evolving user needs.
Kia is not only focusing on the transformation into electric vehicles but also upgrades in products, marketing, branding, aiming to provide top-quality mobile travel experiences. In terms of products, Kia plans to launch at least one purely electric vehicle developed from its electric vehicle platform each year, with a total of 6 pure electric models planned by 2027.
The key takeaway is that in order to provide more convenient services to users, Kia plans to officially roll-out a new brand app in Q4 of this year to further enhance customer experience and promote digital transformation in user services.
At this car show, the previously pre-ordered global star vehicle Kia EV6 officially launched, with three models debuting. The official recommended retail prices are respectively 282,800 yuan, 312,800 yuan, and 419,800 yuan. The EV6 is an exciting entry into the high-energy pure electric sports car market, with a focus on standout product performance, particularly in terms of power and control, demonstrating class-leading capabilities. Regarding intelligence, the EV6 GT is equipped with an enhanced intelligent driving assistance system, providing comprehensive assurance for users.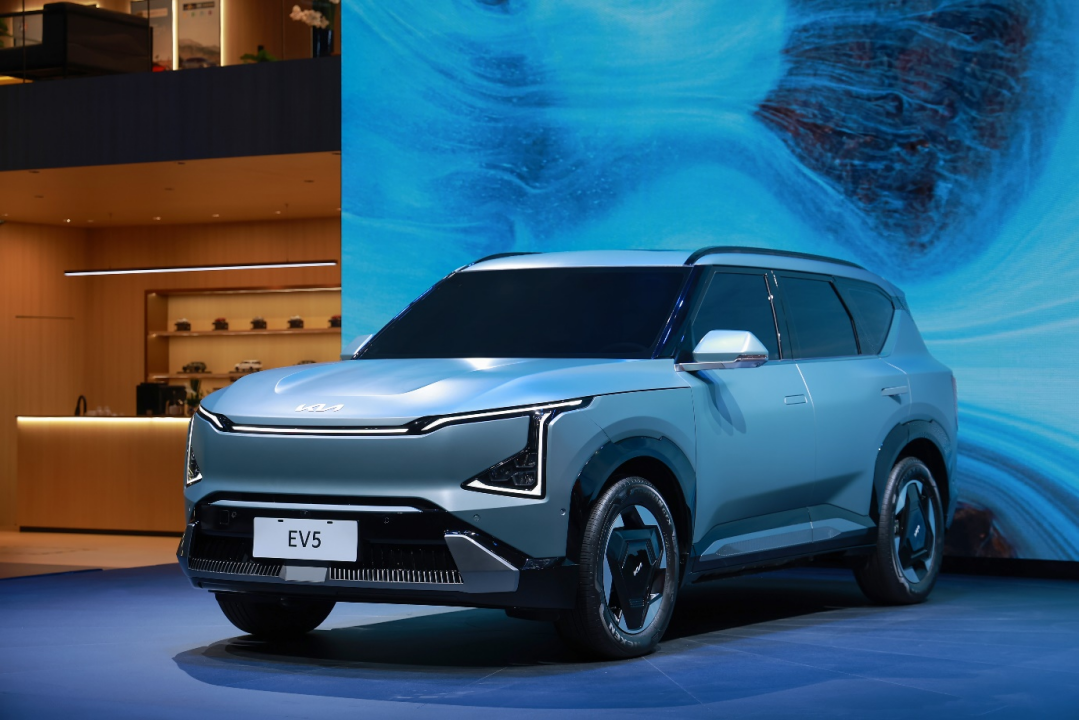 Meanwhile, riding on the "DF" wave of the EV6 launch, the EV5 has officially started pre-sales. Positioned as a strategic model for the Chinese market, the EV5 pre-sales range from 159,800 yuan to 229,800 yuan, and reservations have begun. In terms of product design and usage, the EV5 emphasizes comfort and user-friendliness, with an SUV-style exterior design that takes into consideration spatiality and visibility, creating an excellent driving experience. In terms of intelligence, the EV5 is equipped with the latest generation of ccNC car entertainment system, supports OTA whole vehicle remote upgrade, and provides a more advanced intelligent travel experience.
This article is a translation by ChatGPT of a Chinese report from 42HOW. If you have any questions about it, please email bd@42how.com.