DENZA N7 is striving to create a "fully intelligent" product image.
On May 29th, DENZA Auto released a series of intelligent "black technologies" for its luxury coupe SUV, the DENZA N7, including the e-platform 3.0 and intelligent chassis integration technology, aiming to showcase improvements in intelligence, comfort, and handling.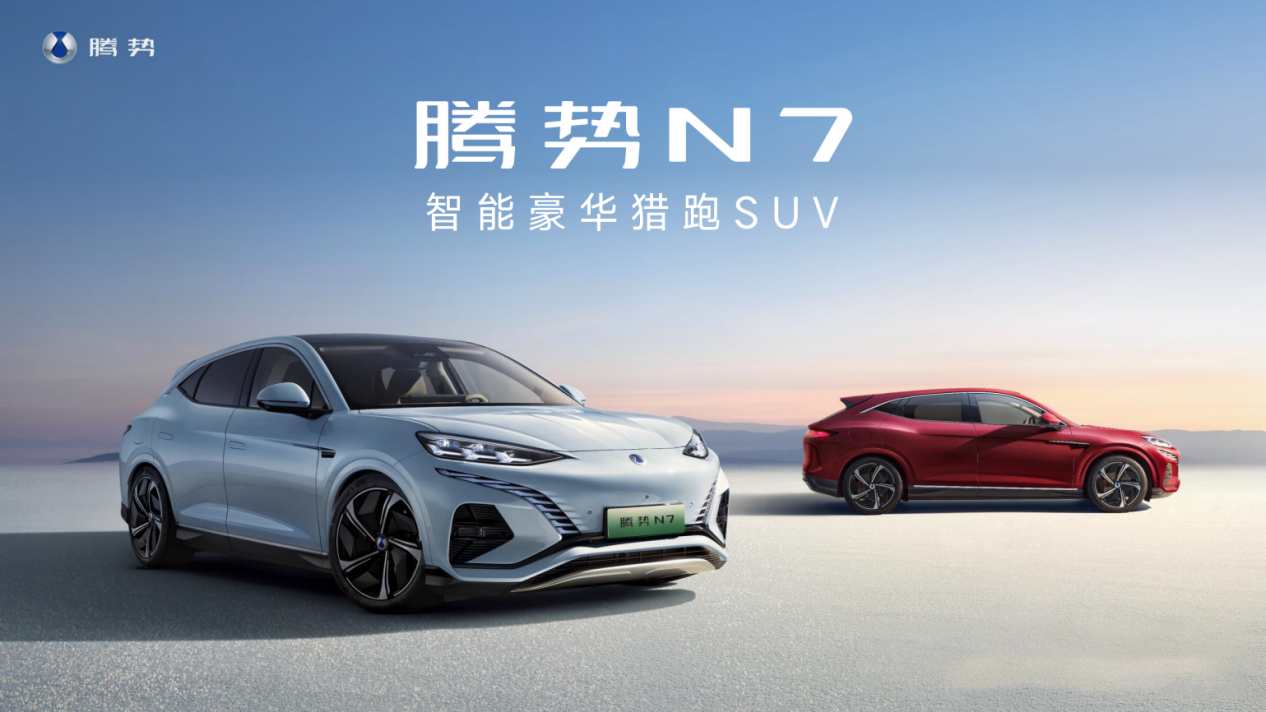 According to the official statement, the DENZA N7 has 1 platform, 2 systems, and 3 major intelligence features—namely, the e-platform 3.0 upgraded version, the Yunan-A Intelligent Air Body Control System (Standard Edition), and an all-scenario efficient energy replenishment system, including intelligent chassis, intelligent cockpit, and intelligent driving.
Specifically, the e-platform 3.0 upgraded version adopts a highly integrated vehicle platform architecture, including CTB battery body integration technology, iTAC intelligent torque control, SUV-specific four-wheel-drive high-performance architecture, and intelligent domain control framework. This upgrade evolves from the previous battery sandwich structure to a whole vehicle sandwich structure, offering users more interior space while significantly enhancing the vehicle's off-road capabilities and safety performance.
The Yunan-A Intelligent Air Body Control System (Standard Edition) provides ultimate comfort, support, and off-road capabilities based on adjustable height, stiffness, and damping rates.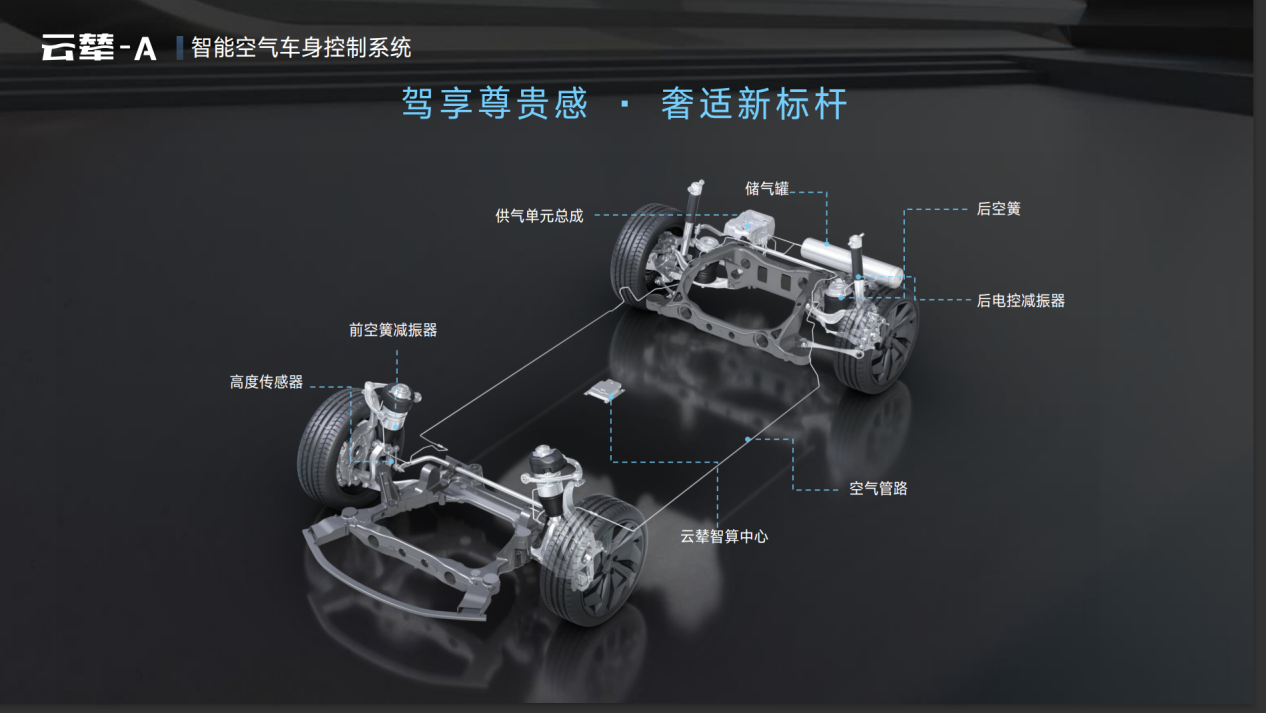 The all-scenario charging replenishment system includes intelligent pulse self-heating technology, the world's first dual-gun ultra-fast charge technology, and V2V mobile power station, allowing users to enjoy a convenient 230kW+ high-power flash charge experience and achieve high-efficiency temperature control and energy replenishment across all weather conditions and scenes.
Regarding the intelligent chassis, the DENZA N7 debuts the intelligent chassis integration control technology, including the previously unveiled iADC intelligent drift control system and iCVC intelligent vector control system. In detail:
The iADC intelligent drift control system intelligently assists the driver in performing drift actions by real-time integration control of suspension stiffness and height, driving torque, and braking torque, reducing the operation threshold, making drifting more at ease, and allowing every driver to experience the thrill of extreme handling in drifting. Different from the conventional rear-drive performance car drifting mode of manually turning off ESP, iADC automatically links with ESP's stability program, intervening and taking over once the vehicle's posture is in place, ensuring safety and significantly reducing the cost of errors.
The iCVC intelligent vector control system, through feedforward and feedback control, integrates the control of brakes, drive, and suspension systems, actively changing vehicle cornering characteristics. It ensures driving safety, reduces the intervention frequency of ESP, and improves the vehicle handling limit, making the vehicle fast and stable as if it was glued to the ground. This system allows even novices to precisely control the vehicle, enhancing handling limits while also offering a smoother and safer experience.According to DENZA Auto, the introduction of the intelligent chassis fusion control technology breaks down barriers between systems, integrating driving, braking, steering, and suspension for an 11-degree-of-freedom multidimensional posture control, providing users with a better intelligent driving experience.
In terms of the intelligent cockpit, the DENZA N7 offers customizable functions according to different seat settings, and features six screens including a central control screen, co-driver screen, instrument panel, AR-HUD, and dual intelligent air vent display screens, supporting multi-screen sharing and information exchange. Additionally, the cockpit is equipped with a 6nm chip, supporting millions of applications and voice control functionalities. Furthermore, the DENZA N7 comes standard with 200+ luxury features, including Devialet sound system, six screens, premium NAPPA leather, electric sunshade, and more, enhancing the luxury style of the vehicle.
For intelligent driving, the DENZA N7 is equipped with dual LiDAR and high-performance chips; DENZA Auto also stated that the N7 will achieve advanced assisted driving capabilities by the end of this year.
It is worth mentioning that in terms of the DENZA N7's role within the BYD product lineup, DENZA Auto informed us during the communication session that the N7 will be the first vehicle for BYD Group to enter the "second half" of the intelligent era.
Previously, BYD's Chairman, Wang Chuanfu, stated on multiple public occasions that the "first half" of new energy vehicles is about electrification, while the "second half" focuses on intelligence. Therefore, BYD will integrate and thoroughly verify all core technologies in the field of intelligence, similar to what it has done in the area of electrification.
From this perspective, the DENZA N7 has significant demonstrative implications for BYD's entry into the "second half" of intelligence.
Currently, according to the information released by DENZA Auto, the DENZA N7 is priced at around 350,000 RMB, with test drives and preorder rolls starting in June, while deliveries are set to begin between July and August. By then, we will assess DENZA's actual performance in the intelligent landscape through 42Mark tests, so stay tuned.
This article is a translation by ChatGPT of a Chinese report from 42HOW. If you have any questions about it, please email bd@42how.com.