On May 25th, Baojun Yueye officially launched with 2 versions, and the specific prices are as follows:
Flagship Edition, 79,800 yuan;
Intelligence Deluxe Edition, 89,800 yuan.
The main parameters are as follows:
Equipped with a 28.1 kWh lithium iron phosphate battery, NEDC range of 303 km;
Supports fast charging, and can complete 30-80% charging in 35 minutes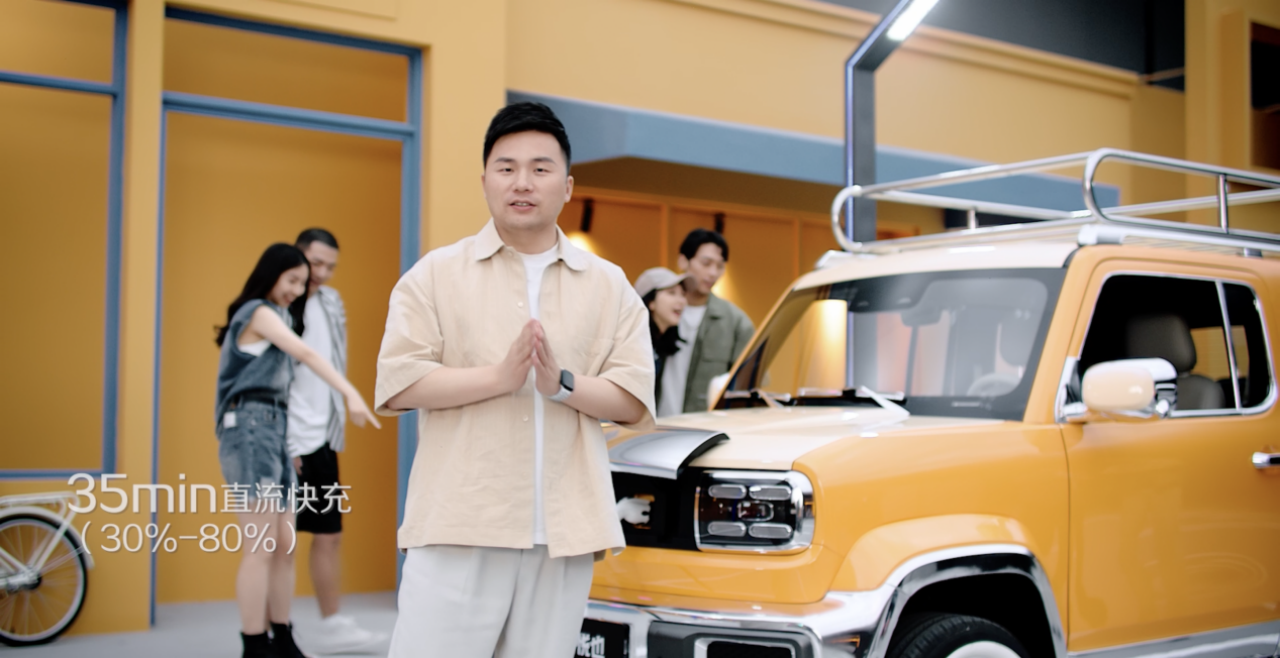 Rear-mounted permanent magnet synchronous motor, maximum power of 50 kW, maximum torque of 140 N·m, top speed of 100 km/h;
Front MacPherson and rear three-link suspension combination;
Baojun Yueye has body dimensions of 3,381 x 1,685 x 1,721 mm, and a wheelbase of 2,110 mm. You can tell from its dimensions that it's another finely positioned small car. However, unlike the cute-looking models like Wuling Hongguang MINIEV and Baojun KiWi, the Yueye features a "Square Box" design. From a distance, it looks like a toy car, but up close it's clearly a tough off-road vehicle. The homophonic pun in the name Yueye is quite clever.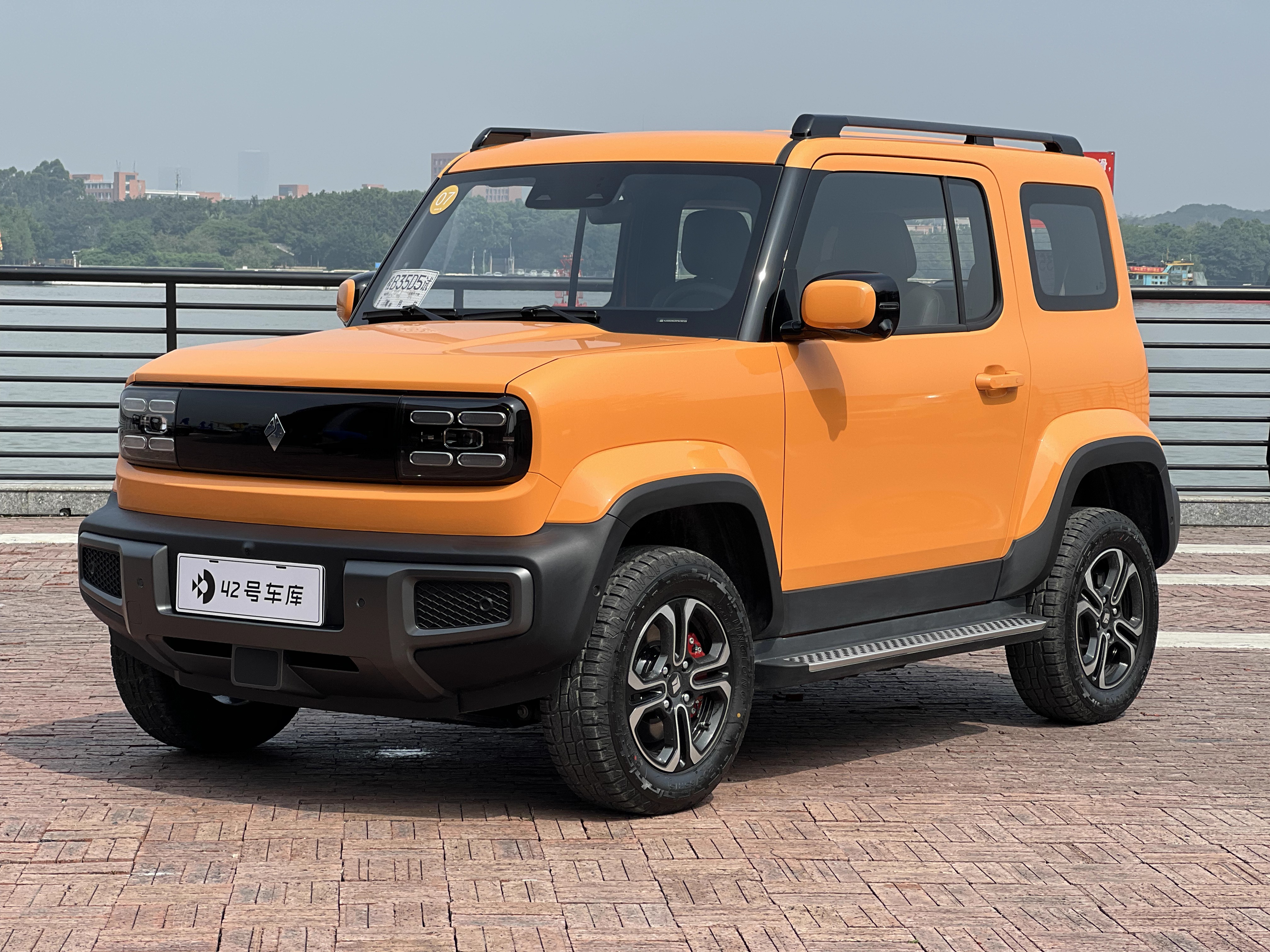 For exterior colors, there are 5 options: Sunrise, Early Morning, Cloud, Neon, and Deep Space, catering to the personalized color preferences of the target young customers.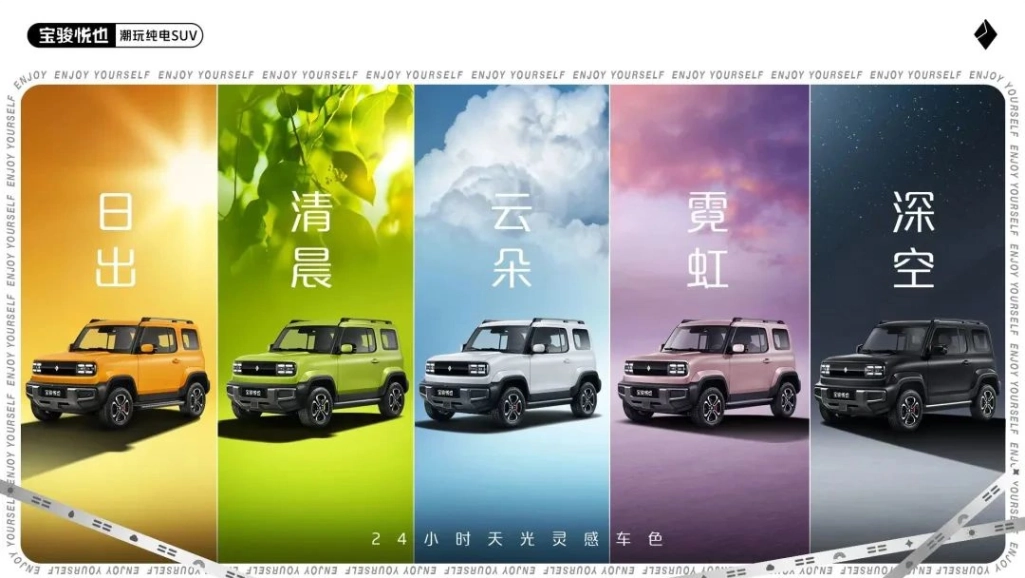 Baojun Yueye features Baojun's new logo for the first time. The new version of the logo has a more flattened design, which is more in line with current mainstream aesthetics.
The vehicle's ground clearance is 150 mm, achieving an average level in off-road vehicles. However, due to the battery pack on the underside of the chassis, caution is needed on some uneven road surfaces.
The rear is also a typical off-road vehicle design, and the tailgate adopts the side-open door method similar to off-road vehicles, with a maximum opening angle of 90 degrees. With the rear seats folded down, the trunk space reaches 715 L.The most interesting part is that the black square decoration is actually a screen called Car-watch by the official. This screen supports customization, allowing owners to freely display static or dynamic content, and offering a high level of playfulness. However, this feature requires an additional cost of CNY 1,518 for optional installation.
The interior offers two color options: "Self Black" and "Monologue."
The front features a dual screen design with two 10.25-inch screens. Do the buttons on the steering wheel resemble the ones on a game controller?
Finally, let's talk about the main differences between the two versions:
The Intelligent Honor version comes with standard high-performance sports calipers;
The Intelligent Honor version supports 4-way electric adjustment and electric one-button entry/exit, while the flagship version has manual adjustment;
The Intelligent Honor version supports 360-degree imaging, whereas the flagship version only has conventional reverse imaging;
The Intelligent Honor version is equipped with DJI LingXi's smart driving solution, supporting smart driving assistance, smart parking assistance, and a series of active safety features.
In ConclusionUndoubtedly, the launch of Baojun Yue has reignited the market for micro electric vehicles. Allowing young people to spend less than 100,000 and experience an off-road thrill, the product has undeniable appeal.
Perhaps many people don't know that in China's Xinjiang and Tibet regions, there are quite a few Wuling Hongguang MINIEV vehicles driving on various complex terrains. Their affordable, sturdy, and resilient nature makes them quite popular as daily commuter vehicles for local residents. Micro off-road vehicles like the Baojun Yue could potentially become even more popular than the MINIEV in these areas.
All that can be said is that Wuling has undoubtedly become more adept in the micro electric vehicle field.
This article is a translation by ChatGPT of a Chinese report from 42HOW. If you have any questions about it, please email bd@42how.com.