The highly anticipated all-new ES6 price has finally been announced: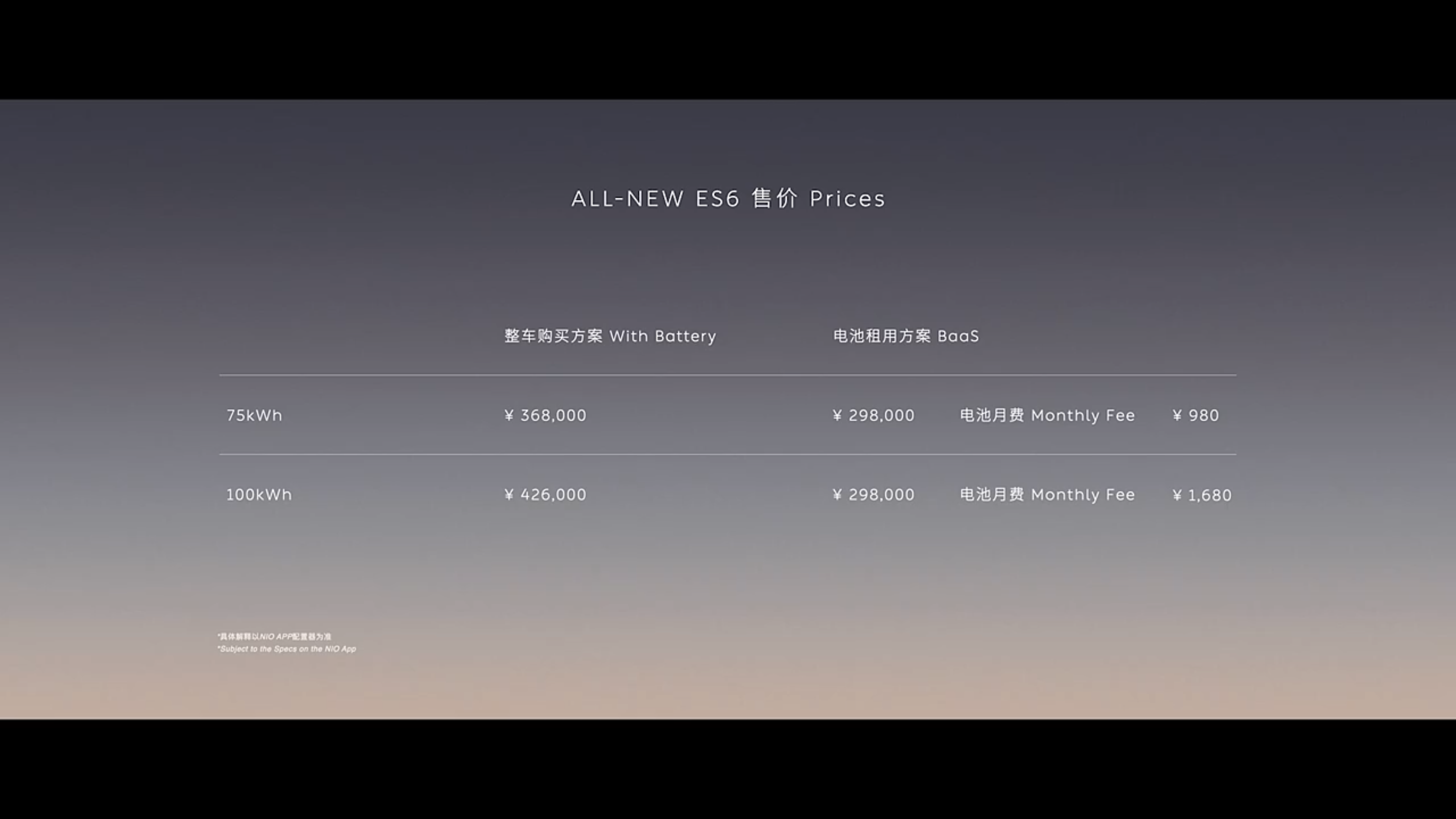 ES6 75 kWh edition is priced at 368,000 yuan, with BAAS pricing at 298,000 yuan;
ES6 100 kWh edition is priced at 426,000 yuan, with BAAS pricing at 298,000 yuan.
Test drives and deliveries are available upon release, and customers can start test driving and picking up their vehicles on May 25th.
Configurations with Surprises
There are a total of 10 car body colors and 4 interior colors for the ES6. Pearl and Galaxy Purple are exclusive to the ES6's interior and exterior, respectively.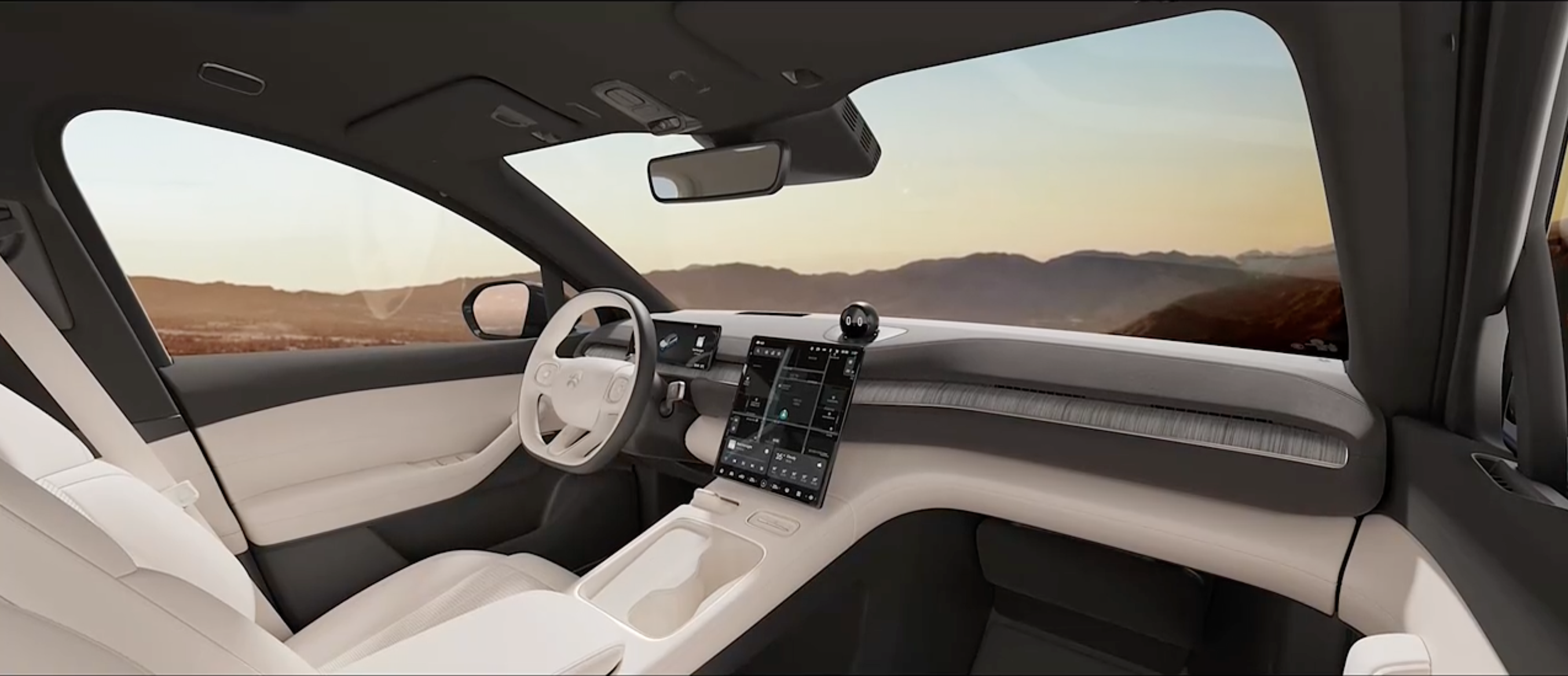 Other standard features include:
Ultra-fine velvet ceiling
3-zone air conditioning
Intelligent multi-beam headlights
Silent electric suction doors
The ES6 has put great effort into its materials.
With improvements in the motor, tires, glass, and interior noise reduction design, the ES6 has reached a very high NVH level.
Additionally, the front end features a double anti-collision beam design, while the vehicle's rear floor and the C/D pillars employ the latest integrated die-casting technology.
These designs allow the ES6 to achieve a very low interior noise level.
Moreover, the all-new ES6 is still equipped with the new NIO self-developed seats. Overall, the seats on the ES6 have several features: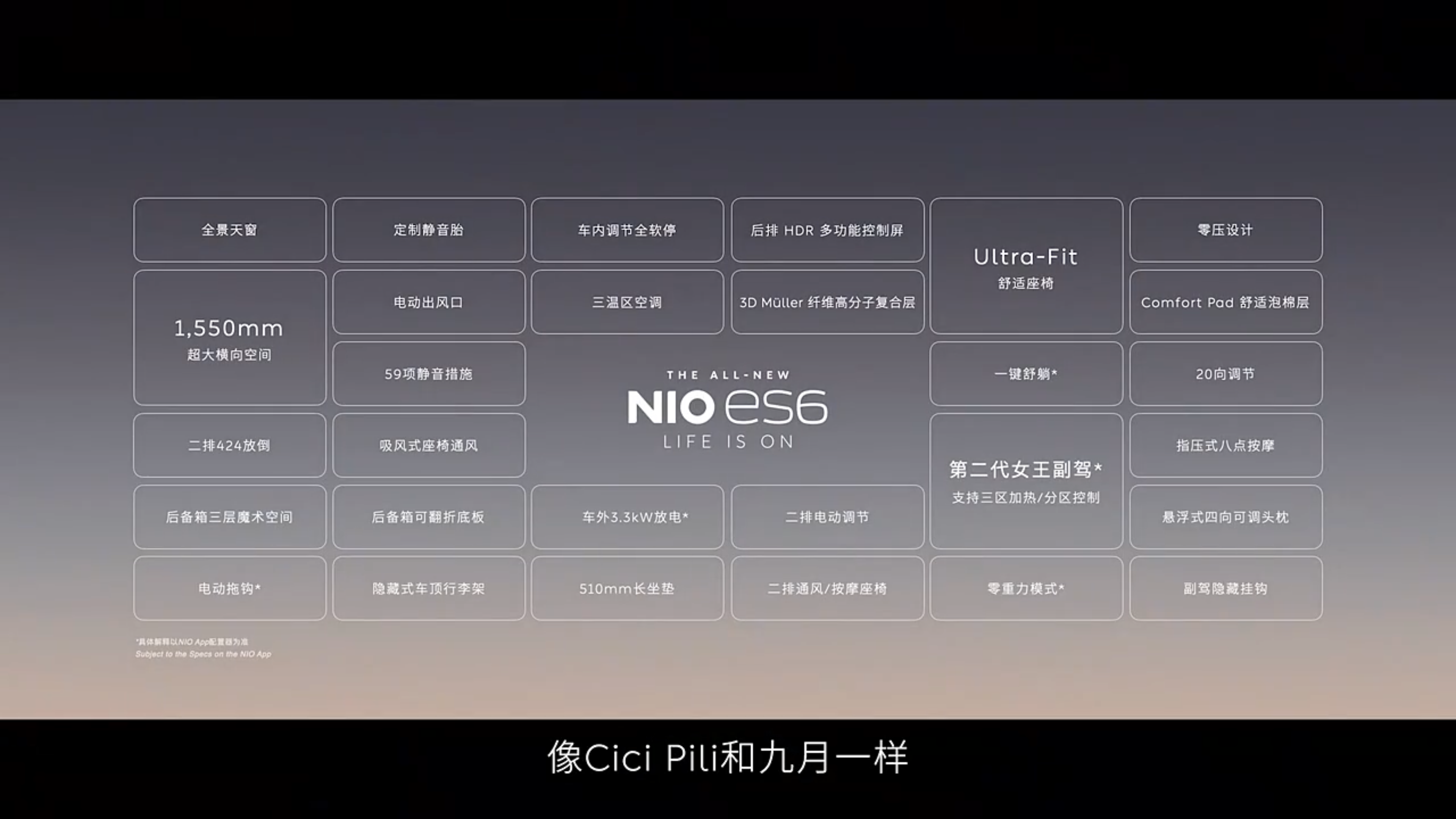 Fully equipped, the front row seats have almost every possible feature, based on the newly developed seat platform. With heating, ventilation, and massage, the co-pilot queen seat also has a heating function in the legrest area.
Additionally, the cushion features a tail end lift, which can be adjusted in sync with the zero-gravity and reclining modes, ensuring a perfect fit along the body's natural curves.
Floating headrest adjustment: Although the ES6 front headrest appears integrated with the seatback, it can be manually adjusted forward/backward (36mm) and up/down (45mm). Comparatively, this should save many owners the expense of purchasing a headrest.

Rear seat upgrades: The all-new ES6 has undergone significant upgrades in the rear seats, including a 23-31° adjustable backrest, and separate heating, ventilation, and 8-point massage zones. Moreover, the cushion length has reached 510mm, making it one of the longest in its class. These features are in line with the higher-end ES8 and EC7 models.
Intelligent Upgrade: Accelerating Driving Assistance
Along with the ES6, the Banyan 2.0 system was also released.
The Banyan 2.0 introduces numerous features, a new UI design, and will initially be available for the ES6, with other NT2 models receiving it within June.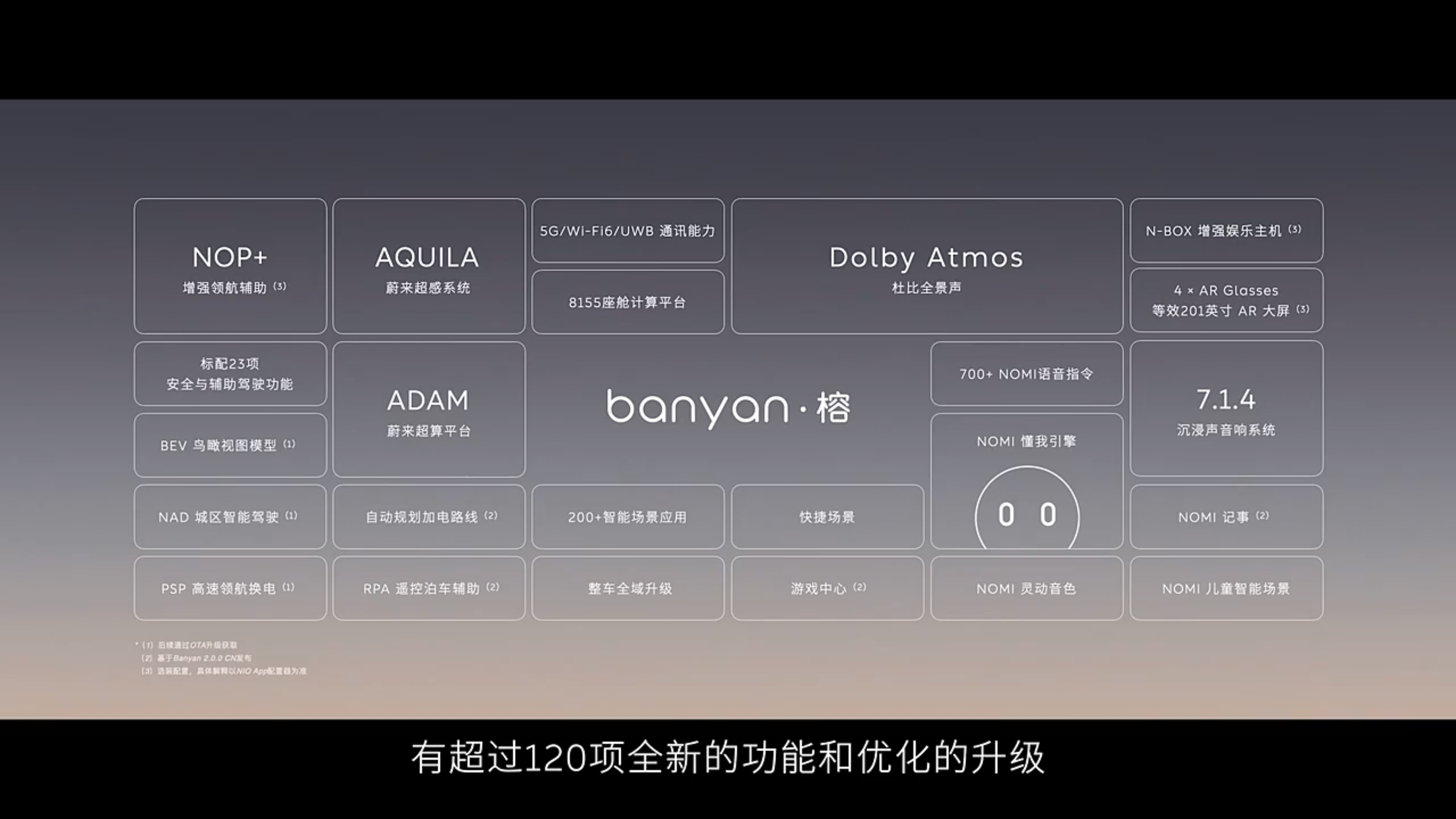 Overall, this major update brings over 120 feature enhancements and user experience optimizations, connecting NIO's products, services, and community.
"Exclusive Service" app: Users can initiate service requests through the infotainment system, and even share their location and system recordings.

"Calendar" app: This app syncs with users' phone calendars once authorized, featuring unique voice reminder capabilities powered by NOMI.

"Automatic Charging Route Planning" function: The all-new ES6, based on NIO's energy cloud, offers industry-leading navigation & charging one-stop route planning. Users need not worry about planning charging stations along their route during long trips. One tap launches the navigation, and the system provides multiple route planning options to choose from.
In addition to in-car intelligence upgrades, Li Bin also announced that the BEV-based NOP+ official version will launch in July; the highway navigational battery swap will partially open in the third quarter, and the urban NAD will soon begin trials in Shanghai.## In Conclusion
All in all, the ES6 has reached a level in terms of product quality that makes it quite difficult to find any issues, making it a well-balanced car within its price range.
This balance is partially demonstrated in its comfort features. Apart from the optional comfort package that one has to pay extra for, aspects such as the car's texture, seat comfort, and NVH (Noise, Vibration, and Harshness) have all reached an impressive standard.
On the other hand, the balance is also evident in its impressive configuration. With a starting price of 368,000 yuan, the ES6 comes standard with features such as HUD (Head-Up Display), multifunction intelligent headlights, advanced driver assistance systems hardware, 4.5 second acceleration, 4-piston brakes, and a 7.1.4 surround sound system. It is worth noting that very few vehicles within this price range come with such a comprehensive set of standard features.
Another contributing factor toward the balance is the performance of the suspension system. During the earlier test drive events, the ES6 model equipped with CDC (Continuous Damping Control) received high praise for striking a great balance between comfort and sportiness, making it arguably the best-performing NIO vehicle to date. This is likely due in part to the use of the same chassis as that of the ET5.
Moreover, the ISS (Intelligent Suspension System) offers an excellent experience, effectively preventing "nodding effect" while maintaining a high level of ride comfort within urban environments.
Starting at 368,000 yuan, do you think this price is reasonable?
This article is a translation by ChatGPT of a Chinese report from 42HOW. If you have any questions about it, please email bd@42how.com.