Translate the following Markdown Chinese text into English Markdown text in a professional manner, retaining the HTML tags in Markdown, and output only the result:
On November 5, 2022, C-NCAP announced the first results of the 2022 vehicle evaluation; among them, the Lixiang L9 achieved a grade G (excellent) in all three safety-related tests.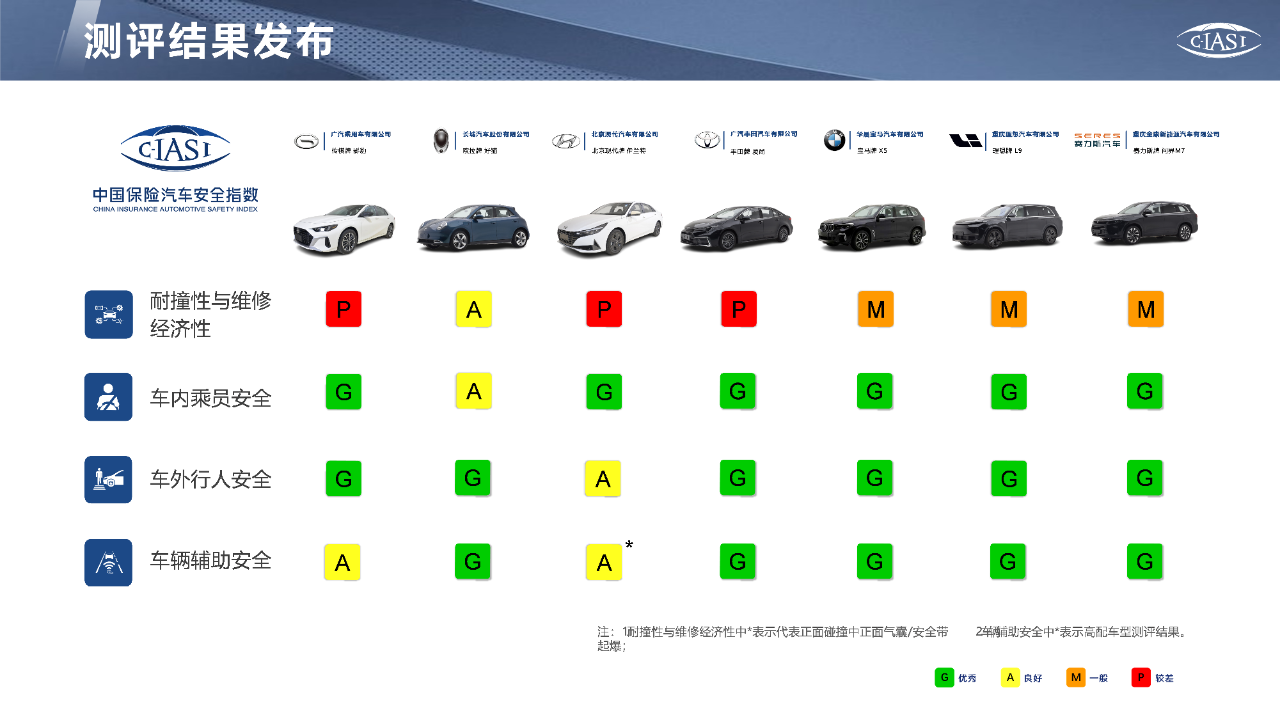 Just 6 days later, C-NCAP announced the list of the next batch of vehicles to be tested, which included the Lixiang L8 Pro. Moving from a flagship positioning to a luxury one, shrinking in size considerably, losing a LiDAR sensor, and reducing the price by 100,000; it's not hard to wonder if the safety performance would be compromised.

On April 24th of this year, C-NCAP announced the scores for L8 Pro:
Durability and Maintenance Cost Sub-index – M (Average);
In-car Occupant Safety Sub-index – G (Excellent);
Pedestrian Safety Sub-index – G (Excellent);
Vehicle Assistance Safety Sub-index – G (Excellent).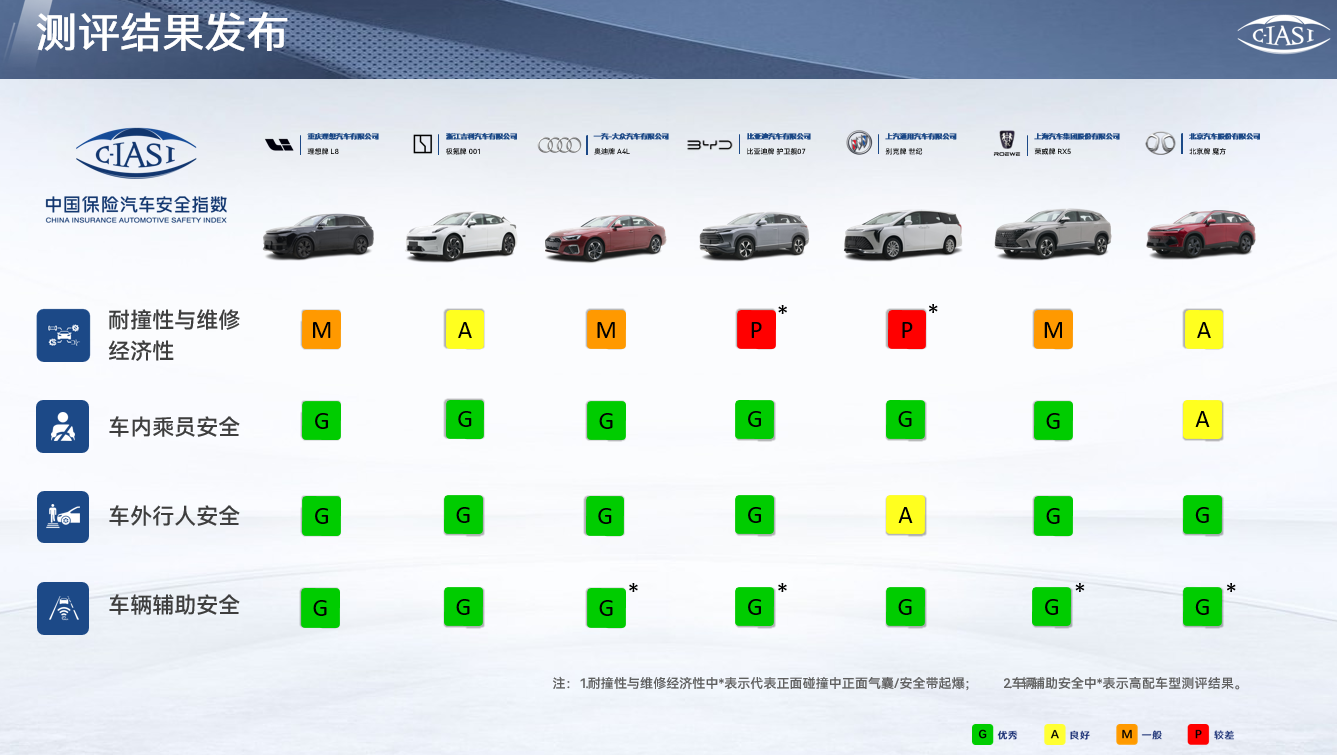 The overall performance was on par with the flagship L9. However, some interesting details can be noticed in the scores for specific categories. In some aspects, the L8 Pro outperformed the L9, and surprisingly, it achieved a higher overall score than the L9, making it the best-scoring SUV in C-NCAP's history.
Today, taking advantage of the Lixiang Automobile Safety Day event, we take this opportunity to talk about the various safety aspects of the Lixiang L8 Pro.
Passive safety combines both hard and soft approachesWhen discussing vehicle safety, passive safety is the first aspect that comes to mind. In an inevitable collision, a car's crash resistance becomes the safety baseline to protect its occupants. Key elements constituting the lower limit of this baseline are the passive safety white body, high-strength steel, and torsional rigidity.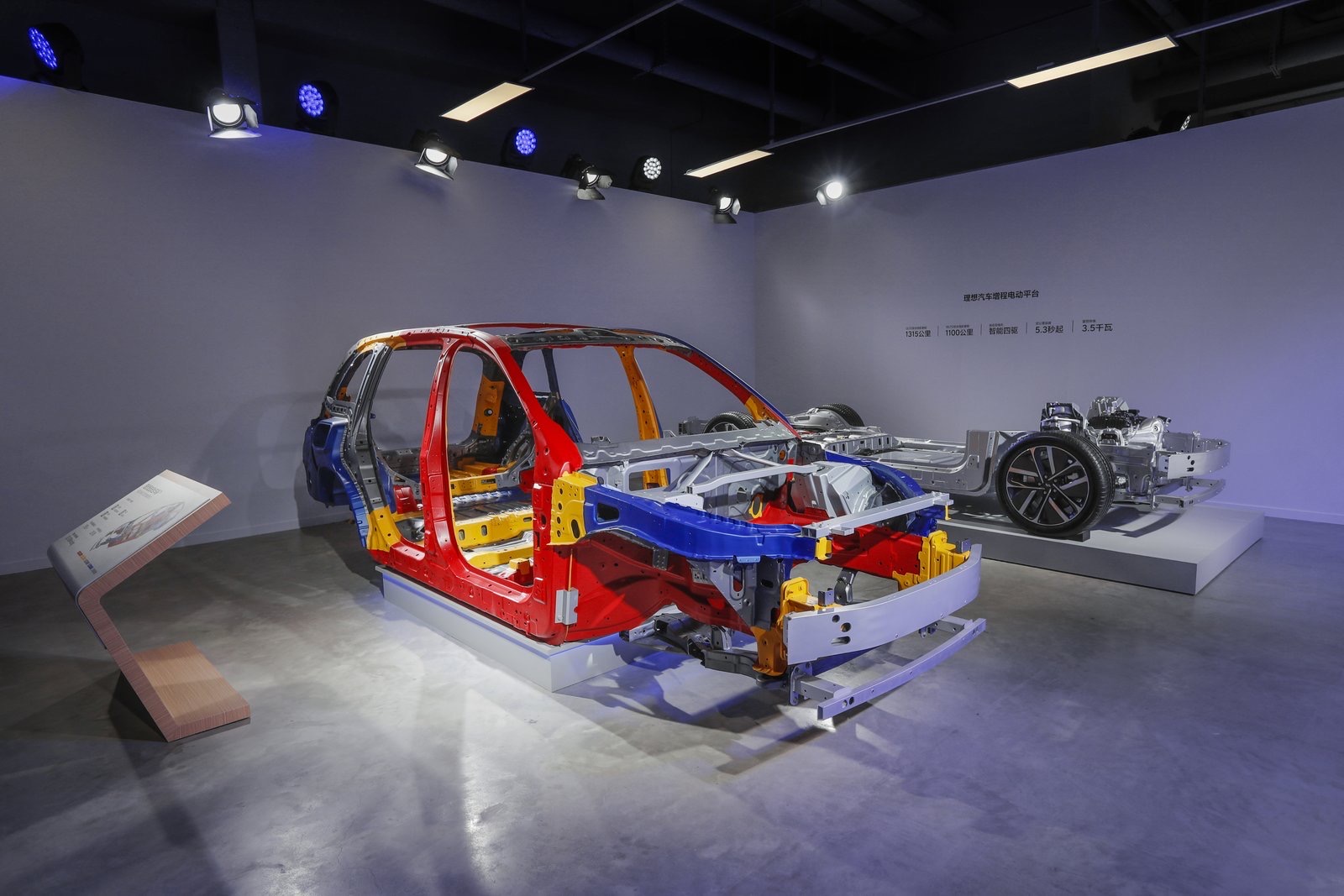 The L8's body structure is referred to as a fortress-safe body by Ideal. In the L8's white body, red-painted parts are comprised of boron steel, also known as hot-formed steel. Hot-formed steel is used in crucial areas such as the A-pillar, B-pillar, C-pillar, door sills, and door intrusion beams, accounting for 28.9% of the entire white body.
The yellow and dark gray painted parts use ultra-high-strength steel and high-strength steel. The combination of these three high-strength steels creates the overall structure of Ideal L8's cage-style body with ultra-high torsional rigidity. High-strength steel makes up over 75%, resulting in an impressive 30,938 Nm/deg torsional rigidity for the Ideal L8.
25% Offset Impact
In the 25% offset impact test, the A-pillar, door sill, and outer door frame of the Ideal L8 remain virtually undistorted, meeting the claimed zero deformation zero intrusion. The A-pillar remains unchanged, as does the bottom longitudinal beam.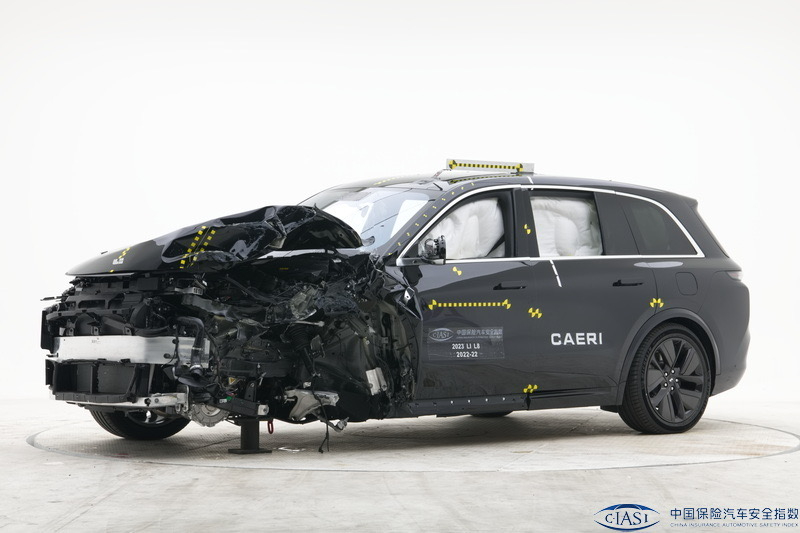 Apart from the conventional 25% offset collision for the main driver, Ideal also tested the front passenger's 25% offset collision, with both having nearly identical results.
According to the CATARC test results, the cabin's interior space remains unscathed, with legroom for both the main and front-passenger seats remaining intact. Additionally, the airbags provide sufficient support for the dummies.
To achieve a spacious passenger cabin without squeezing, besides the high-strength steel greater than 75%, the remaining steel which is less than 25% plays a crucial role. For a white body, it's not all about harder steel; there should be space for absorption and crumpling.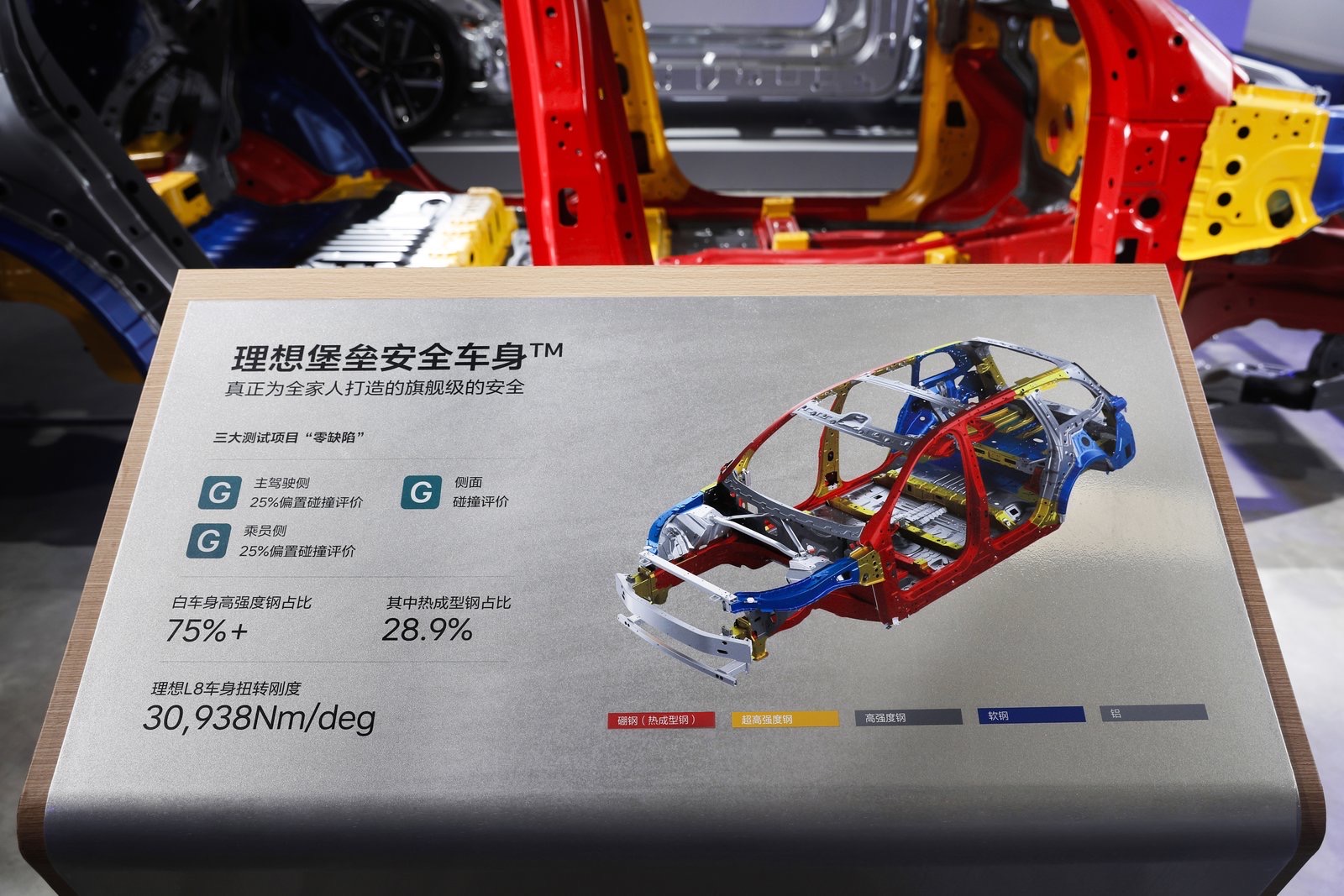 Ideal L8 distributes impact energy through three lines: upper, middle, and lower. Thus, by concentrating stress points on the front anti-collision steel beam, a primary stress distribution path is formed, with most force transferred downwards to the hot-formed steel on the vehicle's underside, ensuring cabin safety.
Additionally, when facing a 25% offset collision, Ideal L8 doesn't adopt the wheel-loss method like Tesla and Volvo but instead follows the approach of BMW and Mercedes, using body rigidity to confront the impact. This helps the vehicle come to a quick stop after a collision, preventing secondary impacts.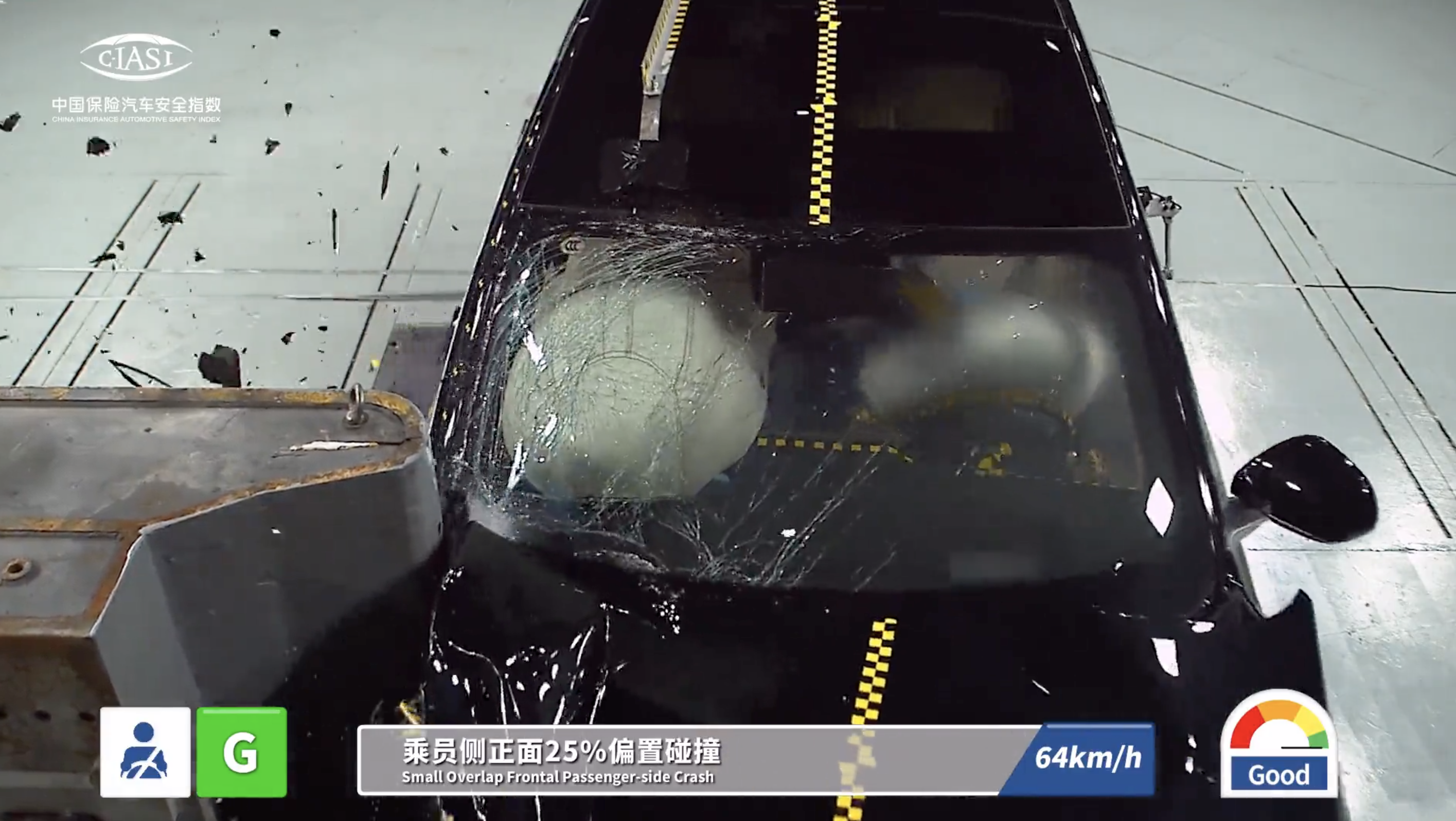 According to Ideal, not every crash is precisely a 25% offset; it could also be 30%, 35%, etc. In such cases, losing the wheel might not ensure complete safety. During Ideal's R&D testing process, a domestically pioneered independently-developed 25% offset collision sub-test system was used for simulation testing, providing better protection for collisions beyond 25%.
Externally, Ideal believes that other people's family members are equally important. Therefore, pedestrian protection has become a significant consideration in safety R&D.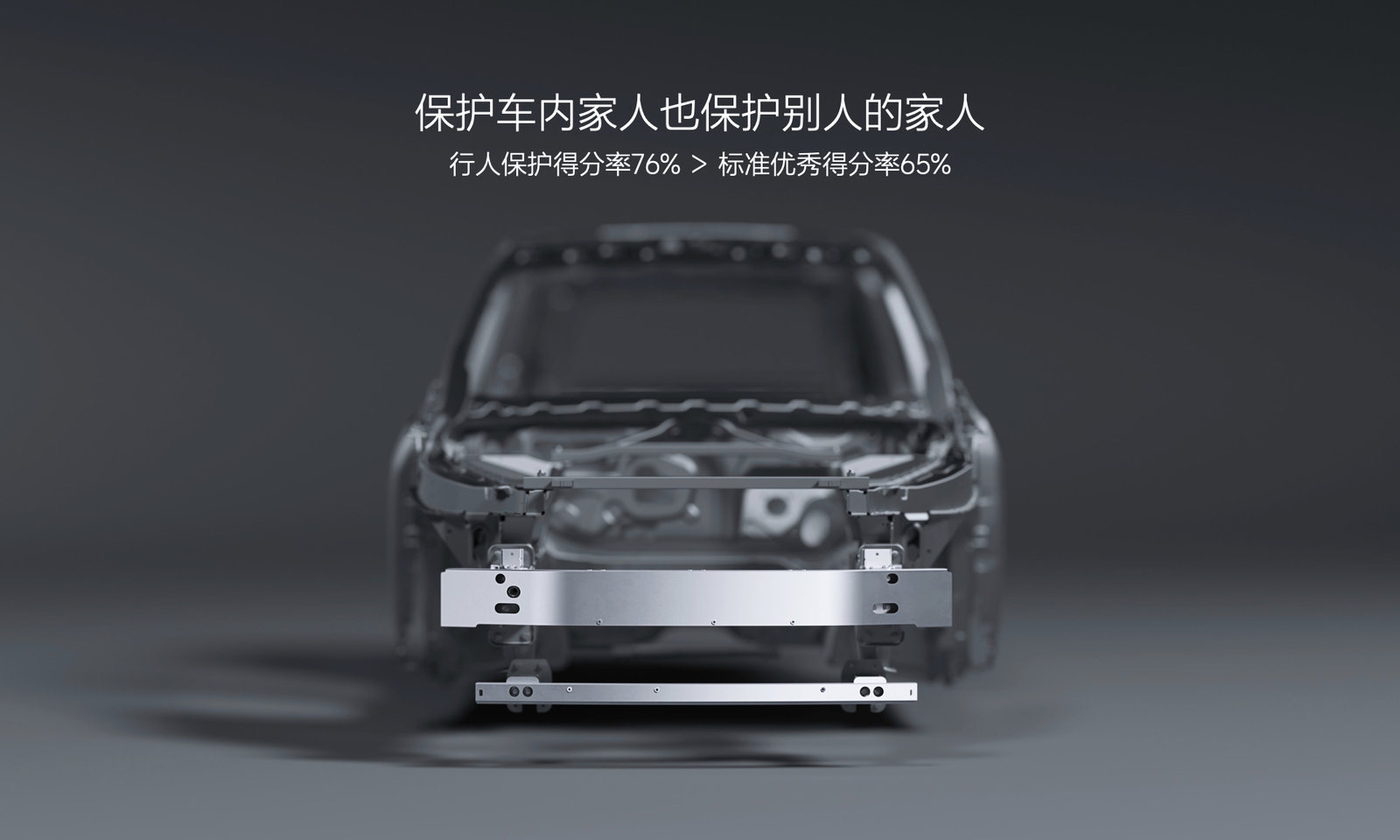 In the L series, three models feature a secondary collision beam under the front crash beam to prevent pedestrians from being drawn in.
Furthermore, there is a separate pedestrian thigh protection structure inside the front bumper, which, according to official introduction, can effectively reduce the impact on pedestrian thighs during a collision.
Side Impact and Roof Crush Test
Moving on to the side impact and roof crush tests, the L8 continues to achieve full G ratings. In the side-impact test, the 1,500 Mpa large-section heat-formed structure on the B-pillar resists impact through appropriate collapse.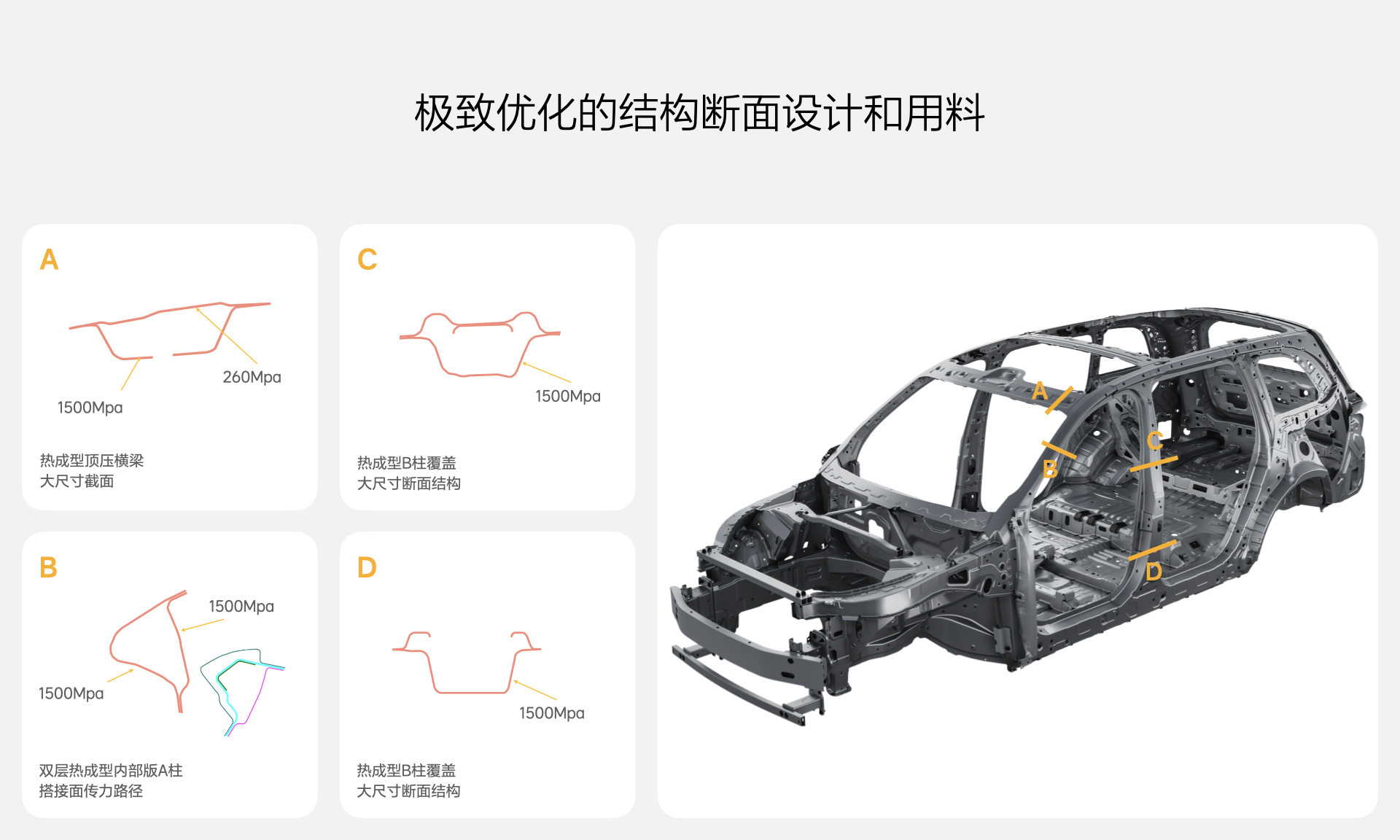 Following the impact, the Ideal L8's side-survival space still reaches 25 cm, far exceeding the 12.5 cm G standard requirement set by C-IASI.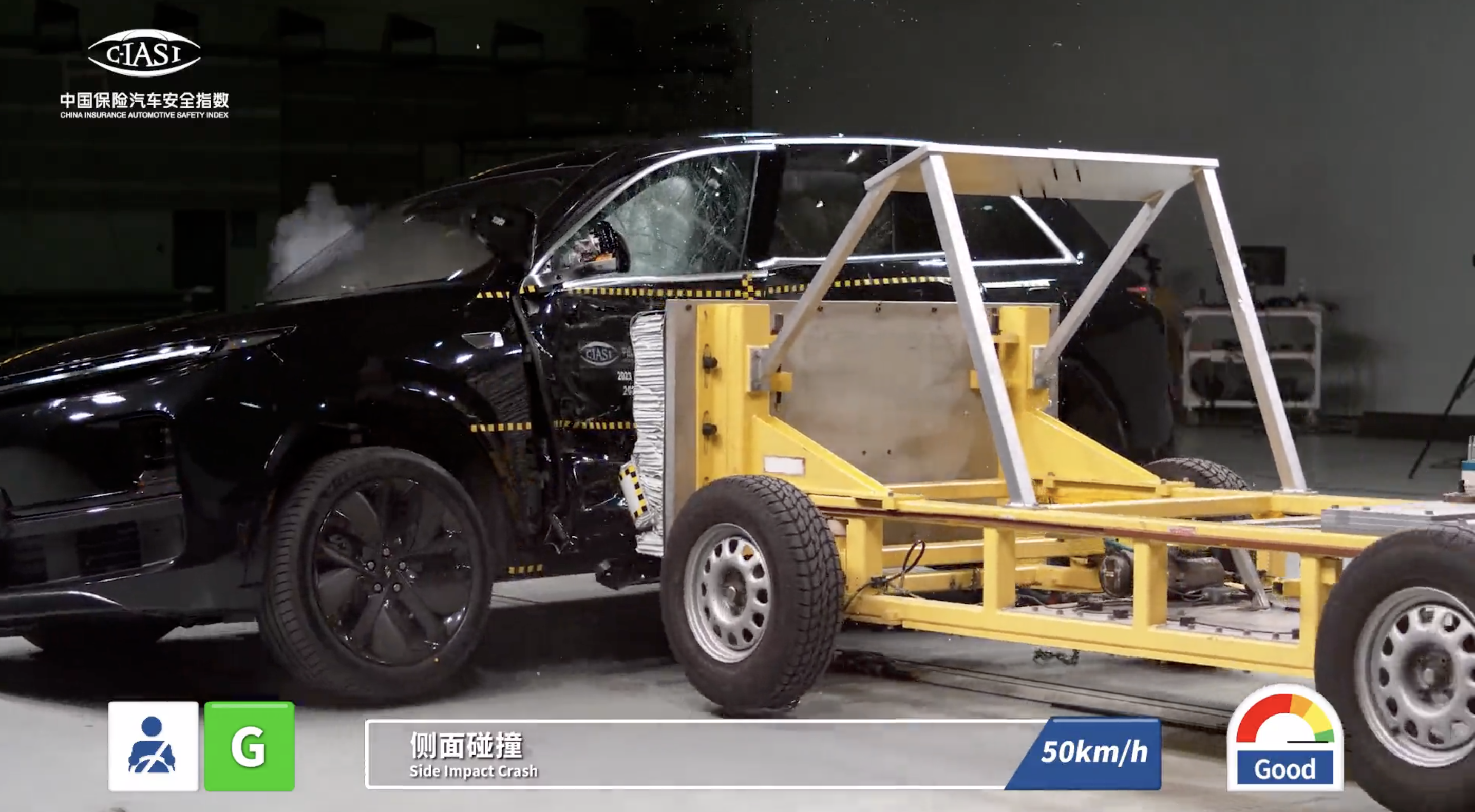 Additionally, Ideal L8 has also undergone side-pillar impact tests to handle horizontal impacts from poles and trees in daily situations. The test results still ensure the safety of passengers in the front and rear rows.
In the roof crush test, Ideal L8's performance is almost on par with L9, with a maximum load-carrying capacity of 114,501 N and a load-to-weight ratio of 4.67. In other words, the roof of the Ideal L8 can withstand the weight of 4.67 L8 cars. The roof crush test is not only applicable to cargo vehicles but also relevant in scenarios where the vehicle may roll over.
When it comes to rollover scenarios, it's worth mentioning that the Leading L8 is one of the few vehicles in its class that comes standard with rear side airbags. In addition, sensors are installed in the relevant positions, ensuring that airbags will deploy automatically in events such as rollovers, providing effective protection for vehicle occupants.
Are 6/7-seater SUVs Most Afraid of Rear-end Collisions?
Let's take a look at the scenario that 6/7-seater SUVs and MPVs dread most: rear-end collisions. The Leading L8 can still ensure the safety of the third row even when facing a rear-end collision at 88 kph. Leading has conducted safety validations for every seat in the vehicle, reinforcing their commitment to creating a mobile and happy home on wheels.
How to Build a High-Quality Vehicle Body?
With safety technology in place, the passive safety ability of every Leading vehicle coming off the production line depends on the factory's expertise. In the past, traditional automakers mainly relied on random inspections and performance data monitoring and management.
Within the welding production line, Leading's factory monitors nearly 5,000 self-produced weld points, almost 400 self-produced rivet points, around 150 meters of self-produced adhesive application, and over 200 self-produced studs, ensuring high consistency in the vehicle body across SPR, stud welding, spot welding, arc welding, and laser welding processes.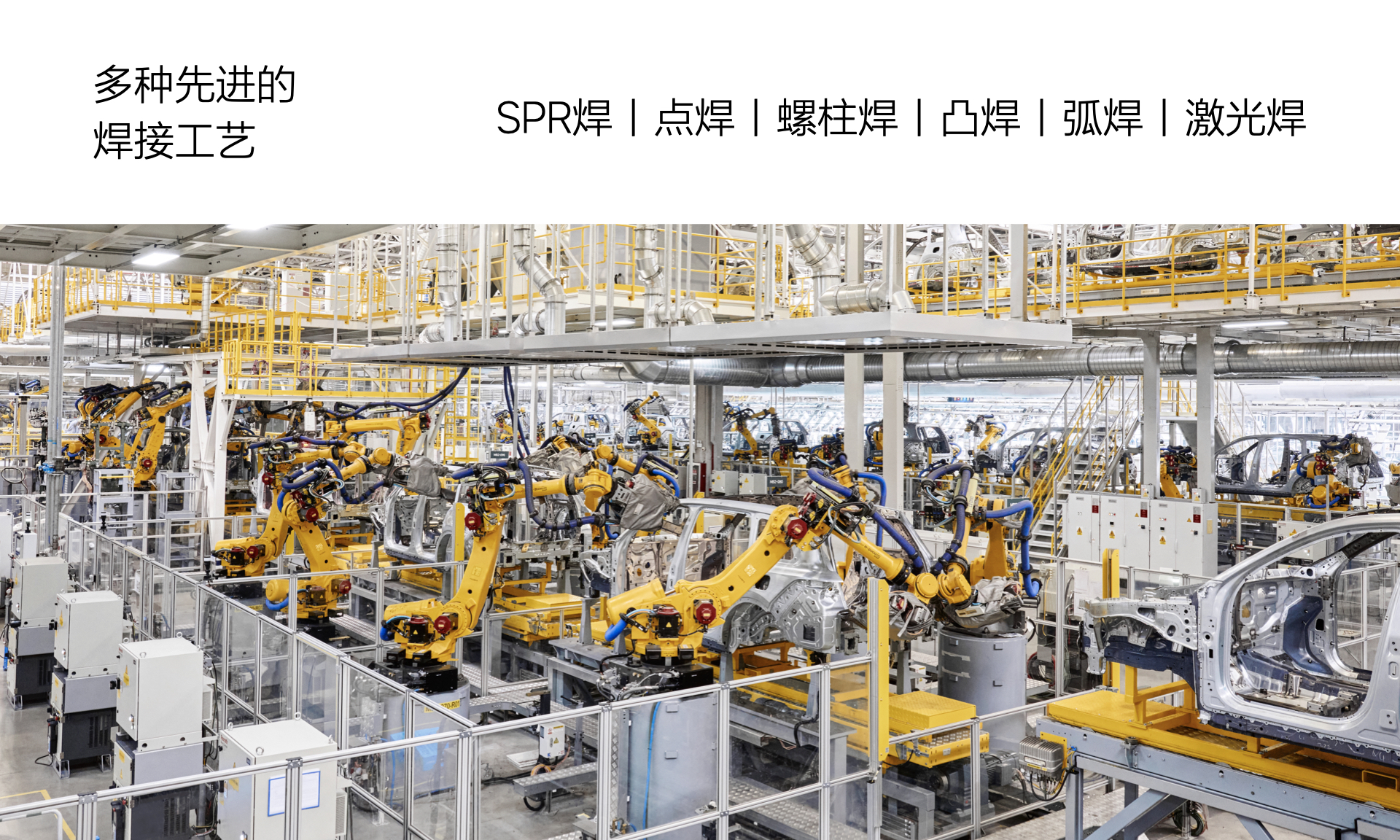 Additionally, Leading's factory incorporates its self-developed manufacturing data algorithm system through deep integration of machine learning algorithm models and process mechanism models, enabling microscopic analysis of process data. Each day, data from the production line is uploaded to Leading Auto's self-developed "Connected Mountain" production process early warning platform, with 100% online monitoring of manufacturing process data.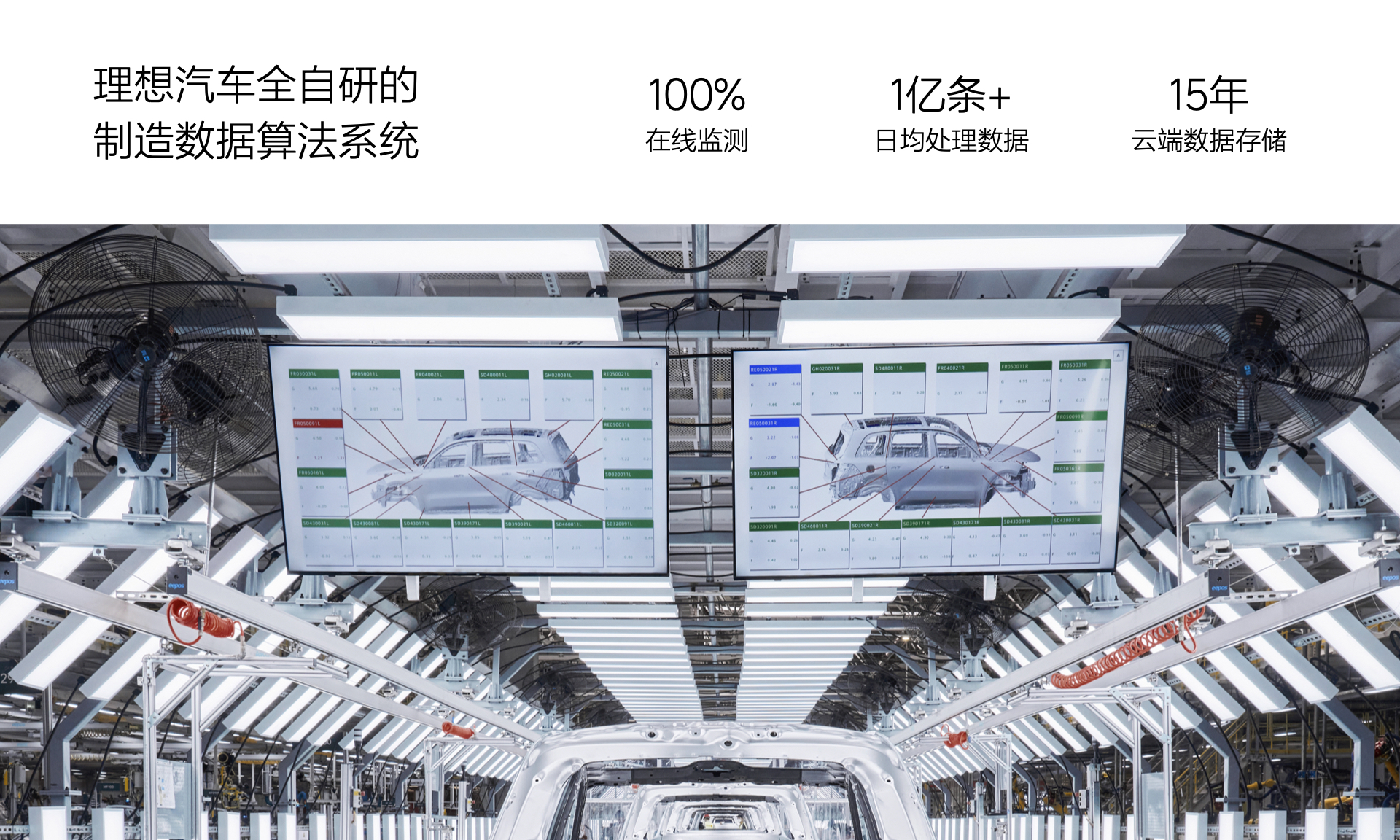 Uponvehicledeparturefromtheproductionline,processdatawillbestoredinthecloudforover15yearsina"onevehicle,onefile"format,allowingforhistoricaltraceability. Thisjustifiesthemonikerofa_fortress.
BatterySafety,Never_Forgotten
Intermsofpassivesafety,batterysafetyattractssignificantattention,giventheIdealL8'sroleasanewenergyvehicle. Forbatterypositioning,theIdealL8encompassesthebatterypackwithhigh-strengthaluminumalloy,effectivelypreventingcollisiondamagetothebatteryinfront,side,orrearimpacts. Additionally,thechassisfeaturesananti-scrapingbottomdesign,whichnotonlyshieldsthebatterycellsandliquidcoolingsystemeffectively,butalsoprovidesearlystoppingpowerforscraping_objects.
TheIdealLseriesbatteriesemployNi6celltechnology,boastingahighenergydensity,highpower,andensuringflameretardantfiresafety. Intests,evenwhenactivelytriggeringthermalrunawayofanyindividualcellwithinthePackbattery,noheatdiffusionoropenflame_occurred.
BetterActiveSafetythanthe_L9?
Havingdiscussedpassivesafety,letusturntoactivesafety. Activesafetyrepresentstheupperlimitofvehiclesafety,preventingincidentsfromoccurring. MostastonishingisthattheL8Pro,whichlackslaserradarandemploysHorizonJ5(128TOPS)scoredhigherthantheL9MaxwithdualOrin(508TOPS)andasinglelaser_radar.In the hardware aspect, the Li Auto L8 Pro features only 1 front-facing 8-megapixel perception camera, 4 side perception cameras with 2-megapixels each, along with 1 rear perception camera and a front-facing millimeter-wave radar.
Next, let's look at the performance comparison. The testing of the Li Auto L9 Max took place around mid-last-year, at which point the L9's software was still in rather early stages. Hence, its score in the LSS category (out of a total of 14 points) was only 7. On the bright side, the Li Auto AD team has been hard at work, and after a few iterations, the L8 Pro achieved a perfect 14 points in the LSS category.
L8 Pro
L9 Max
In the remaining two AEB tests, both L8 Pro and L9 Max scored nearly perfect or perfect scores. However, the L8 Pro had a slight deduction in the headlight test. Nevertheless, the L8 Pro's overall vehicle safety assistance score of 109.47 surpassed last year's L9 Max score of 106.50.
In our actual driving experience, the LiDAR on AD Max does have an advantage when it comes to detecting irregular objects. In terms of daily real-life experience, the AD Pro on the Ideal L8 Pro is very close to the AD Max, and even the recently released NOA shows no significant difference in capability and performance.
In Conclusion
If your budget is around 300,000 to 400,000 RMB, and you want to buy a family-oriented SUV, the Ideal L7 and L8 will be options you cannot overlook on your purchasing list. Each model in the Ideal L series manifests its own "cost-performance ratio" within their respective positioning. With the brand slogan of creating a mobile home and a happy home, the safety of every passenger in the car cannot be ignored, which is also one of the main concerns for buyers.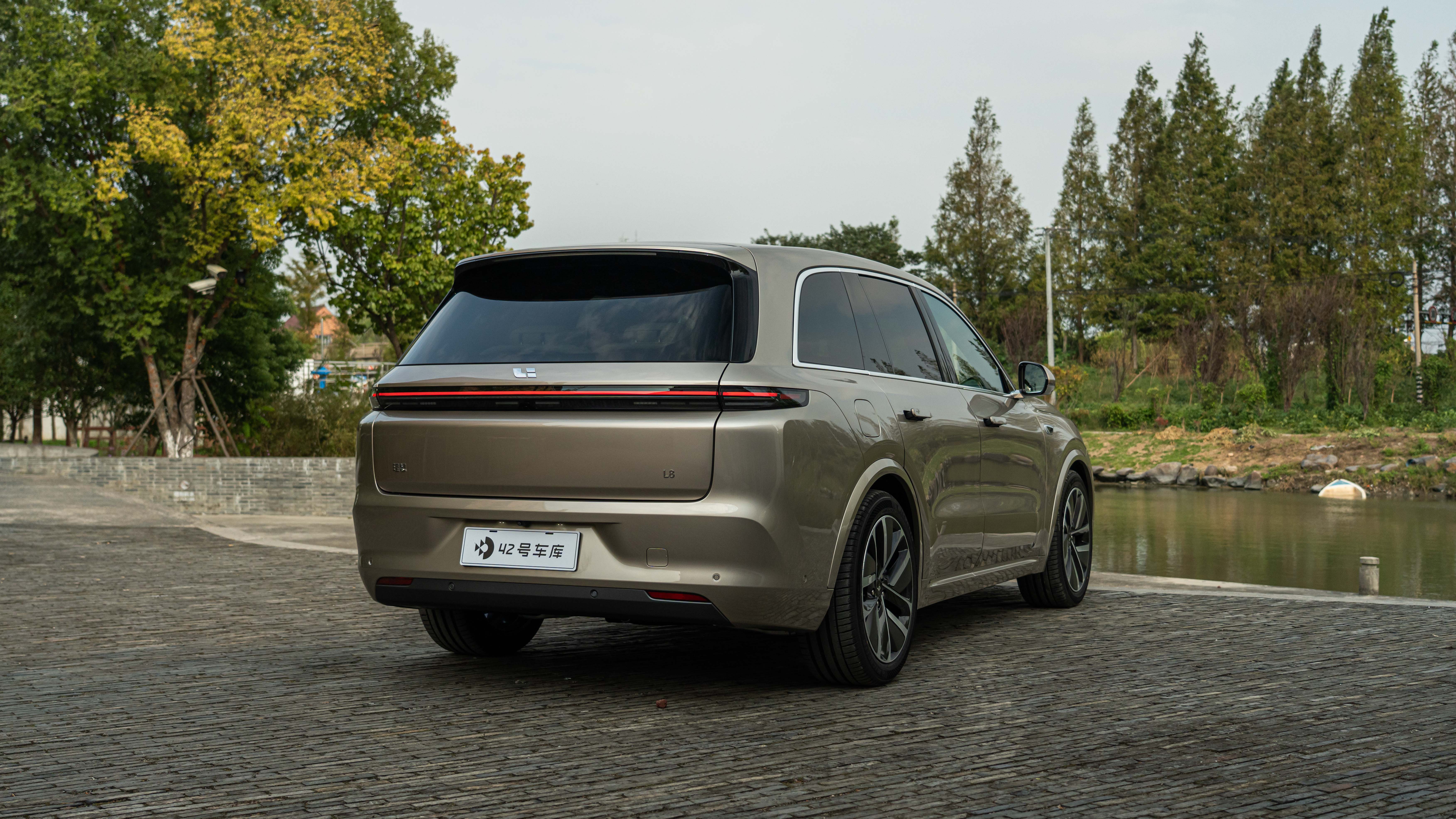 In the world of Ideal products, equality has always been a pursuit. This not only pertains to the equal riding experience for all passengers but also extends to equity in safety and vehicle models. The fact that the L8 Pro, priced 100,000 RMB cheaper than the L9 Max, scores consistently high in the China Insurance Research ratings is a testament to that commitment.
Ideal will also launch the smaller L6 and its first pure electric MPV in the future, adhering to stringent safety standards. Luxury home use may involve numerous appliances and excellent experiences, but safety is the true foundation of luxury family life.
This article is a translation by ChatGPT of a Chinese report from 42HOW. If you have any questions about it, please email bd@42how.com.