On April 18th, the press conference of the Red Flag brand at the Shanghai International Auto Show was held grandly. Qiu Xiandong, executive director and general manager of China FAW, attended the press conference and presented the new architecture and product matrix of the Red Flag brand. Three sub-brands of Red Flag were clarified: "Red Flag Golden Kuihua", "Red Flag New Energy", and "Red Flag Energy-Saving Vehicles".

"Golden Kuihua" Inheritance of Classics, New Red Flag L5 Shows Chinese Luxury
The logo of the Red Flag Golden Kuihua sub-brand is the "Golden Kuihua" which symbolizes "unity, prosperity, and flourishing", representing the perfect fusion of top-level technology and craftsmanship of Red Flag and the millennium civilization of China.

As the new work of the Red Flag Golden Kuihua sub-brand, the new Red Flag L5 adheres to paying tribute to classic Chinese cars, integrating top-level design, technology, and craftsmanship.
In terms of appearance, the front headlight is inspired by the Zaojing of the Altar of Heaven, and the grille is inspired by the jade tube bamboo section; the imposing posture and the perfect combination of soft and hard lines on the side; the taillight design is inspired by the palace lamp, and the matrix decoration implies stability.
In terms of interior design, the horizontal contour inspired by the double-layer eaves of Chinese architecture extends from the standing mark of the car head to the axis, which is grand and dignified; the comfortable and elegant seat is inspired by the Chinese-style circle chair; and the Chinese heritage of lacquer and embroidery techniques are used, creating a garden full of spring colors and national treasures.
At the same time, the new Red Flag L5 is equipped with the only self-developed V8T engine, which has 49 patented technologies, such as high-precision balanced combustion; It is the first to adopt mirror coating and multi-color spray painting in the country, and the first to launch a fully autonomous national secret algorithm to protect data integrity at all times. Currently, the new Red Flag L5 has officially accepted global reservations.
"Qimiao Shuangyi" Concentrate on New Energy, Hongqi E001 and E202 Lead the Future
The logo of Hongqi's new energy sub-brand is "Qimiao Shuangyi", which means "eagle spreading its wings, igniting life". It represents the concern for nature and cherishing life, focusing on new energy and concentrating on green and intelligent travel.

Two new products of Hongqi's new energy sub-brand, Hongqi E001 and Hongqi E202, made their debut at the auto show simultaneously.
Hongqi E001 is a luxury smart pure electric sedan aimed at new and high-end pioneering users. It is the first new product under Hongqi's new design concept and the "flagship" superstructure FMEs. It adheres to the Hongqi brand's concept of "national safety and national health" and provides users with an all-round ultimate driving experience from three aspects: cutting-edge styling, excellent performance, and intelligent technology.
Cutting-edge styling, perfect to the extreme. In terms of appearance, the smiley grille and the ever-changing light language are exquisitely integrated in the front, like the "Qimiao Shuangyi" logo of the eagle spreading its wings, showing an outstanding demeanor. In terms of the side, the diving posture and handsome lines are sleek and dynamic. In the rear, the interweaving of longitude and latitude and the dazzling taillights are cutting-edge of technology.
In terms of interior design, it adopts a "multi-dimensional interconnection, flexible space" design, with a suspended and enclosed surface and naturally stretched lines. The immersion intelligent AR HUD and the 6+15.5-inch curved dual-screen are also available.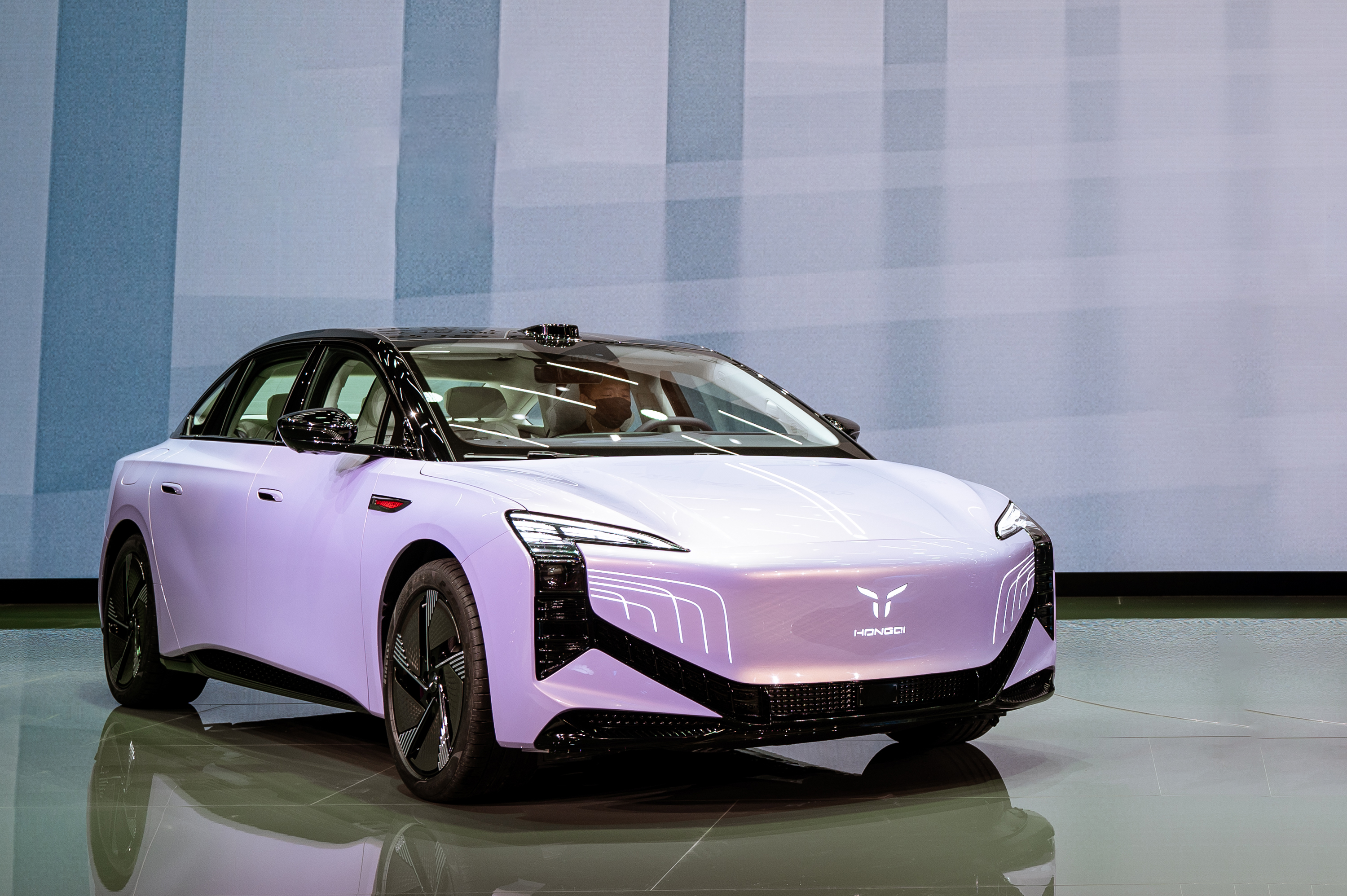 The electric platform HME under the "flagship" superstructure FMEs provides a variety of models that can be charged and replaced. The battery-swapping models have a range of up to 600 kilometers and can be swapped in 60 seconds. The battery can also be upgraded later, making the endurance \"iteration worry-free.\" The long-range and fast charging models adopt the CTP battery design scheme, and the range is up to 800 kilometers. Hongqi's customized battery cells, multi-source intelligent heating, and linkage insulation technology make the battery "low temperature decay less" and "higher temperature more secure." At the same time, it is equipped with high-performance front and rear dual motors, with a total power of 455 kW and a peak torque of 756 N·m, achieving a zero to 100 km/h acceleration in only 3.9 seconds, making it very easy to drive.

The intelligent platform HIS, first launched under the "Flag" superstructure FMEs, is powered by the internationally advanced car-cloud integrated SOA architecture, providing users with intelligent driving and smart cockpit experiences.
In terms of overall vehicle SOA architecture, our self-built FAW.OS realizes software and hardware decoupling, with over 300 open API software, and real-time running capability exceeding 500 Tops.
In terms of intelligent driving, there are 34 high-precision perception devices, which cover "point-to-point" automatic driving scenarios on highways and city main roads throughout the day. Additionally, the car has an optional intelligent driving upgrade package that provides better intelligent driving experience.
In terms of smart cockpit, it is equipped with exclusive HONGQI sound aesthetics and uses multimodal active interaction technology with a user intent recognition rate of up to 99%, paired with OTA high-speed upgrades.
The Hongqi E001 will officially launch in November this year. The long-endurance version is already available for pre-order at 199 yuan, which entitles buyers to seven rights, including a 30,000 yuan upgrade package, lifelong quality assurance for the original car owner (including three electric components), lifelong free maintenance, rescue, pick-up and drop-off services, among others. The customers who place orders in the top 20% will enjoy more privileges.

Additionally, the Hongqi E202, a pure electric SUV, designed according to the latest design concept of Hongqi New Energy, equipped with series of cutting-edge technology, specifically created for high-end families who seek "leisure and comfort" and "urban off-road" driving, will officially launch in February 2024.
"Flag leads the way" showcases the elegant quality of multiple products
The logo of Hongqi's energy efficient cars is "Flag Leads The Way", which symbolizes "soaring ideals and achieving dreams," representing a flag flying high and inspiring people with a sense of nationality. The design perfectly embodies Hongqi's permanent pursuit of fashionable and sophisticated lifestyles with its impressive new-era spirit.
At this auto show, Hongqi energy-saving brand brought four new products, including Hongqi H6, new Hongqi HS5, Hongqi HS3, and brand-new Hongqi HS7, dedicated to meeting the diverse needs of users in the new era.
Leading luxury trends and creating a new luxury realm, Hongqi H6, a B+ level luxury and stylish sedan, was officially launched with a suggested price range of 192,800-239,800 yuan. Based on the unique "safety, health, and intelligence" of the brand, Hongqi H6 is endowed with new fashion characteristics.
Stylish and dynamic, the exterior design is based on the "fashion, elegance, and intention" design philosophy, showcasing a sleek body, floating roof, center exhaust, and lifting tailgate. The interior design is based on the "hanging technology, simplicity, and propriety" with sports seats, D-shaped steering wheel, and carbon fiber decoration, showing the latest fashion trends.
Stylish and powerful, equipped with an innovative self-developed 2.0T engine with 77 patented technologies, including a 350-bar high-pressure injection system, matched with an 8-speed automatic transmission, achieving a maximum power of 185 kW and a peak torque of 380 N·m, with a 0-100 km/h acceleration time of 6.8 seconds. Four driving modes are fine-tuned with continuous damping control shock absorbers to monitor road conditions and vehicle posture in real-time, with rapid and accurate response.
Stylish and comfortable, with nearly 5 meters in length and over 2.9 meters of wheelbase, it offers the best-in-class passenger space. With a 500-liter large trunk, integrated seats with eight-point air massage, a 12.6-inch central control vertical screen, and a 12-speaker Hongqi exclusive sound system, it adopts innovative low-frequency enhancement and virtual surround sound technology, creating a stunning audio-visual impact.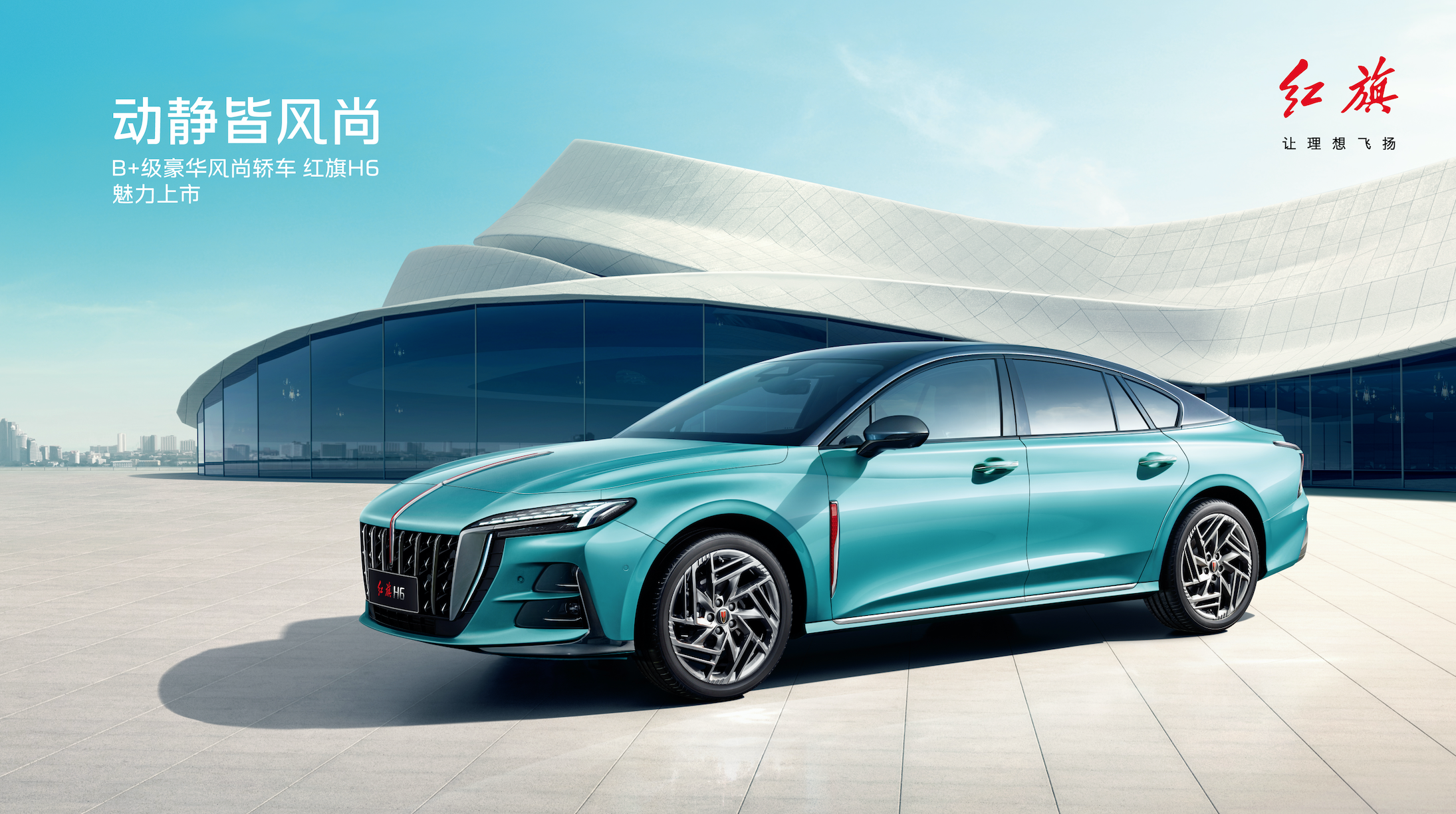 In addition, the new Hongqi HS5 has been fully upgraded in terms of appearance, power, and intelligence, and it is expected to be launched in May this year. The A+ level new-generation SUV, Hongqi HS3, targeting the national trendsetters, will present three charms: national trendsetting style, pioneer technology, and free driving experience, expected to be launched in July. While the brand-new C-level SUV, Hongqi HS7, designed for families with multiple members, will be officially launched in August!
New Technology Leads the Industry: HME and HIS Platforms Jointly Arrive
In addition to the new architecture and products, the Hongqi brand also exhibited two major technology platforms – the HME electric platform and the HIS intelligent platform under the "Flag" superstructure FMEs at this year's Shanghai International Auto Show.
The HME electric platform integrates four systems: high-energy safety batteries, high-efficiency electric drives, high-power intelligent energy replenishment, and intelligent driving safety chassis, which can cover all segmented models of A, B, C, D-level sedans, SUVs and MPVs of Hongqi's new energy brand in the future.
The HIS intelligence platform includes three major systems of advanced electronics and electricity, autonomous driving, and comfortable cabin. At the auto show, the HIS platform was presented in the form of a conceptual cabin to showcase unlimited imagination for future design concepts and to create an immersive smart environment.
The series of innovative technologies from the two platforms will bring users more outstanding performance, more ultimate experience and let them feel the new value brought by cutting-edge technology.
This article is a translation by ChatGPT of a Chinese report from 42HOW. If you have any questions about it, please email bd@42how.com.