On April 18th, 2023, Ecarx Technology partnered with Xingji Meizu Group to officially debut at the Shanghai International Auto Show. The theme of this exhibition is "Integration without Boundaries." The booth is located in Hall 6.1 of the new energy vehicle pavilion of the Shanghai International Auto Show, showcasing the value and imagination of automotive intelligence to the world together with many other vehicle brands.
On the first day, representatives of multiple global automotive brands, well-known domestic automotive groups, and new forces in the industry, including FAW, Mercedes-Benz, and Polestar, visited the booth to communicate and experience the technological presentations and actual product demonstrations of Ecarx's leading automotive intelligence solutions.
The Lynk & Co 08, which debuted with the "Ecarx Antora 1000 Pro + Flyme Auto" dual release, also appeared synchronously at the Lynk & Co booth in Hall 6.1. Polestar also announced at the media conference on this day that it will comprehensively build its soon-to-be-launched new car models based on Flyme Auto Core.
At the exhibition site, Ecarx Technology presented its panoramic display and solutions for automotive intelligence, including the Ecarx Antora and Makalu series computing platforms, as well as the Ecarx Super Brain central computing platform. This brings a choice to vehicle enterprises pursuing cabin integration and central domain fusion.
At the event, Xinqing Technology showcased its high-performance 7nm vehicle-grade SoC "Dragon Eagle No. 1" and brought a display solution for rapid start-up and power management. JiKa Intelligence demonstrated its self-developed one-stop smart driving and parking solution.
Ecarx Technology also announced a strategic partnership with Resound Technology, committing to integrating leading intelligent cabin acoustic experiences into Ecarx's global automotive intelligence solutions, such as the Ecarx Makalu computing platform.
Xingji Meizu Group also brought its newly released Meizu 20 series flagship phone to the booth, while trendy technology brand PANDAER and full-home smart brand lipro made their appearance during the Shanghai Auto Show. The interactive experience booth "Ecarx Antora 1000 Pro + Flyme Auto", the focus of the integration of both parties' technology foundation and experience innovation, became a focal point during the exhibition.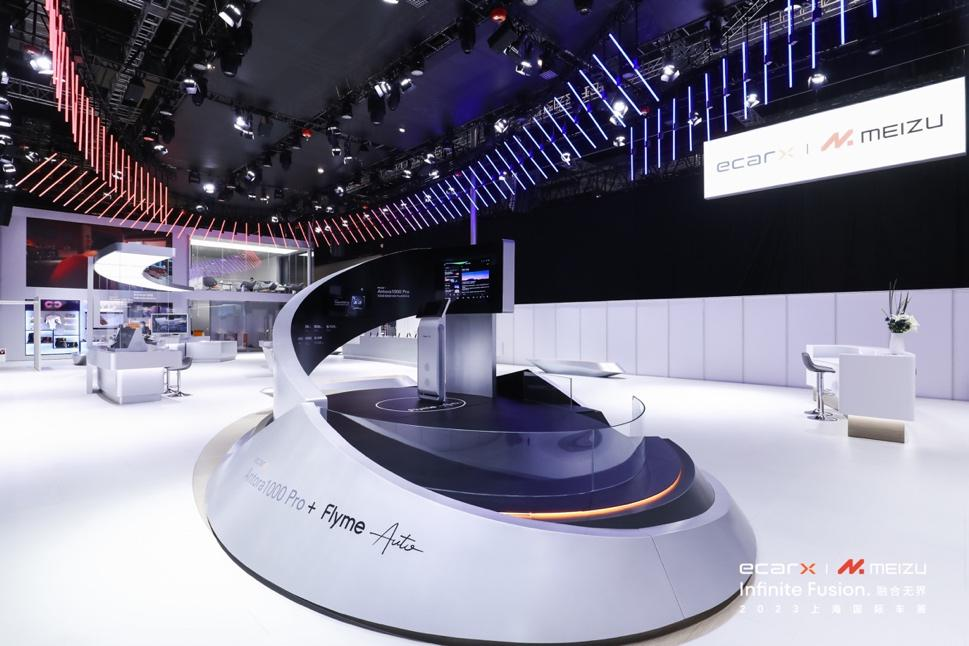 Flyme Auto adopts the design philosophy of "Alive Design". Combining with the high-performance and high-extensibility intelligent solution for automobiles provided by Ecarx, it can provide users with a lively and tangible digital smart cockpit experience in the human-computer interaction aspect, breaking the pattern where car systems and mobile phones used to compete separately.
Shen Ziyu, the Chairman and CEO of Ecarx and Meizu, said:
"The first-ever cooperation between Ecarx and Meizu at the Shanghai International Auto Show is an exciting milestone. We are delighted to work with numerous leading intelligent car brands to demonstrate the technical value of automotive intelligence to global customers and consumers, as well as to showcase our innovative ideas for the boundary-free future. The era of multi-terminal, all-scene and immersive integrated experience has arrived. We not only explore innovative interactions, but also empower the development of the global automotive intelligence industry by integrating leading global technologies and possessing a technologically differentiated technology base."
This article is a translation by ChatGPT of a Chinese report from 42HOW. If you have any questions about it, please email bd@42how.com.