On April 10, 2023, Changan Shenlan officially announced through its WeChat public account that its medium-sized pure electric sedan—the Shenlan SL03—has introduced multiple subsidies, with a starting price of 149,900 RMB after subsidies. There are currently four models of the Shenlan SL03 on sale, with prices ranging from 171,900 to 699,900 RMB.
Three types of subsidy packages are being offered. The cash subsidy package includes a 12,000 RMB cash subsidy; the finance package includes a 6,000 RMB cash subsidy; and the insurance package includes a 4,000 RMB cash subsidy.
In addition, Changan Shenlan is offering 20,000 RMB worth of multiple user benefits as customer incentives.
Quality Incentive: Lifetime warranty for the three-electrical system (limited to pure electric version's first owner, non-commercial vehicles only), lifetime warranty for the three-electrical system and range extender system (limited to range extender version's first owner, non-commercial vehicles only), and an annual free comprehensive vehicle check-up;

Charging Incentive: Complimentary charging station including installation (valid within one year of purchase, charging cable within 30 meters);

Connected Services Incentive: Free lifetime basic data (13 GB per month), and two-year free entertainment data (10 GB per month);

Exclusive Incentive: Fast charging configuration (for range extender version owners) and exclusive body color (Galaxy Blue);

Concierge Service Incentive: Gold Card membership benefits;

Customer Loyalty Upgrade Incentive: 2,000 RMB electric voucher (choice of two for upgrade or purchase);

Premium Incentive: 2,000 RMB mall automotive accessory voucher (for premium film);

Finance Incentive: Obtain a personal loan from Changan Finance and enjoy a 1,688 RMB electric card.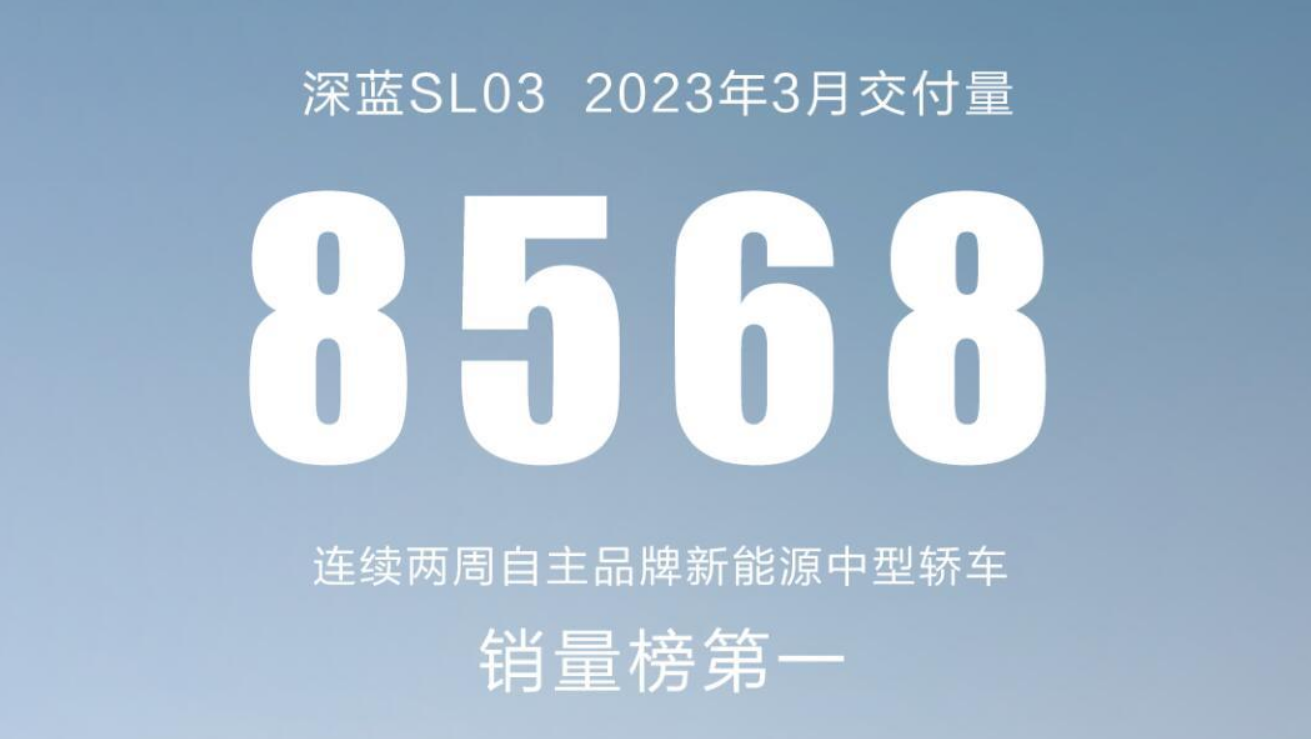 Recently, Shenlan Auto released its delivery data for March 2023. The Shenlan SL03 delivered 8,568 units, achieving a substantial increase in deliveries compared to February, and it has held the top position in the sales rankings of Chinese self-owned brand new energy medium-sized sedans for two consecutive weeks. Last month, Changan Shenlan officially changed its name to Shenlan Auto, indicating that the brand will operate independently in the future.
This article is a translation by ChatGPT of a Chinese report from 42HOW. If you have any questions about it, please email bd@42how.com.