Author: Tao Yanyan
ZhiNeng Auto Presents | Chip Series Review
Onsemi achieved a record $8.3 billion in revenue in 2022, up 24% year-on-year; net profit of $1.902 billion, up 88%; operating margin of 28.3%, up 9.2 percentage points; and a gross margin of 49%, up 8.7 percentage points. In the fiscal year 2022, the combined revenue of automotive and industrial end businesses reached $4.65 billion, up 38.1% year-on-year, driving the main growth. In terms of automotive business, it reached $3.36 billion, accounting for more than 40%.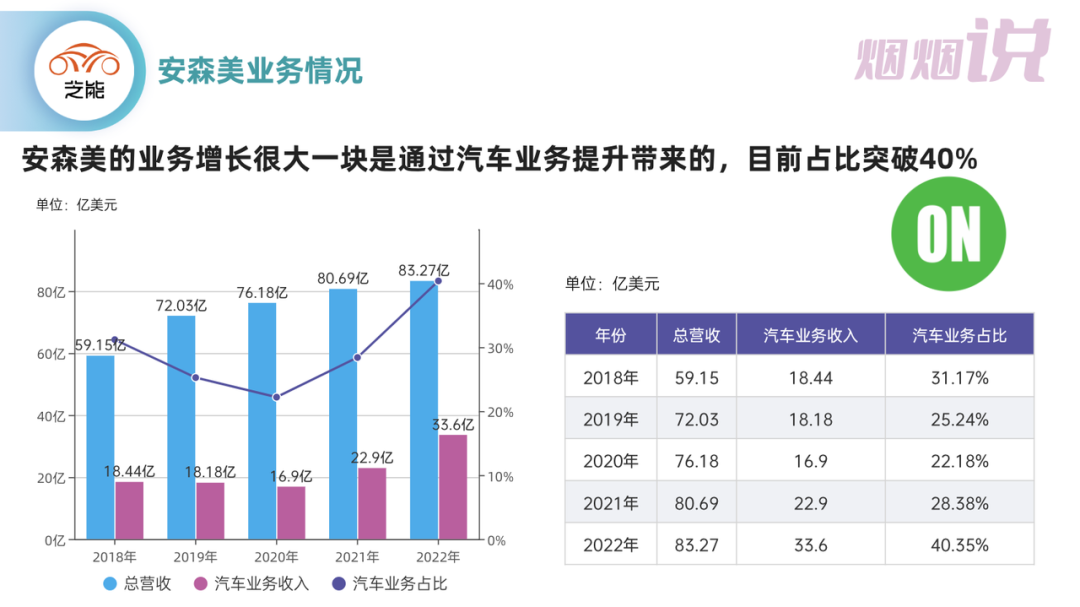 Onsemi is mainly divided into:
◎ Power Solutions Group (PSG) revenue of $4.208 billion, up 22% year-on-year.
◎ Advanced Solutions Group (ASG) revenue of $2.841 billion, up 18% year-on-year.
◎ Intelligent Sensing Group (ISG) revenue of $1.276 billion, up 42% year-on-year.
From the end-business perspective, automotive revenue indeed saw a turning point starting from Q4 of 2020.
## ON Semiconductor's Product Business Planning
ON Semiconductor initially focused on power and power components, with its primary application market extending from industrial to automotive. The automotive solutions offered include advanced driver assistance systems, automotive functional electrification, body electronics and LED lighting, powertrain, and safety. Among all applications, the automotive business demonstrates the fastest growth rate.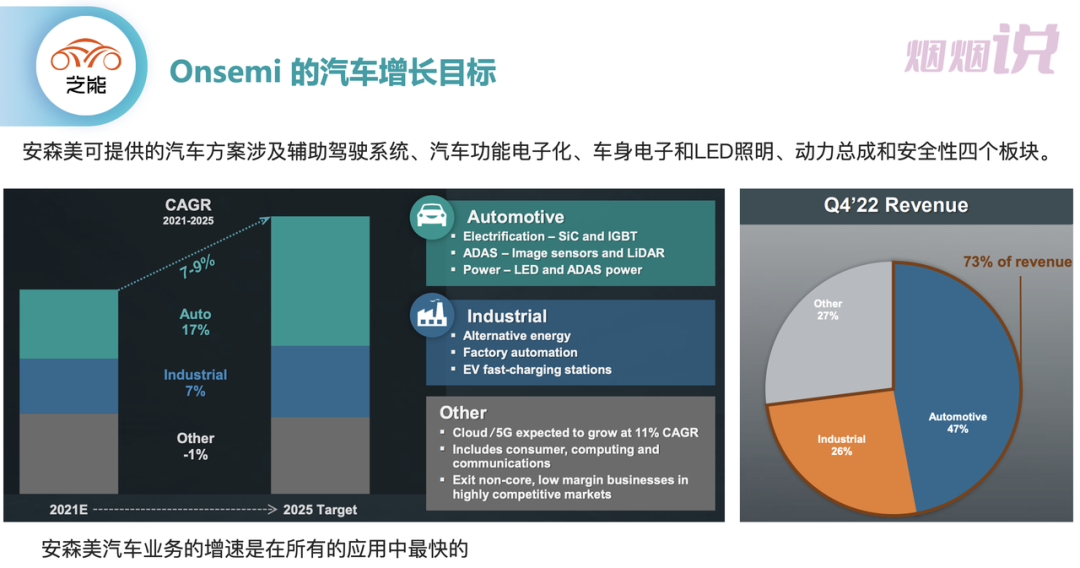 In fact, ON Semiconductor's inception was far from perfect. Spun off from Motorola's standard electronic components division, the company made acquisitions at various strategic moments. A key asset of ON Semiconductor is its SiC business. In August 2021, the company announced the purchase of SiC manufacturer GT Advanced Technologies for $415 million in cash (with an extensive track record in SiC technology). ON Semiconductor began shipping SiC wafer substrate-based devices in 2022, manufactured by GTAT. In retrospect, ON Semiconductor's acquisitions have continued to yield excellent product combinations, expanding its business structure.
Currently, centering on SiC chips and exploring different applications, ON Semiconductor has a sound strategic direction. The company's overarching strategy is to gradually transition from a traditional IDM to a more agile Fab-Lite model, as established in recent years. The choice of this approach primarily stems from the fact that traditional large-scale capacity expansions do not necessarily guarantee return on investment. Implementing a more flexible manufacturing route and strategy is actually a more rational choice for investments.
◎ Increased internal capacity allocation for differentiated and strategically growing areas such as intelligent power and smart sensing;
◎ Non-proprietary technology products will be manufactured externally for flexible capacity management.From a manufacturing perspective, gradually phase out under-scaled wafer fabs, shift focus to 300mm wafer capacity, and enhance the flexibility of general packaging backend factories. Further increase external capacity in this segment (from 34% in 2021 to approximately 45%). Optimize capital expenditures and rely on external partners to provide general packaging and technology to achieve maximum returns and improve cost structures.
ON Semiconductor's Client Relationships
In 2022, ON Semiconductor expanded its customer base by providing silicon carbide (SiC) to NIO. Starting in 2023, major breakthroughs will occur in the 400V silicon carbide business:
◎ON Semiconductor announced a strategic agreement with the Volkswagen Group (VW) to provide modules and semiconductor devices for the next-generation platform series, enabling electric vehicle (EV) main drive inverter solutions and supporting Volkswagen models' front and rear axle main drive inverter solutions.
◎BMW Group's future electric drive systems will be equipped with ON Semiconductor's EliteSiC chips, focusing primarily on 400V systems.
◎The EliteSiC series of silicon carbide (SiC) power modules have been selected by Kia Corporation for its EV6 GT model.
Before Tesla announced a reduction in SiC usage, everyone believed in the SiC story. In 2023, ON Semiconductor's most significant growth will come from the expansion of silicon carbide in the electric vehicle market. Long-term supply agreements will be signed with automotive clients, expecting $4 billion in SiC revenue in the next three years.
ON Semiconductor ranks second in power semiconductor market share. In the long run, diversified silicon (Si), SiC, and gallium nitride (GaN) products are necessary choices for power logic companies. Acquiring a 12-inch wafer fab ensures future products maintain better performance at the optimal cost structure.
For a company advancing in innovative fields, continuously consolidating product strategies is crucial. Onsemi has built upon its core businesses by gradually supplementing the sensing domain's product line, serving as a strategic hedge. In fact, automotive semiconductor companies are now focusing on power semiconductors, witnessing considerably rapid value growth. With giants already dominating the computational level, other chip companies must continuously invest in their areas of expertise to retain their market standing.
This article is a translation by ChatGPT of a Chinese report from 42HOW. If you have any questions about it, please email bd@42how.com.