Author | Yun Ge
"By 2023, we aim to reach sales of 500,000 to 600,000 vehicles, by 2025 we strive for 1 million units (including exports), and by 2030 we plan to reach 1.5 million units." On the opening day of the 2022 Guangzhou Auto Show, GAC Aion General Manager Gu Huinan emphasized this in an interview.
When asked if the 1.5 million-unit target for 2030 was too high, Gu Huinan stated, "I think the 1.5 million-unit goal is somewhat conservative."
The price war that began this year has plunged the entire automobile market into unprecedented chaos. However, Aion remained unaffected by the price reduction trend and performed exceptionally well.
On April 1st, GAC Aion announced that its March sales had surpassed 40,000 units for the first time, reaching 40,016 units—an impressive 97% year-over-year growth, with the effects of scaling becoming evident.
Throughout this year, GAC Aion has unveiled new technologies and models in rapid succession: first, the new-generation high-performance integrated electric drive technology group "Quark Drive" was launched on March 3rd, followed by the new model AION Y Younger on March 7th. The company then unveiled its cartridge battery 2.0 on March 30th, and on the last day of March, Aion officially launched the 2023 AION Y Plus and the 2023 AION S Plus. At the upcoming April Shanghai Auto Show, Aion's premium brand Hao Platinum's heavyweight model Hyper GT is expected to kick off pre-sales.
This rapid succession of moves verifies that Aion has entered "full-throttle" mode. In recent years, Aion has quickly gained ground in the new energy vehicle market with its swift approach. Compared to the past, Aion's momentum this year is noticeably more aggressive and intense. In the face of market price wars, gaining sales is crucial. At the same time, striving for high-end branding in the face of the fierce competition within the new energy sector is essential. How much can Aion's current "full-speed" momentum ultimately bring?
Sales Continue to "Skyrocket," Envy of Others
For many new forces in the automotive market, breaking 10,000 monthly sales is an incredibly important milestone. Compared to the majority of new automotive enterprises currently struggling to achieve 10,000 units per month, Aion has already broken through this barrier. In fact, in March, Aion's sales even surpassed the combined sales of Weilai and Xiaopeng.
Aion's sales in the first quarter reached 80,308 units, a year-over-year increase of 79%. In the context of this brutal price war, Aion's results hold substantial value. Of course, this is not the most important aspect; the breakthrough of 40,000 units in March signifies Aion's entry into a new development stage of scale effects, carrying milestone significance.GAC Aion's success can be attributed to its diverse product matrix.
The current lineup of GAC Aion includes AION S, AION S Plus, AION Y Plus, AION V Plus, and AION LX Plus, with prices ranging from 110,000 to 470,000 yuan, covering various vehicle segments.
On March 7th, GAC Aion introduced the new AION Y Younger model, with a guidance price of 119,800 yuan, targeting the compact MPV segment suitable for family trips. Strictly speaking, AION Y Younger can be considered an addition to the AION Y series, aimed at meeting price reduction challenges with a lower price point. While retaining its design, features, and spaciousness advantages, it lowers the purchasing threshold for young buyers through a different powertrain.
On the last day of March, Aion officially launched the 2023 AION Y Plus and the 2023 AION S Plus, introducing a range of significant user benefits. With the new models launched, the price range for the AION Y Plus is 119,800 to 153,800 yuan, while the AION S Plus is 149,800 to 165,800 yuan, penetrating the gasoline vehicle market with oil-electric price parity and further enhancing competitiveness.
In addition to the diverse product matrix, GAC Aion has also prioritized capacity expansion. GAC Aion's smart eco-factory plans to jump from its existing 100,000-unit capacity to 200,000 units in 2022 and then 400,000 in 2023.
At the same time, GAC Aion is expanding its charging network in the form of "Supercharge City," leading with over 1,000 supercharging and swapping centers in Guangzhou, achieving a 1.5km radius coverage and less than 3-minute location searching time. This approach will be replicated and promoted nationwide, aiming for full coverage in 300 cities by 2025, essentially covering all prefecture-level cities and above.
As these plans gradually take shape, a solid brand moat for Aion will be established.Translate the following Chinese Markdown text into English Markdown text in a professional manner, retaining the HTML tags in Markdown, and only outputting the result:
Additionally, Guangzhou's new round of new energy subsidies has been officially released. From March 1 to December 31, 2023, individual consumers who purchase qualifying new energy vehicles in Guangzhou (based on invoice date) and complete registration by January 31, 2024, can obtain subsidies ranging from 6,000 to 10,000 yuan. All models under Aion meet the subsidy criteria, providing even stronger support for Aion's sales success.
Despite its young age, Aion has already become the second-largest new-energy automaker after BYD, achieving a substantial breakthrough in market share due to its precise positioning.
Technological Buff, Well-deserved Recognition
Aside from the previously mentioned price sincerity, the driving force behind Aion's soaring sales also lies in their technological prowess.
Ancient Hui Nan believes that self-researched technology is the driving force behind GAC Aion's rapid fission. The most important thing now is to focus on technological iteration, revolving around technologies such as swappable batteries, silicon anode batteries, ultra-speed batteries, and the Star Spirit electronic electrical architecture, and continuously upgrading both technology and products.
Since its inception, Aion chose the "pure electric platform" route, making it only one of two companies with a pure electric platform alongside Tesla. As later proven, only a pure electric platform can truly bring out the advantages of electric vehicles.
Today, Aion's main development, the GEP 2.0 all-aluminum dedicated electric platform, is paired with Aion's "three-in-one" integrated motor, electronic control, and differential reduction electric drive system, the ADiGO 3.0 intelligent Internet of Things system, swappable batteries, 15-minute fast charging technology, and other cutting-edge technologies. This has established Aion's core labels of "long range" and "large space" in the market.
In the fields of "electrification" and "intelligence," Aion maintains a rapid pace of updates and iterations. The previously released Star Spirit architecture not only enables all-weather safe intelligent driving but also supports plug-and-play hardware and evergreen software, preparing for future high-level autonomous driving.
Subsequently, the Quark electric drive released on March 3 boosts the energy density from the industry's mainstream 6kW/kg to 12kW/kg, a 100% increase compared to the industry's 6kW/kg. In terms of products, the Quark electric drive enables Aion Hyper SSR to achieve the world's fastest multi-motor acceleration of 0-100 km/h in 1.9 seconds, while the Hyper GT boasts the world's fastest single-motor acceleration of 0-100 km/h in 4.9 seconds.
On March 30, Ean released its latest Magazine Battery 2.0 technology. Since launching the magazine battery in 2021, Ean has equipped over 400,000 vehicles with it, covering more than 10.1 billion kilometers of mileage without any combustion incidents. Building on this foundation, Ean has again broken through battery safety technology, achieving fire resistance in gunfire tests.
Industry insiders believe that this breakthrough addresses the challenges of thermal runaway protection in whole pack batteries under extreme conditions such as multi-cell, catastrophic damage, and instantaneous short circuit, marking an upgrade in the safety technology of the magazine battery system.
Entering 2023, Ean has experienced a "technology boom." Amid increasingly fierce competition in the new energy market, Ean embraces a new phase of growth with its cutting-edge technology and products.
Long way to go for high-end offerings, continuous efforts needed
However, upon examining the sales composition of the Ean brand, it is evident that its primary sales region remains concentrated in the South China market, with opportunities for expansion in other regions.
Ean's main sales products are the AION S and AION Y, targeting the compact sedan and compact SUV markets, respectively. These two models account for 70% of Ean's total sales, while vehicles priced above 200,000 yuan are significantly weaker. This deviates from Ean's initial positioning as a "high-end intelligent electric vehicle brand."
Nevertheless, Ean promptly adjusted its strategy and launched a new high-end brand called "Hyper Haobo," debuting its first model as a supercar worth over one million yuan. In comparison, the Hyper SSR, priced between 1.286 million and 1.686 million yuan, is far beyond the AION LX, which is priced between 286,600 and 469,600 yuan, and is on an entirely different level.
GAC Ean's deputy general manager, Xiao Yong, mentioned, "The average selling price of GAC Ean's vehicles this year is around 180,000 yuan. Next, we aim to break through and focus on attacking the 250,000-300,000 yuan market segment, differentiating from our existing models."Under the Hyper Haobo brand, Evergrande's strategy is to position all new models above 300,000 yuan. According to previously announced information, the Hyper GT, which is likely to start pre-sales during this year's Shanghai Auto Show, is priced at the 300,000 yuan level.
In this way, Evergrande's market approach forms two lines: first, the "AION" brand continues to carry the high cost-performance, mass-market tasks and expand its base; second, the "Hyper" brand carries Evergrande's pursuit of high-end brand vision standing on "AION's" shoulders, accomplishing the unfinished tasks that "AION" has yet to complete.
However, Evergrande's efforts to pave the way for its high-end brand by utilizing cutting-edge technology and empowering the "Hyper" brand still ultimately require the market performance and word-of-mouth of the Hyper series to be realized. All goals point to "Hyper," but whether the untested Hyper series can ultimately achieve high-end goals remains unknown. The road to high-end branding for Evergrande is lengthy and requires relentless effort.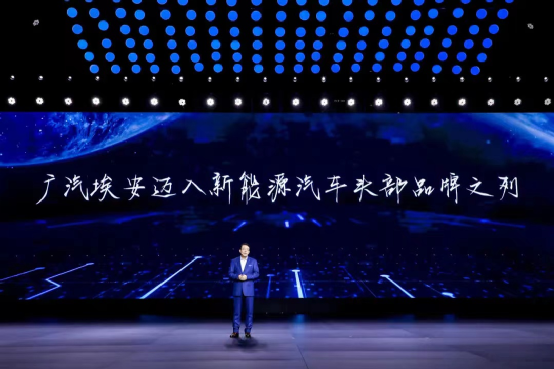 GAC Group General Manager Feng Xingya emphasized that GAC Group has always been Evergrande's strongest supporter in its development. In the future, it will continue to unwaveringly promote the high-end branding of Evergrande, achieving continuous and rapid growth in brand value and production and sales scale, making Evergrande one of the top three "high-end intelligent electric vehicle brands" in the world.
To achieve the sales target of "secure 500,000 and challenge 600,000 units" is undoubtedly a significant challenge for Evergrande. In the face of this challenge, Gu Huinan said that as the current wave of new technological revolution accelerates, Evergrande not only seeks to create user value but will also exert its wisdom to the fullest, collaborating with all sectors of society to jointly promote the progress and development of technology for the benefit of the world!
As its sales continue to rise, we hope that Evergrande can successfully achieve high-end branding and set a positive example for the development of state-owned automobile subsidiaries.
This article is a translation by ChatGPT of a Chinese report from 42HOW. If you have any questions about it, please email bd@42how.com.