Weekly Index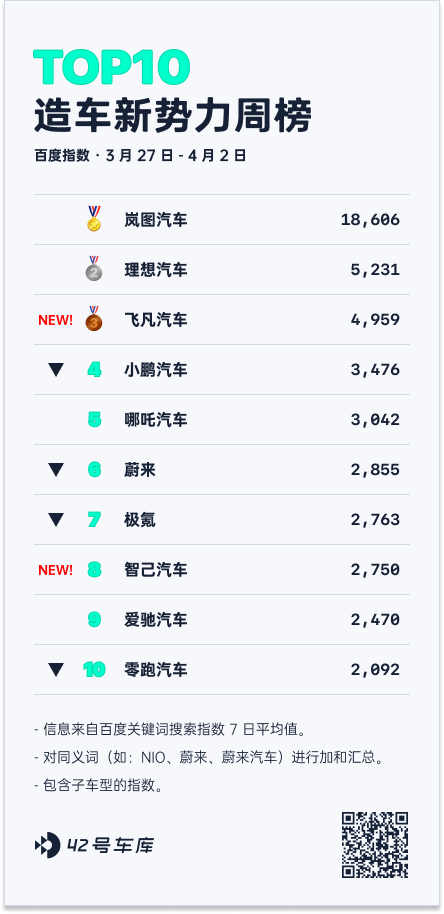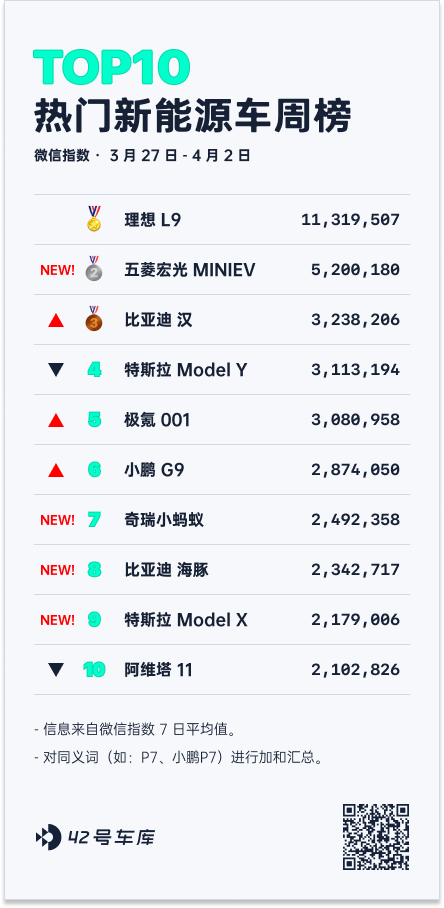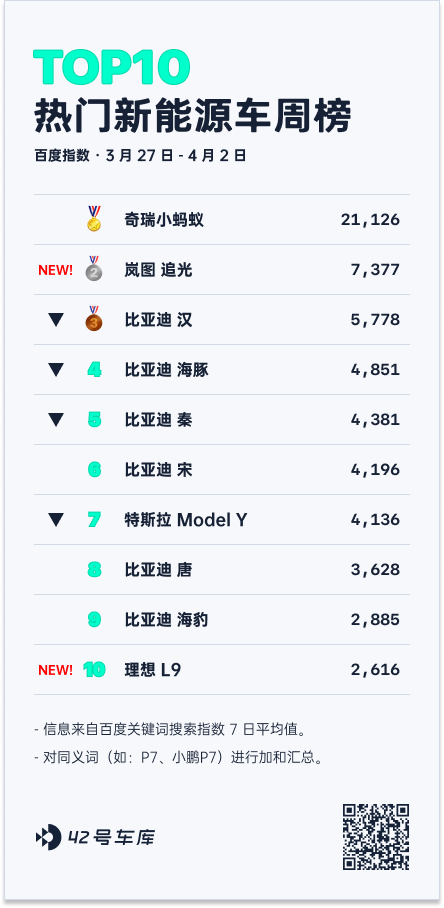 Weekly News
Huawei releases automotive business announcement, emphasizing no car manufacturing within five years
On March 31, Huawei released an automotive business announcement at its 2022 annual report conference, signed by Ren Zhengfei.
The announcement emphasized that Huawei will not manufacture cars, effective for five years. It also specifically highlighted that the terms "Huawei Wenjie" and "HUAWEI AITO" should not be used for promotion. At the annual report conference, Huawei's rotating chairman Xu Zhijun stated, "Some departments, individuals, or partners are misusing the Huawei brand, and this matter is being investigated. The brand built over more than thirty years of Huawei's development cannot be misused."
Less than a month earlier, on March 8, the terms "HUAWEI Wenjie" had appeared on the blogs and WeChat public accounts of Huawei terminals and AITO cars. Offline sales had also begun referring to Wenjie cars as "Huawei cars".
Even Huawei officially replied to us, saying that "HUAWEI Wenjie" is a Huawei ecosystem car brand and a new business model initiated by Huawei. Huawei provides core software and hardware technologies such as electrification and intelligent components, and helps automakers sell cars through product definition, user experience, quality control, channel retail, and brand marketing. All these actions aim to achieve business success for automakers while driving the large-scale sales of Huawei's intelligent automotive components.Xu Zhijun also said, "At present, Huawei is rectifying the promotional materials in its offline retail stores and returning to its strategic focus." According to information we have received, once the press conference ended, Huawei's flagship store in Shanghai has already begun removing the "HUAWEI Questrium" related materials.
At the 2023 China Electric Vehicle Summit on April 1st, Yu Chengdong commented, "Even Ren Zong [Ren Zhengfei] and others believe we should not be making cars but should, instead, become suppliers like Bosch. Huawei has always insisted on not making cars. However, under the Smart Choice scheme, there are several partner automakers, including Seres, Chery, and JAC. If different brands were to be established and marketed separately, it would be very complicated. Therefore, we want to promote the Questrium ecosystem alliance."
"Regardless, the essence of our desire to promote the ecosystem alliance has not changed. In the future, the models launched by Smart Choice partners will not be in conflict with each other. They will still jointly build the ecosystem alliance, making full use of automakers' production capacity resources."
Quick Comment:
On March 8th, we all thought Huawei was on the brink of car manufacturing. The use of "HUAWEI Questrium" promotion would undoubtedly have a significant boosting effect on Questrium's currently declining sales.
However, Ren Zhengfei applied the brakes at this critical moment, disrupting the original plans for Huawei's car BU. On March 27th, GAC Group also announced that "due to various resource allocations, GAC Aion New Energy Automobile Co., Ltd's AH8 project has changed from joint development with Huawei to independent development. However, after this change, Huawei will continue to participate in the development and cooperation of the company's self-owned brand models as an important supplier." The AH8 is a 6-seater model under GAC Aion's high-end brand Aion LX. GAC's withdrawal has also caused Huawei's HI mode to lose a key client.
We are not yet aware of the specific plans for Huawei's internal vehicle business going forward. However, we hope to see even more powerful products enabled by Huawei's intelligence in the future.### 2023 China Electric Vehicle Summit Opens in Beijing
March 31, the China Electric Vehicle Summit (2023), hosted by China Electric Vehicle 100 (EVC100) and co-organized by Tsinghua University, China Society of Automotive Engineering, China Association of Automobile Manufacturers, China Automotive Technology and Research Center, and China Automotive Engineering Research Institute, commenced in Beijing.
This year's summit spans three days with the theme of "Promoting the Modernization of China's Automotive Industry" and hosts 2 plenary sessions, 9 open thematic forums, and 4 closed-door meetings. Concurrently, interactive activities such as new vehicle displays, industrial chain and core component exhibitions, as well as multiple research project report releases will be held.
The forum has invited representatives of government departments, industry organizations, and enterprises in the fields of automotive, energy, transportation, urban, and communication to conduct in-depth discussions on various topics, such as global automotive industry development trends, high-quality development paths for new energy vehicles, China's intelligent connected vehicle development strategy, power battery and other core industry chain supply chain development trends, new generation automotive consumption transformation trends, automotive and energy coordinated development strategies, new transportation energy security systems, commercial vehicle transformation directions, automotive aftermarket innovation paths, and digital and intelligent manufacturing models for automobiles.
This year's China Electric Vehicle Summit has approximately 200 distinguished guests from the government, industry, academia, and research sectors attending and speaking at the event, with an estimated on-site attendance of over 3,500 guests. To date, the China Electric Vehicle Summit has been successfully held for eight consecutive editions.
China Electric Vehicle Summit (2023) comprises 2 plenary sessions:
On the morning of April 1, the international forum, themed "Accelerating Electrification Transformation and Promoting the Integrated Development of Transportation and Energy," will primarily discuss the new landscape and patterns of global automotive energy development; new trends and progress in the integration of global new energy vehicles and energy; new opportunities and models for global energy and automotive industry cooperation; new technologies and solutions for industrial synergy; strategies for promoting green energy supply systems and green industrial chain ecology; and medium and long-term paths and policy systems to accelerate the integrated development of energy and automobiles.On the afternoon of April 1st, the high-level forum will focus on the path and policy framework for high-quality development of new energy vehicles; the top-level design of China's smart vehicle industry; pathways and solutions for automotive collaboration with energy, transportation, and urban development; and advanced enterprise strategies and significant practices. From national policy to industry enterprises' strategic implementation, the forum will comprehensively expound and discuss how to better promote the modernization of China's automotive industry.
Simultaneously, the 2023 Hundred-People Forum will adopt an emphasis on both open forums and closed-door meetings, upgrading to four closed-door sessions, inviting relevant government departments, corporate decision-makers, and experts to brainstorm on current industry development hotspots and challenges.
On the morning of March 31st, the forum's first day will host two concurrent closed-door sessions. The Automotive Industry Management System and Governance Structure Workshop in the New Situation will discuss topics such as the regulatory framework for intelligent connected vehicles, vehicle production companies and product access, investment access, capacity management, and related systems and policies; China's automotive industry opening-up policy; and establishing a policy framework for the shift from purchase management to usage management in the automotive sector.
The China-US Roundtable on Transportation Carbon Neutrality: Accelerating Zero-Emission Transformation in China-US Commercial Vehicles will invite Chinese and American government and corporate representatives in the commercial vehicle sector to explore the latest progress in zero-emission transformation; directions and major challenges faced in the transformation process; development technology pathways and innovation models; future cooperation directions in the China-US commercial vehicle sector; and policy recommendations to promote the development and collaboration of China-US commercial vehicles.
On the afternoon of March 31st, the Closed-Door Meeting on China's Automotive Industry Development Situation and Policies and Hundred-People Forum Council will be held. Centering on advancing the modernization of China's automotive industry, council members and relevant government department representatives will deeply analyze the industry development trends in 2023 and discuss policies and pathway solutions to promote high-quality development for China's automotive industry.
On the afternoon of April 2nd, the Closed-Door Roundtable on Global Electric Vehicle Development and Policies will be convened, with special invitations to international organizations and representatives to explore the latest policies and industry trends on new energy vehicles in major countries; challenges and countermeasures for global automotive supply chain changes; green, low-carbon supply chain development pathways and collaborative systems; the path for China's automotive industry to integrate into the global market and supply chain system; and global new energy vehicle industry cooperation opportunities.Building a modern industrial system is not only an intrinsic demand to conform to the new round of technological revolution and industrial transformation, but also a crucial path to build a strong automotive country. The 2023 Bairen Conference Forum will also host 9 open thematic forums.
On the morning of March 31, the Third Dual Intelligence Forum, themed "China's Solution for the Coordinated Development of Vehicles, Roads, and Cities," will be held. This Forum will invite leaders from relevant national departments, representatives from 16 pilot cities, as well as renowned experts and senior managers from the automotive, transportation, urban planning, and communications fields to participate in discussions on building infrastructure support systems covering roadside perception, communication, energy, location, and computing power, and clarifying China's solution for construction; building a comprehensive urban road transportation system to enhance city management and transportation governance using intelligent means; and improving technical schemes for various application scenarios such as automotive, transportation, traffic management, and urban management, as well as cross-sectoral and interdepartmental dual intelligence promotion mechanisms.
On April 2nd, all day, the conference will organize 8 open thematic forums:
The Automotive Market and Consumer Forum, themed "Technology-Led Consumer Transformation";
The Power Battery Forum, themed "Building a Globally Competitive Battery Industry";
The New Generation Automotive Energy Infrastructure Forum, themed "Building a New Generation Automotive Energy Infrastructure System";
The New Energy Vehicle Aftermarket Forum, themed "Transformation and Innovation in the Aftermarket for the Electric and Intelligent Automotive Era";
The Commercial Vehicle Sustainable Development Forum, themed "Commercial Vehicle Industrial Development amid Profound Transformations";
The Automotive Industry Digitization Forum, themed "Data-Driven and Digital Transformation in the Automotive Industry";
The Intelligent Vehicle Forum, themed "Progress and Trends in the Intelligent Automotive Industry";
The New Automotive Production Mode Forum (NPS), themed "Innovative Practices in the New Automotive Production Mode".
Quick Comment:
China's Electric Vehicle 100 People Forum can be regarded as the weathervane for China's new energy vehicle sector. Each year, the forum delivers a wealth of information, including the development of passenger and commercial vehicles, as well as the progress of various supporting technologies.Annually, not only do China's relevant department leaders participate in the BaiRen Conference, but also the heads of various new energy vehicle enterprises. The event is always filled with insights, making it a grand occasion in China's new energy automobile field that should not be missed by anyone interested in the industry.
March Sales Revealed: Mixed Emotions
As March drew to a close, so did the sales numbers for every automaker. Let us examine the performance of each.
First up, Tesla delivered a total of 422,875 vehicles in Q1. Among them, 412,180 units of Model 3 and Model Y were delivered, seeing a significant increase YoY in Q1 2022. Meanwhile, Model S and Model X had a combined delivery of 10,695 units.
Li Xiang's Li Auto delivered 20,823 vehicles in March, surpassing 20,000 units for the second month and achieving a YoY growth of 88.7%. The company delivered a total of 52,584 vehicles in Q1 2023, up 65.8% from the same period in 2022. As of March 31, 2023, Li Auto reached an accumulated delivery of 309,918 vehicles, crossing the 300,000 mark.
NIO delivered 10,378 new vehicles in March, a YoY increase of 3.9%. Of these, 3,203 high-end smart electric SUVs were delivered, as well as 7,175 high-end smart electric sedans. In Q1 2023, NIO delivered a total of 31,041 new cars, a YoY growth of 20.5%. To date, NIO's accumulated deliveries reached 320,597 units.
In March, Xiaopeng delivered 7,002 vehicles, a month-over-month increase of 16.5\%. This includes 3,030 P7 models. Although the data still isn't impressive, considering the data from the previous two quarters, Xiaopeng is gradually getting back on track.
In March, Jikr delivered 6,663 vehicles, a year-over-year growth of 271\%, a month-over-month increase of 22\%, totaling 93,182 deliveries. Among them, more than 2,000 Jikr 009 vehicles were delivered with an average order amount of 527,000 yuan.
Finally, BYD experienced sales of 207,080 units in March, a year-over-year increase of 97.4\%. Of these units, passenger vehicle sales reached 206,089 units, including 13,312 exports, a year-over-year increase of 97.5\%. DM model sales accounted for 103,419 units, while EV model sales totaled 102,670 units. BYD Dynasty and Ocean brand sales reached 195,691 units, a year-over-year increase of 87.6\%.

BYD's high-end brand Tengshi saw March sales of 10,398 units, with just the Tengshi D9 model achieving monthly sales exceeding 10,000 units, a month-over-month increase of 42\%. To date, Tengshi's cumulative sales stand at 33,965 units.
#### Quick Take:
Based on sales in March, Tesla and BYD remain far ahead, Li Auto reaches new heights, NIO remains steady, while XPeng and HiPhi perform modestly.
With the upcoming Shanghai Auto Show, new models from XPeng and HiPhi may make their debut, potentially boosting their sales figures. We look forward to better performance from them next month.
209,900! FeiFan F7 Officially Launched
On March 27, the FeiFan F7 officially went on sale with 6 available versions:
66 kWh LiFePO₄ version at 209,900;
77 kWh Advanced version at 229,900;
77 kWh Advanced Pro version at 249,900;
90 kWh Long Range version (single motor) at 249,900;
90 kWh Long Range Pro version (single motor) at 269,900;
90 kWh Performance Pro version (dual motor) at 301,900.
If you opt for the battery leasing plan, the entry-level 77 kWh version is only 145,900. The pricing of the FeiFan F7 is quite competitive for a mid-to-large size vehicle. Moreover, the base configuration is extremely generous.

In terms of range, the FeiFan F7 offers a 77 kWh and 90 kWh battery pack:
77 kWh RWD version with 576 km CLTC range;
90 kWh RWD version with 666 km CLTC range;
90 kWh AWD version with 600 km CLTC range.
As for incentives, the FeiFan F7 includes a limited-time offer of up to 1,500 kWh/year of "Lifetime Energy" for free; lifetime free premium smart drive software package; a 10,000 customization fund; and 3 years of free data.The Feifan F7, like the R7, features a 43-inch triple screen setup in the front row. Regardless of the materials or resolution, the quality of these three screens is top-notch:
Instrument cluster: 10.25 inches, 1,920 × 720 resolution, Mini LED material;
Center control screen: 15.05 inches, 2.5k resolution, OLED flexible material;
Co-pilot screen: 12.3 inches, 1,920 × 720 resolution, Mini LED material.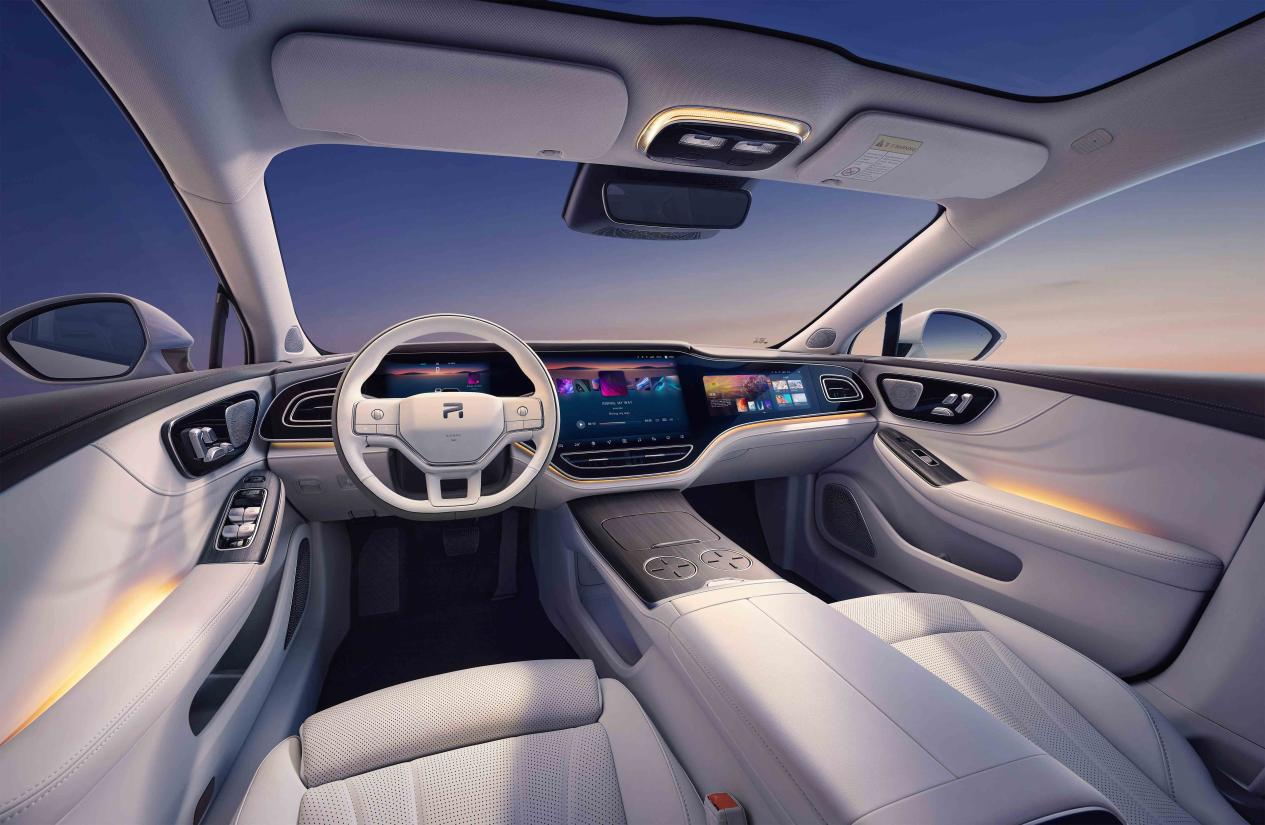 In the rear, the Feifan F7 adds an 8-inch entertainment screen. This screen has both vehicle control functions, such as controlling the rear air conditioning, ambient lighting, and audio, and entertainment features like Kuwo, Netease Cloud Music, and iQiyi. However, the downside is that, despite the decent size, the lower position may cause passengers to "watch with their heads down."
As early as the Feifan R7, we found that Feifan's human-machine ergonomics and seat comfort were excellent after test driving. On the Feifan F7, this advantage is magnified once again.
From the data, the front seats of the Feifan F7 have a 65 mm soft foam layer at the waist, a class-leading 580 mm longest seat cushion at the hips, a three-layer 70 mm cushion, and a leg rest for the co-pilot. Feifan even added a heating function to this leg rest, paying great attention to detail.
In the rear, the Feifan F7 has a class-leading 496 mm seat cushion length and a maximum filling thickness of 110 mm.
Many current electric vehicles have the issue of high ground clearance, causing the thighs to be suspended in the air while seated, creating a "squatting stool" sensation. Feifan F7 solves this issue with a "lying battery core," reducing the battery pack thickness by 30 mm and seat height by 28 mm, ensuring sufficient interior longitudinal space while avoiding the common "squatting stool" problem in electric vehicles.
The above design considerations address static seating comfort; however, consistency in driving experience is essential. Thus, it is crucial to prevent vibrations from transferring to the human body through the "road-suspension-seat" pathway. In its development, Feifan F7 relied on virtual simulations for weak point analysis, optimization, and structural reinforcement, ensuring seat vibrations during driving remain outside the human discomfort zone.
Quick review:
Many emphasize the "cost-effectiveness" of Feifan products. However, in stereotype, products with high "cost-effectiveness" often imply compromises and shortcomings in some areas. Yet, from Feifan F7's launch, it's clear that it aims to excel in comfort while maintaining excellence in its power system, intelligent driving, and design, without any noticeable faults.
For a new product, it's crucial to avoid wanting it all. Limited costs, budgets, and time will ultimately result in mediocrity. Feifan F7 wisely chose to focus on breaking through and eliminating its weaknesses.
After a tiring day at work, who wants to struggle with their car? At least for me right now, I genuinely want to lie down in a Feifan F7. This, in a way, proves that the vehicle has successfully created a memory anchor, topicality, and intriguing aspects.
Thus, don't be greedy. Capturing a specific niche of consumers already means achieving half the success.Please provide the Markdown Chinese text that you would like translated into English Markdown text. This way, I can accurately provide the output in a professional manner while retaining the HTML tags.
This article is a translation by ChatGPT of a Chinese report from 42HOW. If you have any questions about it, please email bd@42how.com.