Author: Tao Yanyan
Chip Inventory Series
Preface: "Global Automotive Chip Trends";

Part One: "Traditional Giant Infineon";

Part Two: "Significantly Growing Automotive Business of NXP".
Texas Instruments (TI) is the world's largest manufacturer of analog circuit components and digital signal processors, and its products cover a wide range of scenarios in our lives. In terms of end markets, TI's main revenue sources are automotive and industrial markets, with personal electronics, communications equipment, and enterprise systems markets generating weaker revenues. Looking at TI's revenue in various markets in the fourth quarter of last year, revenues in all end markets other than automotive declined sequentially, mainly due to the global economic situation, with chip-using customers continuing to reduce inventory. TI expects that its revenue and profit will decline by 9% and 19%, respectively, in the first half of 2023.
As an analog chip company, Texas Instruments has seen its share in the automotive business roughly double in 2013, increasing from 12% to 25% of total sales. In terms of absolute revenue, this has grown from 1.46 billion USD to 5 billion USD, which is indeed very impressive. Of course, compared with Infineon and NXP, TI's overall growth seems normal.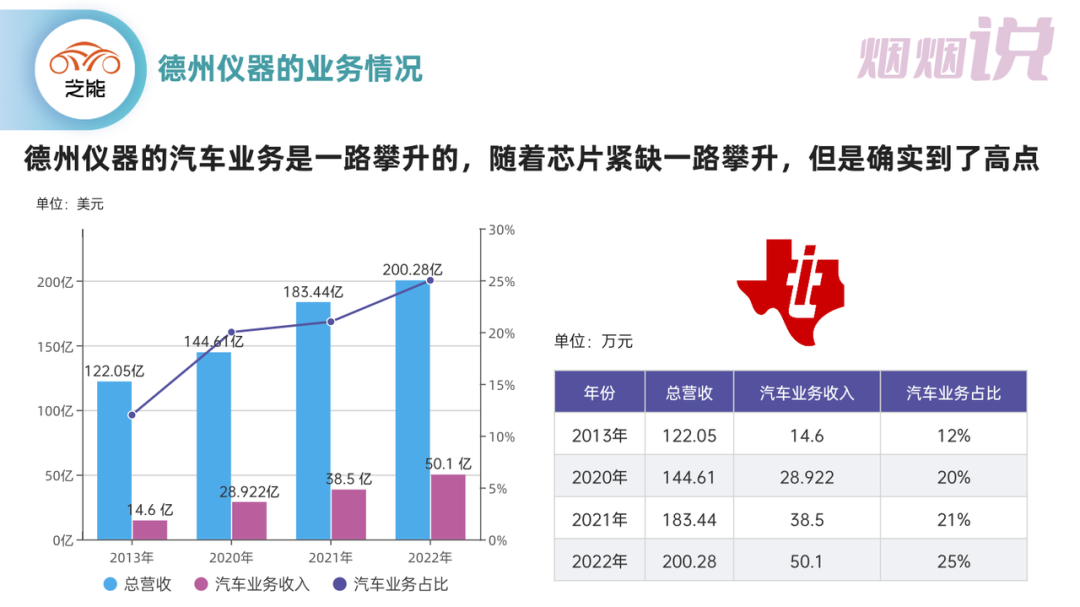 TI's Automotive Business
In the automotive sector, Texas Instruments' main products are power management chip solutions, such as BMS, DC/DC switching regulators, LDOs, and voltage monitors, covering various areas including powertrain, infotainment, and ADAS. We all know that TI has done a lot of work in the AFE field, and when we have time, we can do an in-depth analysis.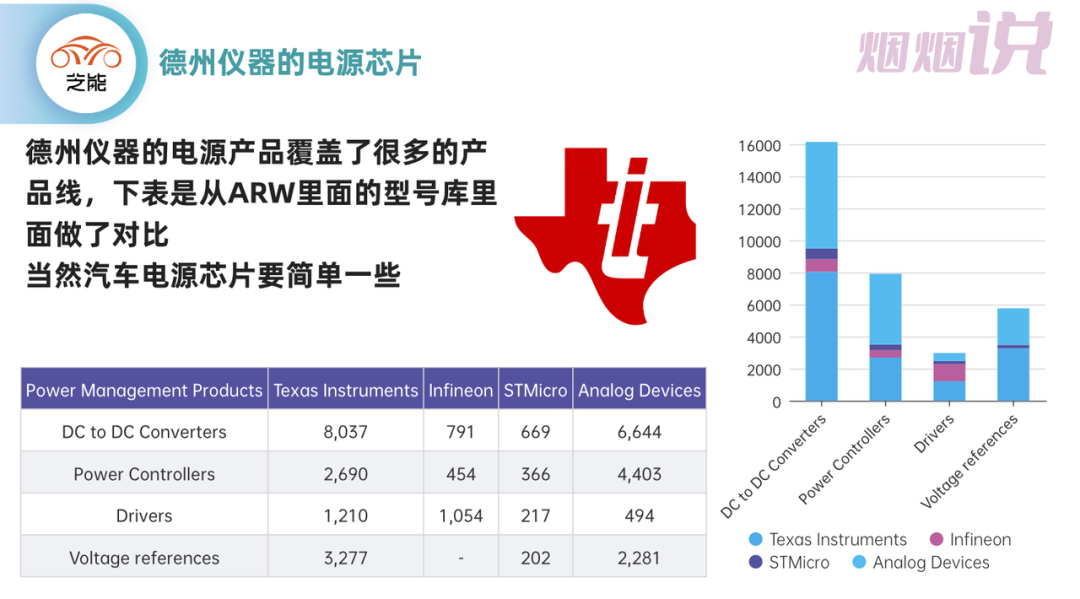 Within the ADAS and infotainment system SoCs, TI has developed the Jacinto SoC product series, which is considered by global automakers as a cost-effective solution, hence a differentiated competitive approach.
Jacinto Eco 6 SoC is suitable for international automakers that have not yet adopted Qualcomm products and do not require large screens for in-cabin systems.
The collaboration between Tesla and TI is extensive, primarily leveraging TI's 2642 Bluetooth MCU in numerous small end-controllers, complemented with CAN communication chips, power units, and UWB chips.
In Tesla's potential HW4.0 self-driving hardware featuring 4D millimeter-wave radar, it is highly probable that TI's MMIC chip is utilized.
Outlook on TI's Business Development
While TI's product lines have not formed a comprehensive system specifically for automotive applications—unlike the all-inclusive offerings of Infineon and NXP—this product strategy will pose some disadvantages amidst the next-generation EE architecture development. With the anticipated slowdown in automotive chip demand in 2023, the business growth in 2022 may be short-lived. We will continue to monitor each company's quarterly performance and dissect the progress of key semiconductor components.
**Conclusion: When organizing the comparison of automotive chip business revenue, we must always be vigilant and aware that the high demand in 2022 might indeed be a temporary peak for the automotive electronics chip industry.
**
This article is a translation by ChatGPT of a Chinese report from 42HOW. If you have any questions about it, please email bd@42how.com.