Translate the following Chinese Markdown text into English Markdown text, maintaining the HTML tags in Markdown in a professional manner, and output only the result:
In the minds of many, new energy vehicles are no longer just different in powertrain from traditional fuel vehicles, but also surpass them in terms of intelligence. Intelligence often encompasses two aspects: intelligent cockpit and intelligent driving. For many, the more important of the two is the intelligent cockpit. In the end, the core of an intelligent cockpit is undoubtedly a user-friendly vehicle infotainment system.
Speaking of Lynk & Co's infotainment system, those who have experienced it might shake their heads, as laggy, complicated menus, and difficult-to-use functions were once the true depiction of Lynk & Co's system. However, ever since the Lynk & Co 08 announced the integration of the Meizu FlymeAuto infotainment system, and the Lynk & Co 09 announced the all-new LYNK OS N, all these issues have become history.
I have already given a detailed introduction to LYNK OS N before, and those interested can take a look at "First Encounter with LYNK OS N, Lynk & Co's First Step in Intelligence". Today, I will be talking about another system – FlymeAuto.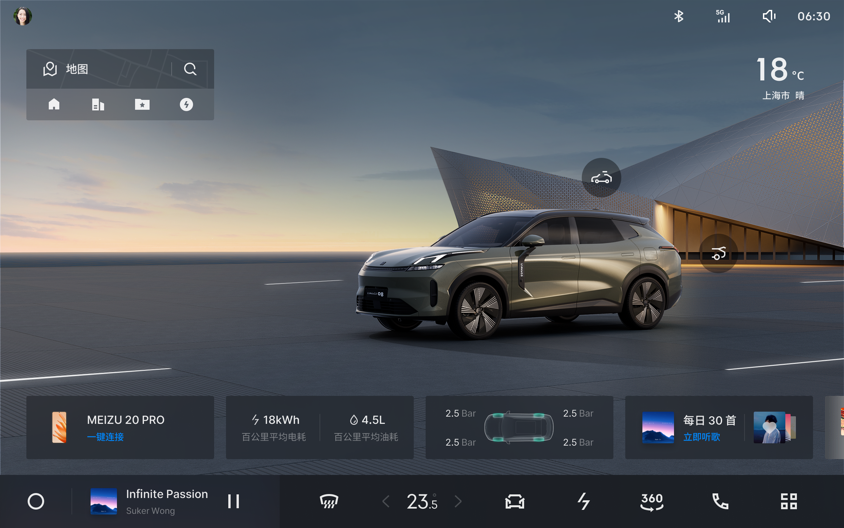 Flyme Takes the Wheel
Comparing Aesthetics? Look to Meizu.
As a die-hard fan who used Meizu phones for 6 years, I am more than familiar with the Flyme system. If there is any advantage to Flyme compared to other phone systems, it would be aesthetic design. This very point captivated me from the first time I used a Meizu Pro 5 equipped with Flyme 4.5 system.
This design aesthetic extends to the FlymeAuto infotainment system, giving a different vibe from the moment the car starts, and its home screen is displayed.
The home screen displays the current real-time weather situation, including over 40 weather scenarios such as sunrise, sunset, rain, and snow, as well as the interactive vehicle model on it, making it incredibly intuitive.
The SmartBar on the far left of the bottom Dock can display various content such as music, charging status, and scene modes based on the current function in use, accompanied by different animated effects.
All Dock icons are meticulously crafted, reflecting Meizu's utmost attention to design details. Additionally, you may have noticed that the vehicle settings icon in the center is specifically designed to resemble the front of the Lynk & Co 08.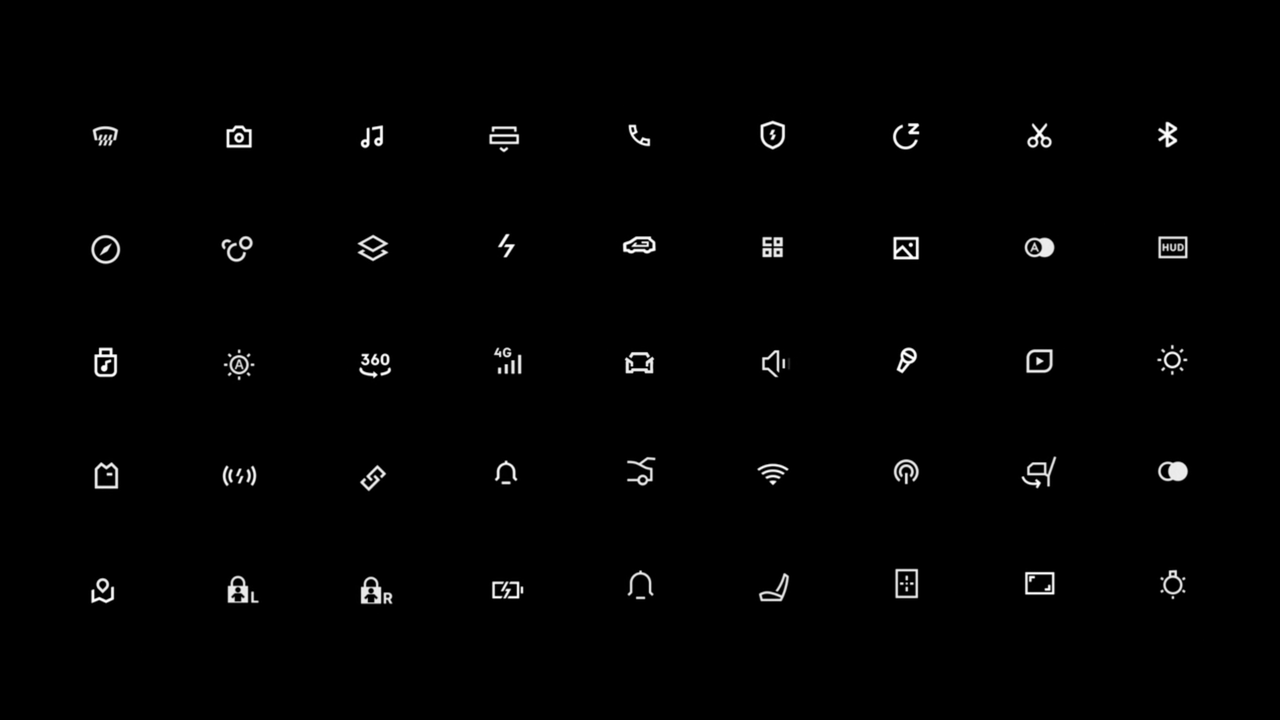 Upon opening the air conditioning, the default is a night mode with a black background, which may not seem particularly special.
However, once the air conditioning mode is adjusted, the theme color changes according to the different modes, and the wallpaper is dynamic, making it very visually appealing.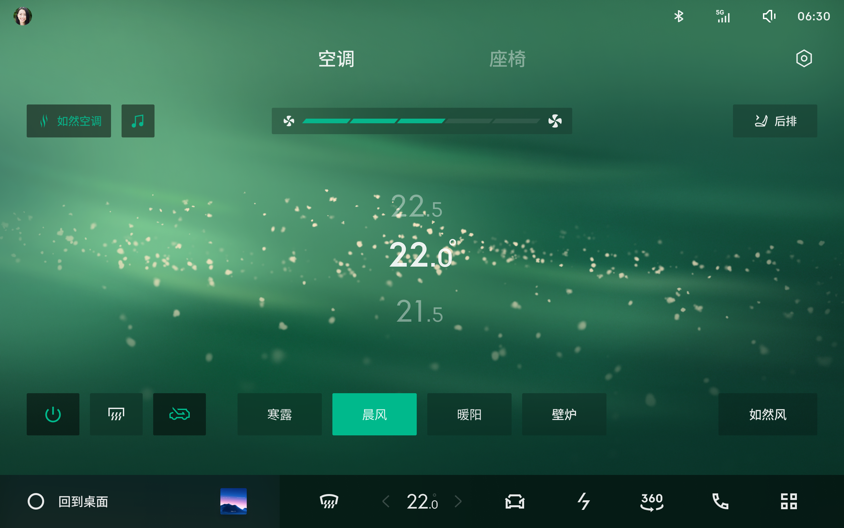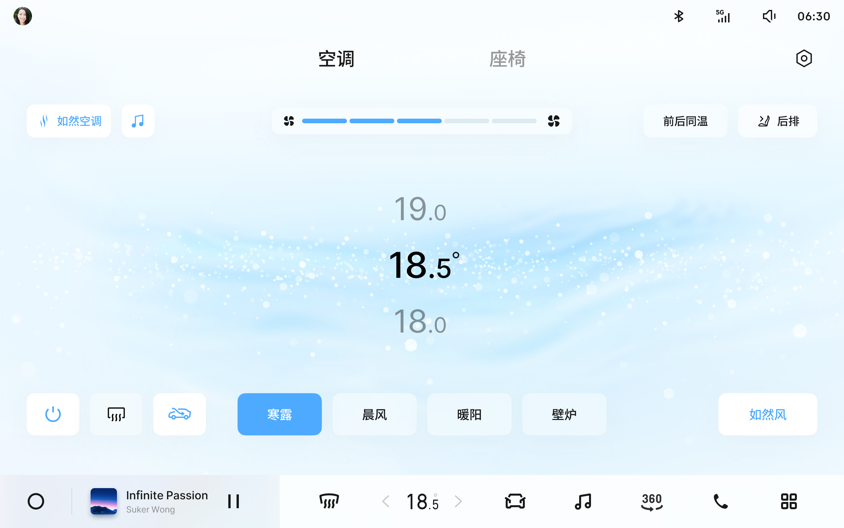 While operating on the desktop, highly coherent animations seamlessly connect the actions. Based on the demo video, the animation smoothness is also quite remarkable.
I Too Have "Super Customization"!
Previously, I mentioned the powerful customization capabilities of LYNK OS N, and now FlymeAuto also grants users extensive customization permissions.
Firstly, for the home screen, there are Map Home, Live Home, and Wallpaper Home to choose from, catering to different users' needs. My personal favorite is the highly practical Map Home, a feature that LYNK OS N currently lacks.
For those who prefer Wallpaper Home, you can easily customize the wallpaper, and even display different holiday wallpapers according to various festivals.
The card section above the home screen Dock allows for complete customization according to the user's needs, enabling users to arrange their most frequently used feature cards in order.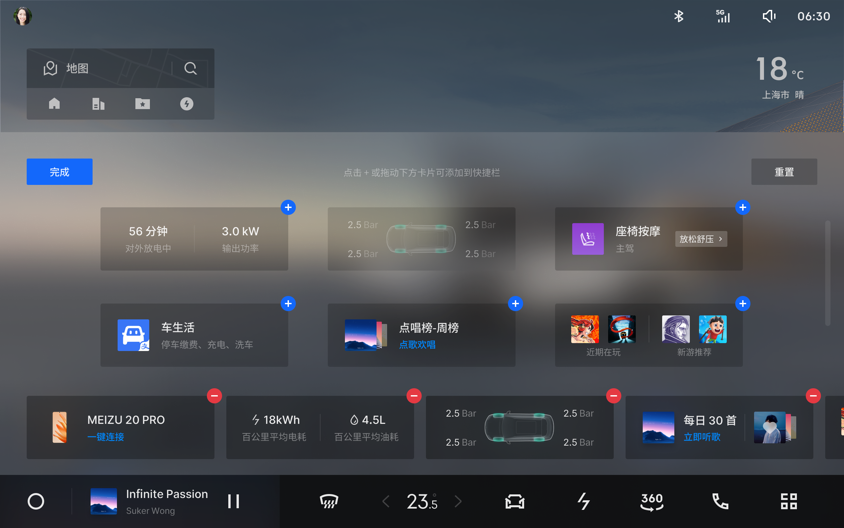 For the Dock bar, except for the non-customizable SmartBar on the far left, both the air conditioning and application sections can be freely customized to your most commonly used features. For example, in summer, the seat ventilation functionality can be placed in the primary menu, while in winter, this position is likely occupied by seat heating and steering wheel heating.
The rightmost app list, which also supports customizing the order when entered.
The top drop-down quick function bar, besides basic screen brightness and media volume, other functions can be freely customized as well. The operation methods of these features are completely consistent with mobile phones and tablets, with virtually no learning curve.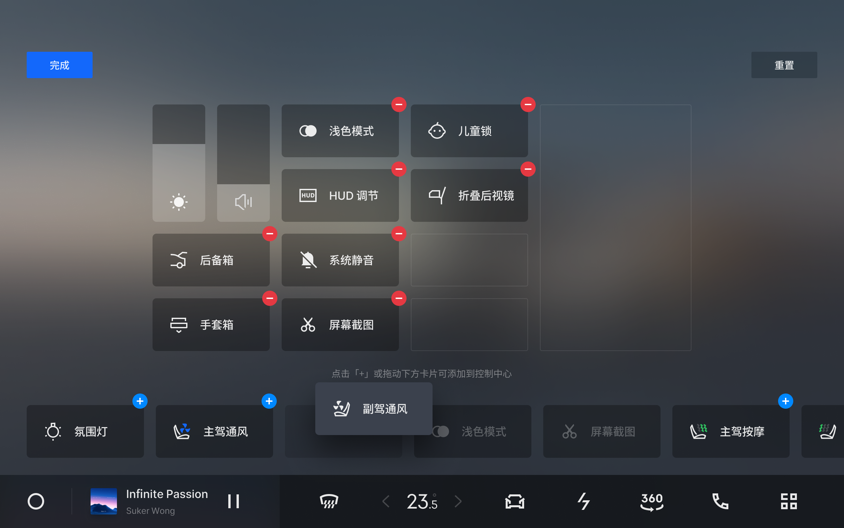 What is the purpose of vehicle-machine interconnection?
Huawei's HarmonyOS ecosystem has provided us with the answer as to the use of vehicle interconnectivity. Sharing the same data information across different devices under the same account can effectively enhance experience and efficiency in certain scenarios.
At the launch event, Meizu introduced the concept of the mobile domain, which, in simple terms, means sharing computing power between vehicles and mobile phones.
Keep in mind that this year's flagship Android phones all feature the Qualcomm Snapdragon 8 Gen 2 chipset, boasting impressive performance. Whether it's the "Dragon Hawk One" chip used for the first time in Lynk & Co 08 or the widely adopted Snapdragon 8155 for in-vehicle infotainment, these chips are essentially reworked versions of the long-obsolete Snapdragon 855 for automobiles, significantly lagging current mobile chipsets in terms of performance.
Car replacement cycles are generally longer than mobile phone replacement cycles, and after a few years, the performance of in-vehicle systems tends to show its age. If these systems could harness the power of mobile phones, theoretically, switching phones would be tantamount to upgrading vehicle hardware. At this point, we must mention Luo Yonghao from Smartisan Technology. The TNT, with its overly advanced concept and mediocre actual performance, became stillborn.
FlymeAuto's car connectivity allows for seamless integration with the vehicle's system simply by using the phone's UWB key to unlock the car. This enables users to directly access mobile apps on the car's display. However, it's currently unclear what connection technology Meizu has employed for such smooth performance in this use case.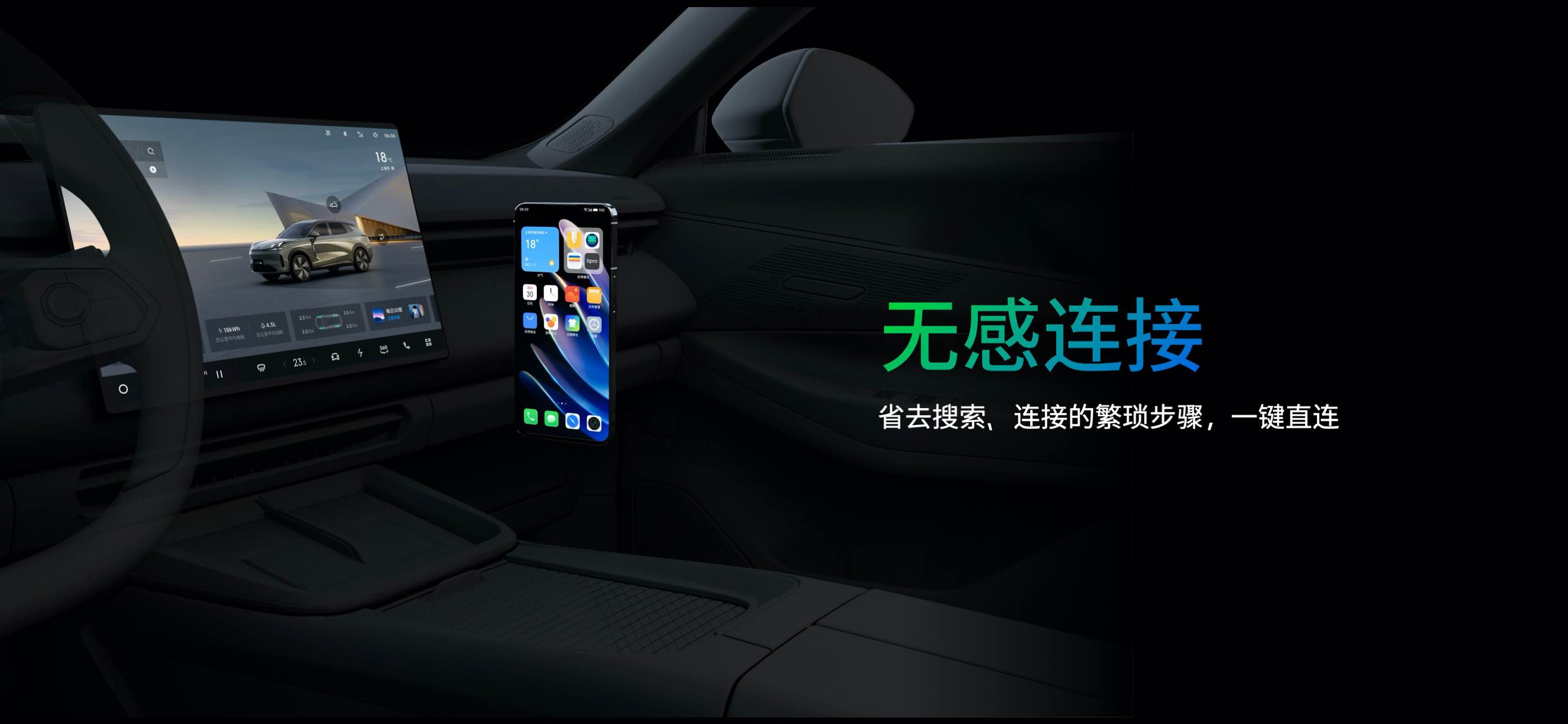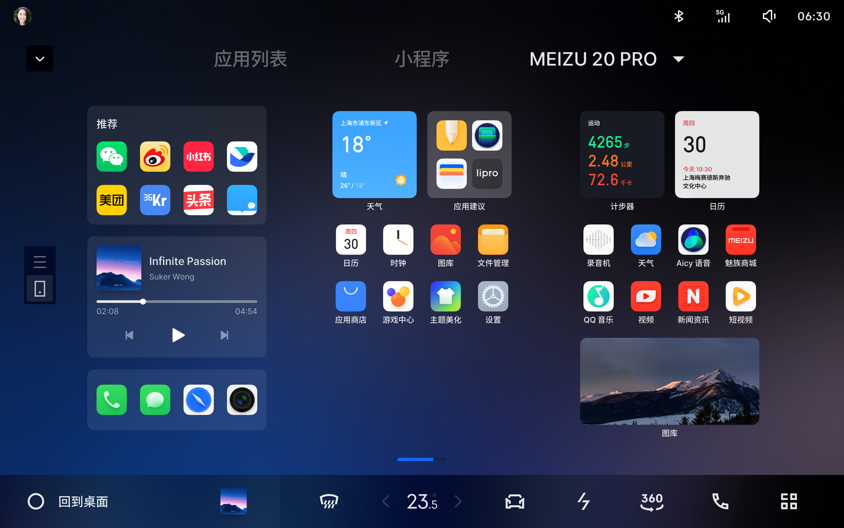 I frequently use navigation and music apps, which support a seamless handover between the phone and car system. Now you can enjoy an uninterrupted listening experience when transitioning from your phone to the car!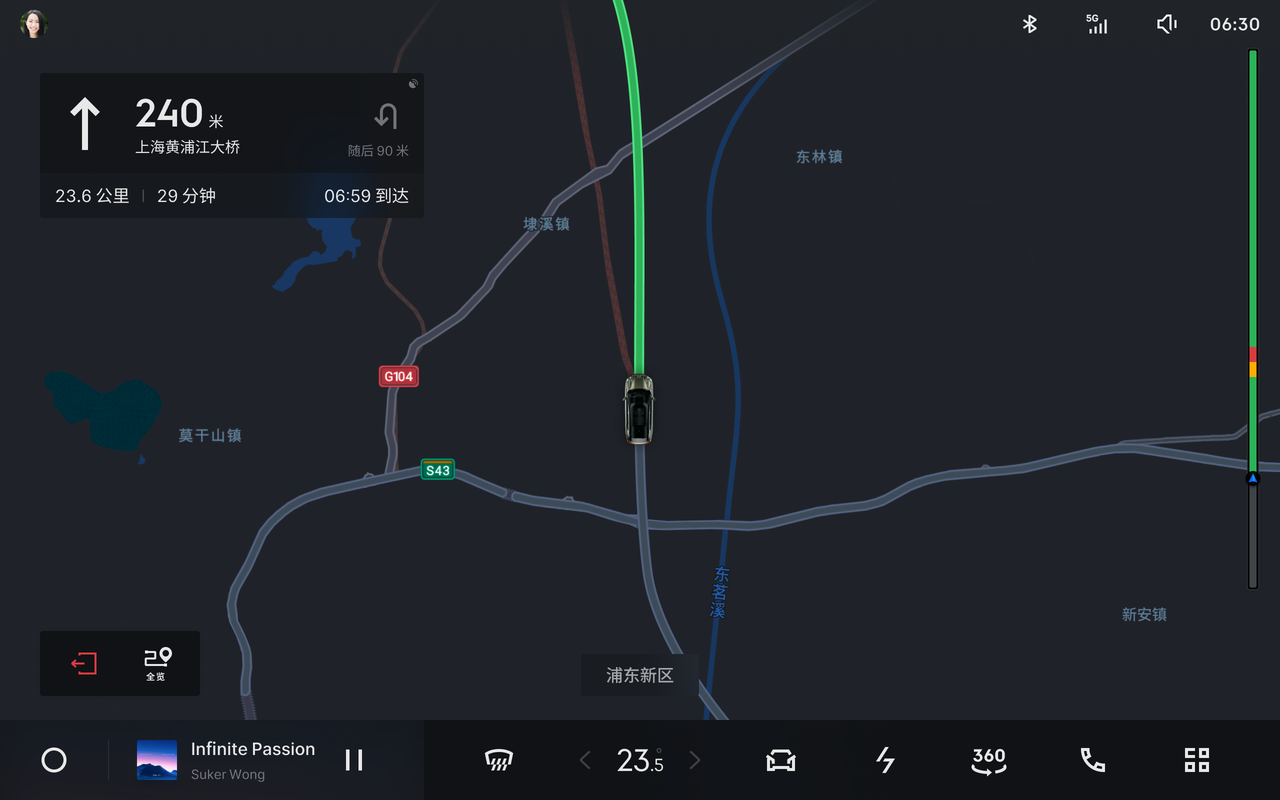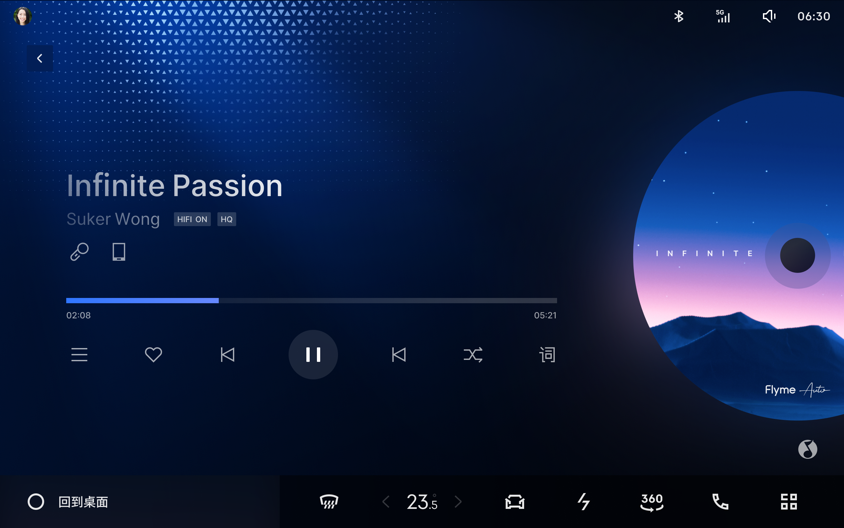 Phone and car hardware can be shared. While driving, it's easy to conduct a video conference using the Lark app connected to the car's camera and microphone – truly impressive!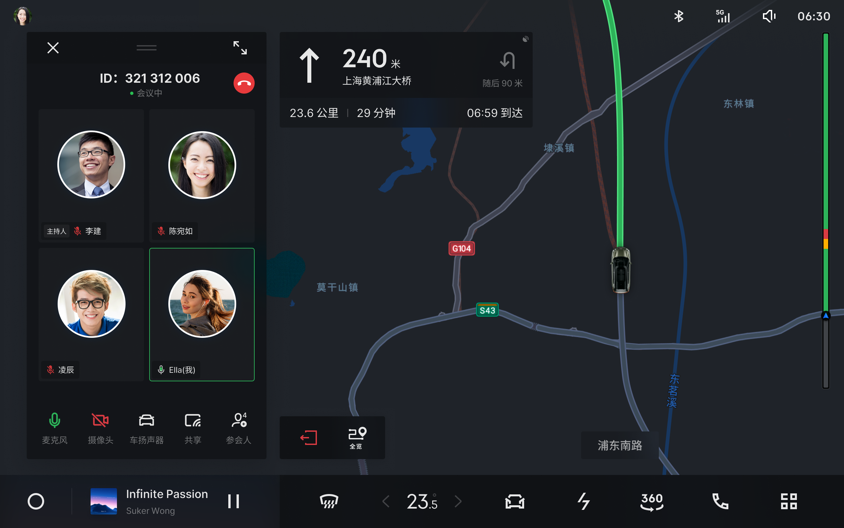 FlymeAuto also allows Meizu phones to double as game controllers and microphones, enabling gaming and karaoke sessions inside the car. Based on my previous experience with LYNK OS N, the low latency in game controller mode ensures an enjoyable gaming experience.
Lastly, FlymeAuto supports downloading OTA updates to your phone first, then transferring them to the vehicle upon connection. This feature is ideal for receiving timely OTA updates even when the car is parked in a location with poor signal, such as an underground garage.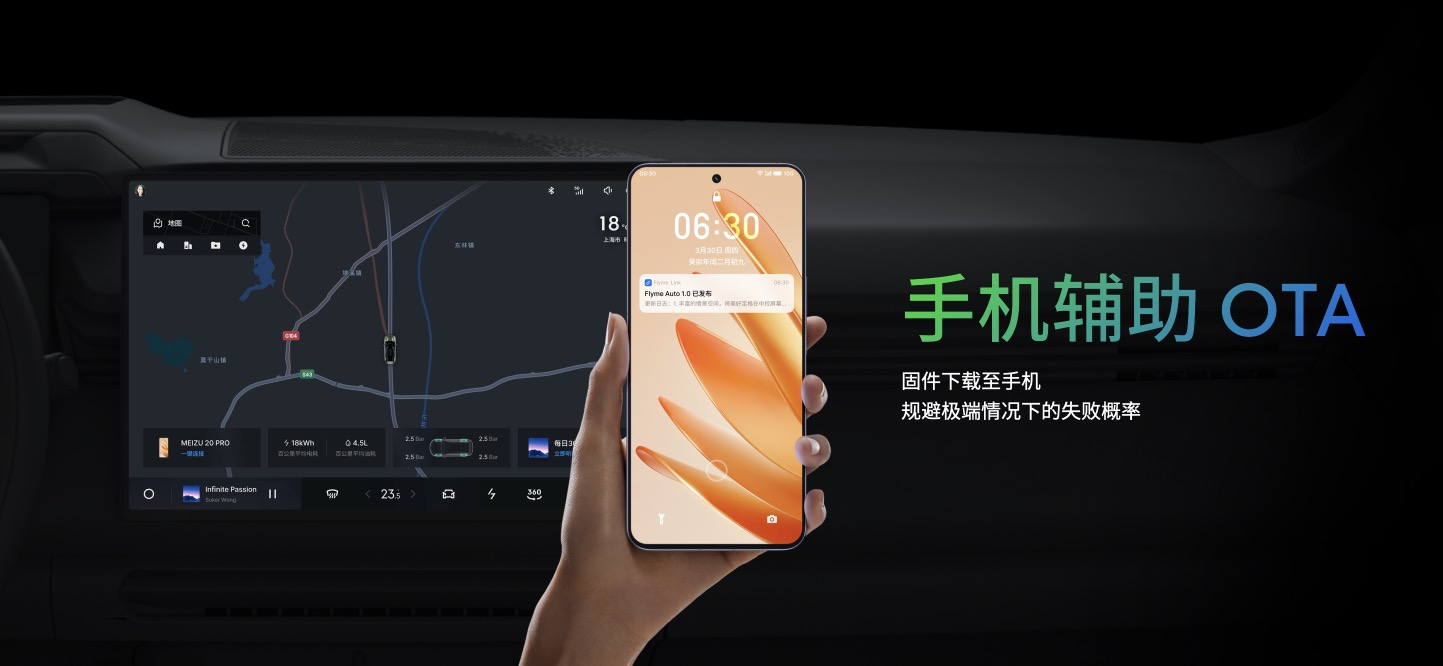 Other Flyme Features – All Available in Your Car!
Flyme's most distinctive feature is no doubt its small window mode. Although small window features are now available in various Android platforms, Meizu still offers the best user experience. On my OPPO smartphone, I struggle to close the small window by tapping a tiny 'x' button. With Meizu, I can simply double-tap any blank area to exit the small window.
The small window feature opens by default in the top-left corner and does not squeeze the map search module or cards below.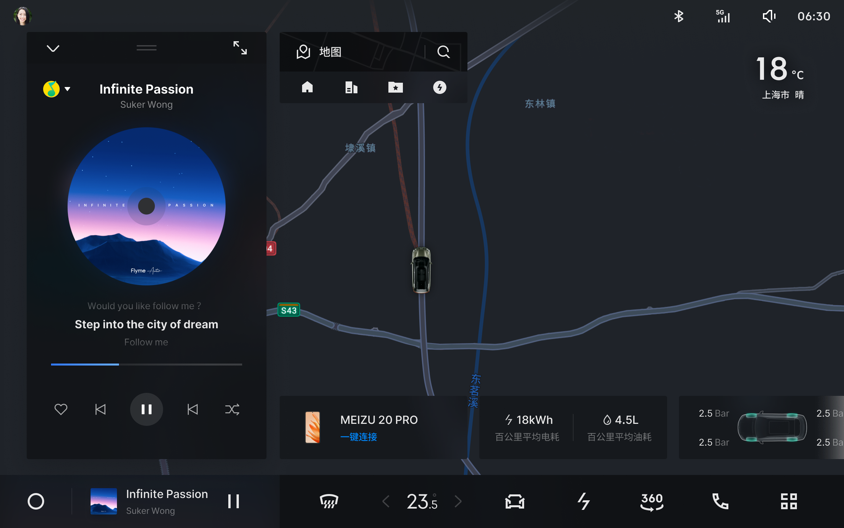 By pressing the central button at the top of the small window, you can drag it to any position, but it will obstruct other features on the desktop.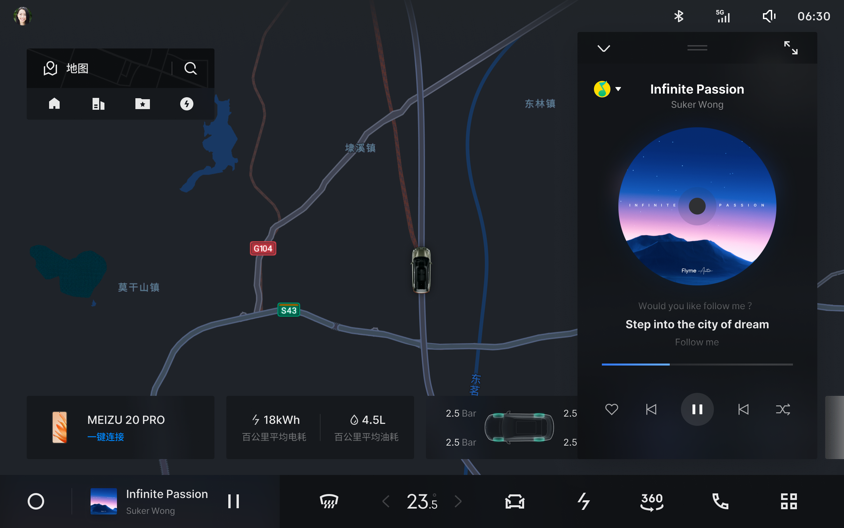 Small windows can also be suspended, just as they are on smartphones.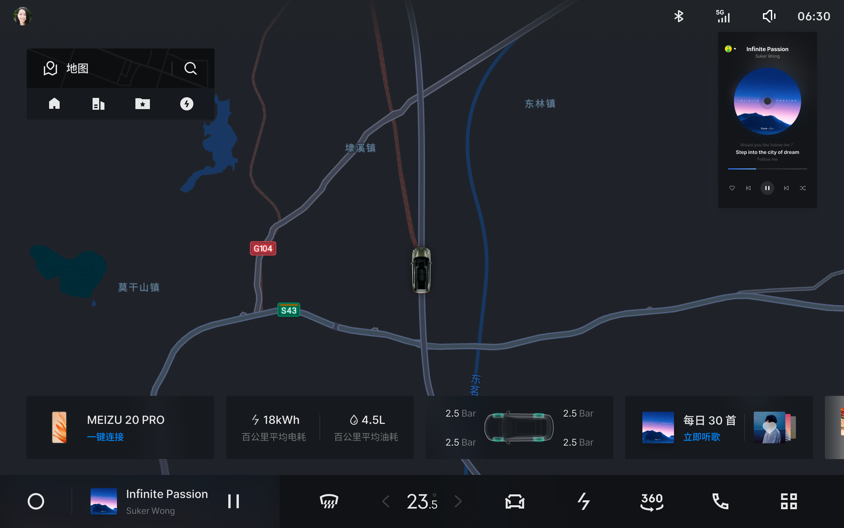 The car system uses the Aicy voice assistant, the same as on smartphones. It supports rapid response, global control, cross-platform visibility, hardware-software integration, multi-sound zoning, and customizable wake-up words. However, based on my experience with mobile phones, Aicy seems less intelligent compared to other voice assistants. Hopefully, it will perform better in car systems.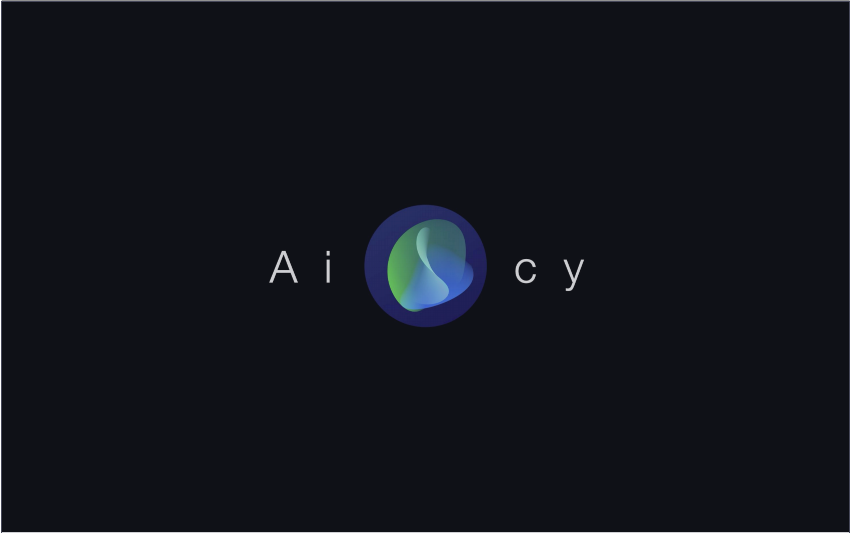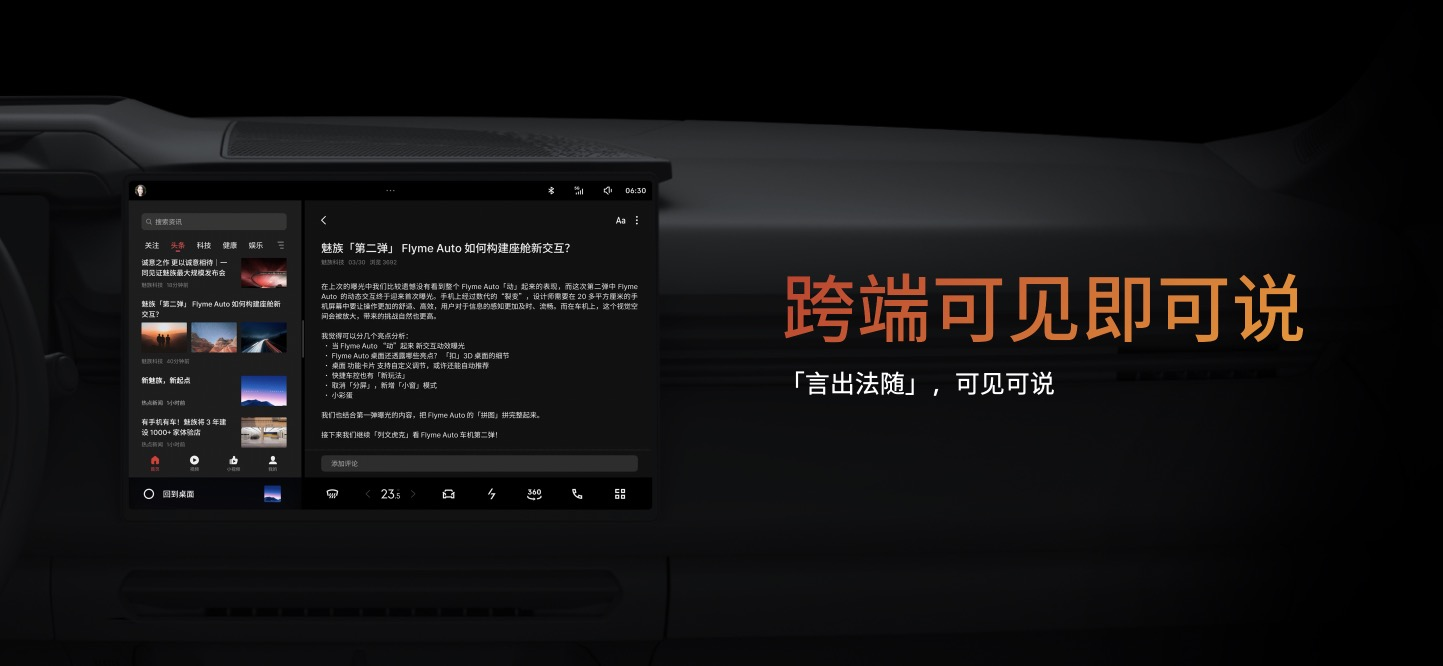 Similar to the LYNK OS N system, FlymeAuto also supports intelligent scenario modes, allowing for preset automation actions based on different scenarios. Currently, the system comes with built-in Nap Mode and Camping Mode, with more expected in the future.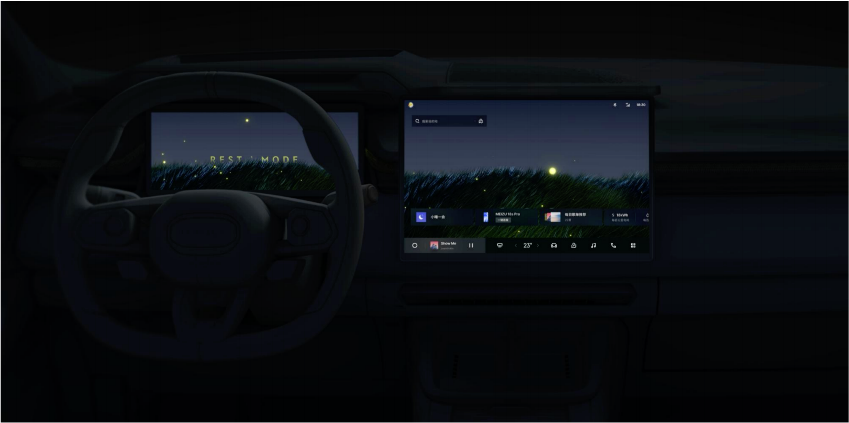 FlymeAuto supports a rich Android ecosystem with a wide range of built-in apps in its App Store, ensuring a seamless experience even without a Meizu phone. Additionally, customized apps such as QQ Music and National K-Song better adapt to the in-car system.
Furthermore, the in-car system supports mini-program functionality, which continues to display in a small window format.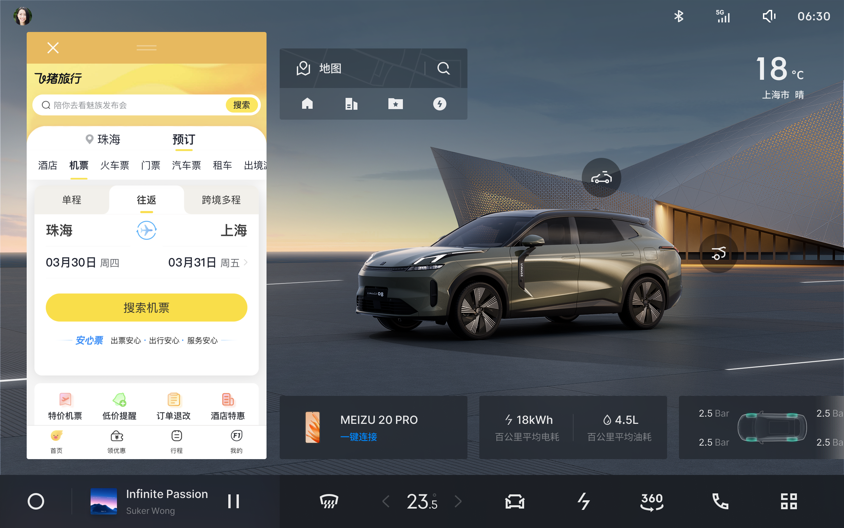 Lastly, regarding privacy, the in-car system offers multiple privacy protections. When there are other passengers in the vehicle, incoming calls will be displayed on the instrument panel and HUD, switching to headrest audio for answering.
In addition to calls, the system automatically conceals data from photo galleries, maps, browsers, and other apps. As for app permission authorizations, it follows the same protocol as on mobile phones, requiring prior requests.
With that, we've covered all FlymeAuto features. In summary, FlymeAuto boasts exceptional design, powerful functionalities, and unique features from mobile Flyme, significantly enhancing the Lynk & Co 08 vehicle's product appeal on the software level.
In Conclusion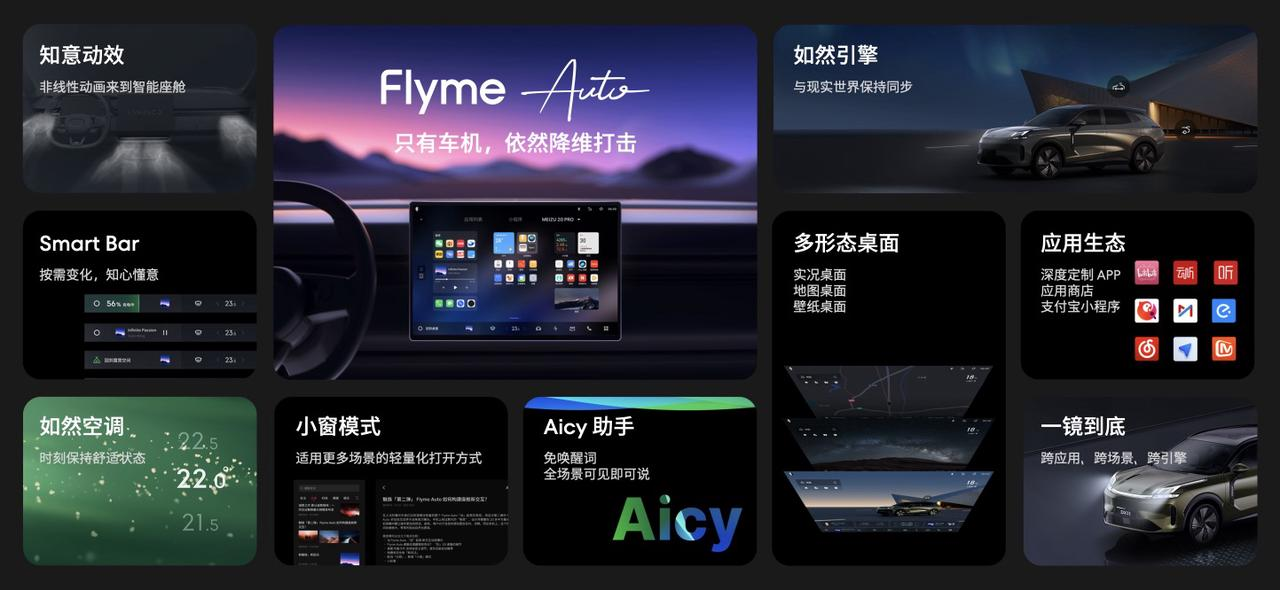 On March 30th, Meizu released its first product following the acquisition and restructuring by Yikatong — the Meizu 20 Series. Also making their debut were the FlymeAuto and the Lynk & Co vehicle equipped with it — the Lynk & Co 08.
As someone who knows Meizu better than anyone in the company, I was present at the launch event. Unfortunately, FlymeAuto has not yet been officially opened for testing, so I can only analyze the above information from the available resources.
Although the speakers at Meizu's event were not the familiar faces I used to know — Bai Yongxiang, Yang Yan, and Li Nan — Shen Ziyu, CEO of Xingji Meizu Group, pledged to bring Meizu back to the top five in the high-end domestic smartphone market within three years.
I don't know if Meizu can return to the top five domestically, but one thing is clear: FlymeAuto has already entered the top five of domestic vehicle infotainment systems.
This article is a translation by ChatGPT of a Chinese report from 42HOW. If you have any questions about it, please email bd@42how.com.