Author | Zheng Wen
Editor | Zhou Changxian
In the just-concluded 2022 earnings call, Geely executives expressed their thoughts on the challenges faced in the competitive market. They were straightforward and sharp.
"The reality is that we, Geely Automobiles, have lost the throne of China's top domestic brand. In terms of the development of new energy, we have already fallen behind our excellent peers."
Guisheng Yue, CEO of Geely Automobiles and Executive Director, admitted, "The rate and deployment of the entire Geely passenger vehicle sector's comprehensive transformation of new energy did not meet our expectations, and perhaps it was not very clear to everyone."
In June last year, the emperor Hao L hybrid models which were directly targeting its competitors were launched with high expectations of Geely converting its new energy technology into a new revenue source.
However, reality was contrary to expectations. Although the new car received more than 35,000 orders in a short period, its terminal sales in the following months were not good. The underwhelming market performance pointed to the fact that the mainstream market did not appreciate this model.
In response, Geely's internal reflection showed that there were problems with the product itself, for example, lacking fast charging, and this greatly reduced customer satisfaction. In addition, new energy product sales and methods of selling were not well prepared and arranged, and were sold alongside traditional cars.
"I think what we need to do now is to review our shortcomings in the past, correct these mistakes in the future challenges and move forward in the right direction," Guisheng Yue concluded in his speech.
Clarity of Strategic Direction from Reflection
Based on this reflection, the tone of this earnings call seemed quite heavy. So let's take a look at what kind of earnings report Geely submitted for 2022.
Last year, Geely sold 1.43 million vehicles, an 8% increase year-on-year. By brand, Geely Automobile sold 1.12 million vehicles, LYNK&CO sold 180,000 vehicles, Geometry sold 72,000 vehicles, and PROTON sold 56,000 vehicles.
The sales of new energy products were: Approximately 262,000 pure electric vehicles, approximately 66,000 plug-in hybrids, and approximately 26,000 hybrid vehicles. Despite the high growth rate, the overall sales volume was not large.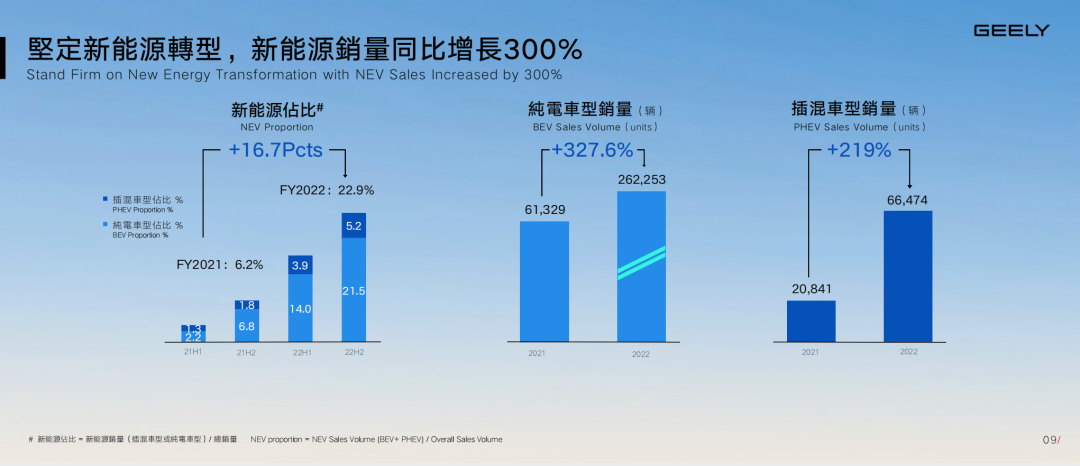 The sales revenue reached 148 billion yuan, up 45.6% year-on-year, hitting a historical high; the net profit attributable to shareholders was 5.26 billion yuan, up 9% year-on-year. The growth in revenue was mainly due to the increase in the average selling price of new cars. Last year, the average selling price of new cars increased by 29.6%. It should be noted that the sales volumes of Lynk & Co and Yudo are included in the sales volume calculation, but the revenue from these two joint venture brands is not included.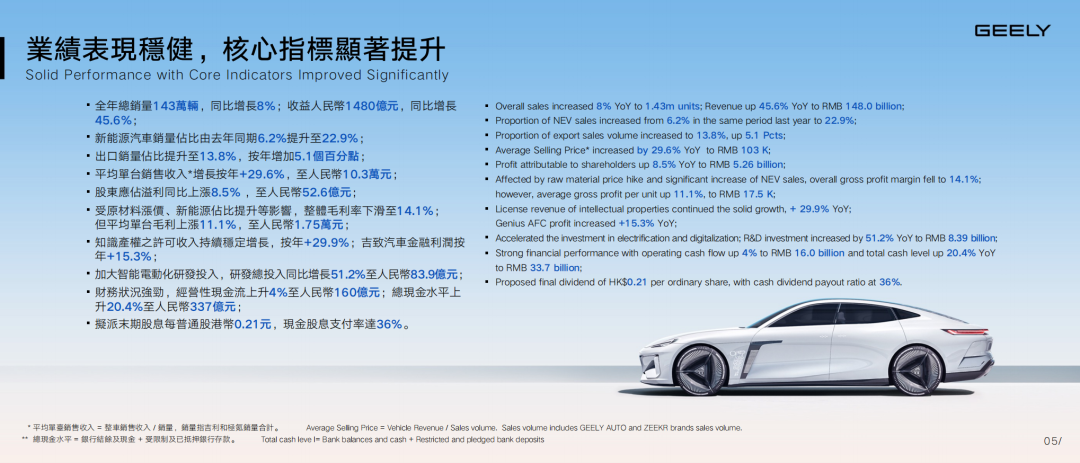 This contribution mainly came from the extremely luxurious brand Zeekrxue, whose per order amount was more than 336,000 yuan for vehicles priced above 300,000 yuan. In 2022, relying on a single model, the Zeekrxue 001, Zeekrxue delivered nearly 72,000 vehicles.
In terms of gross profit margin, due to the rise in raw materials such as batteries and chips, the overall gross profit margin declined from 17.1% to 14.1%. However, with the increase in the average selling price, the average gross profit per vehicle also increased by 11.1%.
An Conghui, Chairman of Geely Auto Group and CEO of Zeekrxue Intelligent Technology, said, "In the era of traditional cars, hunting-type vehicles were considered niche models and would not sell well. But we integrated the advantages of sports cars, SUVs, and sedans to make the Zeekrxue 001 a popular model, successfully breaking through the 10,000 vehicle threshold, which was the most difficult part."
In 2023, Geely will set a sales target of 1.65 million vehicles for the full year, and the sales of new energy vehicles will increase by 100%.
In the first quarter, Geely launched a new energy vehicle series named "Geely Galaxy". This year, Geely Galaxy will release a new product in each of the next three quarters.
Geely Auto Group CEO and Executive Director of Geely Automobile Holdings, Gan Jiayue, further explained, "This year, we will fully launch the Galaxy series, driving Geely's entire new energy into a brand new second phase. In terms of the Galaxy new energy system, hybrid power will be the top priority, and we will continue to upgrade and evolve the core technology on the basis of last year's entire hybrid power system."It is worth mentioning that the Galaxy brand will achieve "four independences": independent storefront image, independent sales team, independent funds, and independent accounts. In addition, it must also achieve "three unities": unified clue operation standards, unified online ordering platform, and unified offline process experience.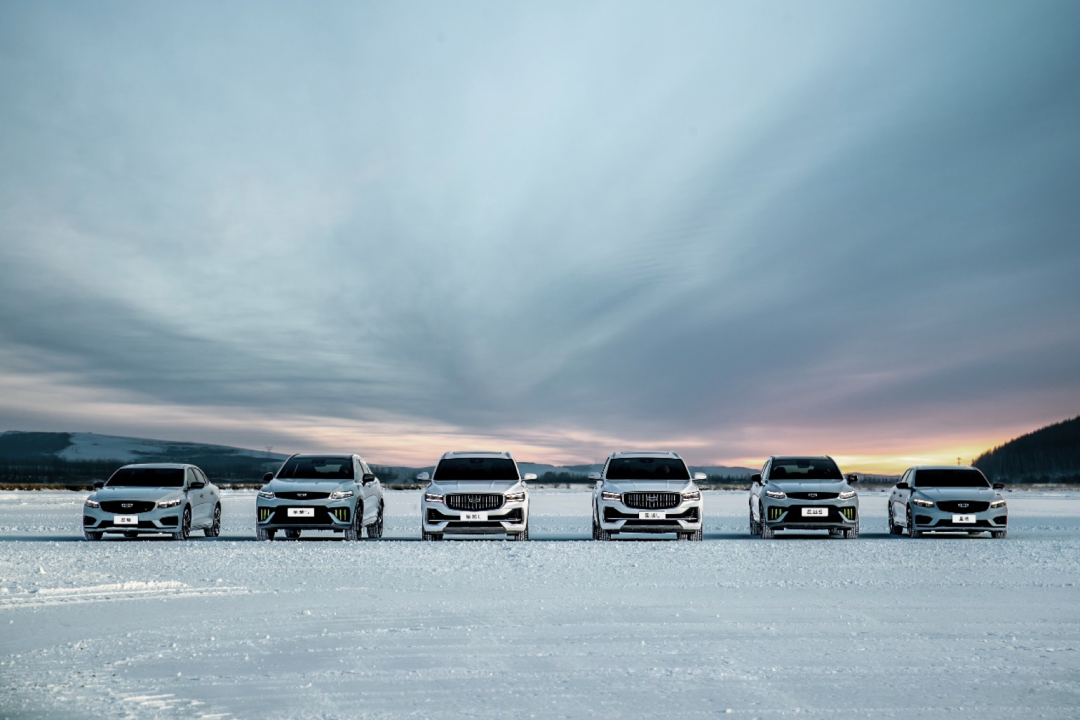 Nowadays, each brand of Geely, Lynk & Co, and Zeekr has a clear strategic mission for the transformation of future new energy.
Zeekr positions itself as a luxury intelligent pure electric brand, with prices mainly above 300,000 yuan. In terms of product planning, Zeekr 009 was launched on the market at the end of last year; Zeekr X is expected to start delivery in the third quarter of this year; by the end of this year, Zeekr will also launch a new pure electric intelligent sedan. Based on the two models 001 and 009 that can contribute to delivery, Zeekr's sales target for this year is 140,000 vehicles.
Lynk & Co is positioned as a mid-to-high-end brand, with prices ranging from 200,000 to 300,000 yuan, and will launch three pure electric models in the next two years.
Geely is positioned as a popular high-value brand, with prices mainly below 200,000 yuan. The Geometry and Galaxy series under the Geely brand are the core layout of the Geely brand's overall transition to intelligent new energy.
As Geely's new energy series, Geometry mainly focuses on new energy products below 150,000 yuan, mainly entry-level and high-cost-effective new energy products; Galaxy is a mid-to-high-end new energy series, focusing on high-value new energy vehicles.
In the past two years, the product layout of the Galaxy series will be relatively dense, and 7 models will be launched one after another. In the second quarter of this year, the Galaxy L7 will be launched; in the third quarter, the Galaxy L6 will be launched; in the fourth quarter, the first pure electric product E8 will be launched, and L5 and E6 and other products will be launched next year.
The birth of the Galaxy series is a sign that Geely is fully electrified. The task is very clear. As Geely's senior vice president and CFO Dai Qing said, "The increase in the market share of new energy is our top priority."## Product competition is fundamentally cost competition
For a long time, domestic independent brands led by Geely have been persistently implementing the path of brand and product upgrading. However, companies encounter various challenges during the execution of their strategies.
At the beginning of this month, a ruthless price war broke out in China, and some automakers even directly expressed the attitude of not seeking profits but seeking market share.
Looking back a while, this round of price war has been reflected since the beginning of this year. Electric vehicles represented by Tesla began to reduce their prices, and in March, fuel vehicles also participated. In just half a month, the market changed tremendously.
At this moment, the direct question that Geely needs to answer is: should we join in?
In the view of Guishengyue, in the stock market, automakers feel the crisis and drastic price reductions are necessary to gain survival opportunities. However, relying on price reduction will inevitably affect subsequent research and development investment, and the quality and experience of the cars will be greatly reduced.
Geely's answer is: No, we will not follow suit.
Ganjia Yue said that "Geely emphasizes that while having advantages in product value, it will not easily follow the trend of simple price wars. We want to fight a war of value, aftermarket service, quality, technology, and company morals. Through good quality, excellent after-sales service, advanced technology, as well as brand and corporate management, we will comprehensively empower the value of the entire product. Geely will definitely maintain its strategic determination."
"Geely will not win market competition through price wars," An Conghui emphasized.
Ganjia Yue believes, "We have always emphasized that the competition between companies is the competition between products, and the competition between products is the competition between costs. To make competitive products, we must have competitive costs."
This view coincides with that of a president of an international supplier. He once said to "Traveling Hundred People Meeting / AutocarMax" that the essence of market competition is cost competition. For companies with poor cost control, reducing prices below cost is called a price war. For companies with strong cost control, the decrease in market prices will only increase their market competitiveness.
In this regard, Geely has its natural advantages. For example, through the construction of a structured automobile, it can achieve maximum resource synergy, greatly reduce costs, and quickly improve research and development efficiency. "We have gained an advantage in some price competitiveness through these aspects, and our advantages in cost control are more significant," said Ganjia Yue.
In addition, Geely has done relatively well in the cost control system of supply chain management since it began its automobile construction. The developed private economy in Jiangsu and Zhejiang has also brought dividends to the automotive industry and Geely. It is understood that 70% to 80% of Geely's supply chain is in the Jiangsu and Zhejiang region. Through supply chain integration, Geely has also gained some product competitiveness.Actually, the growth of Geely's profit in 2022 relies on platformization and scale-based cost reduction, which is the best example.
Taking Geometry as an example, the gross profit margin of the whole vehicle business was positive when the first car was put into production. Last year, Geometry achieved a gross profit margin of about 5% in its whole vehicle business. Unless there are special circumstances, the gross profit margin of Geometry's whole vehicle business will increase significantly this year. This is a typical advantage brought by a systematic approach.
Gui Shengyue said, "I think it still comes back to the ultimate rule of the development of the automotive industry itself. The automotive industry needs scale, and only scale can generate profits. Any future automotive company that cannot achieve a certain scale within a certain period of time will face serious challenges."
Meanwhile, in order to better meet the challenges, Geely has started a comprehensive transformation.
In terms of organizational transformation, the Geometry and Geely brands were re-merged at the beginning of the year, and some adjustments were made to personnel deployment. In terms of sales, the Geely brand has established the Polestar Business unit, Geometry Business unit, and Yinhe Business unit, among which Polestar Business unit focuses on the existing gasoline car market and aims to achieve the ultimate market share in that market.
In the fierce automobile price war, Geely remains unshaken, and its new strategy is steadily advancing…
This article is a translation by ChatGPT of a Chinese report from 42HOW. If you have any questions about it, please email bd@42how.com.