Special Contributor | Enjoyment and Comfort
Editor | Qiukaijun
"First met at Fengling Ferry, one sight of Yang Guo led to a lifetime of mistakes." Fengling Ferry was a turning point in the life of the innocent girl Guo Xiang. After that day, she foolishly waited her whole life without getting married and became the master of Emei Sect.
Mr. Gao Hua once had a collection of essays called "At the Fengling Ferry in History," trying to find key moments and turning points in historical upheavals.
Geographically, Fengling Ferry is a big bend under the Yellow River in the shape of the Chinese character "几," the throat through which one goes from the gorges to the Central Plains. "There's one river dividing North and South, but Central Plain is full of energy. Hills and clouds are connected to the land of Jin, and smoke trees go into Qin." Here, the winding Yellow River is blocked by the Qinling Mountains, and its mighty flow suddenly turns and rushes into the sea.
Fengling Ferry has witnessed too many thrilling historical events, symbolizing the turning point after which things become completely unfamiliar.
For the automotive industry in 2023, these three months can be described as "thrilling" every day:
On January 6th, Tesla suddenly announced an official price cut of 15%, bringing a thunderous shock to the market;
On February 10th, BYD launched the Qin Champion Edition PHEV sedan for 99,800 yuan, opening a "table flipping" game with "oil and electricity at the same price" stance.
These two leading new energy vehicle companies seem to be launching a total attack on fuel vehicles and trying to quickly capture the market.
New forces represented by NIO, IDEAL, and XPENG are each facing their own "Fengling Ferry" moment. Today, combining the financial data of the three companies' 2022 reports, let's talk about their respective "key turning points."
NIO "Stepping Downward": Can "Crouching" Make It Soar Again
Li Bin was frank in his "Internal Reflection Letter" on the first day of 2023: "In 2022, we had both hard work and achievements, but we need to recognize soberly that many peers performed better than us during the same period," and directly listed eight to nine critical issues.
The issues were sharp, mainly targeting the issues encountered during the early delivery of the ET7 and the supply chain issues during the ET5 delivery process. This not only affected the overall delivery schedule of 2022 but also seriously affected the reputation of ET7 as the flagship model of NT2.0, making ET5 go from "easy to handle" to "a bit difficult" to surpass BMW 3 series.
In terms of data, NIO completed the switch of three new models, ET7, ES7, and ET5 based on NT2.0 in 2022, delivering a total of 122,500 vehicles, a year-on-year increase of 34%, which is far below the industry's year-on-year growth rate of 90% or more. This number is also lower than IDEAL's 133,200 vehicles, higher than XPENG's 120,800 vehicles- which has resulted in a change in the new forces' sales list from a sequence of Xpeng, NIO, IDEAL in 2021 to IDEAL, NIO, XPENG in 2022.If we only look at the delivery data, all three companies are concentrated around 120,000-140,000 vehicles. However, there are interesting changes on the revenue side.
In terms of revenue, in 2022, NIO's automotive business revenue was ¥45.5 billion, which is the highest among the three companies. IDEAL and XPENG are ¥44.1 billion and ¥24.8 billion, respectively. IDEAL is rapidly approaching NIO, and the gap between the two is only ¥1.4 billion (approximately 3.5%). If we only look at the automotive business revenue for Q4, IDEAL is ¥17.2 billion and NIO is only ¥14.7 billion. This means that IDEAL has not only surpassed NIO in deliveries in Q4 2022, but also in revenue. Most importantly, the average price per vehicle for IDEAL in Q4 is ¥372,800, while NIO's average price per vehicle has slipped to ¥368,500 due to the delivery of ET5.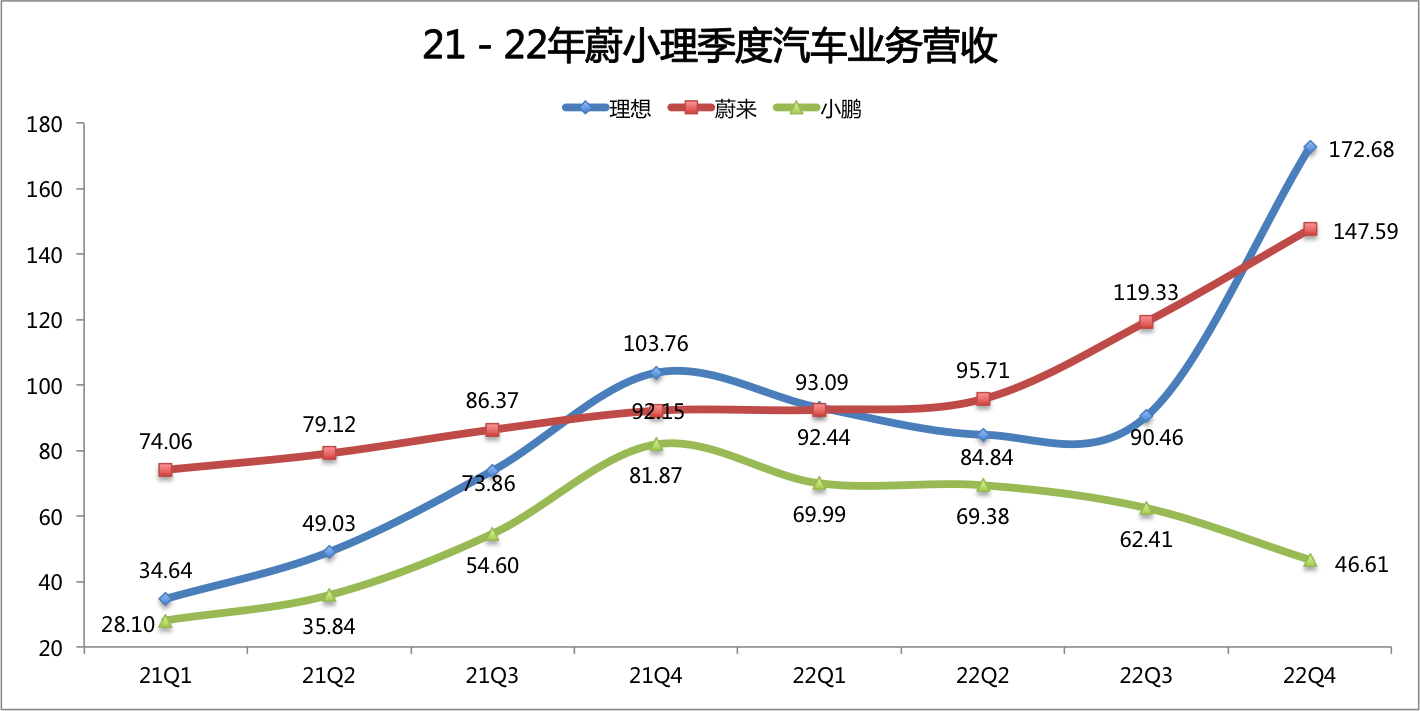 NIO went down, IDEAL went up – it seems the plot has already been written in Q4 2022.
NIO is facing even more difficulties: the decline in gross margin will be NIO's biggest challenge in 2023.
In 2022, NIO's gross margin for automotive business was 13.70%, while the data for 2021 was 20.06%, a year-on-year decrease of 6.36 percentage points. In contrast, IDEAL's annual automotive business gross margin decreased slightly from 20.57% to 19.09% (a decline of 0.48 percentage points); XPENG decreased from 11.52% to 9.44% (a decline of 2.08 percentage points).
Even with the same "purchase commitment loss" in the process of switching new and old models as IDEAL, IDEAL wrote off ¥800 million in advance in Q3, and the gross margin remained at 12.65%. However, NIO wrote off nearly ¥1 billion in Q4, which led to a gross margin of only 6.84%.
Although Li Bin stated in the financial report conference call that he is confident that the vehicle gross margin will be pulled back to the 18-20% level, for any direct-operated system automotive enterprise, a 20% direct-operated gross margin performance is actually just passing grade (IDEAL once said on Weibo that 20% is the minimum gross profit margin for a normal direct delivery transfer).
The biggest challenge facing NIO in 2023 is the downward shift in product structure and brand value.
Regarding the downward shift in brand value, whether it is "Alps" or "Firefly," NIO's expansion strategy focuses on sinking brands and services. Especially services, based on the current state of service loss (-28.84% gross margin and a loss of 1.085 billion yuan in 2022), as the sales of "Alps" increase, the situation of service loss may become even more severe.
As the ET5's proportion of total sales continues to increase, the price of NIO's single vehicles has fallen for three consecutive quarters, dropping from 381,900 yuan in Q2 2022 to 368,500 yuan in Q4 2022, a 3.5% decrease.
This trend will reach its peak in Q1 2023, as the old "866" product of NT1.0 is being promoted with discounts, while competition in the 300,000+ category has intensified. The same-sized smart LS7 is priced at less than 400,000 yuan, and Avita's new single-motor version is priced as low as 319,900 yuan. This will be a major challenge for pricing of the new ES6. In addition, with the increasing proportion of ET5 sales, NIO will face greater challenges in maintaining an average selling price of 400,000 yuan in 2023.
Recently, an email screenshot showed that NIO is selling vehicles through supply channels at a "more favorable price (about 20% off)," highlighting the pressure the company is facing.
Brand value and sales structure both down, single vehicle prices down, gross margins down. If these factors do not lead to increased sales, for any brand, this is a very serious problem.
Rise up to the challenge: Only pure electric vehicles are the true challenge
Since joining the new energy vehicle industry, Li Xiang's Ideal has always been ranked third due to the "extended range" factor. Many people say that it's lagging behind. However, with "precise positioning" and "in-depth understanding of customers," Ideal has carved out its own path. Today, not only has Ideal surpassed NIO and XPeng in terms of sales volume, but in Q4 2022, it has also outperformed NIO and XPeng in terms of revenue and gross margin.As for its stock price, as of March 24, the market value of Li Auto is about 193.1 billion, surpassing the sum of NIO and XPeng's market value (NIO's market value is about 123.7 billion, and XPeng's market value is about 67.4 billion).
In 2022, Li Auto has transformed from the ONE model to the L9\L8\L7 models. The price has increased from 328,000 to over 450,000, with a slight decrease to 309,900. Even with this product structure, the sales volume has still topped the list among new emerging powers with monthly sales exceeding 20,000 in Q4. The average unit price increased from RMB 2,975,000 in Q1 2022 to RMB 3,728,000 in Q4, an increase of 27%.
Most importantly, Li Auto has achieved quarterly profitability again. The Q4 2022 profit was RMB 265 million, which is completely different from the symbolic profit of RMB 24 million in Q4 2021.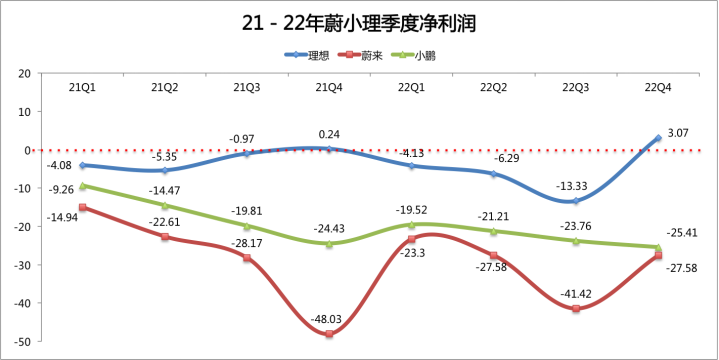 Therefore, Li Xiang expressed on Weibo that "Li Auto strives to achieve monthly revenue of over RMB 10 billion within 2022. The moment when both L9 and L8 models are delivered is also the time to say goodbye to seven years of continuous losses."
Although this profit data is also particularly prominent due to the halving of year-end bonuses, it does not affect the significance of achieving quarterly profitability.
Even so, Li Auto is expected to become the first company among the new emerging powers to achieve annual profitability.
Pure electric is the "Fenglingdu" ("passage across the windswept ridge") for Li Auto in 2023.
In 2022, Li Auto has already proved itself in the mid-to-large SUV market. According to the data of insurance claims in January and February, Li Auto's market share of new energy vehicles above RMB 350,000 exceeds 45%.
Combining Li Auto's product development pace and production base construction pace, it is expected that Li Auto will launch its first high-voltage platform pure electric SUV product – the W01 in Q3 2023. Regarding the planning for pure electric products, Li Xiang said, "One whale (aircraft carrier) and five sharks (warships) will form the fleet combat group of Li Auto's high-voltage pure electric fleet."
The ability to define the pure electric MPV product and the layout of the ultra-fast charging network will be the biggest challenges Li Auto faces.There are currently only five pure electric MPV models priced above 250,000 RMB available in the market, including JiKe 009, DENZA D9 EV, Voyah Dreamer EV, Roewe iMAX 8 EV, and Datong MIFA 9. Except for JiKe 009, which will deliver in large quantities for the Asian Games reception purposes later this year, the monthly sales of the other models have yet to exceed 1,000 units. In terms of sales, the pure electric MPV products are far less optimistic than the sales of plug-in hybrid MPVs. For example, since March, the domestic insurance coverage volume for the pure electric version of DENZA D9 accounts for only 10.85% of all D9 models.

Overall, pure electric MPV products are typical situation-limited products, more suitable for fixed routes and point-to-point business receptions. The most typical is the one-way or round-trip from the airport to the hotel. Once involved in the family travel scene, they face the challenge of cruising range. Even the CLTC cruising range of JiKe 009, which has the highest price, is 702-822 kilometers. According to the energy consumption level of MPVs, a practical driving range of 500 kilometers is already very good. Not to mention other products with a cruising range of less than 600 kilometers.
If we want to solve the cruising anxiety of MPVs in an open scene, 800V high-voltage fast charging has become an ideal problem that must be quickly solved. At present, due to the high investment in adapting to 800V fast charging, public charging piles are scarce. Both XPeng G9 and W01 need to achieve rapid layout in the form of enterprise-owned charging piles at this stage.
The opportunity window of self-operated charging piles for grabbing the land has been missed, and laying out on highways has become a relatively realistic choice for the ideal at present. However, the problem that looms in front of the ideal is not only the selection of station locations for highway layout but also the issue of power capacity expansion. In short, the ideal that missed the best opportunity now needs greater efforts and more resources to achieve the construction and layout of 800V charging piles.
"Pure electric" is the core growth curve of ideal from "1 to 10". On this curve, there are not only difficulties in defining products but also challenges in the layout of 800V charging piles. Being able to successfully pass through will usher in broader prospects. Otherwise, it will inevitably hinder the further implementation of the pure electric strategy.## XPeng's confusion: in the darkest hour, a long way ahead
XPeng is the most injured among the three new forces in 2022, without a doubt.
In 2021, the sales champion among the three cars from XPeng, the sales of P7 nearly reached 10,000 at the beginning of 2023. However, the situation turned downhill by the end of the year. Not only did the launch of G9 fail, but its sales were also surpassed by Li Auto and NIO. Moreover, the gross profit margin of the automotive business in Q4 was only a miserable 5.66%, even lower than the gross profit margin of NIO after depreciation. Not to mention, the average unit price of XPeng's cars was only 209,900 yuan, with a unit loss as high as 120,000 yuan.
Looking at XPeng's financial report in 2022, the gross profit margin of its automotive business dropped from 11.25% in 2021 to 9.44%, which is less than 10%. However, the gross profit margins of Li Auto and NIO were 13.70% and 19.09%, respectively. In 2022, XPeng's overall expense ratio was as high as 44.33%, with a unit loss of 79,200 yuan and an overall loss of 9.14 billion yuan. Among them, the operating loss was 8.706 billion yuan, a 32.31% increase from last year.
If viewed from the perspective of cash flow, as of the end of 2022, XPeng's cash and cash equivalents were 30.063 billion yuan, a net decrease of 7.43 billion yuan from 37.493 billion yuan in 2021. The current liabilities were 24.115 billion yuan, a net increase of 6.102 billion yuan from 18.013 billion yuan in 2021. The decrease in cash and cash equivalents and the increase in current liabilities amounted to 13.532 billion yuan, exceeding 65% of the 30 billion yuan safety line for cash and cash equivalents. If XPeng continues to perform like this in 2023, its cash and cash equivalents will fall below the safety line of 20 billion yuan.
Although XPeng has introduced new blood, straightened out channel relations, and adjusted organizational structure in the past 3-4 months, it is still unable to avoid two underlying rules in the automotive industry.
First, all products currently being launched were defined and developed three years ago. If the ultimate reason for the failure of a product is due to the failure of its definition and development three years ago, then the G6 and H93 launched by XPeng this year are also the products of the period when the internal confidence was booming. Originally, G6 was positioned to compete with Model Y. However, at least several competitors, such as Deep Blue S7 and BYD Haishi, will soon enter the market. If G6 fails to establish sufficient differentiation and competitiveness, it will be unable to withstand the pressure of the Model Y facelift and price reduction in Q4 2023 (Haishi is a good example). Not to mention pure electric MPV products like H93.Second, scale, scale, and scale. The automotive industry is fundamentally a heavy-asset and scale-oriented industry. Once sales slow down and capacity utilization drops, everything will gradually go out of control from both the supply chain and financial perspectives. For example, a small number of top suppliers will participate cautiously, and even some strong suppliers will require "cash on delivery". Ultimately, this will affect product delivery, cash flow, and even financial reports.
From the current situation of XPeng Motors, it may be XPeng's "darkest moment" right now. As for flying cars and robots, they are not the most critical issues at this stage. What XPeng needs to do now is to achieve a second leap by implementing the road of "smart cars" product by product through organizational, channel, and R&D changes, just like recently achieving a MoM growth of 30-40% in P7i orders.
After all, in the automotive market, products are still the core competitiveness.
The era of systematic competition is coming
Nowadays, the competition in the new energy vehicle market has entered the crucial moment of the second phase. Facing the overall layout and price war of giants such as BYD and Tesla, the new forces could rely on differentiated characteristics such as brand tone, precise positioning, unique design, and intelligent high-end configuration to gain a foothold in the market. Now that the market penetration rate has exceeded 30%, according to Li Xiang's Weibo, the competition speed will greatly accelerate, and the competition will expand from new energy to the replacement of fuel vehicles, and further form a substitution for luxury brands. It is expected that the penetration rate of new energy will exceed 70% by Q4 2025.
For all new forces, the era of "single point breakthrough" has passed, and the era of comprehensive "systematic competition" has arrived. NIO, Ideal, and XPeng also have their respective "Wuling ferry crossings", with new scenery ahead once they cross. Once they fall into the water, the loss will be the last time window.
This article is a translation by ChatGPT of a Chinese report from 42HOW. If you have any questions about it, please email bd@42how.com.