Author: Michelin
Recently, joint venture brands have fallen from grace in the eyes of netizens. First, there was the "slow motion" of electrification turning around, followed by the strong subsidies in the recent price war. If joint venture brands were to come down from their pedestal, the first to do so would undoubtedly be Korean cars.
Ten years ago, with fuel efficiency and price advantage, Korean cars were all-conquering in the domestic market. In 2016, Kia's sales in the Chinese market exceeded 650,000 units, but by 2022, this figure had dropped to only 94,000 units. In the past few years, Kia can be said to have "disappeared" from the Chinese market.
On March 20th, Kia held a new energy strategy press conference. If not for this conference, it would have been difficult for those in the Chinese market to feel that Kia had sold 2.9 million vehicles globally in 2022, ranking seventh on the global automotive brand sales chart. The Hyundai Motor Group, which Kia is a part of, was also the world's third-largest automotive group in terms of sales in 2022, after Toyota and Volkswagen Group.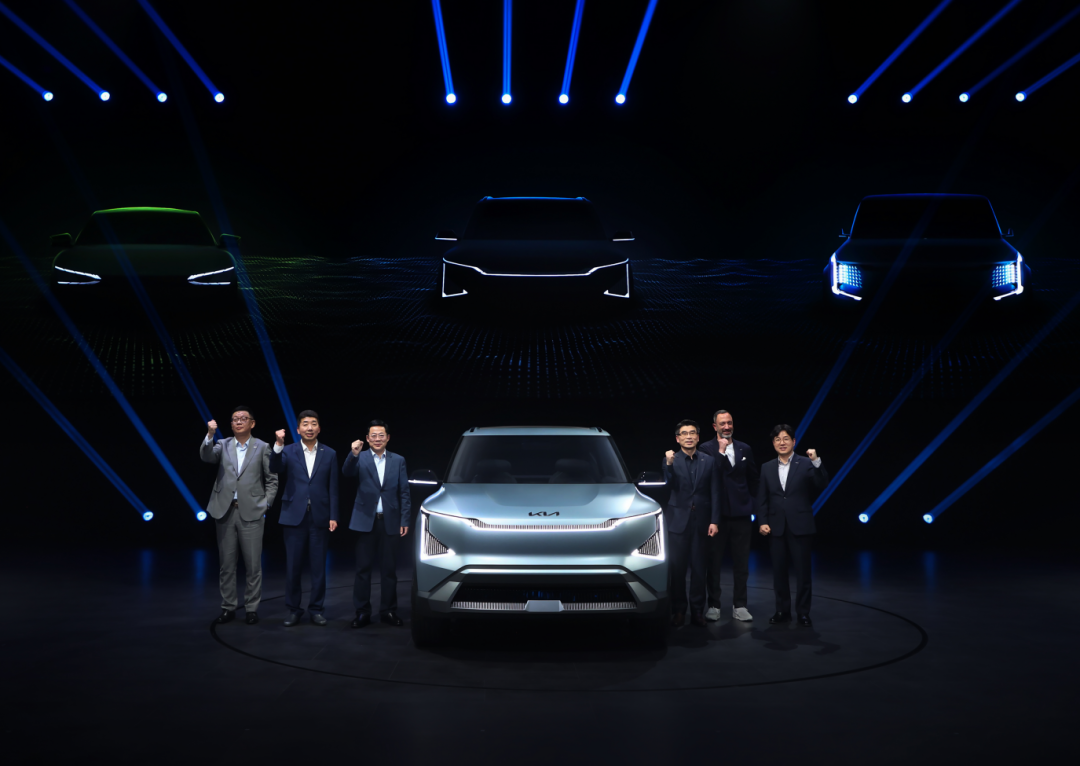 During the press conference, Kia's global CEO Song Ho-sung visited China for the first time in three years, and Kia officially announced its entry into the Chinese electric vehicle market, returning to the mainstream battlefield.
Can Kia's first foray into electrification help it make a comeback?
Pure electric vehicle target: Selling 1.6 million units by 2030
"By 2030, we will achieve sales of 1.6 million pure electric vehicles." This is Kia's target for "comprehensive electrification transformation".
To be honest, this goal is not exaggerated. In 2022, Kia sold 487,000 pure electric vehicles globally. To triple this sales volume in the next 7-8 years, this goal is quite pragmatic compared to the transformation plans of other traditional brands.
However, the test in the Chinese market for new energy strategies is not small. For the Chinese market, Kia plans to launch at least one pure electric vehicle based on the global E-GMP modular platform every year from 2023. By 2027, a total of six EV models will be launched. By 2030, the goal is to achieve annual sales of 180,000 EV models, with a sales proportion of 40%.
In the just-concluded year 2022, it is worth noting that Kia only sold one electric vehicle, Kia K3 EV, in China with monthly sales not exceeding three digits. To achieve their goal on this basis can only rely on new models.
Therefore, Kia showcased three electric vehicles at the conference: the global debut of the brand new EV5 concept car, the concept car EV9, and the EV6 GT, which has proved to be a success in the European and American markets.
At the 2021 Guangzhou Auto Show, we saw the debut of the EV6 concept car, with a body size of 468018801550 mm and a wheelbase of 2900 mm. As the first mass-produced car on the E-GMP pure electric platform, the EV6 GT uses an 800V pure electric high-voltage platform. The battery pack can be charged from 10% to 80% in only 18 minutes. With dual motors and four-wheel drive, it can reach 585 horsepower, accelerate from zero to 100 km/h in 3.5 seconds, and the high-speed motor can support a top speed of 260 km/h.
At that time, this car was quite competitive in terms of performance and configuration, with non-inferior performance to the Model 3 Performance in the straight road race. In fact, the sales of over 200,000 units of EV6 in overseas markets directly prove its successful product.
However, two years later, entering the Chinese market, EV6 GT is coming a bit late. In 2023, it will be difficult to create a crushing advantage in the domestic electric vehicle market regardless of the 800V high-voltage platform, super-fast charging technology, or the 585 horsepower performance. Moreover, EV6 GT is destined to be a "niche model" in the current domestic market due to its price of over 60,000 US dollars (about 410,000 RMB) in overseas markets and import tariffs.
For Kia, the EV6 GT is the "muscle show," while the EV5 and EV9 are the true mainstream models for the market. The Kia EV5 concept car that debuted globally will go into mass production and first launch on the Chinese market in November of this year and will be available worldwide. As a mid-size pure electric SUV, the EV5 will be built on the E-GMP platform, and the range of its long-endurance version will exceed 700km. At the same time, the fast charging speed will also be less than 20 minutes and is likely to be equipped with an 800V high-voltage platform and ultra-fast charging technology.
The Kia EV9 is a mid-to-large premium flagship pure electric SUV, also based on the E-GMP platform, and equipped with 800V high-voltage fast-charging technology. The body length will exceed 5 meters, the wheelbase will exceed 3.1 meters, and it will adopt the popular big six-seat design of three rows and six seats in China over the past two years. Kia claims that the EV9 will be the first to be equipped with the highway automatic driving system HDP, which can achieve L3-Level autonomous driving. The mass-produced version of the vehicle will be launched in China in 2024.
The debut of these two models in China can be said to be the first battle of Kia's electric vehicles and pure electric platforms in China.
In addition to the debut of the three models, Kia will launch an entry-level pure electric SUV by 2025, a high-end electric car based on a new generation of electric vehicle-specific platforms in 2026, and a mid-size SUV in 2027 in response to China's EV market segmentation trend.
Kia's New Energy "Counter-Attack"
At first glance, Kai's move is significant by launching three pure EV models simultaneously, but when the timeline for the release of these three cars is extended to the next two years, Kia's move is still cautious, with even the best-selling entry-level SUV not launching until 2025 at the earliest.
In 2022, Kia's sales in the Chinese market accounted for 3.7% of global sales. This number may help us understand Kia's cautious product strategy in the domestic market.
Apart from its products, Kia has accumulated relatively strong technological expertise in electrification and intelligence. Compared with other traditional brands, Kia has a mature modular electric platform E-GMP, and the model EV6 based on the E-GMP platform has also been launched, which lays a foundation for Kia's future release of a pure electric vehicle matrix.
In addition, Kia also has the new e-Corner module technology, which can achieve vehicle lateral movement and 360-degree turning through four wheels that can rotate independently by 180 degrees. This 360-degree turning and lateral movement technology was demonstrated by Hyundai on the ICONIQ 5 after BYD released the same technology during their product launch conference. It looks like it's a proprietary Hyundai-Kia technology.
In the fiercely competitive field of intelligence and digitization in China, Kia plans to launch Level 3 autonomous driving technology in 2024 and gradually expand applications of unmanned driving, advanced unmanned driving, and other technologies for use and promotion. By 2025, it aims to achieve "software-defined cars" for all of its models.
In the past year, domestically-developed advanced navigation assistance has gradually been implemented in China, and since 2023, urban navigation assistance functions have also been gradually rolled out. It could be said that for a smart electric car that will be launched in 2024, whether it has L3 autonomous driving ability or not would mean whether it has a competitive edge in intelligence or not. Of course, behind the functionality, how to provide an excellent experience that targets China's road conditions and driving habits is Kia's "shortcoming" that it needs to make up for relative to domestic automakers.
Therefore, Kia plans to continuously develop more electric car products that meet the needs of Chinese users by focusing on research and development in the China Forward-looking Digital R&D Center that targets the characteristics of the Chinese market and Chinese user preferences. It will also upgrade all national distributors' stores to SI 2.0 level, establish Kia City Stores in city centers and cooperate with Shell to build brand fast charging stations equipped with 800V fast charging piles and launch a brand APP to improve sales and service systems.
Kia has made comprehensive responses in electrification, digitalization, intelligence and services, which have enabled it to take a big step forward and narrow the gap with Chinese consumers. Although these actions may be routine for an independent brand, they are significant for a joint venture brand.
Conclusion
"In the future, Kia China will firmly promote the new energy strategy released today and strive to grow into a leading brand of electric vehicles in the Chinese market," said Kim Kyung-hyun, general manager of Kia China, regarding the company's future goals.
The release of the new energy strategy has marked Kia's first shot in electrification and counterattack against the Chinese market. However, according to the current product plan, products developed based on local demand may not be available until 2025 or even 2027. In the fiercely competitive market for electric vehicles in China, will there be enough time for joint venture brands like Kia to establish a foothold?
This article is a translation by ChatGPT of a Chinese report from 42HOW. If you have any questions about it, please email bd@42how.com.