| Author | Zhang Lianyi |
| --- | --- |
| Editor | Qiu Kaijun |
After encountering sales challenges, Huawei increased its control over the auto industry, at least in terms of publicity.
On March 8th, the AITO Automotive WeChat public account released the copy "HUAWEI WENJIE, Take Control of the Steering Wheel Freely!" This marks the first official appearance of "HUAWEI WENJIE," indicating that Huawei's building of the "HUAWEI WENJIE" ecological automotive brand is officially coming to the forefront.
From Huawei's Terminal Business CEO Yu Chengdong proposing "Huawei Ecological Cars" to "HUAWEI WENJIE" entering brand promotion copy, the "Huawei quotient" of WENJIE brand has constantly been on the rise.
According to sources close to Huawei, the reason behind this is largely to reduce the understanding cost of the brand for C-end consumers. "While insiders know that Huawei has the Intelligent Selection mode, HI mode, and the parts supplier mode, many consumers don't. For instance, some believe that Avita is also part of 'Huawei Cars.'"
In the perspective of the aforementioned person, Huawei hopes to tell consumers which products have higher support from Huawei through the concept of "ecological alliance." As for the cooperation mode, it is completely unchanged. Huawei's ecological cars are still the Intelligent Selection mode, in which Huawei is still fully involved from product definition to design, research and development, sales, etc.
Another reason may be that Huawei has collaborated with brands such as Chery and JAC, and the design and development of the models are still in the works, waiting to be released. Chery and JAC definitely do not want to live under the shadow of Cyrus, and at the same time, creating a new brand is time-consuming and costly. Under these circumstances, it is necessary to increase the "Huawei flavor" of the WENJIE brand.
As for whether Huawei will become a car maker after three years, it has still received a negative answer. However, we are no longer surprised by this.
Intelligent Selection mode brings quick money
Why does Huawei want to develop the automotive business? The answer is obvious: to make money.
Since 2019, Huawei's growth rate has significantly slowed down, and negative growth has emerged. Financial report data shows that Huawei's revenue from 2019 to 2021 was RMB 858.83 billion, 891.37 billion, and 636.81 billion, respectively.
Among them, the decline in Consumer Business (now renamed Terminal Business) is the most obvious. Consumer Business revenue from 2019 to 2021 was RMB 467.3 billion, 482.92 billion, and 243.43 billion, respectively.
This is mainly due to the decline in smartphone sales.
According to industry research firm Omdia, Huawei's smartphone shipments fell to ninth place globally in 2021 after the spin-off of Honor. Huawei urgently needs to expand into new growth channels and businesses. And the smart car business is the best choice to fill the 250 billion yuan revenue gap.
Huawei entered the automotive business as early as 2013, starting out as a traditional component supplier. Up until October 2020, Huawei launched the Huawei Inside (HI) model and attempted to jointly develop with automakers, providing autonomous driving software and hardware, and smart car full-stack solutions. In April 2021, Huawei launched the Huawei Xuan model, which is more involved in product definition and vehicle design, and its products are sold through Huawei channels. Finally, Huawei has formed three modes: the component Tier 1 model, the HI model, and the Xuan model.
Obviously, with the continuous expansion of the business model, Huawei's participation has gradually deepened. Among them, the cooperation with Cyrus is the first landing case of the Xuan model. The two sides launched the AITO Wanjie brand in December 2021, and since then, the Xuan model has also been referred to as the Wanjie model.
Compared to the HI model, the Xuan model's "Huawei flavor" is stronger, and it has gained Huawei's empowerment in Hongmeng cockpit, core components, product definition, vehicle tuning, channel sales, brand marketing, etc., and this trend is constantly increasing.
Firstly, in terms of configuration and installation, although both the Xuan and HI models use Hongmeng car systems, the former uses the native Hongmeng cockpit, while the latter only uses Huawei's modules and systems, that is, using the underlying capabilities of the Hongmeng system, automakers lead the definition of the intelligent cockpit, and Huawei's UI design experience in the smartphone field is not fully utilized.
As for the intelligent driving part, the HI model is currently slightly ahead, but this is not the "pain point" for most consumers at present, and subsequent Xuan model vehicles will also be equipped with Huawei's advanced intelligent driving solutions.
Secondly, in terms of marketing and channels, the Xuan model fully enjoys the tilt of Huawei's marketing resources, on the one hand, the product first debuted at the Huawei new product launch conference; on the other hand, it enters Huawei stores for sale, can quickly establish a large number of Wanjie experience stores with a lower marginal cost, and is relatively less affected by the sinking of new power car dealership.According to the data, as of December 2022, WENJIE has a total of 986 experience centers and user centers, providing comprehensive services including sales, delivery, and after-sales, far surpassing Tesla and NIO. In addition, as of December 31, 2022, 170 AITO user centers across the country have completed image upgrades.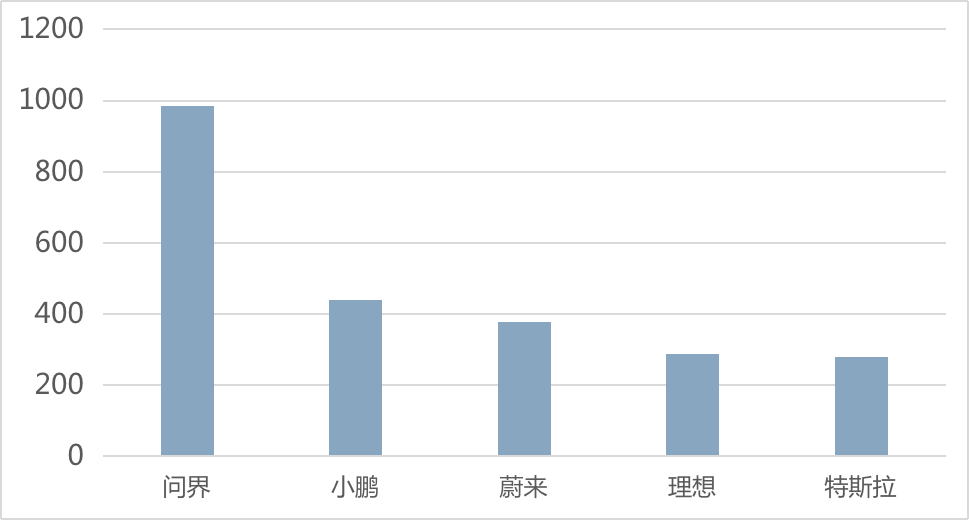 Thirdly, WENJIE emphasizes its strengths and downplays its weaknesses in its brand promotion. While intensifying the promotion of the Hongmeng car system's "ceiling" status and emphasizing the innovative zero-gravity seats, it also downplays the weakness of insufficient intelligent driving capabilities.
As a result, WENJIE's monthly sales have quickly exceeded ten thousand.
Behind Huawei's strong support for WENJIE lies an incentive for profit. According to reports from several media outlets, Huawei executives have revealed that the split between Huawei and manufacturers in Smart Selection mode is roughly 1:9.For example, for the WENJIE M5 four-wheel drive performance version with a price of 294,800 yuan, Huawei can receive about 30,000 yuan for a single car. Among them, 20% is the technology authorization fee, which is approximately 6,000 yuan, and the remaining 24,000 yuan is the sales cost for Huawei's major online stores, which involves store construction, venue investment, personnel training, pre-sales, and after-sales service, etc.
It can be seen that sales revenue is the main source of Huawei's income, which is also the reason why Huawei is pushing for Smart Selection mode. After all, on December 8, 2022, Yu Chengdong proclaimed at a Huawei internal meeting that the Huawei Car BU should achieve profitability by 2025.
According to Huawei's financial data, the Car BU's R&D investment was RMB 7 billion in 2021 and is expected to be around RMB 10.5 billion for the full year of 2022. Without considering other factors, roughly estimating that Huawei needs to sell 350,000 cars according to Smart Selection mode to achieve profitability based on the revenue of 30,000 yuan per car and the R&D investment of 10.5 billion yuan.If Huawei enters the automotive market directly, can it create revenue or profit of 250 billion RMB faster?
It's extremely difficult to achieve.
In terms of revenue, even if we calculate based on the price of 300,000 RMB per vehicle, it would require sales of 830,000 vehicles to achieve it. Currently, XPeng Motors, a new force with seven or eight years of experience, has just crossed the threshold of 100,000 units sold annually. It took Tesla 17 years to sell 500,000 units.
And what about profit? Tesla took 17 years to achieve profitability, while XPeng Motors is currently not profitable. Ideal Motors, which has the highest hopes of turning a profit, may achieve profitability this year – after 7 years.
In recent years, many intelligent electric car companies have complained that the car-making business is not making money, as upstream companies take most of the profits. This is not an unfounded claim.
Compared to direct car manufacturing, Huawei can benefit from its intelligent selection mode. It boasts high gross profits from high-value core components and strong channels and fans for commercialization. Manufacturing cars is harder and less profitable.
Huawei can also scale up faster. If Huawei doesn't make cars themselves, three or four or even five or six "Silencers" will be designing cars for Huawei – including car platform, supply chain, factory, and service systems. The Silencers could help Huawei sell more than 75,000 vehicles by 2022. Later, companies such as Chery, JAC and others could sell another 100,000 units per company for Huawei. "Huawei Automobile" could thus hope to quickly surpass the 500,000 car mark.
For Huawei stores, it's better to have more models to sell, and the faster the better. Time is really money.
Why does Huawei insist on not making cars?
There are several factors why Huawei doesn't enter the automotive market directly, including certification, factory, and external environment.
Firstly, certification is an issue. Generally, there are three ways for new car manufacturers to solve the production problem: acquisition of certification, certification applications, and contract manufacturing. Currently, all three methods are under stricter supervision.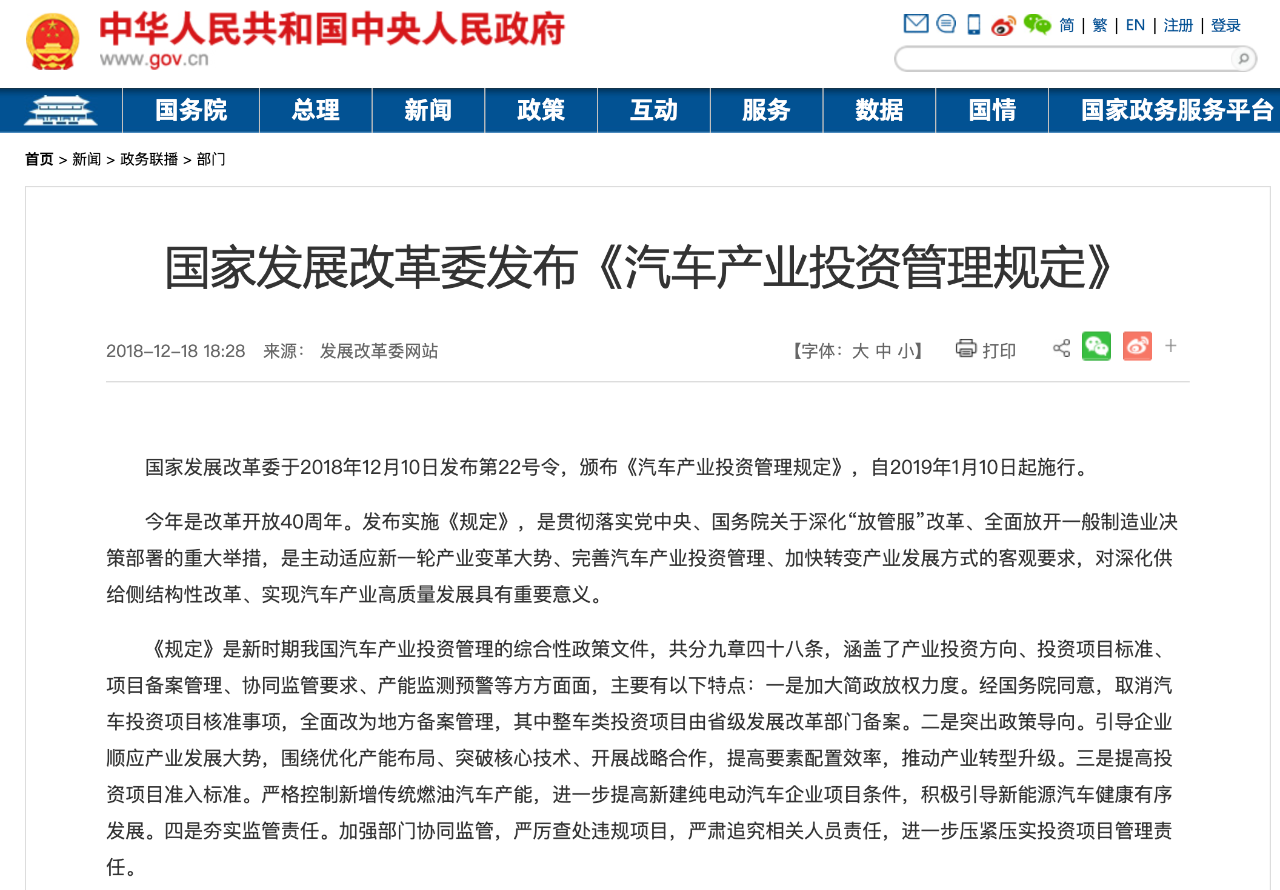 At the end of 2018, the "Automobile Industry Investment Management Regulations" were promulgated, with all automotive investment project approval items being completely cancelled and replaced by local record management. As a result, the regulatory level for newly-built pure electric passenger car investment projects has changed from being approved by the National Development and Reform Commission to being filed with provincial-level Development and Reform Commissions.The market was once optimistic that the above policies marked the opening up of qualifications for new energy vehicles, but in fact, the NDRC has imposed stricter requirements on investment projects for newly-established pure electric vehicle companies under the record-filing system.
On the one hand, it is difficult to obtain acquisition qualifications. The "Management Regulations" clearly prohibit the overall relocation of petroleum-fueled vehicle companies to other provinces or investment in petroleum-fueled vehicle companies that are specifically publicized by industry management departments.
On the other hand, obtaining production qualifications is also challenging. For instance, investment projects in the province where the project is located are required to have an automobile capacity utilization rate exceeding the industry average for the previous two years. Moreover, existing newly-established independent pure electric vehicle investment projects of the same product category have been completed and the annual output has reached the construction scale.
In addition, according to multiple media reports, in 2021, the NDRC issued an internal document to once again bring automotive investment project management under control and carry out "window guidance" with strict measures.

The third method of OEM production is also banned. In April 2022, MIIT issued a notice on carrying out pilot work on entrusting the production of new energy vehicles. Clear requirements were put forward for the OEM model, which means that both the entrusted enterprise and the commissioned enterprise must be qualified, the so-called "dual qualifications." This means that the model of non-qualified enterprises outsourcing to qualified car companies is almost impossible.
The factory issue is also based on qualifications. If qualifications cannot be obtained, the establishment of a complete vehicle factory is of little value. Once the qualification issue is resolved, self-built factories by Huawei do not necessarily mean that they are better than the "non-car making" model. Building a factory itself also requires time and money. Taking the factory prepared by JAC for the Huawei project as an example, the total investment in the project is 2.6 billion yuan, and it can only be completed and put into operation after January 15, 2024. At that time, the intelligent vehicle market may be entirely different.
Although there are certain difficulties in obtaining qualifications and building factories, they are not insurmountable problems. The greater difficulty lies in the word "sanction." In this regard, Huawei's mobile phone business has suffered deeply.
In 2018, Huawei's mobile phones achieved great success, ranking second in the world with a market share of 14.6\%, behind Samsung and ahead of Apple. In 2019, Huawei's mobile phone business still maintained high growth, with a shipment volume of about 240 million units and a market share of 20\%, retaining its second place position."`

However, since 2019, Huawei has been sanctioned by the US four times in three years, which has had a significant impact on its mobile phone business, causing a sharp decline in shipments, revenue, and sales.
In 2020 and 2021, Huawei's smartphone sales fell significantly. In 2020, the shipment volume was approximately 190 million units. In 2021, after the sale of its Honor brand, the shipment volume of Huawei's smartphones plummeted to only 35 million units, a year-on-year decrease of 82%, and the company lost its dominance in the mobile phone market.
Therefore, since it is necessary to enter the intelligent car market due to the inability to turn the tide in the mobile phone market, while using existing channels and reducing investment, and avoiding interference from various factors, Huawei believes that the best way is "not to make cars," or rather, not to make cars under the Huawei name.
What kind of "circle of friends" does AITO want to create?
Obviously, Huawei has already used Sailing's "calling card" to gain a solid footing and now needs to expand its scale.
In fact, Huawei had contact with many car companies in the early stage, but most of the self-owned car companies with state-owned backgrounds have a relatively long decision-making mechanism and are unwilling to lose their dominance. Therefore, the first car company to cooperate with Huawei's Intelligent Fast Track (IFT) business was Sailing, a local private enterprise in Chongqing with a relatively flexible decision-making mechanism.
Sailing has almost exhausted all its resources to cooperate with Huawei, and the results have been remarkable. From the official launch in March 2022 to the end of last year, the series of models under the Sailing brand sold a total of 75,000 new cars.
However, as we enter 2023, AITO's momentum seems to be faltering.
In January 2023, the total sales volume of the AITO brand was 4469 vehicles; in February, while the overall car market was recovering, AITO's sales continued to decline, with only 3000 vehicles sold.
At the same time, AITO has had a problem of low store efficiency. According to CITIC Securities' data, in November 2022, AITO's store efficiency was 12 units (the ratio of retail sales to the number of stores at the end of the month), which was far lower than BYD's 60 units/month, as well as NIO's 37, 14, and 59 units per store.
Huawei urgently needs to reverse AITO's sales decline, improve its per-store profitability, achieve profitability, and launch a series of actions based on this.

"`On the one hand, continuously increase the "HW content" to deepen consumers' awareness of Huawei in the brand. Shortly after Yu Chengdong proposed the concept of Huawei's ecological car, Huawei's slogan changed from "AITO AITO" to "HUAWEI AITO." According to sources close to Huawei, AITO's task last year was to survive, and this year, they will increase publicity efforts and strengthen the ability to obtain leads.
On the other hand, continuously expand the circle of friends. According to information from China State Construction Engineering Group's official website and news from the Hefei Daily, Chery and Jianghuai have already joined the Smart Selection cooperation mode. As traditional automakers, Chery and Jianghuai have tried many times in the past to launch new energy vehicle models priced at 150,000 yuan or even over 200,000 yuan, but sales have been poor. After partnering with Huawei, they may be able to achieve complementary advantages.
However, obviously, in the previous concept of Volkswagen, AITO was a joint venture brand between Huawei and Siles. Chery and Jianghuai do not want to be placed under this positioning after cooperating with Huawei, but rebranding and channel renovation takes time, effort and money. Therefore, Huawei proposed the concept of Huawei's ecological car, and even the AITO Ecological Alliance.
As for the brand, Huawei still needs to solve the issue of "HUAWEI AITO" attribution. Industry insiders also claim that the ownership of AITO's full user center (delivery center) is currently with Siles.
In the future, there will be a distinction in product pricing and positioning between Huawei and various car manufacturers. Currently, based on comprehensive information from all parties, Smart Selection car models of Siles are mainly hybrid models priced above 200,000 yuan; Chery's first Smart Selection car model may be a pure electric car priced between 200,000 yuan and 300,000 yuan, which is the first sedan under the Smart Selection mode, and is planned to be released in the fourth quarter of 2023; Jianghuai's Smart Selection car model is expected to be launched in 2024, with the first model being a high-end MPV.
However, similarly, all products under the Huawei ecological alliance will use the full range of Huawei products, specifically Huawei smart driving and intelligent cockpit products.
Starting from the components, then to the HI mode, the Smart Selection mode, and now the "Ecological Alliance," Huawei has been deepening its right to speak with car manufacturers step by step while avoiding all kinds of potential "harm" and insisting not to make cars. As for whether they will officially announce car manufacturing in the future, it depends on whether the alliance mode can make progress and work well.
这是一篇 Markdown 文章
介绍
这是一篇包含 Markdown 语法的文章。在这篇文章中,我们将介绍以下内容:
标题
这是一个一级标题
这是一个二级标题
这是一个四级标题
列表
无序列表
有序列表
第一项
第二项
第三项
链接
这是一个链接:点击这里访问谷歌搜索引擎
这是一个带有鼠标悬停提示的链接:这是提示信息
图片
这是一个图片:
引用
引用文本
这是引用中的第二行文本
粗体和斜体
这是一个粗体文本,这是一个斜体文本。
This article is a translation by ChatGPT of a Chinese report from 42HOW. If you have any questions about it, please email bd@42how.com.