Author: Tao Yanyan
Editor's note: Automotive supplier inventory series: the first article: Focusing on the acquisition of Lear; today is the second article.
From the perspective of European automotive suppliers, Continental is a very typical enterprise. According to the financial report in March, Continental Group's sales in 2022 were 39.4 billion euros, a year-on-year increase of 16.7%. The adjusted pre-tax profit was 1.95 billion euros, a year-on-year increase of 5.2%. The adjusted pre-tax profit margin was 5.0% and the net profit was only 67 million euros.
The revenue of Vitesco, which has been split, is 9-9.2 billion euros, with a profit margin of 2.3-2.5%.
The automotive business is 18.3 billion euros, with a profit margin of -0.5%-1%.
The tire business is 14 billion euros, with a profit margin of 12-13%. This is the core profit center of Continental.
The ContiTech business is 6.594 billion euros, with a profit margin of 6-7%, which is a reasonable estimate.
The traditional Tier1 approach is to make additions around the client channel of the entire vehicle, continuously acquire technology and products, and then realize it through the channel with automakers. However, since 2020, the entire logic has undergone significant changes. What changes have occurred in the automotive industry that have led global automotive parts companies to split and revolve around specialization?
We want to explore this issue specifically.
Merger and integration of Continental
The wave of restructuring and mergers in the global automotive industry began after 1990. Continental established its automotive business unit in 1995. Of course, it was the acquisition of Siemens VDO in 2007 that really allowed Continental to enter the forefront of automotive parts. With a total of 11.4 billion euros, the Continental Group joined the top five of global automotive parts. Through a series of acquisitions, Continental's business structure layout is very perfect, including a complete product line of automotive parts such as body electronics, powertrain, chassis, and safety.# The Spin-off Direction
Automotive Business
The automotive industry has undergone an unprecedented transformation in recent years, and global automakers and auto parts enterprises require huge sums of capital to find their way to the future. In the past few years, foreign auto parts companies, represented by Bosch and Continental, have realized that they also need to keep pace with the fast-changing demands of the auto industry transformation.
Currently, the strong point of the automotive business segment is HPC (domain controller), but this business has a huge ceiling in both China and Europe. In the past, it was just a matter of investing in manpower, material resources, and platformization to win the bidding business from other tier 1 suppliers. However, the long-term development of this business sector is now facing significant obstacles, as whole-vehicle enterprises like Tesla and Chinese automakers represent competitors in the core business.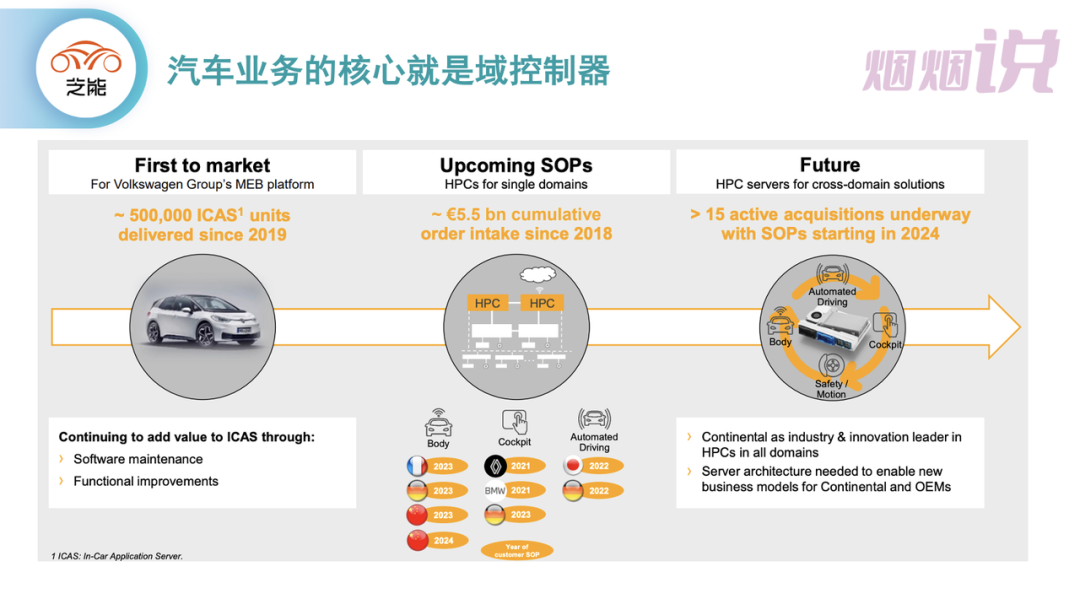 Spin-off Plan
Of course, the global financial crisis in 2008 had a huge impact on the automotive industry, and the global automobile production declined for two consecutive years. Schaeffler initiated the acquisition of Continental Automotive and became the "acquired" party at last.
Currently, the market value of Continental Automotive is 14.56 billion euros, and the market value of Vitesco Technologies is 2.555 billion euros. Global investors have great doubts about how traditional auto parts companies can continue to make profits, even though their overall revenues are estimated to be 38.4 billion euros and 9.1 billion euros respectively.
### From 2018 to 2022
With the rise of pure electric vehicles on new dedicated electric platforms, automakers have started using the "full package" from suppliers as a sign of inability. In the rapid iteration, the automotive parts business cannot meet the merger demand, achieving cost reduction through economies of scale. Automakers often like Guangzhou Automobile Group, from hardware to software, begin incubating their own ecology. Continental's business competitors have become the ecology nurtured by automakers.
Contitech
In this area, Continental's auto parts business mainly falls into the category of thermal management, and it also wants to achieve the next step of integration by splitting and then acquiring.
Summary:
We can indeed see that what auto parts companies used to be proud of has become their competitors, which means that the original methods for these companies have become ineffective. The relationship between automotive parts and whole vehicle enterprises has changed in certain areas—nowadays, whole vehicle enterprises consider software as the position of the engine in the previous era. Even though software has not yet reached the stage of charging, it substantially affects consumers' purchase decisions and basically changes consumers' psychology about whether the automotive company is high-end or not.
This article is a translation by ChatGPT of a Chinese report from 42HOW. If you have any questions about it, please email bd@42how.com.