Author | Chu Wanbo
Editor | Qiu Kaijun
Xpeng Motors' 2022 financial year and Q4 earnings report seemed more like a self-reflection by He XPeng about the past period, as well as a report on the company's recent reform progress.
On March 17th, Xpeng Motors released its 2022 financial report and held a conference call. The briefing and Q&A session contained dense information, mainly related to personnel changes, organizational reforms, product planning, and brand marketing…
What Xpeng Motors is currently doing and what it will do in the future were all revealed in one-and-a-half-hour session.
To sum it up, there were three major events:
In terms of personnel, Wang Fengying took charge under pressure and presided over all business including the products and channel marketing;
Regarding organizational structure, it shifted to a flat structure, and He XPeng was personally in charge;
The product planning focused on user perception, and details that users pay attention to, such as appearance and interior space, were elevated to unprecedented heights in addition to advanced automatic driving.
Moreover, we also saw that Xpeng's future channel planning, with the addition of the veteran Wang Fengying, is incorporating many traditional elements of traditional car companies, as He XPeng stated:
"Xpeng's offline stores in the future will transform from the current sales function to a 4S store that integrates sales, spare parts, maintenance, and information feedback."
Of course, we cannot give an answer at present as to whether this combination of reforms will work or not; at least, in reversing the long-term poor performance of sales, He XPeng expected results in the third quarter of this year.
However, the capital market has already given positive feedback. After the opening of the US stock market on March 17th, Xpeng Motors' stock price rose as much as 11%, reaching $9.49 per share. As of the close of that day, it was at $8.84 per share, up 6.12% from the previous day's closing price.
As a company that has been established for eight years, Xpeng Motors is still in the start-up phase and its system and culture have not yet formed. Xpeng's future still depends on He XPeng.
He XPeng has invested in Xpeng Motors since 2014, joined as chairman in 2017, led the team through the "darkest hour" in 2019, and now started to systematically reflect, review its strategy, and adjust its structure in 2022. This time, He XPeng's reform of Xpeng Motors may be even more important than his previous efforts to save the company from downfall, and it will be even more challenging.
What the Xpeng 2022 financial report and Q4 earnings report mainly presented were the pains and struggles accompanying the reform, while the management's speeches mainly presented the hope that He XPeng had sown.## XPeng Motors – What did He XPeng tell about in the company's report?
In this financial report, He XPeng talked about the present, and the future. The core message was clear: "XPeng is changing, XPeng will change, and XPeng must change".
It is now a consensus that "XPeng must change", both for the company and the people who are watching it. After all, XPeng's unexpected decline in the second half of last year is well-known, and the latest financial report data shows that XPeng Motors is still facing "night road" ahead.
Therefore, the real issue is what has XPeng changed? And how will it change in the future?
First, let's address the first question. In recent months, the internal reform of XPeng Motors has been in full swing, covering personnel, organizational structure, product planning, and brand publicity. During this financial report conference, these fragmented pieces of information were arranged and presented systematically.
In terms of personnel, the most significant change in the XPeng Motors management team was the appointment of "Car Circle Iron Lady" Wang Fengying as the President of XPeng Motors. However, the degree of this position's importance is not very clear to outsiders.
But from the information given at the financial report conference, it can be seen that He XPeng has given Wang Fengying great authority.
According to He XPeng: "After Wang Fengying joined XPeng, she will be fully responsible for XPeng's product planning, sales, brand marketing, and the whole product matrix system, which will help XPeng more accurately capture customer needs and greatly improve its sales service capability and efficiency in the brand market."
In other words, Wang Fengying will be in charge of the entire front-end business and transformation work. Meanwhile, He XPeng's role will be to focus more on R&D, production, and organizational management in addition to overseeing several major business departments that are being reformed.
In terms of organizational structure, since the end of last year, XPeng has launched an organizational reform centered around five virtual committees, while also setting up five major systems of "strategy, R&D, supply and production, marketing service, and functional support" in its daily operations.
The goal is to achieve a flatter organizational structure that is more conducive to leadership and communication while simultaneously cross-linking business lines.
He XPeng revealed that since last month: "The design and R&D, production, supply chain, organizational management, and process system teams report directly to me." This indicates that XPeng's organizational structure reform work has already outlined the framework of the aforementioned five major operating systems.Product planning and design are also focus areas of change, and XPeng's approach in this area is quite clear, i.e., "user experience," which was one of the problems XPeng was most criticized for in the past.
He XPeng said that in the future, XPeng's product design will innovate more around user-perceptible value and differentiation, such as product appearance, interior design, cabin space, etc. XPeng will also adjust the configuration combination of new and revised models, and unify them in terms of modular design and intelligent consistency.
In addition, XPeng has taken some measures in this area, such as simultaneously building three styling front-end teams for creative competition, and making NPS (Net Promoter Score) one of the core objectives of each business unit within the company.
The purpose is to focus more on the elements of the car itself, such as space and mechanical qualities, while retaining the label of intelligent driving.
In fact, we can already see the guiding principles of this type of product design in the recently revised P7i just listed by XPeng, such as the more straightforward version configuration, chassis, and cabin space optimization, which are very evident.
Finally, in terms of brand marketing, XPeng will deepen its current marketing efforts from tier-one and tier-two cities to tier-three and tier-four markets, while the XPeng brand and marketing teams have already undergone initial integration and revised marketing strategies to reduce marketing costs.
He XPeng also revealed that XPeng has completed the flattening of its sales network management. According to previous reports, in the marketing channel, XPeng cancelled the previous regional system, divided the country into more than 20 small regions, and assigned personnel to unify the management of direct sales and authorized stores within each small region.
These are some of the latest developments in XPeng's reform. It can be seen that each of the mentioned items is a strategic-level review and adjustment, so He XPeng has given a very appropriate positioning for this transformation: self-subversion, second entrepreneurship.
After sorting out the overall direction, XPeng's main measures for the future are:
First of all, in terms of sales channels, XPeng's future plan is to continue the current sales model of "direct sales + authorized stores," with the proportion of authorized stores increasing over time.The function of sales channels will also shift from focusing on sales to integrating sales, parts, maintenance and information feedback in the form of 4S stores, drawing inspiration from traditional car companies.

Regarding this change, it is not difficult to imagine that Wang Fengying, who comes from a traditional car company, joining XPeng will inevitably bring in the traditional factors of the automotive industry, such as the changes seen in 4S stores, which may become more common in the future.
Secondly, cost control will be the focus of XPeng for a considerable period of time in the future. The specific approach will be carried out on the following levels:
Firstly, platform-based production. Starting from this year, XPeng's pure electric vehicle platform, electronic and electrical architecture, power system, and intelligent assisted driving software and hardware will all complete platform-based production, and the company will enter a truly systematic car-making phase. The E, F, and H platform product matrices established by XPeng are just the beginning.
Secondly, research and development investment will be more focused. He XPeng stated that previously, XPeng's technology research and development mainly focused on performance and functions. In the future, XPeng's research and development will focus more on the most suitable long-term technological route and user perception and achieving consistency in standard configuration, thereby achieving huge differentiation in scale cost.
In this regard, XPeng has already formulated a clear roadmap, aiming to achieve a 50\% reduction in automatic driving BOM costs and a 25\% reduction in vehicle hardware costs from this year to next year, through technological innovation such as battery cell design, battery integration, and integrated die-casting, as well as optimization of configuration.
In addition, increasing the proportion of authorized dealerships is also a consideration in terms of cost.
While the KPI is quite high, He XPeng apparently does not worry about being unable to deliver on his promises. Regarding the cost of vehicle hardware, he believes that a 25\% reduction does not necessarily indicate that XPeng is doing great, but rather that XPeng has not done well enough in the past.
In other words, there is still ample room for improvement.
How should we evaluate XPeng's reforms?
In conclusion, overall, each of these measures was a targeted move. Although the results cannot be immediately apparent, at least the capital market recognizes them.
After the US stock market opened on March 17th, XPeng Auto's stock price rose by up to 11\%, reaching USD 9.49 per share. At the close of the day, it was reported to be USD 8.84 per share, a 6.12\% increase from the previous day's closing price.
XPeng's problem erupted last year when the G9 was launched. Since then, there have been many analyses of XPeng's management issues, including but not limited to:
Firstly, the hierarchical power is too decentralized, and XPeng himself is not sufficiently involved in the company's business, which leads to frequent changes in decision-making on major issues, even including multiple back-and-forth struggles over which company to purchase the lidar from.
Secondly, the product positioning and promotion are not clear, which directly leads to overly complex prices and configurations for the models. This high understanding threshold for external users is not conducive to internal cost control, and from the first model launched to now, a platform-based production has not yet been formed.
Thirdly, it is understandable to use intelligent driving as a selling point, but it lacks attention to other aspects, such as vehicle comfort configuration, quality control, and mechanical quality, and its intelligent advantages alone cannot make a great product competitive step by step.
Finally, different sales models fight against each other, lacking unified coordination and management, leading to a poor user experience.
…
Through these surface phenomena, it can be seen that XPeng Automobile has neglected organizational construction. How can the company's cognition, vision, and strategy be transformed into methodology and how to build corresponding organizations and establish corresponding processes? XPeng and XPeng Automobile did not do enough in this regard, resulting in ruptures, repetitions, and even low-level errors.
For example, XPeng Automobile did not reexamine why the G3 and P7 succeeded or failed before launching the XPeng P5, and did not come up with the correct product strategy and process, which resulted in poor performance of the P5 and G9.
All these issues can be addressed through the aforementioned reform measures, such as XPeng's greater autonomy, platform-based production, and more focused R&D spending, etc.
But reform also means "breaking" the past and "establishing" the future, and this process is destined not to be smooth. Focusing on XPeng itself, the biggest concern given by the market is about people, specifically Wang Fengying, who comes from a traditional car company.
Having crawled through Great Wall for more than 30 years, Wang Fengying brings many traditional thinking modes and experiences with her. The upcoming plan for XPeng to move towards 4S stores is largely due to such factors.
However, will these experiences be incompatible with the new forces of car enterprises?Translate the following Markdown Chinese text into English Markdown text, in a professional manner while retaining the HTML tags within the Markdown, and only output the corrected and improved parts. Do not write explanations.
For example, the mess of internal factions at XPeng that has long been known, will Wang Fengying set up another faction after joining XPeng, and use it as a pretext again?
In addition, Wang Fengying was born in 1970 and she is already 53 years old this year. Although not old, she cannot be considered young. Under such circumstances, can she cope with the work intensity of XPeng's critical reform period?
According to He XPeng himself, the biggest pressure Wang Fengying gave him was to work seven days a week, which resulted in him having to work for seven days as well.
Such a high work intensity is also a challenge.
In any case, as XPeng's reform continues, it has gradually reached a critical period, and whether XPeng can turn the tide or not, the real key is the strategic planning at this stage and whether it can be guaranteed in the subsequent implementation.
Financial report review, XPeng's gross profit under great pressure
Finally, in the financial report review, the market largely expected XPeng's overall operating conditions for last year and the fourth quarter. Let's take a brief look:
The financial report shows that XPeng's total revenue in 2022 was RMB26.9 billion, an increase of 28% YoY. Among them, the revenue from car sales was RMB24.84 billion, an increase of 23.9% YoY compared to RMB20.04 billion last year.
The main driving force behind the revenue growth comes from sales volume. XPeng delivered a total of 120,000 vehicles in 2022, a year-on-year increase of 23%.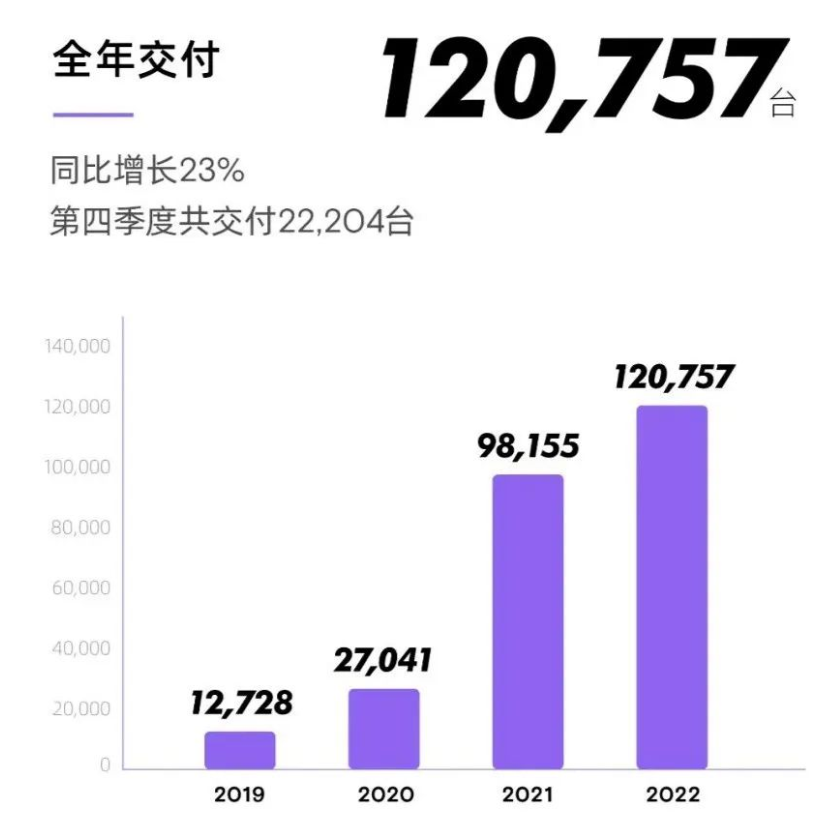 In terms of R&D and operating expenses, XPeng's R&D expenses last year were RMB5.21 billion, an increase of 26.8% YoY, while its sales, general and administrative expenses were RMB6.69 billion, an increase of 26.1% YoY, which is basically in line with the revenue growth.
As for the gross profit margin, XPeng's figures slightly declined in 2022 compared to last year. The data shows that XPeng's overall gross profit margin was 11.5%, a decrease of 1 percentage point YoY; the gross profit margin of the company's car business was 9.4%, a decrease of 2.1 percentage points YoY.
Moving on, with XPeng's net loss widening last year, its net loss in 2022 was RMB9.14 billion, an increase of nearly 50% from RMB4.86 billion in 2021.As of December 31st last year, XPeng's cash and cash equivalents amounted to RMB 38.25 billion, a decrease of RMB 5.3 billion from the end of last year.
In the fourth quarter of last year, XPeng's operating indicators showed a more significant contraction.
Data showed that in the fourth quarter, XPeng's revenue scale was RMB 5.14 billion, a year-on-year decrease of 39.9\%, and the car delivery volume was 22,204 units, a year-on-year decrease of 46.8\%.
Research and development expenses were RMB 1.23 billion, a decrease of 15.3\% from the same period of last year, while sales, general, and administrative expenses were RMB 1.76 billion, a decrease of 12.9\% from the same period of last year.
The decline in gross profit margin was relatively large, with a fourth-quarter figure of 8.7\%, a decrease of 4.8 percentage points from the same period last year, while the gross profit margin for automobiles was 5.7\%, a year-on-year decrease of 5.2 percentage points.
The net loss shrank slightly relative to the previous quarter, reaching RMB 2.36 billion in the fourth quarter of last year, a decrease of RMB 20 million from the third quarter, but an increase of more than RMB 1 billion from the same period of last year.
The financial report data is not impressive – reform is not a romantic song, but is accompanied by severe pain and conflict; reform cannot be achieved overnight, and there is still a long way to go. However, there is no turning back on reform, and XPeng Motors can only move forward steadfastly.
As XPeng promised, we will evaluate XPeng's reform achievements in the 2023 Q3 report.
This article is a translation by ChatGPT of a Chinese report from 42HOW. If you have any questions about it, please email bd@42how.com.