Author | Nie Yiyao
In a difficult period where "the old era is slowly fading away, while the new era has not yet fully arrived," what choices will you make?
Will you be afraid in the midst of a price war and jump into the desperate struggle? Or will you face the chaos with firmness and move forward?
The weak will weaken themselves, while the strong will strengthen themselves. There will always be people looking ahead.
On the evening of March 10th, the "Great Wall Motors Intelligent New Energy Seminar" showed people the introspection and contemplation of Great Wall Motors: grasp the long-term trend and adhere to the long-termism.
In 2023, bidding farewell to the magic of 2022, we opened in a disorderly way. The price war, from electric cars to fuel cars, from some brands to almost all employees, escalated. In the critical period of rapid transformation of the old and new system and significant changes in industrial structure, it stirred up a huge wave.
"Grasping the trend is more important than chasing the trend! The biggest challenge facing enterprise management is how to make correct judgments between certainty and uncertainty."
Great Wall Motors has made its own judgment: "adhering to long-termism is the key to winning the future". The confidence of this strategic determination comes from the realization of intelligent new energy "take-off", the fearless test, and the "resilient growth" of the Great Wall, a stronger Great Wall than you have seen.
The winner of the Hundred Boats Race is the one who persists
The wind starts from the end of the green duckweed, and the waves are made between the ripples.
If the current price war pushes car companies into the life-or-death battlefield when the iron curtain falls, then the source of competition has started since the transformation of the automobile industry's new energy.
It was at that time that Great Wall Motors established the correct direction of "new energy transformation" and under this direction of guidance, determined the "grasp the long-term trend, adhere to the long-termism" of the new energy development concept.
However, not everyone can grasp the trend. Some people cling to the past and dare not look towards a new world; some are afraid of making mistakes and hesitate; some only pursue the current trend and ignore the huge waves behind them.
This is why, when old and new automobile brands are constantly reshaping, market patterns and consumer concepts are rapidly restructuring, all enterprises and brands are crowded together at the critical turning point, and even cause chaos in the bend of the turn.
Who will win? Opportunities always favor those who are prepared.
Wei Jianjun, Chairman of Great Wall Motors, once said: "We have no shortcuts, only taking steps to cover a thousand miles."
Over the years, Great Wall Motors has carefully nurtured and continuously strengthened its "Forest Ecosystem" layout in order to achieve the transformation to new energy. Today, "Forest Ecosystem" has become the "only one in China and second in the world" in the intelligent new energy industry chain, and the strong industrial chain advantage will be a necessary condition for the next new energy competition.
Opportunities also favor those who follow the correct direction and adhere to long-termism.
Long-termism is an attitude of focus on the future, resisting short-term uncertainty with long-term certainty, and resisting the temptation of short-term effectiveness with deep cultivation, being friends with time, and embracing the results of the future.
In the past year, Great Wall Motors, guided by the strategy of "adhering to long-termism", has reformed its organization, internal structure, product positioning, talent cultivation and corporate ecology, and transformed into an organic body that is more conducive to the development of new energy.
What does it matter to sacrifice short-term sales in order to adjust oneself to the best "take-off" posture? The new energy competition is not a 100-meter race, but a long-distance race of 10,000 meters. Only by holding on can we run far.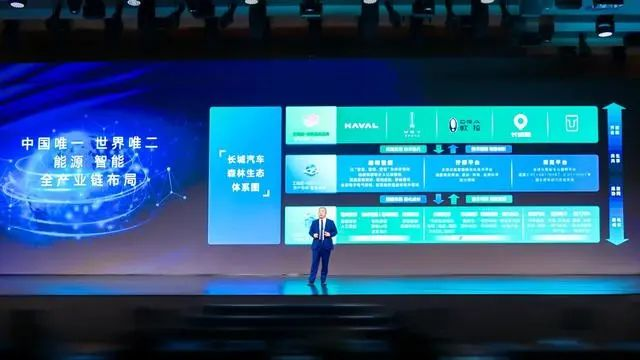 In the face of the trend and revolution of new energy vehicles, Great Wall Motors, which firmly grasps the long-term trend and adheres to long-termism, is also providing consumers with "more energy-efficient, longer-range, and safer" new energy products to lead the company towards the deep development of new energy.
The far-reaching layout of the forest ecosystem
When the restlessness and bubbles of the new energy competition fade away, future competition will focus on the ecosystem of the industrial chain and the competition of leading technology.
"Forest Ecosystem" is an industrial chain layout initiated by Great Wall Motors many years ago, with the goal of using the vehicle as the core to build an intelligent new energy industry chain that is like a forest, covering related technology industries such as new energy and intelligence, realizing the interaction of multiple species and continuous evolution.
Who would have thought that it was the foresight based on the correct direction of "new energy transformation" and the development philosophy of "adhering to long-termism" that made Great Wall Motors' "Forest Ecology" become the "only one in China and the second in the world" smart new energy industry chain.
Today, "Forest Ecology" has completed the flattened, networked, and decentralized full industrial chain layout in the two major fields of energy and intelligence, and built an industry-leading energy system of "photovoltaics + distributed energy storage + centralized energy storage". It has also completed the full value chain layout of "solar energy-battery-hydrogen energy-vehicle power".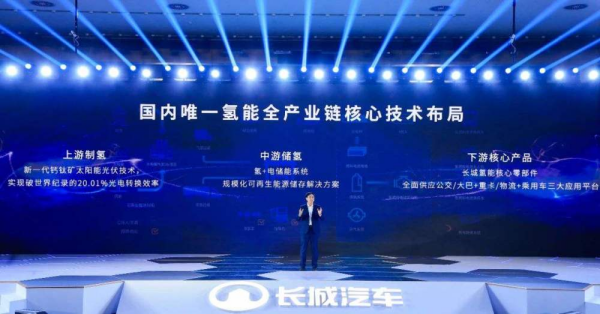 This is something that deserves to be shown off. Looking at the current global market, the only two companies that have completed the flattened, networked, and decentralized full industrial chain layout in the two major fields of energy and intelligence are Great Wall Motors and Tesla.
Under the "super matrix" of Great Wall Motors, "Forest Ecology" has gathered advantages in the energy and intelligence fields, such as Hive Energy, Hive Ecosystem, Weishi Energy, and Haomozhixing, etc., thus enabling Great Wall Motors to take a comprehensive lead in multiple fields such as vehicle power, photovoltaics, hydrogen energy, and intelligence.
In the field of vehicle power, Great Wall Motors has parallel tracks of hybrid, pure electric, and hydrogen energy, and has laid out power batteries of multiple chemical systems such as lithium iron phosphate, lithium manganese iron phosphate, cobalt-free, ternary sodium ion, and solid state, and has planned three solutions of economy, long endurance, and high performance. This has accelerated the transformation of automobile electrification and seized the new energy technology high ground.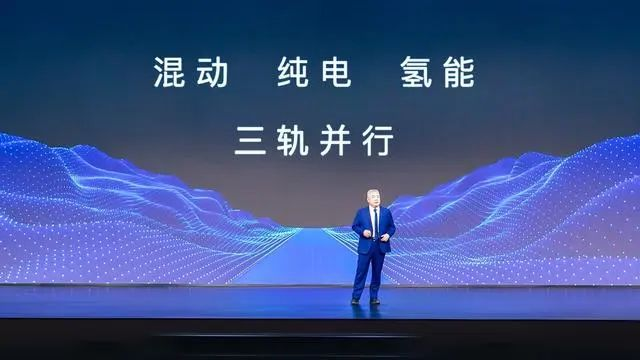 In the field of photovoltaics, Great Wall Motors' independently developed large-area perovskite photovoltaic components have surpassed 20.01% of photoelectric conversion efficiency, leading the world. In terms of distributed energy storage, it has made a comprehensive layout around the upstream and downstream of the industrial chain in core areas such as mineral resources, battery materials, energy storage systems, and battery recycling.
In the field of hydrogen energy, Great Wall Motors has already built an integrated industrial chain development model of "production-storage-transportation-filling-application". The localization rate of core components has reached 100%, achieving full-domain, full-scenario coverage, and empowering the full industrial chain.In the intelligent field, Great Wall Motors' intelligent chassis integrates core technologies such as wire-controlled steering, wire-controlled braking, CTC, and integrated die-cast aluminum body; the intelligent cabin technology has full-stack self-developed capabilities in both software and hardware, with the V4 cabin platform with higher computing power waiting to be launched; the intelligent driving technology has full-domain self-developed capabilities from perception hardware to computing platform, and has China's first data intelligence system "Xuehu" and China's largest intelligent computing center in the autonomous driving industry "Xuehu Oasis".
Relying on "Forest Ecology", Great Wall Motors will constantly showcase their new energy vehicle product models and advanced technologies in a surge and with excellent strategy.
According to the plan, Great Wall Motors will intensively launch over 10 new energy vehicle products by 2023, covering family sedan models and commuter vehicles. Among them, at least 7 hybrid products will be launched for family sedan models and at least 4 pure electric products will be launched for commuter vehicles.
At the "Great Wall Motors Intelligent New Energy Goods Conference", the newly released intelligent four-wheel drive hybrid technology Hi4 is an impressive leading technology supported by the "Forest Ecology".
Hi4 Leads the Technology Equality
The brand-new intelligent four-wheel drive hybrid technology Hi4 is like a deep-water bomb thrown into the chaotic price war, using the method of "technology equality" to create a way out amid the iron curtain of price war.
Hi4, the all-new intelligent four-wheel drive hybrid technology, H (Hybrid) stands for hybrid, i (Intelligent) stands for intelligent, and 4 stands for (4WD) four-wheel drive system.
It is a groundbreaking "ceiling" level hybrid technology created globally by Great Wall Motors, which will provide consumers with a "four-wheel drive experience, two-wheel drive price, four-wheel drive performance and two-wheel drive energy consumption".
Compared with the price war, Great Wall Motors would rather get close to user needs through technological innovation, bringing more value to consumers with "technology equality".
To be objective, consumers may pay less money in the price war, but they will never gain true value. With lower prices, the quality of products and services will be greatly reduced. Bringing real value to consumers through leading technology, achieving "more savings, longer ranges, and more safety" product experiences is what truly brings value to consumers.The value of the new intelligent four-wheel drive hybrid technology Hi4 lies in the "four-wheel drive equivalent substitution of two-wheel drive" and "optimal efficiency in all conditions with worry-free driving" among other hardcore advantages, which are particularly prominent.
Hi4 has achieved three major innovations – the new hybrid "dual-axis distribution" of the three power sources, the "new breakthrough" of the iTVC intelligent torque vector control system, and the "new height" of the electromechanical coupling transmission system – which includes two powertrains with a total output power of up to 340 kW, covering A-C class models.
The core components of Hi4's technical modules are all industry-leading. For example, the two hybrid-specific engines of 1.5L/1.5T have achieved the highest engineering thermal efficiency of up to 41.5% and reduced fuel consumption by 6%-7%, with the best current industry configuration.
Another example is the new Hi4 front-drive module assembly. The transmission efficiency can reach 98%, while realizing seamless shifting and intelligent mode switching. The rear-drive module assembly has a motor power of 150 kW and a motor efficiency of up to 96.5%. The low-impedance power battery with fast charging function can achieve more than 100 km of pure electric range.
Through the decoupling of front and rear dual motors and efficient dynamic adjustment, the new Hi4 expands the application scenarios of the traditional dual-motor series-parallel configuration, achieving an improvement in power, economy, and road adaptability under all conditions. Meanwhile, Hi4 has a nearly perfect 50:50 axle load distribution, enabling a higher overall vehicle performance.
At the same time, Hi4's iTVC intelligent torque vector control system can accurately identify real-time road conditions, and flexibly match the most suitable working mode in any travel scenario through 3 engines and 9 intelligent dynamic switching options, providing users with worry-free driving.
Counting the successive breakthroughs in technology by Great Wall Motors in recent years, we can appreciate the strength of the new intelligent four-wheel drive hybrid technology Hi4. In terms of hybrid technology, Great Wall Motors first brought lemon hybrid DHT to consumers, then released the Tank Overdrive Super Hybrid Architecture, and now brings the more advanced technology of Hi4, making Great Wall Motors the only automaker in the industry to have three sets of hybrid technologies.The Lemon Hybrid DHT is currently the most efficient and integrated hybrid system globally. However, Hi4 will outperform the Lemon Hybrid DHT.
"The new Hi4 has a unique technical platform with significant differences from DHT. They are incomparable," said Mu Feng, the CEO of Great Wall Motors.
Great Wall Motors aims to make their vehicles affordable, enjoyable to drive, fuel-efficient and capable of travelling long distances. They want all consumers to benefit from technological advancements and for the auto industry to return to its roots and the market to become rational.
Great Wall Motors' Contributions to Industrial Development
"Forest Ecology" and "New Intelligent Four-Wheel Drive Plug-In Hybrid Technology Hi4" are just a few examples of how Great Wall Motors has been steadfast in its dedication to intelligent new energy transformation and a long-term strategic approach in the face of the ever-changing market.
In fact, as the country leads the high-end equipment manufacturing and intelligent industries towards green development fast lane, Great Wall Motors has been at the forefront of strategic planning for a long time with a focus on key technology breakthroughs and support for innovative core technologies. They are pushing manufacturing towards high-end, intelligent and green transformation to support national industry development.
On the road to green development, Great Wall Motors has achieved full-chain independent research and development in electrification and invested in the entire industry chain of silicon carbide, firmly grasping the key to future development.
As one of the first companies to enter hydrogen energy research and development, Great Wall Motors has not only achieved technological landing and mass production but also has a 100% domestic production rate for core hydrogen power system components. They truly ensure that technology does not "strangle the necks of the Chinese people."
At the forefront of new energy technologies, Great Wall Motors has reached a world record-breaking 20.01% photovoltaic conversion efficiency, becoming the world leader in perovskite technology. This means that China will have a more significant say in energy and achieve a truly clean energy environment with lower costs, higher efficiency, and fewer carbon footprints.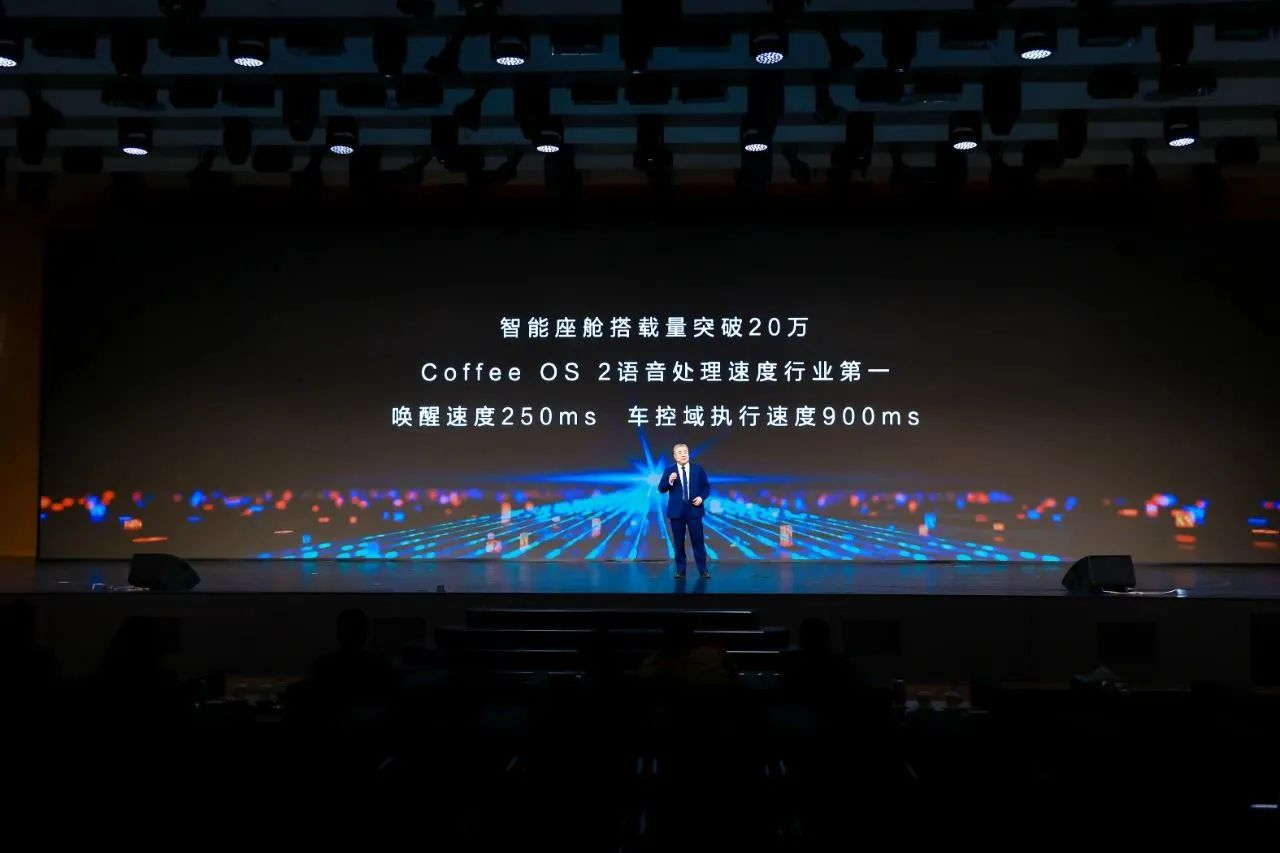 In the field of artificial intelligence, Great Wall Motors has the most efficient automated driving calculation platform in the world and the largest intelligent computing center for automated driving in China – MANA OASIS. At the same time, Great Wall Motors has extensively laid out in enterprises such as semiconductors, integrated circuit design, and chip manufacturing.
In an era where everyone wants to soar high, a strong sense of mission and responsibility enables Great Wall Motors to become a backbone enterprise in the Chinese automobile industry, standing firm against the tide of the times and insisting on the path of high-end development in national industry.
These missions and pursuits motivate Great Wall Motors to practice "grasping long-term trends and adhering to long-termism" at all times. Within Great Wall Motors, the enterprise spirit that has accompanied its birth and has never changed – "making progress every day" – also embodies the charm of adhering to long-termism, witnessing the growing strength of "resilience".
This article is a translation by ChatGPT of a Chinese report from 42HOW. If you have any questions about it, please email bd@42how.com.