On September 21, 2022, it was the day when our relationship fell apart. Despite my repeated complaints about the complex configuration options, your obscure naming conventions, the piano black interior trim that I dislike, and the fact that you made the thing I have been looking forward to optional, you still went ahead with it. It was as if you had never heard my voice, especially during that important ceremony where both of us knew the significance of the occasion.
You seem to care very little about me. Your mind is always preoccupied with whether your intelligent driving can become the best in the world, and whether your technological innovation can overthrow the world. You are so focused on the future world you are pursuing that you forget that I am the one who will ultimately accompany you on this journey.
Therefore, I decided to leave you and find a car that understands and respects me better.
On the night of the XPeng G9 launch event, users did not write down this confession, but the sales performance of the G9 since its launch has already shown that this is what they were thinking.
The wounds of emotions are always realized too late, such as the plummeting stock prices and sudden drop in sales, but they often serve as a wakeup call that leads to a change in behavior.
Today, six months later, XPeng has returned with the P7i, which they say is an attempt to win back the hearts of consumers with a more complete configuration and a price that is more practical than the old model at 249,900 RMB.
Speak in Plain Language, Offer Fewer Options, and Don't Make It a Futures Game
Speaking in Plain Language
When it comes to information dissemination, less is often more. The P7i has four configurations, a 50% reduction compared to the initial release of the P7, and a 33.3% reduction compared to the G9 release.
As for the naming of the high and low configurations, there is no longer any use of obscure riddles such as "X, P, E, N, G." Instead, the new tail suffixes of Plus/Pro/Max, which were introduced after the G9's secondary release, have been used. There is no need for explanation and it is concise and easy to understand.
Next is the price:
702 Pro version at 249,900 RMB;
702 Max version at 269,900 RMB;
610 Max performance version at 289,900 RMB;
610 Pengyi performance version at 339,900 RMB.
Fewer Options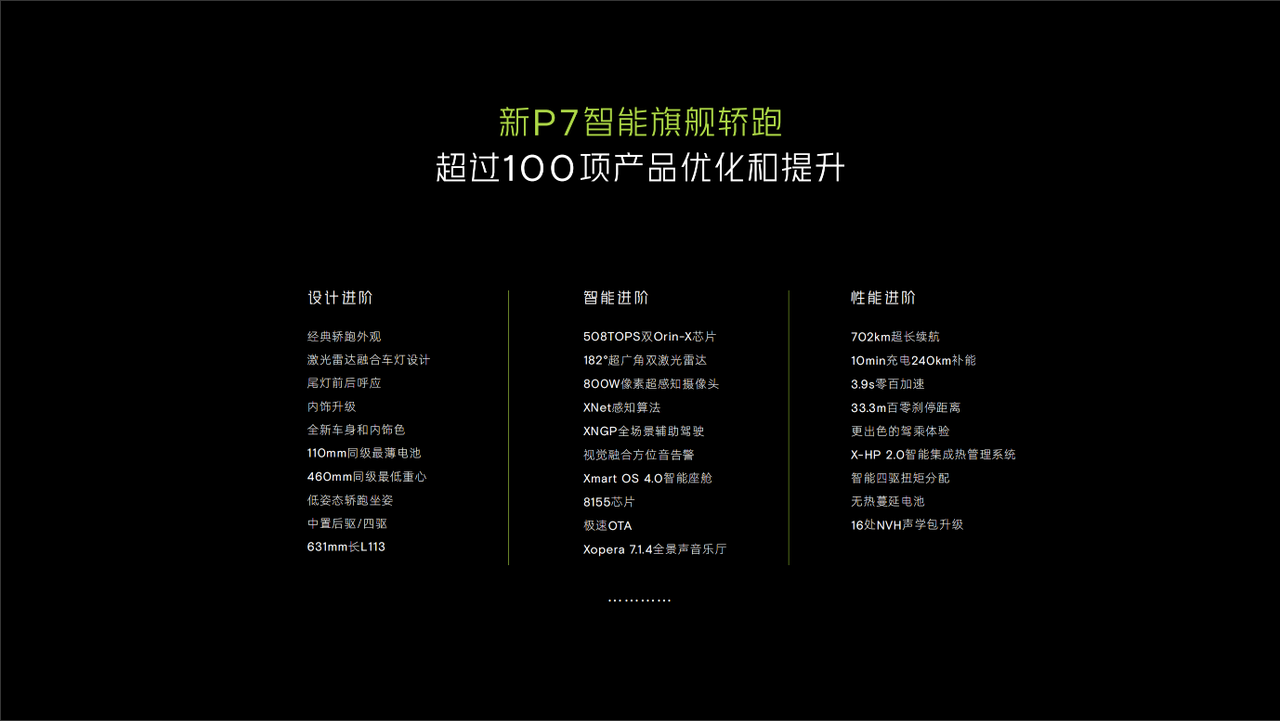 If you don't find the starting price of the P7i surprising, please remember that all models of the P7i come with the following nine standard features:
86 kWh ternary lithium battery
High current quick charging with a maximum power of 180 kW
Heated seats throughout the car, front seats ventilated, heated steering wheel
NGP highway navigation assisted driving, VPA memory parking
20 speakers, 7.1.4 channel, with a maximum power of 860W
Electric suction door
Brembo four-piston caliper
10-way valve heat pump
External discharge function
Many of these features are optional for other models at the same price range. If you want to pursue an even lower starting price, XPeng can cut these standard features and create a "bare bones" version of the P7i for only 220,000 yuan.
But if they did that, wouldn't XPeng become the same company that everyone has been criticizing?
We'll discuss the thought process behind feature selection at the end of this article, but for now, let's continue discussing the differences in features. First, let's examine the power and chassis:
Models 702 and 610 correspond to CLTC ranges of 702 km and 610 km respectively.
The rear-wheel drive model has a maximum power of 203 kW, a maximum torque of 440 N·m, and can accelerate from 0 to 100 km/h in 6.4 seconds.
The four-wheel drive model has an additional front asynchronous motor with a power of 153 kW, a total power of 348 kW, a maximum torque of 757 N·m, and can accelerate from 0 to 100 km/h in 3.9 seconds.
Front double wishbone / rear five link, the "Peng Wing" version comes with CDC shock absorbers.
These are basically the mainstream features for domestically produced electric vehicles at the same price point, and they are good enough. However, the key area of differentiation for the P7i is smart technology.
In terms of ADAS features, the P7i is top-of-the-line from the entry level:
Seven ADAS cameras, with the forward double-eye sensor at 8 million pixels
Four panoramic cameras, one in-car DMS driver monitoring camera
Five millimeter wave radars
12 ultrasonic radars
The Pro version equipped with this hardware has strong basic assisted driving capabilities, as well as several advanced functions that are currently available such as highway assisted driving with navigation, and VPA memory parking.The difference between the Pro and Max versions lies in the assisted driving:
Pro features a single Orin-X (254 Tops), while Max has double Orin-X (508 Tops);
Max has two additional Sentech M1 LiDARs, providing stronger 3D perception of the surroundings;
Max supports NGP urban navigation-assisted driving, LCC-L lane-keeping assist enhanced edition, and VPA-L parking memory parking assist enhanced edition.
Apart from hardware, P7i's software algorithms have also made significant progress. It adopts the XNet next-generation perception architecture, supporting XNGP navigation-assisted driving that does not heavily rely on high-precision maps. The vehicle can generate its own "high-precision maps" in real-time using its powerful perception hardware.

Before the release of P7i, we experienced the LCC-L function under the new software architecture in Guangzhou. P7i already can pass through straight road crossings without lane markings stably and normally under moderate traffic conditions, and recognize traffic lights to complete red and green light starts and stops with little intervention, even without high-precision maps.
No Futures
XPeng Motors has clearly stated that the urban navigation-assisted driving function will be launched in Guangzhou, Shenzhen, and Shanghai in March.
In other words, theoretically, when P7i owners in these three cities leave the delivery center, they will be able to use the urban NGP function right away.
Similarly, the in-car system is also standard with Xmart OS 4.0, and owners no longer have to wait for a major update of the car system like early P7 owners did before being able to use the full range of intelligent cockpit features.
P7i achieves the "No Futures" advantage with its core long-board functions.
Moreover, P7i has already arrived at dealerships, and customers can not only experience the product statically but also test drive it dynamically. The first batch of deliveries will also begin soon.
Don't Forget XPeng FriendsThe new user benefits for P7i are simple but useful:
Worry-Free Charging: Four years of free charging for the first non-commercial car owner (1,500 kWh per year);
Comfort Upgrade: Free upgrade to Denon original sound system (worth 6,000 RMB);
Giving free charging quota is a traditional benefit of XPeng, and the benefit has been reduced from lifetime free charging for the first owner to four years free, apparently XPeng is more cautious in granting this benefit than before. The free upgrade to Denon sound system is a good initiative.
The deadline for these two benefits is April 30th, and XPeng has given consumers more than a month and a half this time.
XPeng has also prepared repurchase and replacement benefits for its old users and trade-in users:
Purchase of P7i can get lifetime free charging of 1,500 kWh per year;
XPeng car model replaced by P7i can receive lifetime free charging of 1,500 kWh per year + 100,000 XPeng points;
XPeng car model users who use other brand car models to replace for P7i can receive lifetime free charging of 1,500 kWh per year + 60,000 XPeng points;
Users of other brand car models who use them to replace for P7i can receive 60,000 XPeng points.
Currently, only four versions of the old P7 model are available for sale on the XPeng official website. Among them, the 625 E version, which is priced the same as the P7i 702 Pro version, has completed its mission, and no one will choose this lower-configured version. As for why XPeng keeps it on the official website, except for highlighting the cost-effectiveness of the new model, I can't think of any other reason.

"Yes, But…" Faced by P7i
P7i's main price range is undoubtedly below 300,000 RMB, and it needs to face old rivals such as Tesla Model 3, BYD Han, and Jinko 001, which will rise after 2022.
Although Model 3 is a product that has been on the market for more than 5 years and has "no novelty" for most consumers, the price of the standard range version has dropped to a historic low of 229,900 RMB after a large price cut at the beginning of January, which is very attractive.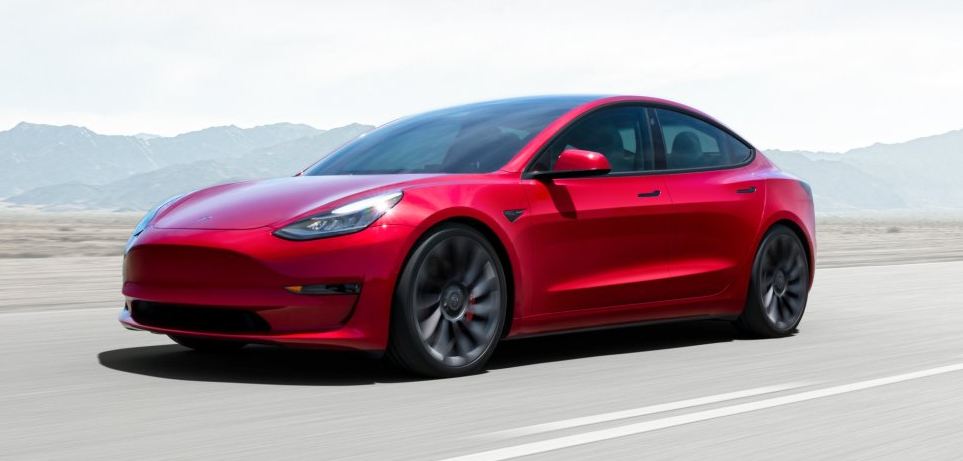 Compared with the standard range version, P7i at the same price undoubtedly has "longer range, more luxurious interior design, better localized infotainment system, and navigation assistance driving that understands the Chinese context." Tesla's advantage lies in "stronger power and better handling." As for the four-wheel-drive version, Tesla still has certain advantages in power and handling, which happens to be the most important point for consumers who buy four-wheel-drive models.
BYD Han may be "the most luxurious car model in BYD's history." Whether it is in appearance or interior design, it has opened up a significant gap with previous BYD models. Although the Han is not BYD's main product, its release has lifted BYD's "brand image from a 'ride-hailing brand' to a completely different level," and BYD's sales have been unstoppable since then.
Thanks to the positioning of mid-to-large-sized sedans, the larger dimensions of Han compared with P7i give it a clear advantage in interior space. However, it is precisely because of its larger body size and front-wheel drive form that P7i is still more superior in terms of driving pleasure. In terms of intelligence, P7i also has overwhelming advantages. In terms of interior design style, Han leans toward traditional luxury, while P7i adds a bit of luxury to the original simple tech style, and the audiences of the two are obviously different.Although the JiKe 001 was officially released in 2021, a series of size issues with the vehicle gave it a bad reputation. It wasn't until July 2022 when JiKe announced that all 001 models would be upgraded to the 8155 chip for free that the vehicle truly experienced a "bottoming out and rebound." With the gradual resolution of various issues, the sales of the JiKe 001 gradually surpassed those of the old P7 model. With the release of the redesigned model in 2023, the JiKe 001 has truly evolved into a complete vehicle.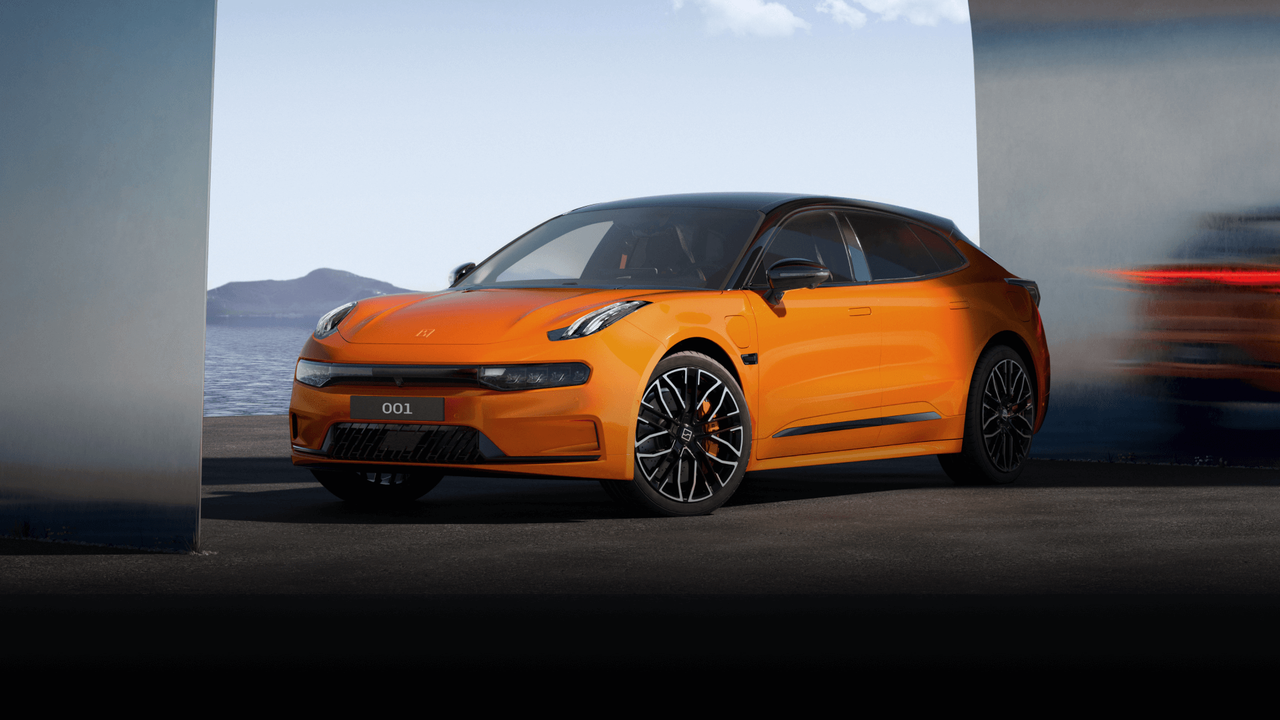 As a representative of domestic hunting-style coupe SUVs, the advantages of the JiKe 001 are its huge interior space, which is obviously superior to the P7i in terms of residential property. Unlike the Han, thanks to the strong vehicle mechanical tuning capabilities of Geely Group, the JiKe 001 has better vehicle handling than the P7i, while the P7i's advantage still lies in intelligence. Meanwhile, due to the price increase after the 001 redesign, the P7i's cost-effectiveness is undoubtedly higher.
The past six months for XiaoPeng Motors
Last year's release of the G9 was supposed to be an important moment for XPeng in terms of brand exploration. However, the confusing product SKU and inexplicable naming conventions brought up entirely different discussions about the G9 model instead. This prompted an emergency renaming and pricing of the product by XPeng's official team on the second day, which was unprecedented in Chinese automotive history.
From these events, it is not difficult to see that there are obvious problems with coordination among various departments of XPeng. It seems that each department is only responsible for its own tasks, and there is no high-level person or department to effectively review the results when they are integrated together. It wasn't until after the release conference that the upper-level management realized the extent of the overwhelmingly negative evaluations online, which prompted emergency adjustments.
After the painful failure of the G9, XPeng finally began to engage in major organizational adjustments. First, all product SKU versions of its entire lineup were streamlined last year, and then in January of this year, Wang Fengying, who had worked at Great Wall Motors for over 30 years, was officially appointed as the company's CEO, responsible for product planning, product portfolio management, and sales operations. In the past two days, it was also revealed that there has been a massive turnover of executives, with several high-level executives leaving or being reassigned. This clearly shows that XPeng is seriously shaking things up this time.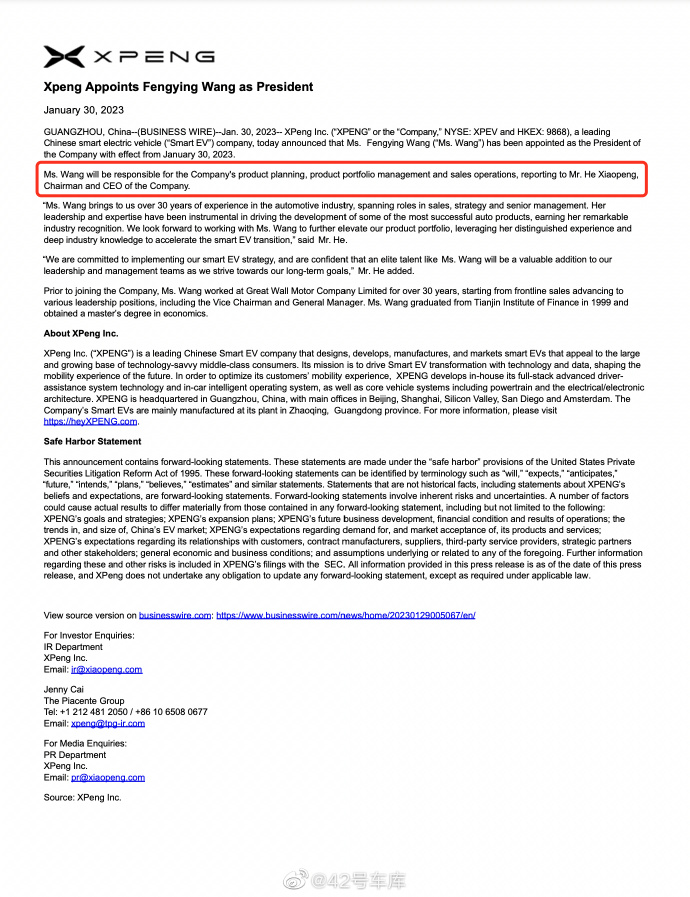 The publicity rhythm of P7i is quite different from the normal pace of G9, revealing static and dynamic experience contents and announcing the price in only about one week. Although the appearance, interior, and parameter information was revealed to the public in advance due to the early release in the European market in 2.3, compared to G9's promotion period of up to six months, P7i has made great progress.
Perhaps because there is already too much information about P7i online, for this rare occasion, XPeng did not hold a press conference but directly launched P7i on the official website. Presumably, XPeng thought that everyone would only care about the price during the press conference, so it would be better to tell everyone directly.
Surprisingly, the day before P7i was released, two price configuration tables of P7i were uploaded to Weibo. Although it appears that the optional benefits differ greatly from the actual ones, the price difference is negligible. It is still unknown where this price information came from, but such similar prices must raise doubts about whether there was a leakage issue within XPeng.
As an old P7 car owner, the cost-effectiveness of P7i even makes me envious, but the opinions on XPeng's group and online are completely opposite, more like "XPeng's pills". This is because the actual price is 10,000 yuan more expensive than the leaked version yesterday.
The resulting mismatch of expectations greatly influenced the first impression of P7i in potential customers' minds, transforming it from a cost-effective choice to a conflict-ridden and disappointing state.
This unwarranted disaster reveals a bigger issue—how to salvage a broken relationship.
The classic aspect of the story "the boy who cried wolf" lies in telling us that the "expectation" that is betrayed will eventually lead to huge losses.
Starting with G9, the "broken relationship" between consumers and XPeng wasn't the beginning, but the outbreak. As mentioned at the beginning, XPeng has repeatedly let consumers down in the past, and half of the efforts in spreading P7i today were hindered by the "higher-than-expected price".
To salvage the relationship, it is nothing but re-establishing trust.
P7i's efforts in simplifying the SKU, naming it intuitively, and adopting more reasonable standard equipment strategies are all about re-establishing trust, and we appreciate and look forward to these changes.However, there is still one thing that needs to be done.
After the 21-year-old GEEkoo 001 car audio incident, the GEEkoo team decided to upgrade the 8155 chip for free.
After the negative publicity of the L9's suspension in 22-year, the LI team chose to extend the warranty of the suspension.
Now the public opinion crisis has fallen on XPeng's head, and I hope that XPeng can make the right and decisive choice this time.
Final words
Returning to product, P7 was once one of the best pure electric sedans in the 200,000 yuan price range, and now P7i has taken over this title. This is reflected in features such as larger battery, a brand-new three-electric system, significantly improved charging power, and electric suction doors as standard across the range, as well as improvements in areas such as physical trunk switches, improved front and rear seats, and redesigned wireless charging, which have been criticized by countless users.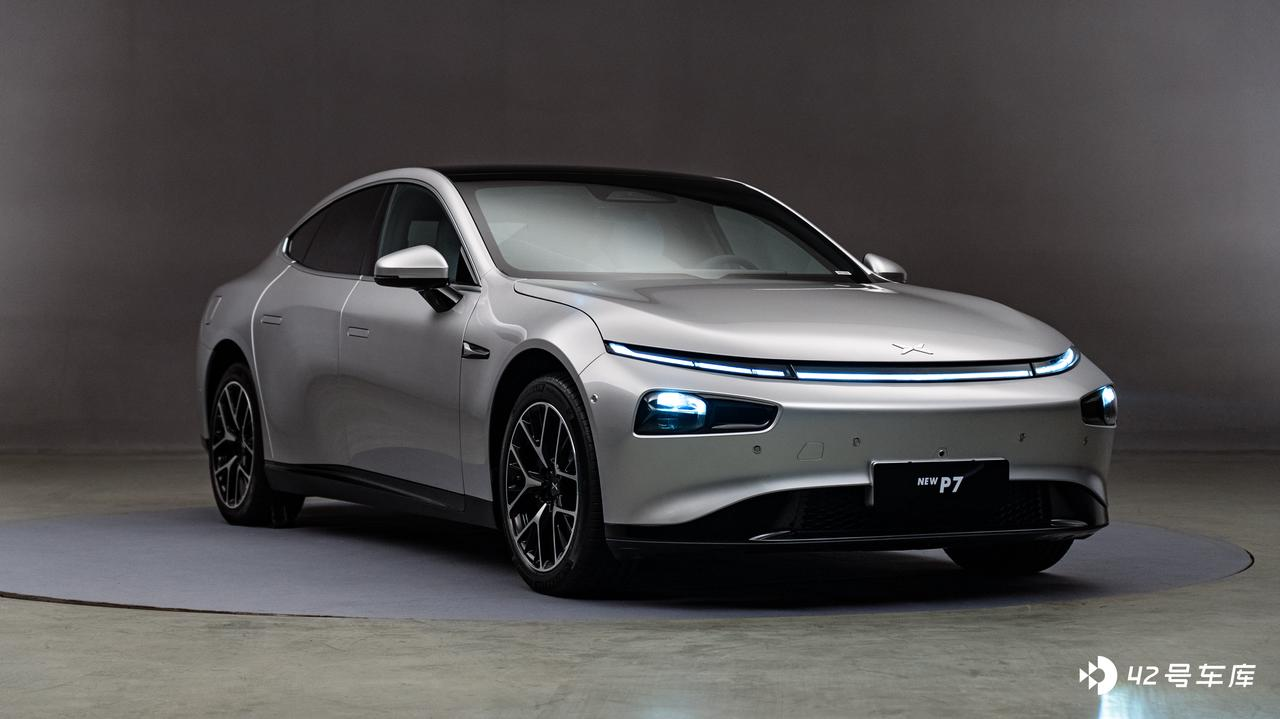 But today's market environment is no longer the same as it was in 2020. In today's world where things are different from people, P7i is "no longer the red-hot chicken at this price point."
In addition to the competitors mentioned above, in the second half of this year, P7i will face "the redesigned Model 3" and "GEEkoo's B-class sedan." The golden sales period for P7i is only short, only half a year.
And this may be the last window for XPeng to win back consumers' love.
This article is a translation by ChatGPT of a Chinese report from 42HOW. If you have any questions about it, please email bd@42how.com.