Author | Nie Yiyao
On July 24, 2020, a mini electric car priced at only 28,800-38,800 yuan was launched. It is the Wuling Hongguang MINIEV, known as the "people's vehicle".
This good, easy to drive, easy to park, easy to use, and affordable Wuling Hongguang MINIEV quickly became popular, allowing SAIC-GM-Wuling to occupy an absolute discourse power in the mini electric car market. It only took 2 years for sales to exceed 1 million.
More than two years later, on March 2, 2023, SAIC-GM-Wuling, released a new pure electric small car that jumps out of Wuling Hongguang MINIEV series, but obviously will undertake the heavy responsibility of breaking through Wuling Hongguang MINIEV, which is Wuling Bingguo.
At the grand launch event, SAIC-GM-Wuling carefully explained the advantages of this new car in terms of styling, space design, product configuration, safety technology, and service capabilities, but did not disclose its price, not even the pre-sale price. Obviously, the official has great expectations for Wuling Bingguo, and the more highly anticipated it is, the more cautious they are.
A Pure Electric Fine Car that Carries the Wuling Brand Upward
Unlike Wuling Hongguang MINIEV, all the information about Wuling Bingguo reveals it is a large space, five-door, pure electric fine car.
Initially, the popularity of Wuling Hongguang MINIEV not only quickly swallowed up the low-speed electric car market, but also attracted many big factories to enter the field of mini electric cars.
In the development of new energy vehicles in China, where micro electric cars and electric cars over 300,000 yuan are in a dumbbell-shaped structure, internal competition in the micro electric car field has become increasingly fierce. Wuling Hongguang MINIEV has also derived series models that cover price range of 30,000-100,000 yuan from the initial one model with three versions.
However, Wuling Hongguang MINIEV is positioned as too entry-level, and even limited editions such as "GAMEBOY" and convertible versions priced over 70,000 yuan and 90,000 yuan respectively have only slightly improved the brand premium. The majority of sales are still less than 50,000 yuan per vehicle.
Wuling Bingguo is an attempt by SAIC-GM-Wuling's pure electric products to break through its previous limitations.
The body size of Wuling Bingguo is 3,950 mm long × 1,708 mm wide × 1,580 mm high, and its wheelbase is 2,560 mm. Compared with Wuling Hongguang MINIEV, whose length is within 3 meters, Wuling Bingguo has a significant advantage in size in the Wuling pure electric product system, and its large space is emphasized by the official.
The official introduction states that Wuling Mini EV adopts a front-wheel-drive layout, which expands the interior space: the front-row through-design with the main and co-pilot brings a more accessible and spacious driving experience to passengers; the rear seats support 5/5 independent folding, and when folded down as a whole, the trunk space can reach 790L, accommodating 7 20-inch carry-on suitcases, giving users the ultimate "large space". In addition, the unique sunken trunk developed by Wuling Mini EV forms the core product power of the "upper and lower layer" large space layout to meet the user's multi-scene car use needs.
Wuling Mini EV has two types of endurance, 203km and 333km, which are available on 5 models. In terms of supplementary energy, it supports three charging modes: DC charging station, AC charging station, and household socket. Under DC fast charging, the battery level can be charged from 30\% to 80\% in just 35 minutes.
Compared with the simple configuration of the Wuling Hongguang MINIEV, Wuling Mini EV is equipped with 18 functions, including the LingOS intelligent system, senseless entry and senseless start, full-scenario OTA, and remote control Bluetooth key, to enhance the user's travel and driving experience.
In addition to these, the retro styling and fresh color matching of Wuling Mini EV seem to convey its intention to create a boutique car like Euler Good Cat. However, Wuling, a brand that has always been "popularized," may not be able to present the height that a fine car should have in the details of the product. Nevertheless, it is still the first fine car born in the Wuling pure electric system.
Can Mini EV replicate the sales volume of Hongguang MINIEV?
Wuling Hongguang MINIEV rose in the opportunity of the strong demand for short-distance travel of new energy vehicles. At that time, no matter whether it was foreign, independent, or joint venture brands, the mainstream voice was all about seizing the mid-to-high-end new energy vehicle market. SAIC-GM-Wuling's "going against the grain" actually promoted the success of Hongguang MINIEV and its unshakable position in the micro-electric vehicle field.
With the rise in raw material prices, the withdrawal of national subsidies for new energy vehicles, and the rapid increase in the penetration rate of new energy vehicles, the development of the micro-electric vehicle market has gradually declined. Industry analysts also predict that new energy vehicles will gradually return to the mainstream price range of 150,000 to 300,000 yuan.
In this way, the market for electric vehicles priced below 100,000 yuan may no longer have room for growth. For brands that are still plunging into this field, competition will undoubtedly become more intense.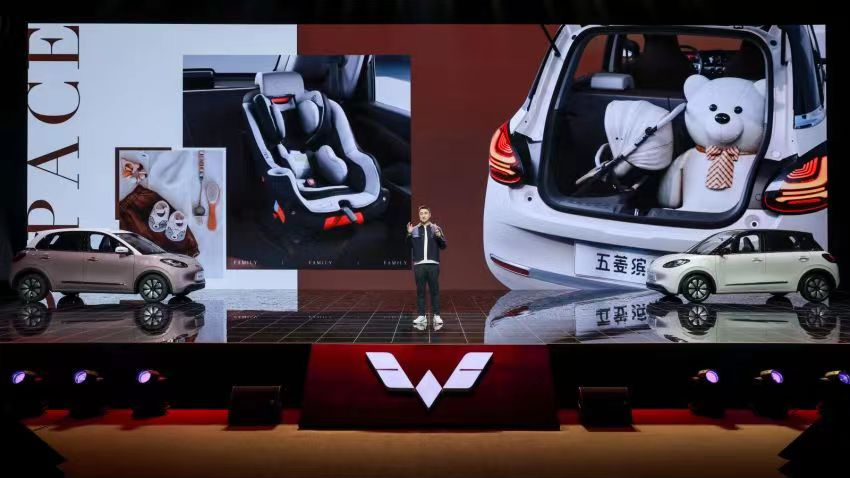 However, currently the products competing in the market of electric cars priced under 100,000 yuan are mostly micro electric cars. Thus, the products above the Wuling Hongguang MINI are competitive by using larger space and higher configuration to win the market of electric cars priced under 100,000 yuan. Of course, the premise is that the final price of Wuling Hongguang MINI must not exceed 100,000 yuan.
However, not only Wuling Hongguang MINI has thought of this method. Recently launched Jiangnan U2 and upcoming BYD Haiguo are also the competitors that Wuling Hongguang MINI will face.
All three cars have very close data on paper. Jiangnan U2 has a price, range and functional configuration advantage. Zotye Automobile also calls out the slogan of "Seizing the commanding heights of micro electric cars". The price and functional configuration of BYD Haiguo have not yet been announced, but its strong reputation is an absolute advantage.
Wuling Hongguang MINI also has its own advantages. By now, Wuling Hongguang MINI has attracted a large number of young people. Data from SAIC-GM-Wuling shows that the user group of Wuling Hongguang MINI is comprised of 40% users aged between 20-30, 37% users aged between 30-40 and 60% female car owners. As long as these users buy Wuling Hongguang MINI or attract others to buy it, the sales of Wuling Hongguang MINI cannot be ignored.
Wuling knows how to satisfy the needs of young people in a timely manner, which is favored by young people who are challenged by internal turmoil. These young people will inevitably convert or drive the sales of Wuling Hongguang MINI, becoming its unparalleled advantage.
This article is a translation by ChatGPT of a Chinese report from 42HOW. If you have any questions about it, please email bd@42how.com.