A new car model from "Zeekr" shakes up the Chinese automotive market!
Author: Rezz
If you have some knowledge of the automotive industry, you might have guessed the price range of a car model that features front double-wishbone rear five-link suspension, a length of five meters and a wheelbase of three meters, along with an 8155 chip, a 3-panel connected display, 28 intelligent driving sensors, full-domain OTA, frameless doors, and NAPPA leather seats. However, for "Zeekr", this is a car that you can buy for a price of 150,000 to 200,000 CNY.
At last week's new product launch event, "Zeekr" used the tagline "Choose "Zeekr", with price as your reference", which has once again put the entire industry at odds with the so-called price killer. After all, with 150,000 to 200,000 CNY, traditionally, you could only buy the following configuration:
In this year's extremely difficult car sales market, this announcement has added insult to injury for the already highly competitive automotive industry. Furthermore, this price range represents 18% of the main consumer market.
"Zeekr" aims to become a new anchor point for car prices within this price range. What is a price anchor point? Simply put, before making decisions or judgments, people easily become influenced by the information they have previously been exposed to. When Chinese consumers naturally think that mid-sized sedans and SUVs should cost more than CNY 200,000, "Zeekr" has broken this price anchor point. To outsiders, their move seems difficult, and even if the company succeeds, there is a feeling of "heroic desperation."
Yet, with their in-house R&D, "Zeekr" has achieved this goal. Zhu Jiangming gave an example: "Others who use the 8155 chip might only include one cabin function, but we have integrated four cameras with a 360-degree view and included the Agama sound system's tuning and power amplification, enabling us to save more than 1,000 CNY from our competitors all at once. Through technological capabilities and innovation, we have comprehensively reduced costs to gain a competitive advantage."
In the classic 4P marketing theory, the price is the most difficult decision to make. On the one hand, marketing has become extremely segmented and complicated, and the pricing strategy, which is a global strategy, has been fragmented, making it difficult to organize.
It is said that "Zeekr" discusses cost-cutting measures not on a monthly or weekly basis, but on a daily basis to save every penny.On the other hand, the price itself is full of strangeness, not simply based on cost and competition, but involves mass psychology factors. However, LingPao does not play with consumer psychology, acts as a contract manufacturer for users, does not overprice, does not use sub-SKUs to guide consumers to buy high-end and optional equipment, and truly achieves price fairness.
Why can LingPao become the "Car Circle Reference News"?
Good products are not just talked about, but are proven by comparison. LingPao has the determination to exchange price and technology for market share. We have found a list of the best-selling cars on the Chinese car market in the past year, and selected the most representative models priced between 150,000-200,000 yuan for comparison.
If you are a college student with a car-buying demand but limited savings, practicality and comfort may not be the first priority, and the LingPao T03 may appear on your list of choices. LingPao T03 is known as the best electric car under 100,000 yuan, and 100,000 yuan is also the most common budget that ordinary college students can afford to buy a car.
Compared with the MINI EV of Wuling Hongguang, it comes standard with an L2 intelligent driving assistance system, the only whole-car OTA upgrade in the same level, and also supports the face recognition to start the car without any sense of manipulation. Although the higher-priced BYD Dolphin and Volkswagen ID.3 are twice as expensive, the brand influence of large manufacturers and traditional car companies cannot be underestimated in the small car market. A better three-electric system, chassis texture and quality control calibration are a guarantee of big sales.
If you are a city white-collar worker with a demand for buying medium and large-sized cars, you will find that the LingPao C01 priced at 149,800 yuan is the cheapest medium and large-sized car. Compared to other models like BYD Han, Hai Bao, and Mercedes-Benz EQE that are more expensive than it, the LingPao C01 is not only bigger than them, but also has more features such as double-layered glass, massage seats, intelligent heating and ventilation, adjustable rear seat angles, and various scene modes that fit the needs of Chinese car owners. As the leader of pure electric medium and large-sized cars, other models like Zeekr 001, NIO ET7, and IM L7 are also more expensive.If you are a middle-aged tech enthusiast with children, the LINGPAI C11 extended-range version might become your biggest helper in curing your midlife crisis. At the age of over 30, the budget may not be looser, and you may consider tools with good value for money and functionality. However, who says that your own and your family's needs cannot be satisfied at the same time? LINGPAI C11 extended-range version can do it: 300,000 yuan can be divided into eight parts.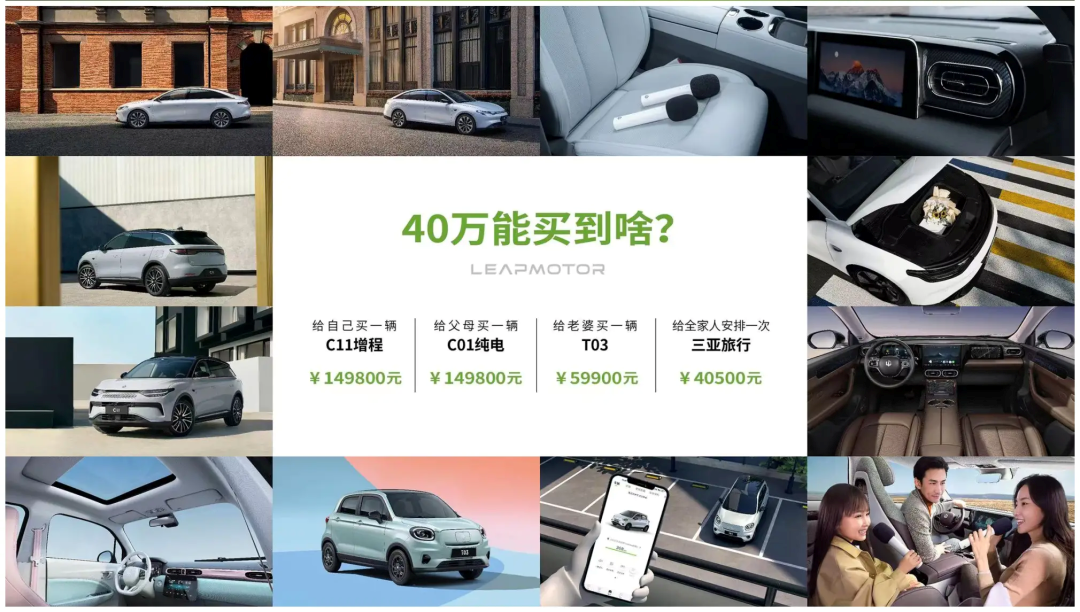 Indeed, regardless of cost-effectiveness, product strength, or the cost of use, LINGPAI C11 extended-range version has performed quite well, but I believe we share the same question: what is the magic of BYD Song PLUS DM-i that sold 400,000 units in the past 12 months? For car companies, this question has always existed.
BYD, blown up the most online and sold the best in reality, has gradually become a target of rivals. What is its biggest advantage? It is really high cost-effectiveness and product strength.
Then, how to choose between these two cars when they are put together?
Users who choose new energy vehicles are most concerned about the vehicle's endurance capacity: a long pure-electric endurance mileage means that the cost of using the car for urban commuting is lower, and there are fewer charging times. The large-capacity battery of LINGPAI C11 with an extended-range engine can reduce the frequency of extended-range engine usage, and maximum pure-electric driving can meet daily commuting needs. The overall endurance mileage determines whether the vehicle is capable of long-distance travel.
The CLTC pure-electric endurance mileage of LINGPAI C11 extended-range version is 180 km and 285 km, respectively.
For most people, the ultra-long pure-electric endurance of hybrid cars is sufficient to meet their one-week commuting needs. They can use pure-electric drive for commuting, and if they do not travel long distances, the engine can "disappear" throughout the journey without starting.Assuming a weekly commuting distance of 200 km, the electricity consumption of Zero Run C11 extended range model is 19.7 kWh/100km. With the household electricity fee charged at 0.5 yuan per kilowatt-hour, the weekly commuting electricity cost is approximately 20 yuan. This is barely enough to cover even one takeaway meal, illustrating its impressive cost-effectiveness.
Furthermore, Zero Run C11 has a comprehensive range capability of over 1000 km, which means one can travel without recharging on a one-way long distance trip. This outperforms many traditional gasoline vehicles and dispels concerns about driving long distances with new energy vehicles. Additionally, Zero Run C11 only requires 92-octane gasoline, while competing models such as the WENJIE M5, TuYue, and RAV-4 require 95-octane gasoline. This inadvertently increases the cost of ownership.
On the other hand, BYD's Song PLUS DM-i only has a pure electric range of up to 110 km. If one forgets to charge it, the fuel consumption rate will significantly increase, resulting in substantially higher cost of ownership. Assuming charging the vehicle once a week and driving 10,000 km in a year, gasoline for 92-octane costs 8 yuan per liter. For Zero Run C11, pure electric driving is sufficient for basic urban commuting, with an annual cost of 985 yuan. In contrast, for Song PLUS DM-i, half of the distance can be driven using hybrid technology, with an electric cost of 468 yuan and a gasoline cost of 2080 yuan, for a total of 2548 yuan.
However, the overall fuel consumption rate of BYD Song PLUS DM-i is lower than that of Zero Run C11, with a fuel consumption rate of 4.5 L/100 km for a 4.7-meter SUV, much lower than the 6.8 L of Zero Run C11. Based on user feedback, BYD Song PLUS DM-i also excels in electric consumption, with a daily consumption rate of 12-15 kWh/100 km. Although Zero Run C11 has lower electric consumption among extended range models, if one frequently uses gasoline due to long-distance commuting, the low-energy consumption of BYD Song PLUS DM-i may be more advantageous. However, if one drives at most 300-500 km per week with charging availability at home, Zero Run C11 may be a better choice.
If it's vehicles with the same level of fuel, the cost of using the car five to eight years later will only be more different:
Looking at the space again, the Zero Run C11 Extended Range has a larger size and exterior than the Song PLUS DM-i. The length, width, and height of Zero Run C11 Extended Range are 4780/1905/1675mm, and the wheelbase is 2930mm, while the Song PLUS DM-i has a length, width, and height of 4705/1890/1670mm, and the wheelbase is 2765mm. It can be seen that Zero Run C11 Extended Range has more advantages in "four dimensions" and the interior space is also larger than the Song PLUS DM-i.
Of course, there are also many advantages of BYD Song PLUS DM-i. As a car company that was the first to use DM-i technology to bring down the price of hybrid cars, and having long-term large-scale production and self-developed battery supply chain system, BYD has a competitive advantage in price and cost among its peers. After market verification by a large number of users, BYD's quality and reputation are well recognized by consumers. Comparing with BYD is a must when selecting new energy vehicles, and it is also a curse that Zero Run wants to break.
In terms of configuration, the Zero Run C11 Extended Range is even "entry-level with top-level configuration," equipped with hidden electric door handles, frameless electric suction doors, face recognition, tri-screen and self-developed intelligent cockpit, and intelligent driving assistance. In terms of comfort configuration, leather steering wheel, 10.25-inch LCD instrument panel, imitation leather seats, main and co-pilot electric adjustment, 12.8-inch central control screen, and 10.25-inch co-pilot entertainment screen can basically crush the Honda CR-V, which is considered to be the "blank version" of the joint venture sales champion, as well as other joint venture models.
As Zero Run said, using the standards of three to four hundred thousand to build cars at the level of one to two hundred thousand brings users a superior driving experience.
"`

The most important thing is that after reaching 149,800 units, Zero Run still has the opportunity to continue to bet and see the cards in the face of potentially more brutal price wars. Actively seeking opportunities to go international, the C01 range extender in mid-year and the upcoming global B-series models next year, including SUVs, sedans and even MPVs, will benefit from "self-research on a global scale," and Zero Run's new platform cost control will be better.
The logic behind the launch of 23 Zero Run models is not simply to reduce prices, but to split configurations, add small-capacity battery packs and entry-level models to widen the price range of product coverage. The pricing logic for the 23 models reflects Zero Run's high-level expectations for the auto industry:
The auto industry is an industry that values economies of scale

Electric vehicles are also affected by Moore's Law

Tesla will not stop lowering prices
For Zero Run, this year is crucial and difficult. In such a fiercely competitive market environment, traditional brands can exchange profits for volume, but as a "user contract factory," Zero Run already has extremely compressed costs to benefit users, and it also faces fierce attacks from Tesla, new forces and traditional brands. Where is the confidence and logic?
"Self-research on a global scale," scale, and time can level cost. Instead of passively responding to competitor's price cuts, it is better to take the initiative to adapt to the new rules of the industry. There is a popular saying in recent years that "sincerity is always a killer." The arrival of Zero Run's 23 models across the board, from "bucket cars" to "iron barrel cars," speaks volumes about Zero Run's sincerity and ability with its products.
Instead of comparing Zero Run with certain companies, it is better to see it as Zero Run's own battle.
"`
This article is a translation by ChatGPT of a Chinese report from 42HOW. If you have any questions about it, please email bd@42how.com.