On the first day of March 23rd, Leapmotor updated its three existing models and announced their annual prices at once during the new product launch event. At the same time, the extended-range version of the Leapmotor C11 was also released. Although there were not many changes made to the products themselves, the event served as a warning that Leapmotor is going to launch a price war.

All three existing pure electric vehicles get a price drop
Starting from 2022, as the price of battery raw materials continued to rise, car companies were forced to increase the prices of their pure electric products. With the reduction of national subsidies for pure electric vehicles in 2023, the selling price of these vehicles once again saw an upward trend.
For Leapmotor, both the A00-class T03 and the midsize SUV C11 saw significant price hikes. With battery prices stabilizing in recent times and the price reductions on Tesla Model 3/Y, Leapmotor's competitors caught them off guard.
Therefore, in 2023, Leapmotor's first move in the field of pure electric vehicles was to comprehensively lower prices and restore their cost-effectiveness.
Leapmotor T03
The price of the 2023 Leapmotor T03 ranges from 59,900 yuan to 89,900 yuan, with four configurations and three battery capacities.
New additions include an entry-level 200 km range version and a 310 km version, which correspond to battery capacities of 21.6 kWh and 31.9 kWh, respectively. The 403 km version remains unchanged with a 41.3 kWh battery. All aforementioned batteries are made of lithium iron phosphate.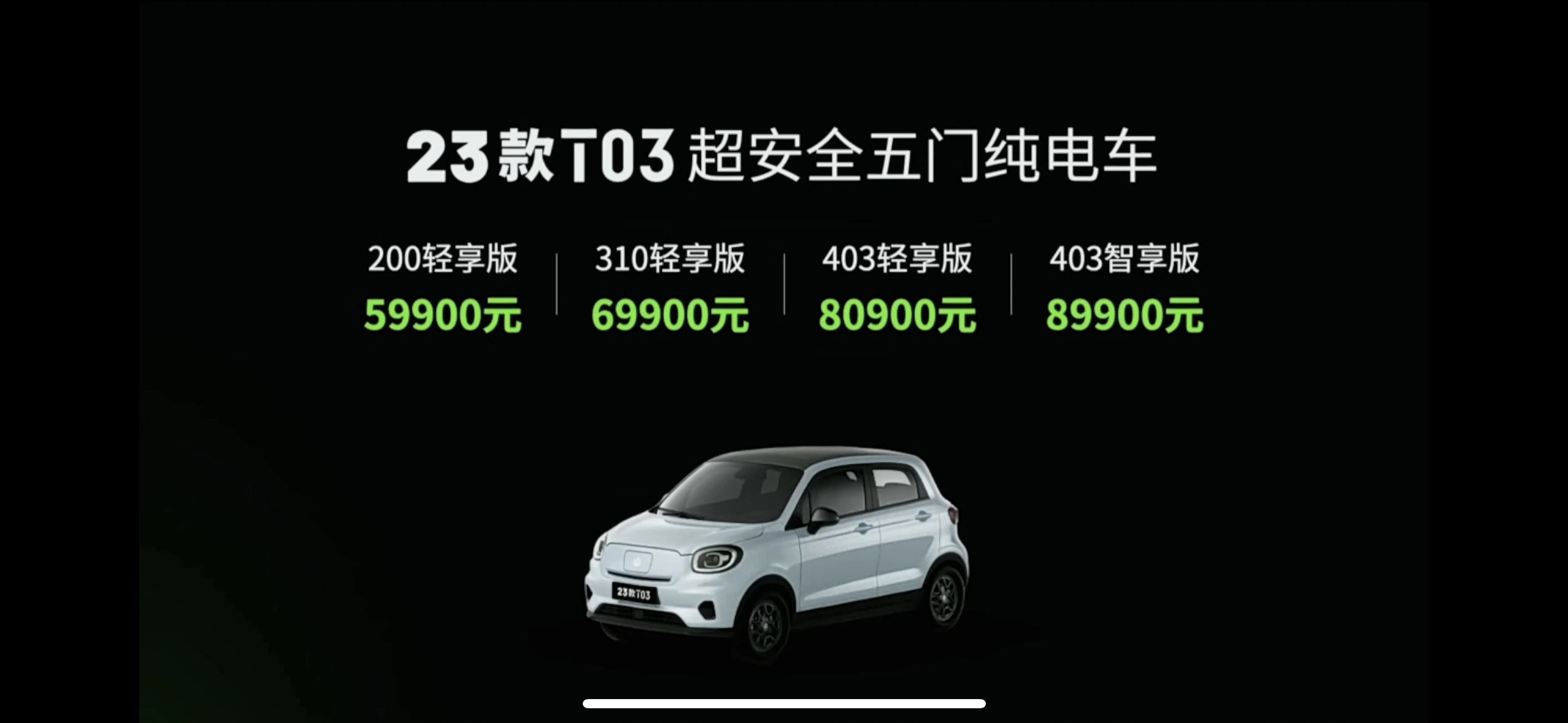 In terms of motors, the 200 km range version is only equipped with a 40 kW small motor, which is suitable for daily commuting. The 310 km version has a slightly upgraded 55 kW motor, while the 403 km version still has an 80 kW motor. It is worth noting that only the two versions of the 403 km range have DC fast charging.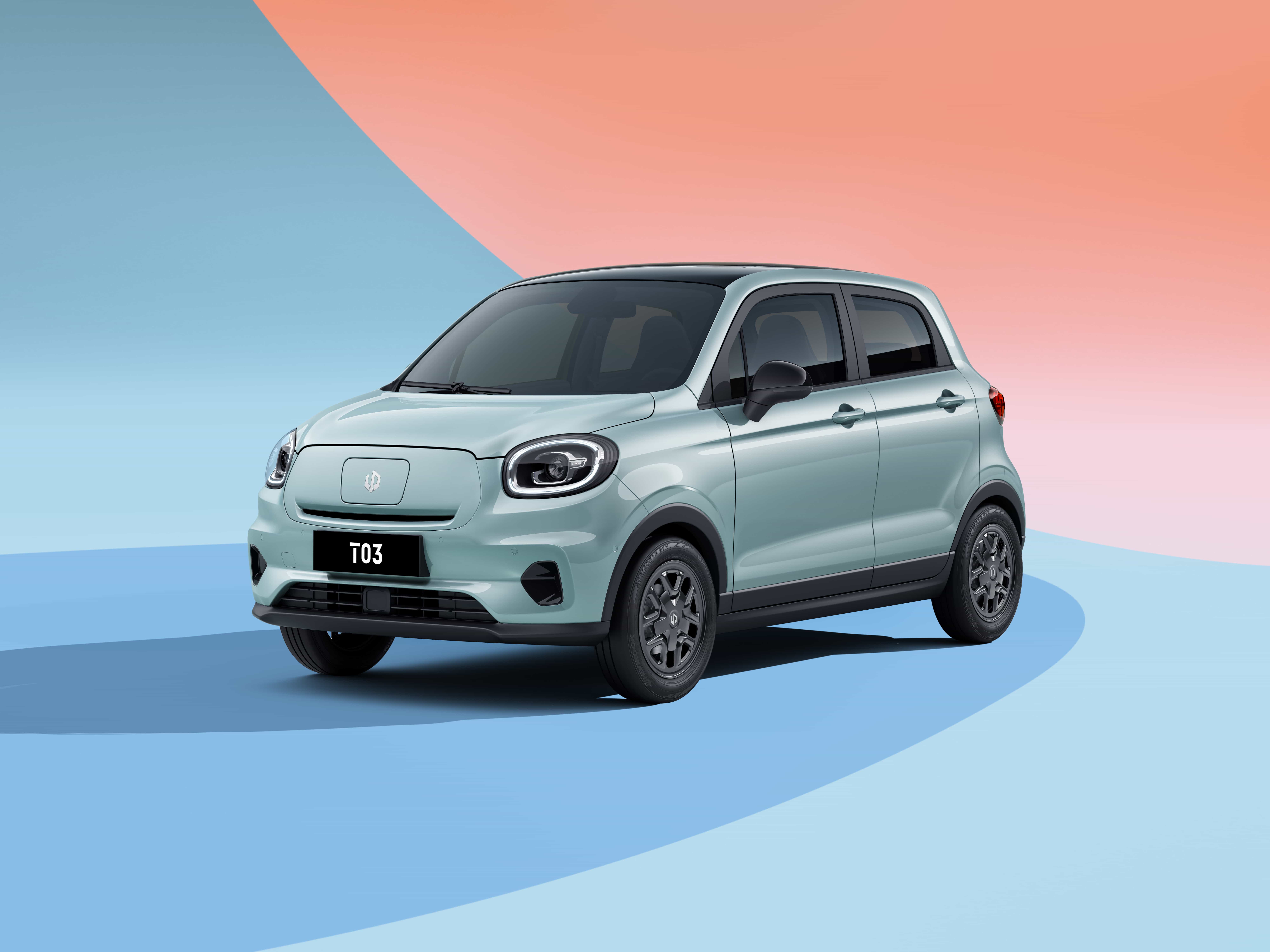 In addition, the LINGPAO T03 is more inclined to the female market in terms of positioning, adding glacier blue and sky black colors and a 15-inch wheel hub. The interior also adds two pink color schemes for a more pleasing look.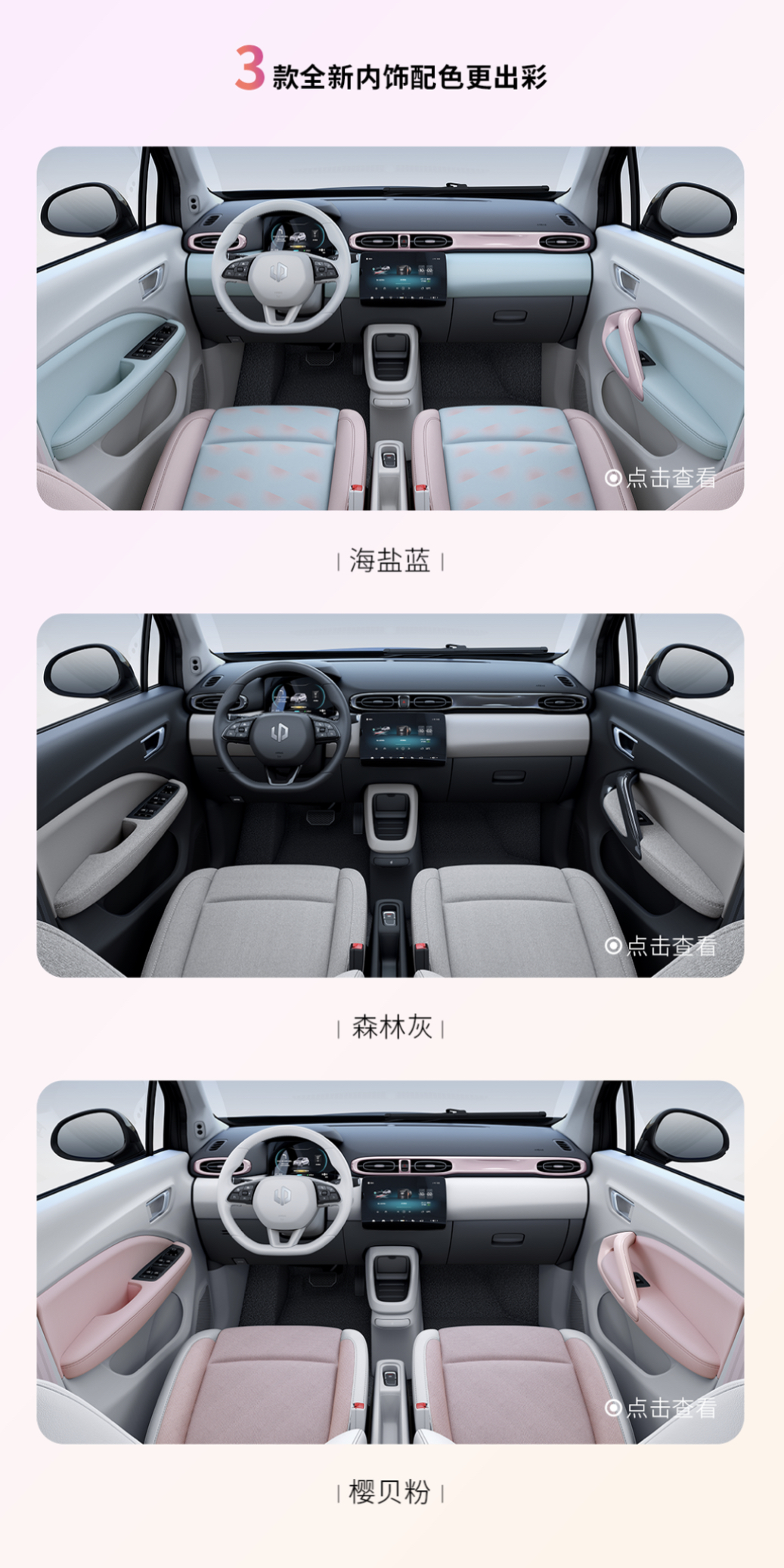 LINGPAO C11
The price of the 23 models of C11 is 155,800 yuan to 219,800 yuan, which almost falls back to the price when it was just released in 21 years, making people feel sincere again.
The mid-to-low-range model has a range of 500 km, a battery capacity of 69.2 kWh, and is made of lithium iron phosphate. The 89.55 kWh ternary lithium battery is only equipped on the two top models.
The changes in the 23 models of C11 are mainly concentrated on the color matching of the wheel hub. Three new 20-inch wheel hubs with gray-black tone and updated entry-level 18-inch wheel hub styles have been added.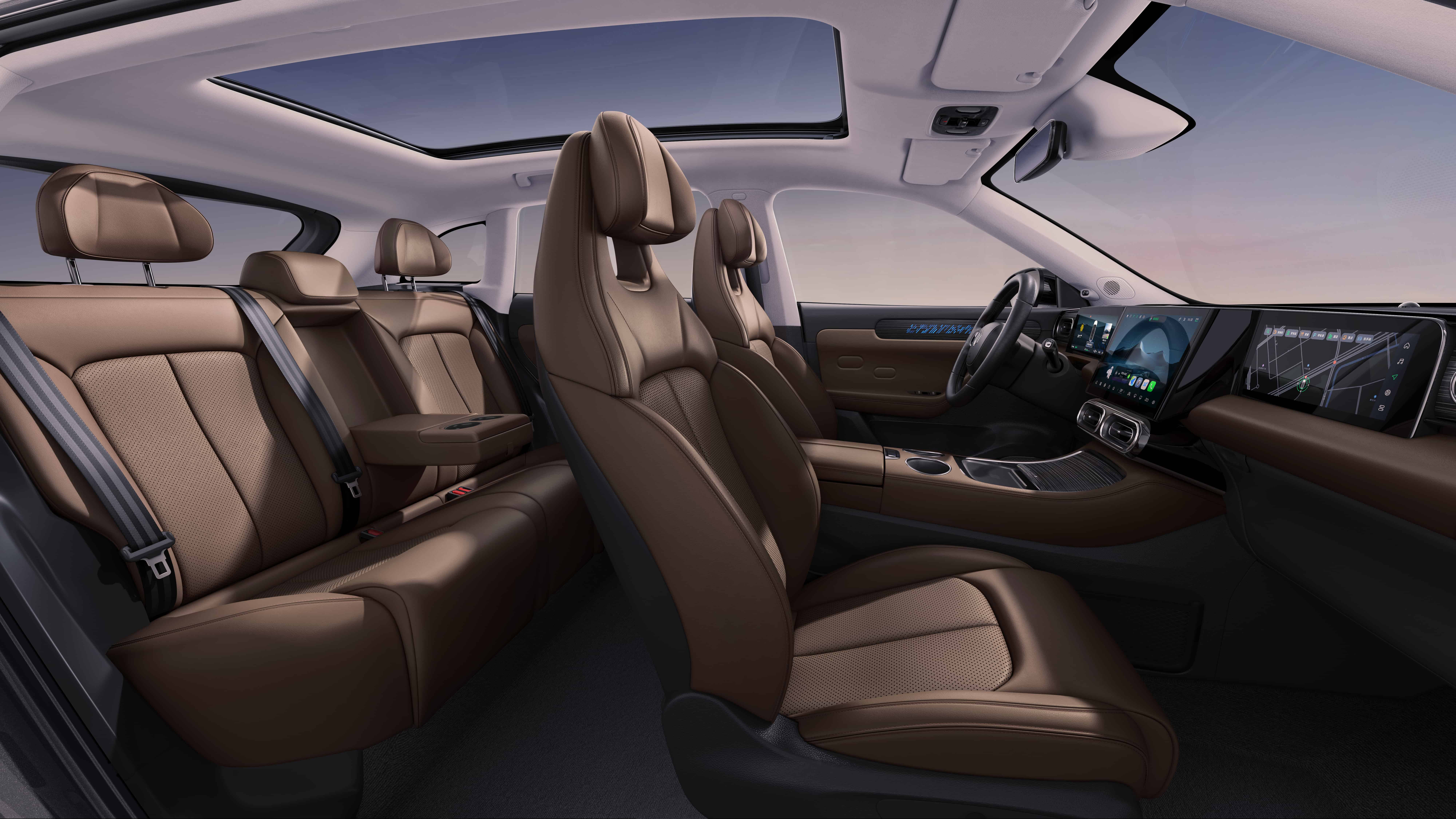 The most popular through-type light strip has also arrived. The details of the cabin have also been updated accordingly, echoing the C01. It changes to C01's-style seat, rear touch buttons, 3.0 cabin system, etc.
At the same time, the extended-range version of C11 is officially on sale with the same pre-sale price, with a price range of 149,800 yuan to 185,800 yuan.
### LINGPAI C01
Finally, let's talk about the price of the 23 models of LINGPAI C01, which ranges from 149,800 to 228,800 yuan. The price drop of the 23 models of C01 is very severe compared to the 22 models, which ranged from 193,800 yuan to 286,800 yuan and can be described as a cliff-like drop.
Now LINGPAI has entered the price range of 150,000 yuan for medium and large-sized pure electric vehicles, directly competing with medium-sized cars, so the cost performance has finally come back. As the listing of LINGPAI C01 is not long ago, the overall configuration changes are not significant.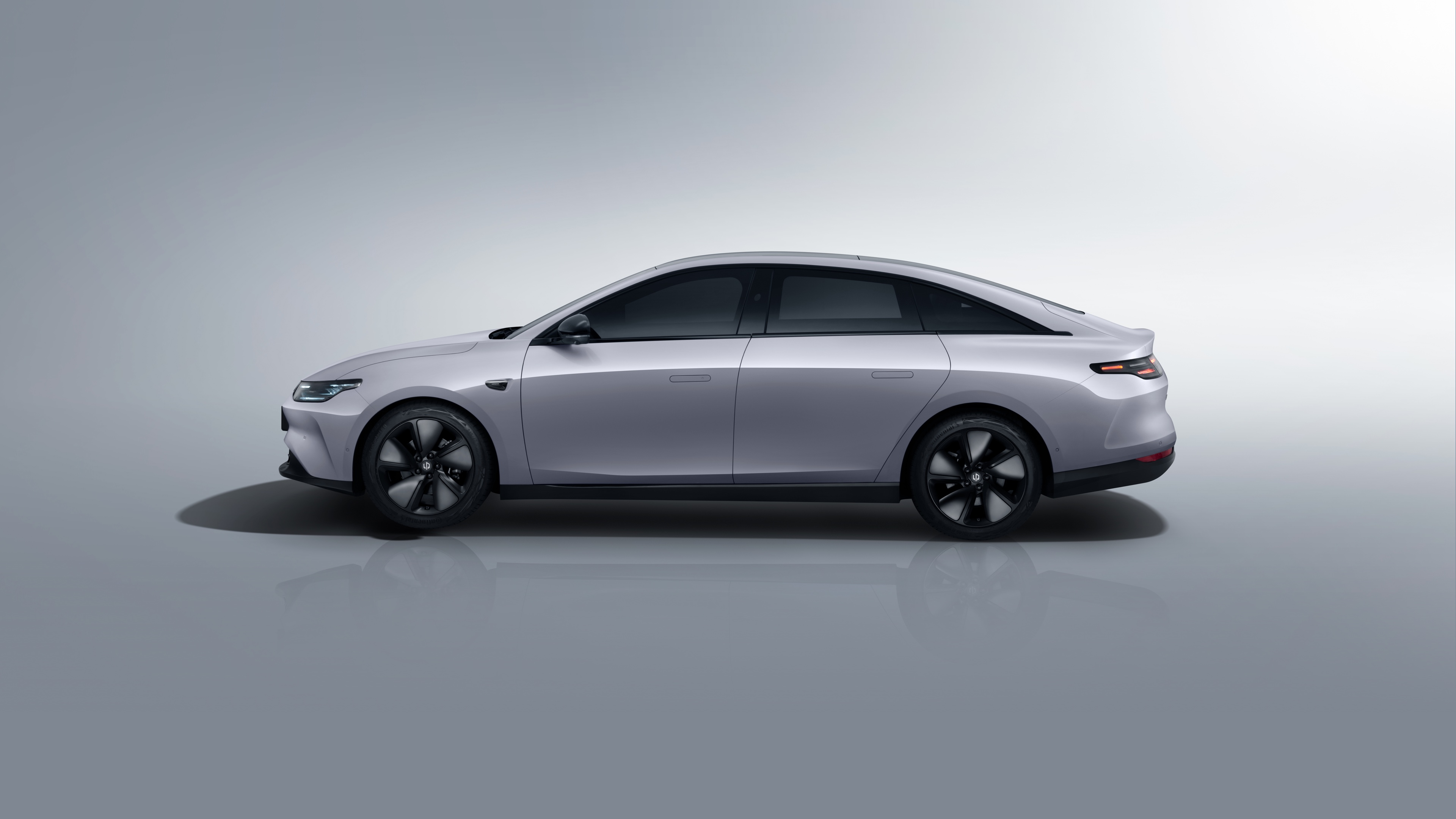 Media Interview
After the launch event, the founder and chairman of LINGPAI Technology, Zhu Jiangming, the senior vice president of LINGPAI Automobile, Cao Li, and the general manager of LINGPAI Automobile Marketing Department, Zhou Ying, also held a media interview for this launch event.
Q: The emphasis on extreme cost-effectiveness may put some pressure on the overall upward direction of the brand. What do you think of it?
Zhu Jiangming: In the future, we believe that the price range of 150,000 to 200,000 yuan will be an important range, where the prices of fuel and electric vehicles will be the same. So the future range will be the same as this one. It is not a very low price range. There are lower ones, which include small cars under 100,000 yuan and A-class cars in the range of 100,000 to 150,000 yuan. The range of 150,000 to 200,000 yuan will be the range between A-class and B-class, whether it is a fuel or electric vehicle.
Q: What is the sales target of LINGPAI Automobile this year?
Zhu Jiangming: Now that we are a listed company, it is not convenient to disclose our plan. We sold 8,000 vehicles in 2020, 43,000 vehicles in 2021, and 110,000 vehicles in 2022. I think we need to achieve significant growth this year.
Q: On the one hand, we need to achieve a high sales volume, and on the other hand, we need to make profits. What is our choice under this situation?
Zhu Jiangming: For a company, this is a market that is growing, and quantity is undoubtedly more important. First, we need to ensure that we have a market share, which is our first goal. Of course, we also need to pursue less losses. So far, LINGPAI has the minimum losses in this aspect among new automakers. We have a seven or eight-year entrepreneurial experience, and the money and losses we have spent on LINGPAI so far have been the least.Q: In 2023, we will continue to optimize costs. Can you please provide us with some detailed strategies for cost optimization?
Zhu Jiangming: In the future, as we scale up, our cost advantages will become more and more prominent. For example, our cabins will all be on one platform, even if we have multiple product lines such as ABC, they will still be on the same platform. The same goes for our electric drive and battery architecture, which will all be platform-oriented. These can bring about economies of scale and cost reductions in the future.
Q: In the 300,000 range, the M5 from WM and Chang'an's upcoming range extender vehicle under 200,000. What's your evaluation for these two products?
Cao Li: Just now, we talked about the M5 and Chang'an's products. From the perspective of range extending, we have many advantages in terms of product differentiation. Of course, these two products are also very good, and it cannot be denied that they have the recognition of many users.
In terms of differentiation, for example, our space and intelligent features can be quickly iterated to develop user-satisfying products. The most obvious point is that the price of the M5 is almost 30% higher than that of the C11. Taking these advantages into account, I think we still have confidence in facing competition with them directly.
Q: Just now, Mr. Zhu, all new products of Leapmotor in 2023 have been lowered. After the adjustments, are there any rights or measures for old users on the Leapmotor's side?
Zhou Ying: Therefore, regarding the entire 2023 product upgrade, we also give new rights to old car owners, especially those who recently received car deliveries. Firstly, for C01, we will give the car owners who have been delivered from September last year to October 7th a total of 20,000 energy points.
In addition, part of C01 car owners who have received their deliveries this year will also receive the lifetime warranty for the vehicle. At the same time, car owners who have received their deliveries of T03 and C11 in January and February this year will also receive the lifetime warranty for the vehicle. This is also the biggest sincerity Leapmotor expressed to old car owners.
Conclusion
The entry-level prices for the 23 Leapmotor C01 and C11 electric versions have fallen to around 150,000, one being a mid-size SUV and the other being a C-class car. This makes people wonder if Leapmotor is betting on future lithium battery prices to drop first by using price to gain market share.
In addition, the price of the Leading Ideal C11, which ranges from 149,800 to 185,800 yuan, is also very competitive. The low-end model is equipped with a 30.1 kWh battery and the high-end model is equipped with a 43.7 kWh battery.
It would be great if it could be delivered before the Shanghai policy changes. However, there is no big problem. The current price competitiveness is too strong, and it is estimated that BYD and Deep Blue S7 feel the pressure.
Finally, the question returns to sales. Due to rising prices in 2022, Leading Ideal's sales began to become lukewarm and almost faded from people's view in 2023 with the national subsidy phasing out. With the release of the 2023 model, Leading Ideal, which has almost collectively reduced its prices, seems to have once again strengthened its label of cost-effectiveness. This wave of price reductions has become the key to whether sales can achieve a rapid rebound.
Source: Leading Ideal Official
This article is a translation by ChatGPT of a Chinese report from 42HOW. If you have any questions about it, please email bd@42how.com.