Author | Wang Yunpeng
The story began a month and a half ago, on January 5, 2023, when BYD released its high-end brand: Yangwo.
It is no exaggeration to say that BYD has applied various new technologies and black technologies to this brand. Especially when the Yangwo U8 appeared on stage in a crab-like posture, the entire automotive industry exploded, and "Yangwo" instantly became a top trending word.
On February 16, Geely announced that it was about to release a new mid-to-high-end new energy series named "Galaxy".
In fact, "Galaxy" had already been used by Geely in its own car system, so it was not surprising for the new mid-to-high-end new energy series to bear this name.
Interestingly, in the poster released on the same day, Geely used the slogan "Galaxy, the starry sky that everyone looks up to", which inevitably left people with some imagination.
In response, BYD quickly released a poster of Yangwo, with the slogan "Reaching for the stars, daring to cross the Milky Way".
This exchange between two popular brands set off a storm of discussion, with many domestic brands joining in. For example, Changan Deep Blue wrote the slogan "Looking up at the Galaxy, it's a touch of #DeepBlue" in its poster.
The four words "Looking up at the Galaxy" have a double meaning, and "it's a touch of #DeepBlue" is a clever play on words that describes the brand's outlook with artistic conception.The most interesting thing is that the car companies involved in the interaction have made "looking up" and "galaxy" a fixed combination in their poster words, which also makes Geely Galaxy the big winner in this promotion.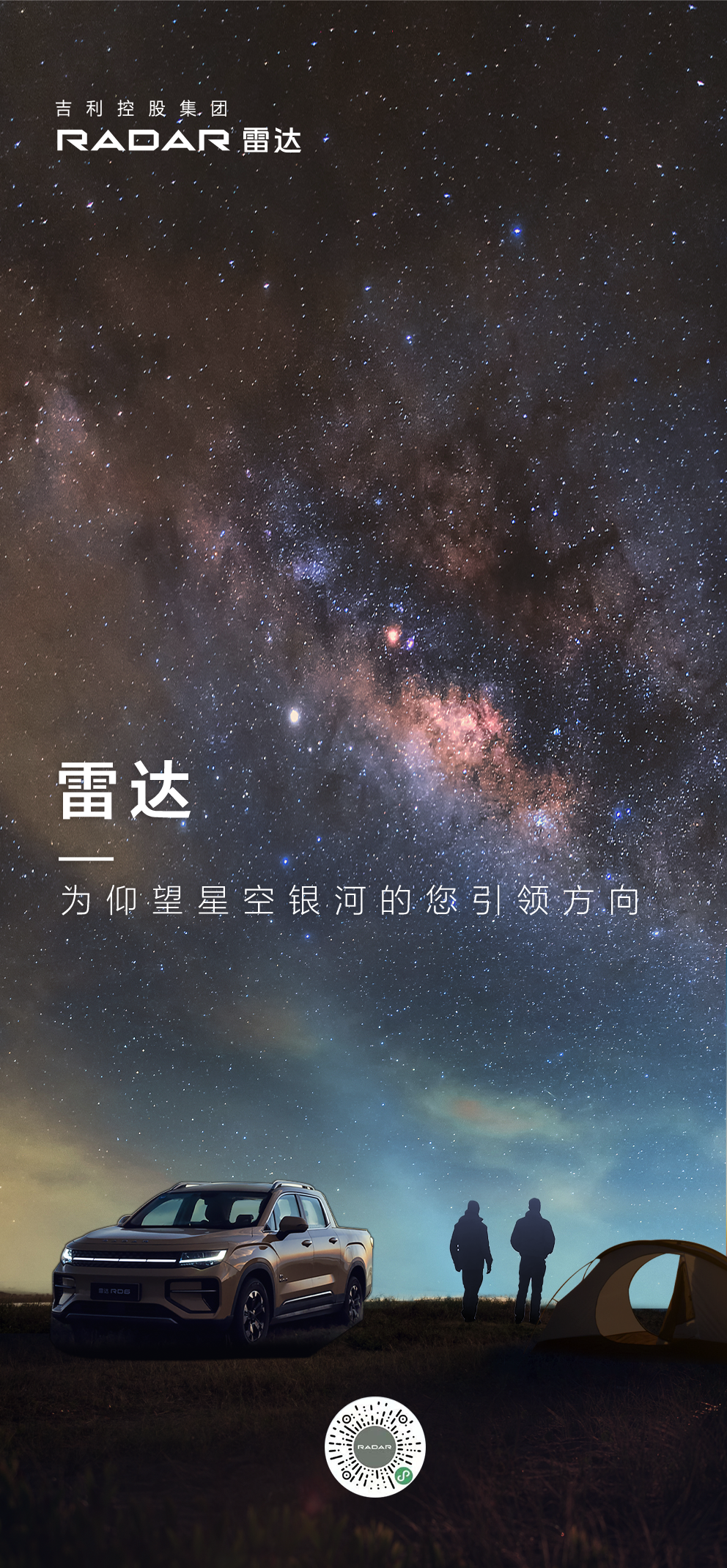 Of course, while "Galaxy" is gaining popularity, another Geely-owned brand, "Radar New Energy," is also standing out. The slogan "To lead the direction for you who look up at the stars and galaxies" is a pun that not only shows the purpose of the invention of the radar but also emphasizes the brand's tone of leading China's automotive industry to explore blank areas and meet user needs.
Therefore, compared with other brands, as a new energy pickup brand, Radar itself is more topical. Moreover, its first product, the Radar RD6, has established its differentiation advantage with "pure electric + outdoor diverse scene experience", opening a new era of Chinese pickup trucks in new energy.
The Radar RD6: Opening a New Era of Chinese Pickup Trucks
In fact, new energy pickups have long been successful in the global market. Models such as Tesla Cybertruck, Rivian R1T, and Ford F-150 Lightning have immediately swept the entire market upon their release.
Among them, Tesla Cybertuck completely breaks the inherent impression of vehicles on earth with its excellent exterior design, directly applying the design present in science fiction movies and space exploration to the ground. The Rivian R1T is also full of futuristic and technological feeling from the outside to the inside.
Compared with the outstanding design, the biggest highlight of Radar RD6, Cybertruck, and Rivian R1T is still the label of "new energy pickups that emphasize lifestyle categories".
As one of "the three brothers of new energy pickup trucks in the era" that runs parallel to Cybertruck and Rivian, the Radar RD6 has strength in what aspects?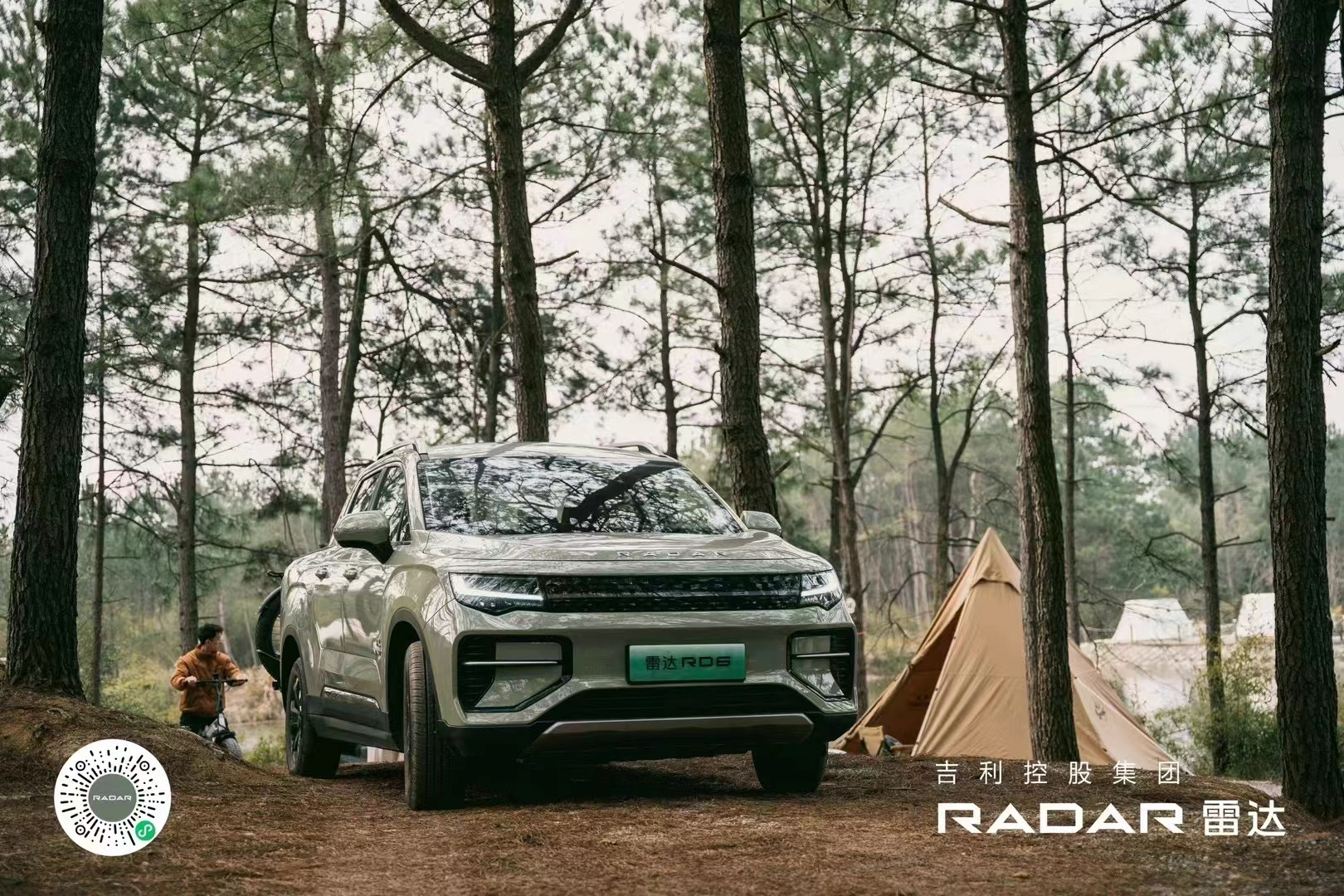 As the first pure electric platform pickup truck in the country, the Radar RD6 has essential differences in product research and development logic from fuel pickups and oil-electricity conversion models. Specifically, the Radar RD6 primarily considers ride attributes such as comfort, intelligence, and economy, and it can be regarded as a brand new category that differs from fuel pickups.In terms of comfort, the Rada RD6 is fully comparable to passenger cars, with four-wheel independent suspension, a nearly 5.3m long body, and a minimum turning radius of 12.2m, making it as easy to drive as an SUV.
With the "umbrella frequency" active noise reduction technology, it has excellent NVH performance even at high speeds. Moreover, the car is also equipped with a 55-inch panoramic sunroof, allowing users to enjoy the beautiful scenery on the journey.
In terms of intelligence, the Rada RD6 is equipped with dual 12.3-inch tech screens and a class-exclusive 9-inch full-color HUD, and a simple "Hello, Xiao Lei" can activate human-vehicle dialogue and quickly wake up all-scenario intelligent voice interaction. The Rada RD6 is also equipped with 12 L2+ level intelligent driving assistance functions, meeting all users' expectations of intelligent driving for pickups.
The Rada RD6 is also a safety model. Its integrated cage-style body is a steel-aluminum hybrid structure, with a high-strength steel usage rate of up to 66%, which is fully leading the same level. Together with the Bosch ESP9.3 electronic stability system, six airbags throughout the entire car, as well as practical functions such as automatic emergency braking, collision warning, and pedestrian protection, a passive and active safety protection system that meets the mainstream passenger product level is formed, giving you more confidence when driving over mountains and across ridges.
In addition, the Rada RD6's versatile loading space is another magic weapon to meet users' diverse lifestyle needs. Regarding the body size, the Rada RD6's length, width, and height are 5260/1900/1830 mm, and the wheelbase is 3120 mm. The length, width, and height of the rear box are 1525/1450/540 mm.
Moreover, this body size endows the Rada RD6 with three core loading spaces, including a 70L hidden front trunk, a 48L rear seat storage magic space, and a 1200L versatile rear bucket storage space, with a maximum load capacity of up to 450 kg, enough to securely, neatly, and orderly store all the equipment for outdoor travel.When it comes to pure electric pickup trucks, the tri-electric system is also of utmost importance. In this aspect, the Rada RD6 is equipped with a 200 kW high-power three-in-one electric drive, the same as the Zeekr 001, with a 0-100 km/h acceleration time of around 6 seconds. In terms of range, it uses high-energy density Ni55 cells, and its battery pack has a maximum capacity of 100 kW/h. The range under the CLTC cycle can reach 632 km, and it also has a maximum 120 kW fast charging function, which can provide a range of 120 km with only 15 minutes of charging.
It is worth mentioning that, in order to satisfy diverse outdoor lifestyles, the RD6 is also equipped with 6 kW external power output technology. It can not only meet the needs of operating multiple appliances simultaneously but also has the functions of lock, stationary, and driving discharge, which greatly facilitates camping and charging devices while driving.
It can be said that, under the empowerment of Geely Technology, from the perspective of appearance, comfort, intelligence, and vehicle multifunctionality, the pure electric pickup represented by Rada RD6 has been completely transformed and has an important inspiring significance for the entire market.
Subverting the Traditional Pickup Truck "Usage Concept"
If viewed from the technology and product level, the Rada RD6 is just a pure electric vehicle. However, as a new energy brand that takes "unbounded exploration, focused expertise, and ultimate living" as its core concept, Rada's focus is not only on this aspect. The brand hopes to "subvert the usage concept of pickup trucks" and bring users various ways of life.
"Currently, there is a lack of a truly dedicated outdoor vehicle on the market," said Ling Shiquan, the CEO of Rada Automotive. In his opinion, the current pickup truck market is relatively monotonous, either as a tool for producing materials or focused on off-road driving. Rada Automotive takes pure electric pickups as the entry point, and stands on the "new energy + diversity" new track, which can meet the needs of more new generation users.
"Today, people's time and scenes have developed from 'work and home' to the three poles of 'work, home, and outdoors'. Their life demands are slowly entering the diversified outdoor track, and outdoor travel carries people's longing for a healthy lifestyle and knowledge and interest expansion. Especially after the end of the epidemic, it has inspired people's yearning for the outdoors and sunshine," Ling Shiquan stated in a previous media interview.
In fact, according to the "Ai Media Consulting Camping Report," it is expected that by 2025, the core market size of camping economy in China will rise to 248.32 billion yuan, driving the market size to reach 1,440.28 billion yuan. Meanwhile, statistics from Xiaohongshu also show that the number of camping-related notes increased more than five times in 2021 compared to the previous year, indicating broad market prospects.
As fishing, camping, and surfing gradually become the three treasures of leisure for contemporary urbanites, consumers have diversified their requirements for vehicle performance. However, ordinary family cars are somewhat inadequate in meeting the demands of outdoor life scenarios due to their lack of targeted design.
With the birth of the Radar brand, this conflict will no longer exist. In particular, the launch of the Radar RD6 has turned pick-up trucks from producing tools for cargo transport to being tools for lake-side picnics and even core tools for small, upscale activities like camping.
In other words, with the entry of Radar and the RD6, a brand-new path has not only been developed, but the traditional concept of using pick-up trucks has also been changed. This has created a diverse new vision of lifestyle for users by achieving the organic combination of outdoor functionality and driving experience.
However, relying on slogans and a single product is not enough to provide the best solution for outdoor life. Radar New Energy has a clear awareness of this issue. Therefore, it created the RADAR Weekend sub-brand and built the RADAR user co-creation platform, along with cross-border collaboration with other brands for continuous improvement and exploration of the infinite possibilities of diverse outdoor life.
In specific actions, Radar has established a deep partnership with the global one-stop camping equipment brand Naturehike, to jointly develop multiple outdoor camping expansion equipment, and explore future diverse outdoor lifestyles together.
Meanwhile, together with the "National Geographic" Chinese edition, Radar Automobile has also launched the "Protecting Natural Wonders" plan, advocating the concept of leaving no trace and environmental protection, jointly protecting nature and returning to the pureness of nature.In terms of product layout, it is reported that Radar Automotive will launch a scene-based product matrix that focuses on outdoor lifestyle, including medium-sized pure electric pickups, medium to large-sized new energy pickups, full-size pure electric pickups, off-road SUVs, ATVs, covering various power modes such as pure electric and super hybrid, to provide users with a high-quality outdoor lifestyle and a new intelligent travel experience.
As Ling Shiquan puts it, "the invention of radar has brought more possibilities for human exploration of unknown space, and Radar Automotive also wants to lead the Chinese car industry in exploring blank areas and user demands."
In the turning point of the times, no corner of the automotive market can avoid the trend of electrification and intelligentization.
As a perennial "outsider" hovering outside the mainstream automotive market, the pickup truck market is slowly reconstructing and interpreting itself along with the progress of electrification and intelligentization.
In this process, Radar New Energy not only possesses the first-mover advantage in products and technology, but more importantly, it reconceptualizes the idea of pickup trucks and inspires a new culture.
This article is a translation by ChatGPT of a Chinese report from 42HOW. If you have any questions about it, please email bd@42how.com.