Open the China Association of Automobile Manufacturers' 2022 sales data. In the retail sales rankings, the combined market share of FAW-Volkswagen and SAIC Volkswagen is 14.8\%, ranking first.
If you look further down the list, in the ranking of new energy vehicle sales, among the traditional joint ventures, apart from SAIC-GM-Wuling, only FAW-Volkswagen and SAIC Volkswagen are left. Adding FAW-Volkswagen's 1.8\% and SAIC-Volkswagen's 1.6\% market share, Volkswagen's total share of 3.4\% is enough to rank eighth.
You will find that among the traditional joint ventures, familiar car companies such as Ford, Toyota, and Honda are famous in the total sales ranking list but are nowhere to be seen in the new energy section. The increasing penetration of new energy vehicles and the sluggish performance of traditional car companies in the new energy market form a sharp contrast.
It is said that "turning around like an elephant" is difficult. However, Volkswagen is definitely the leader in the transformation of traditional car companies towards new energy. Since the debut of Volkswagen's first MEB electric platform model, the ID.3, in 2019, Volkswagen has delivered more than 500,000 units of ID. family models worldwide.
Just last year, Volkswagen delivered a total of 180,600 new energy vehicles in China, including 143,100 units of the ID. series, with a year-on-year growth of 102.9\%, more than doubling its sales. Thus, Volkswagen has completed its product matrix in China, covering the ID.3, ID.4, and ID.6 models. Among them, the ID.4 and ID.6 ranked third in the compact and mid-to-large pure electric SUV submarkets, respectively.
Let's turn back time to March 2021. How to transform from a traditional car manufacturer to an electrification provider driven by software became the issue that Volkswagen was thinking about. Hence, the ACCELERATE strategy was born.
MEB/MEB+, platformization is still a "specialty"
MEB is the German abbreviation for "Modularer E-Antriebs-Baukasten", which translates to "modular electric drive matrix" in English. It is a highly compatible modular platform developed by the Volkswagen brand for pure electric vehicles.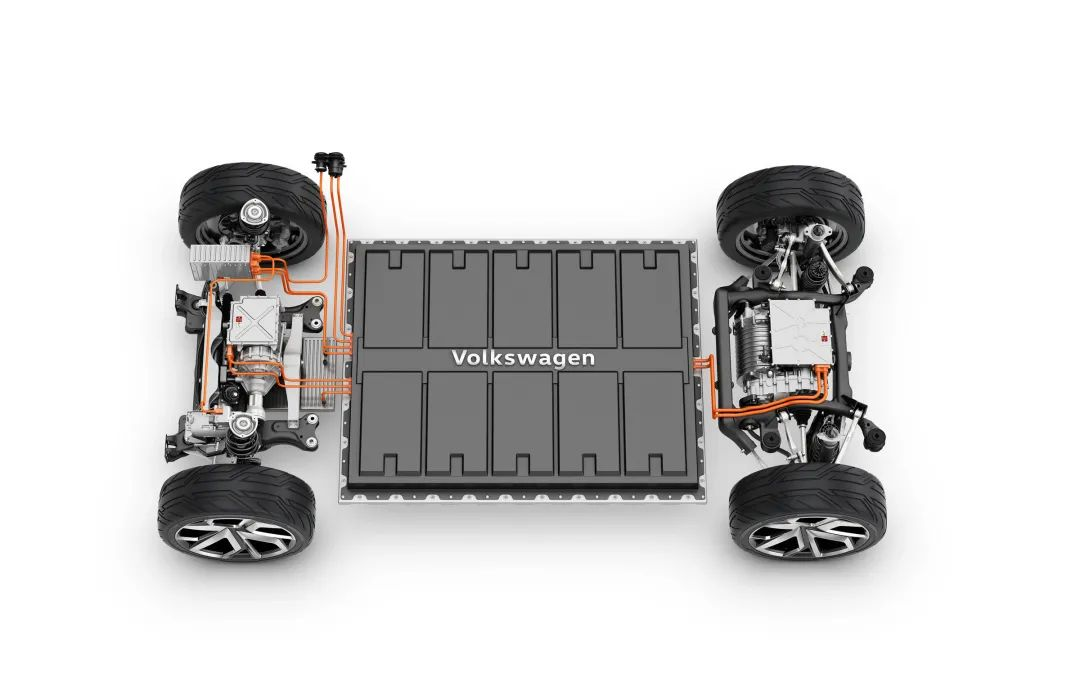 Volkswagen's positioning of the MEB platform is "MQB in the era of electrification". Therefore, the primary goal of MEB at the beginning of its birth was to bring economic benefits through scaling, and Volkswagen still hopes to stick to its original intention in the era of electric vehicles: "to make electric cars that Volkswagen can afford."
Therefore, we can see that the compatibility of the MEB platform is extremely strong, with SUVs like the ID.4 to ID.6, compact cars like the ID.3, and even MPVs like the ID.BUZZ.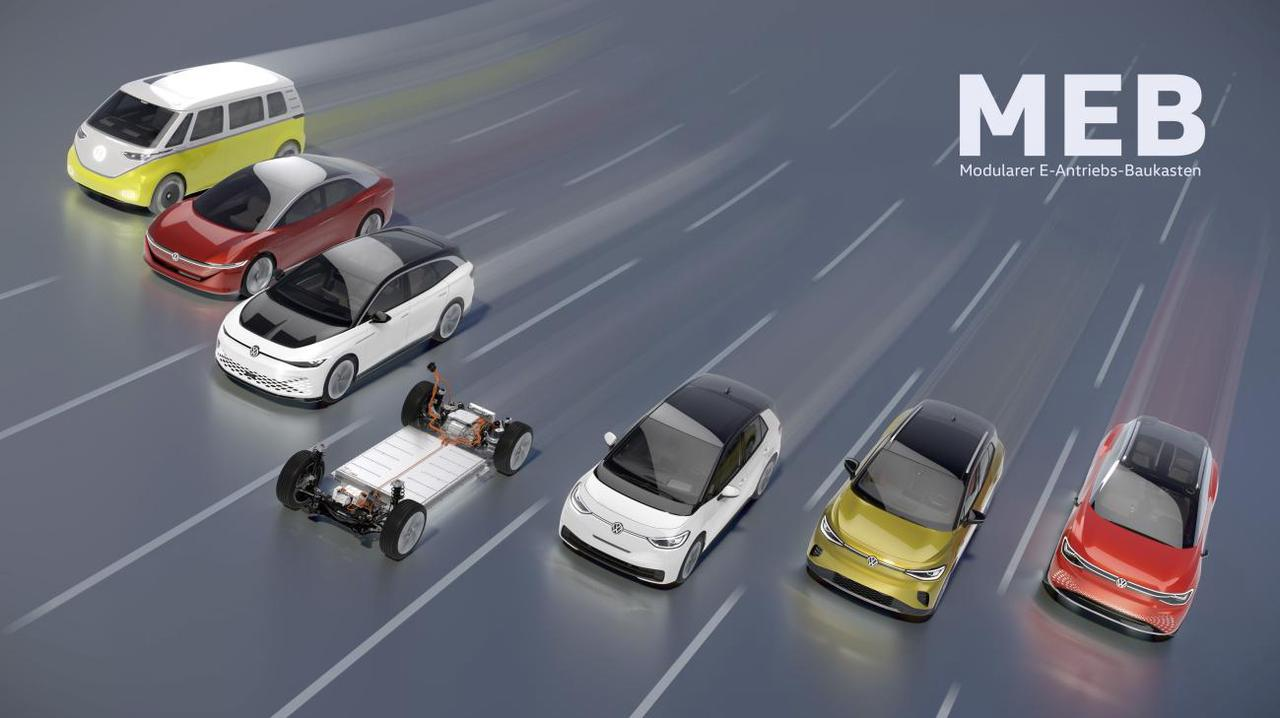 So far, Volkswagen has launched 12 pure electric vehicle models based on the MEB platform, including multiple pure electric vehicle models under the Audi, CUPRA, and Skoda brands. The Volkswagen Group has delivered more than 670,000 MEB vehicles, including more than 500,000 ID. family vehicles, demonstrating the benefits of scaling.
In terms of battery pack configuration strategy, Volkswagen provides 8-module 55 kWh battery pack, 9-module 62 kWh battery pack, and 12-module 83 kWh battery pack to choose from, providing a range of mainstream endurance capabilities ranging from 400-620 km to meet the needs of different vehicle models on the same platform.
In terms of motor technology, Volkswagen chooses to develop its own driving motors. The APP310 motor located on the rear axle achieves over 90\% efficiency in most operating conditions, with a maximum efficiency of up to 97\%. Compared with the APP290 motor on the MQB platform, APP310 concentrates the motor housing, main reducer, and inverter into "three-in-one," increasing the power by 50 kW and 20 N·m, increasing the maximum speed by 4,000 rpm and reducing the weight by 11 kg.
This is also one of the reasons why MEB platform models have low energy consumption.
Volkswagen demonstrates ultimate engineering thinking on MEB platform. For example, the highly acclaimed large steering angle, ID.4 as an example: without rear-wheel steering, ID.4 has an incredible inner turning angle of 48.19°, outer turning angle of 39.93°, and a turning radius of only 5.2 meters, making it easy to make a U-turn on a four-lane road.
In terms of optimizing riding experience, products under MEB platform push space to the limits. For example, ID.4, as a compact SUV, has the passenger space almost equivalent to that of a medium-sized fuel SUV, and even the wheelbase of compact car ID.3 is identical to that of ID.4.
In terms of mechanical quality, among the 200,000 to 300,000 CNY electric SUVs we have experienced, there are hardly any rivals that are more balanced and mature than the ID series. Just in our editorial department, two colleagues respectively chose ID.3 and ID.4, and they all highly praised the driving feeling, vehicle handling, and excellent human-vehicle engineering design.
Additionally, Volkswagen hopes to make greater effort to build the MEB+ platform on the basis of MEB. The charging/storage technology and digital architecture of the MEB+ platform will be comprehensively optimized.
According to Volkswagen's plan, on the MEB+ platform, the automatic driving ability will have the opportunity for a significant improvement. In addition, the MEB+ platform will adopt Volkswagen's new generation of unitized battery cell technology, and the maximum cruising range will be up to 700 kilometers. The MEB+ platform will also greatly reduce charging time, and the highest charging power in the future can reach nearly 200 kW.
The product selection based on the MEB+ platform will be more diversified, covering different fields such as high performance and luxury. Volkswagen has once again played its ace of designing cars under its own platform in the electrification path, both as a "revival of past practices" and its "expertise".## CARIAD Fills the Gap in Software
As the software department of the Volkswagen brand, CARIAD has the top IT talent, coordinating the underlying software development of all brands, with higher authority and status than traditional functional departments.
How important is China to CARIAD? In April of last year, CARIAD announced the establishment of its wholly-owned subsidiary in China, the first outside Europe. According to Volkswagen's "In China, For China" strategy, Volkswagen will increase its investment in the field of software and focus more on the needs of Chinese consumers.
CARIAD's business definition is very clear: "to develop a unified and scalable new software platform, advanced driver assistance systems and autonomous driving, as well as the next generation of intelligent interconnectivity functions."
First, let's talk about the software platform. The 1.1 version of Volkswagen's E³ electric/electronic architecture is installed on the current ID.4. This year, version 1.2 of E³ will be released, adding a third-party app store. In this version, Volkswagen will connect the "vehicle-cloud" channel.
Volkswagen stated that by 2025, version 2.0 of E³ will include a common operating system for all Volkswagen brands and pre-installed L4-level autonomous driving technology.
Certainly, although Volkswagen's MEB platform has many leading features, software problems in the car's computer still plague car owners. However, as Volkswagen's software department increases its research and development and iteration progress in China, Volkswagen has begun to offer solutions to some of these problems.
For example, last year, some ID. models with early software versions encountered the unexpected black screen problem during use. The software update plan has been finalized and was released in mid-January. Volkswagen also proactively contacted affected car owners to resolve the black screen problem.
For Volkswagen's software platform development vision, by 2030, the technology stack developed by CARIAD will run on more than 40 million Volkswagen cars worldwide. By studying massive real-time interconnectivity data related to autonomous driving, Volkswagen's shared car fleet can continuously launch new functions and services to meet customers' customized travel needs, and software will become one of the most important profit pools.# Volkswagen and Horizon Robotics form joint venture
Volkswagen, through CARIAD, announced the establishment of a joint venture with domestic top autonomous driving company, Horizon Robotics, on October 13, with plans to invest approximately 2.4 billion euros in this cooperation. The transaction is expected to be completed in the first half of 2023.
Under the agreement, CARIAD will work with Horizon Robotics to develop a leading and highly optimized full-stack advanced driving assistance system and autonomous driving solution that integrates multiple functions on a single chip, improving system stability and providing scalable, cost-effective advanced driving assistance system and autonomous driving solutions for Volkswagen's pure electric vehicle models in China.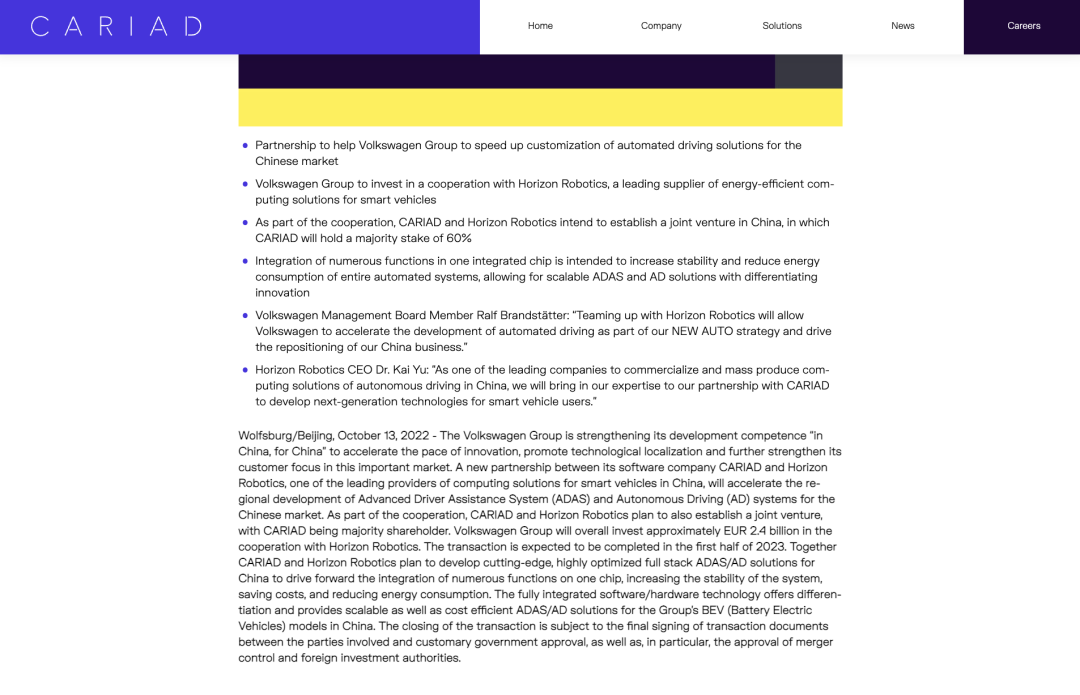 For Volkswagen, they have found a hot ally. By relying on the software and hardware capabilities of Horizon Robotics, Volkswagen can continue to develop advanced assisted driving solutions. At the same time, leveraging Horizon Robotics' advantage as a local enterprise, it can quickly build localized software capabilities in China to respond faster and meet the needs of the Chinese market, creating safer, smarter and more comfortable driving experiences for customers.
With the support of an excellent domestic team, the performance of Volkswagen's new products in the assisted driving field is even more anticipated.
On the other hand, Volkswagen's CARIAD Chinese subsidiary team, which had a team size of about 600 people when it was established last year, plans to double in size by the end of 2023. With such a strong investment and partnership with a leading local assisted driving company, Volkswagen's "in China, for China" strategy is highly anticipated.
Completion of the closed loop of the electrification transformation through supplemental systems
Volkswagen, as the most radical among the old car companies in the electrification transformation, not only demonstrates its achievements in developing and mass-producing pure electric platform products, but also in the construction of supplemental system.
On the basis of successful cooperation with its joint ventures in China, CAMS and the US-based Electrify America, Volkswagen Group has built public charging infrastructure in Asia, Europe and the Americas.
Since its establishment, Kamist's nationwide charging network has begun to take shape for more than three years. As of January 31, 2023, Kamist has established 1,064 super charging stations and 9,352 charging terminals in 158 cities across the country, covering 16 core cities such as Beijing, Shanghai, Guangzhou, Shenzhen, Chengdu, Tianjin, Hangzhou, Zhengzhou, Chongqing, Xi'an, Wuhan, Nanjing, Foshan, Changchun, Hefei, and Suzhou. "Saturated coverage" refers to the fact that there will be a Kamist charging station within 5 kilometers of the main urban area.
As a comparison, as of February 10, 2023, NIO has a total of 1,243 supercharging stations and 6,309 supercharging piles across the country. If NIO's 1,084 destination charging stations are not counted, Kamist's deployment even exceeds NIO in terms of supercharging piles.
The advantages of building its own charging pile are obvious, most of Kamist's charging stations have spacious parking spaces and remotely controlled locks. Car owners can not only remotely view the remaining number of charging piles, but also make an appointment online, and plug in and charge immediately upon arrival.
In addition to China, Volkswagen cooperates with Electrify America in the United States and Canada, and plans to build 1,800 fast charging stations and install 10,000 charging piles in the United States and Canada by 2025. By then, the number of charging infrastructure in the two places will be twice as much as now.
At the same time, the Volkswagen Group has also established partnerships with British Petroleum, Spanish Iberdrola, and Italian National Power Company to provide European customers with charging services.
The Volkswagen Group plans to build 18,000 high-power charging piles in Europe and 17,000 fast charging terminals in China.
In addition to allowing Volkswagen owners to enjoy convenient charging services, building a repairable energy system can also provide Volkswagen Group with considerable energy service income in the future, which is an important part of Volkswagen's new business model.
Final Words
If you focus on China's insular new energy vehicle market, Volkswagen's transformation may not catch your attention. But if you shift your perspective to the global market, you will find that most traditional automakers are just waking up and starting to catch up, after Volkswagen ID. models have already delivered over 500,000 units.
People always say "it's hard to turn an elephant around," but they overlook the huge figure and reserves of the elephant itself. We can see that Volkswagen has been exerting its full strength to complete the transformation in this new energy vehicle revolution, whether it is the mature and reliable MEB electric vehicle platform, the independent software department CARIAD, or the established and mature charging network.
The shoe will not hit the ground just as it is thrown. But at least from the current time point, the reputation and sales of the ID. models are steadily increasing, and Volkswagen, which is the most radical in self-revolution, has also obtained the priority entry ticket for the next round of competition.
This article is a translation by ChatGPT of a Chinese report from 42HOW. If you have any questions about it, please email bd@42how.com.