Writing by: Jingtao Wu
The challenge of new car manufacturing is gradually upgrading!
This year's Spring Festival holiday came early and fortunately. It has just ended, and January has entered its final days.
According to data from the China Association of Automobile Manufacturers, in 2022, the penetration rate of new energy vehicles in the domestic passenger car market has reached 27.6%, a 12.6% increase from 2021.
In 2023, the China Association of Automobile Manufacturers predicts that new energy passenger car sales will reach 8.5 million, and the penetration rate of new energy will reach 36%.
However, due to the impacts of the withdrawal of state subsidies and the early Spring Festival period, the pace of dealership sales was disrupted, and both popularity and transaction performance were weaker than the normal seasonal levels, causing short-term fluctuations in the new energy vehicle market.
This was particularly highlighted in year-on-year data statistics. Since the Spring Festival this year was in early January, while it was in February last year, the impact of the Spring Festival holiday on sales appeared significantly as a "cross-month time difference," causing a large fluctuation in the year-on-year data for January.
It is estimated that about 360,000 new energy passenger cars were retailed in January, an increase of 1.8% year on year, with a penetration rate of about 26.5%.
It can be seen that the overall environment of the new energy market in January was not prosperous. In this context, let us take a look at the sales performance of various new car manufacturers.
Anti-fan guide: Tesla has not yet released its January sales!
Ideal: Delivering 15,141 units in January
In January, Ideal Automotive delivered 15,141 new vehicles, a year-on-year increase of 23.4%, successfully retaining the "champion" of new car sales ranking.
One month ago in December 2022, Ideal Automotive's monthly delivery exceeded 20,000 units for the first time, making it the fastest-growing new energy brand to achieve over 20,000 monthly deliveries.
Although the absolute data in January did not set a new record, it still achieved year-on-year growth and retained the monthly sales championship in the context of a short-term downturn in the overall new energy market. The strong product power of Ideal Automotive's two main models L9 and L8 is evident.
Ideal Automotive's product line improvement has not stopped there. Ideal's first five-seat SUV model–Ideal L7 will be officially released on February 8, 2023. By then, Ideal Automotive's three SUV models L7 + L8 + L9 will cover the price range of 300,000 to 500,000 yuan.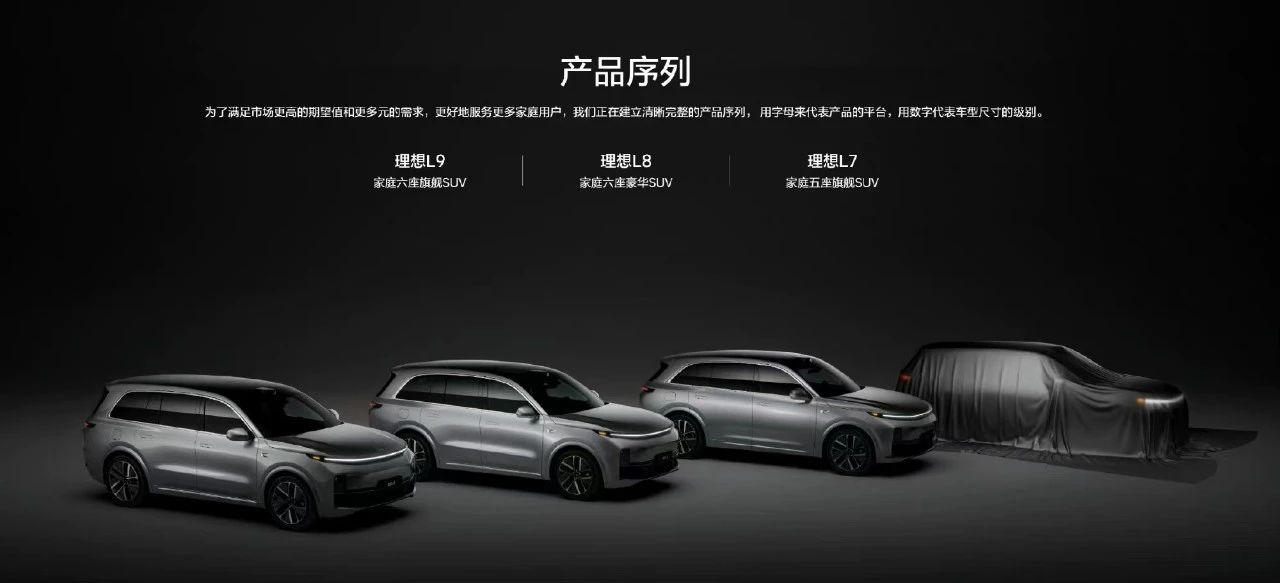 In mid-January, Li Xiang, founder, chairman, and CEO of Ideal Automotive, said in a social media exchange with netizens:
"In 2023, Ideal Automotive's focus on improvement includes channel richness, self-built charging network, pure electric vehicle product power, and Ideal AD assisted driving issues."
Combining with previous information, Ideal Automotive's first pure electric vehicle, also the first MPV model—W01, is expected to be officially unveiled in the second half of this year. At the same time, Ideal Automotive is also planning and building complementary energy networks in accordance with its pure electric vehicle strategy.
According to this, Ideal's pure electric technology roadmap in 2023 will also contribute to the construction of the brand's product line.
NIO: 8,506 vehicles delivered in January
"In January, NIO delivered 8,506 new vehicles, ranking second in the monthly sales list again."
As of January 31, 2023, NIO has delivered a total of 298,062 new vehicles. This means that NIO will welcome the milestone of delivering the 300,000th new vehicle in February.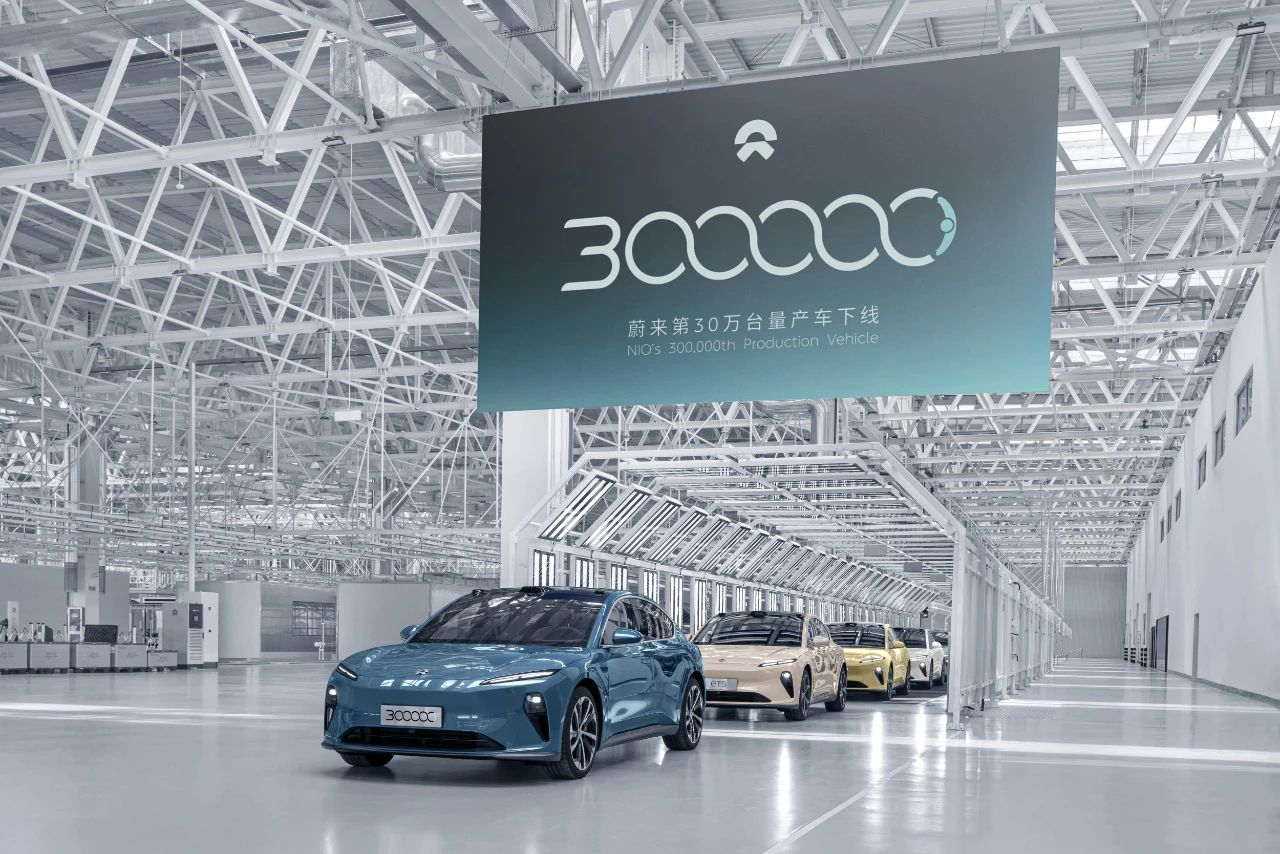 There is no detailed data on the specific model delivery in January. The rough delivery situation is as follows:
By vehicle type, "SUV models (ES8, ES7, ES6, EC6) delivered a total of 2,190 units, and sedan models (ET7, ET5) delivered a total of 6,316 units."
In terms of platform, "NT2 platform (ET7, ES7, and ET5) accounted for 85.6% of the total deliveries in the current month", while NT1 platform (ES8, ES6, and EC6) only accounted for 14.4%.
With the release of the all-new ES8 based on the NT2 platform and the information disclosure of the new generation ES6, the sales proportion of NT1 platform models is gradually decreasing.
On February 1, NIO launched a limited-time offer of zero interest for ET5. From February 1 to February 28, 2023 (inclusive), customers who purchase NIO ET5 can enjoy a down payment of 15% or more, two years of interest-free, and a maximum financing amount of 200,000 yuan.
Recently, at a face-to-face communication meeting held by NIO, Qin Lihong, co-founder and president of NIO, revealed that the ET5 Hunter version will be the first to be delivered to the European market later this year, followed by its launch in the domestic market around the third quarter.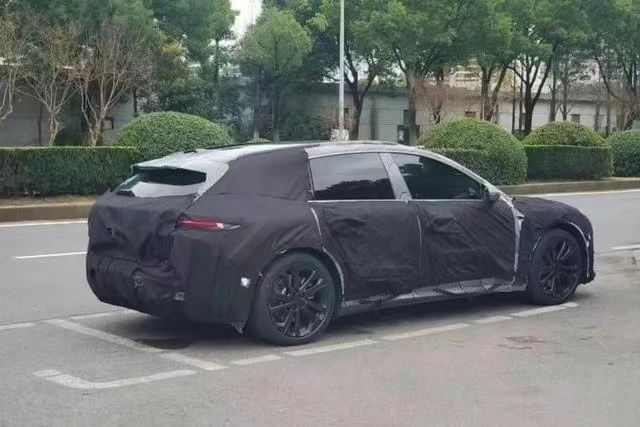 Regarding new brands, NIO has planned two new sub-brands. The second brand is the Alpine brand, which is planned to start delivery by 2024.
The third brand named Firefly is planned to be launched in Europe in the third quarter of 2024, targeting the European market's favourite small economic car market.
Currently, these two names are internal code names, and the specific brand names are to be officially announced by the company.
NIO: 6,016 vehicles delivered in January
In January, NIO delivered 6,016 new cars, a decrease of 45.3% compared to the same period last year. It rose to third place from seventh in the list last month.
As of January 31, 2023, NIO has delivered more than 250,000 cars, reaching 254,065 vehicles.
The specific delivery situation of each model is as follows:
NIO V: 3,487 vehicles delivered, NIO U: 1,012 vehicles delivered, NIO S: 1,517 vehicles delivered.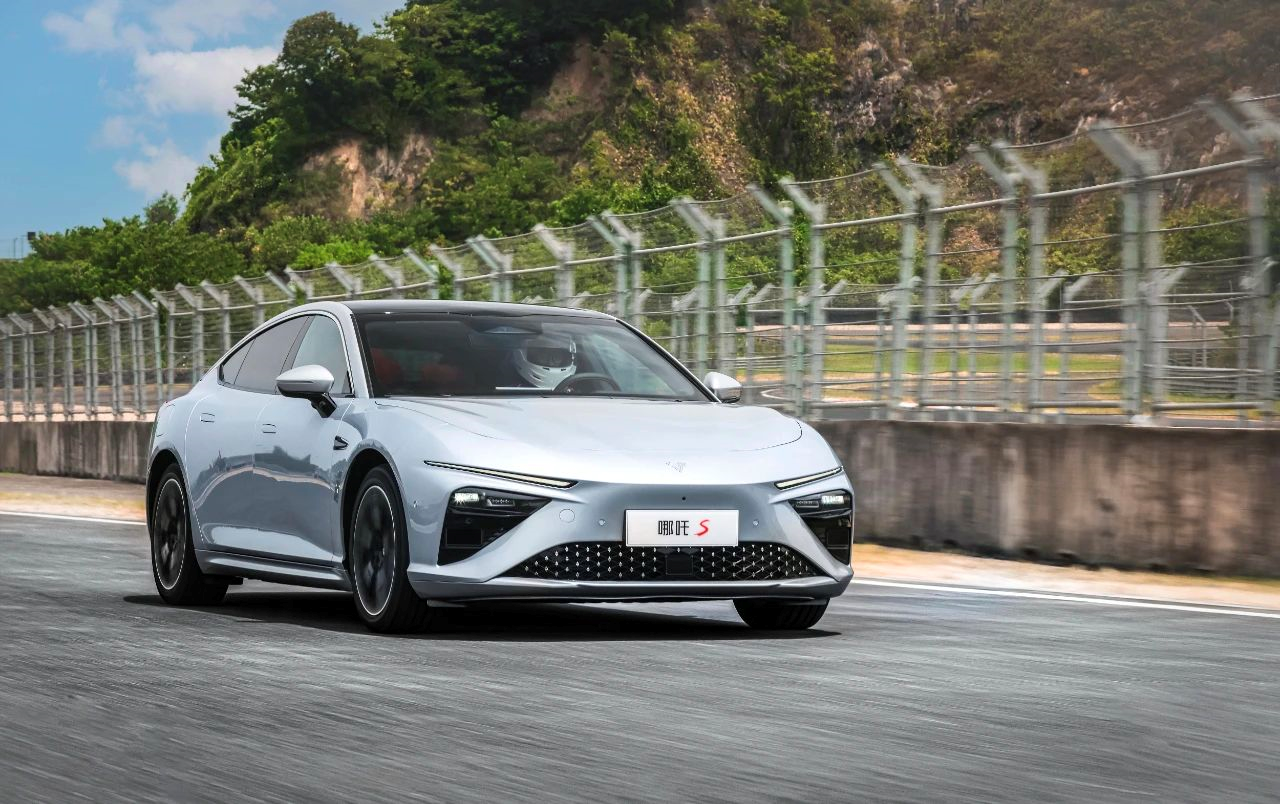 On January 10th, Contemporary Amperex Technology (CATL) subsidiary-owned company, EVE Energy, held a signing ceremony with NIO in Shanghai to launch collaborative efforts on the CIIC (CATL Integrated Intelligent Chassis) integrated intelligent chassis project.
NIO stated that the chassis was a highly integrated electric chassis centered around batteries and electric drives. The chassis uses CTC technology (Battery to Chassis Technology), which integrates key components such as the battery system, electric drive system, thermal management system, and line control system at the bottom of the vehicle without requiring a separate battery pack.The technology can reduce the cost of buying a car, save energy, improve the range of the car, and increase the space for passengers. The first model to feature CIIC will debut at the end of 2024 at the soonest.
XPeng: 5,218 vehicles delivered in January
"In January, XPeng Motors delivered 5,218 new vehicles, maintaining the same ranking as last month."
Regarding specific vehicle delivery data, XPeng only disclosed the data for the G9 model, "In January, a total of 2,249 new G9 vehicles were delivered."
XPeng Motors' delivery target for the whole year of 2023 is 200,000 vehicles, "excluding January's 'quota,' to achieve the annual target, XPeng needs to deliver 17,707 vehicles per month for the remaining 11 months."
In terms of products, XPeng Motors will release three updated models (P5, P7, G3i) and two new models (G7, the first MPV model) in 2023. Among them, "the updated P7 model will be released in the European market on February 3 and will be unveiled in the domestic market soon."
In terms of marketing, on January 17, XPeng Motors announced an upcoming price cut for three models that will be updated this year, G3i, P5, and P7. The discount range varies from RMB 20,000 to 36,000.
Among them, "the G3i model will be discounted by RMB 20,000 to RMB 25,000, the P5 model will be discounted by RMB 23,000, and the P7 model will be discounted by RMB 30,000 to RMB 36,000."
In terms of organizational structure, XPeng Motors is undergoing continuous adjustments. On January 30, XPeng Motors announced on its official website that Ms. Wang Fengying, former General Manager of Great Wall Motors, has been appointed as the company's CEO. She will be responsible for the company's product planning, product portfolio management and sales operations, reporting to the company's Chairman and CEO He XPeng.
Xpeng Motors: January sales of 4,490 units
Xpeng Motors announced its production and sales report for January. The company produced 4,751 units, a YoY increase of 295.95%, and sold 4,490 units, a YoY increase of 445.57%, of which 4,475 units were delivered for AITO In-Car Experience, the product that Xpeng co-developed with Huawei.
NIO: Delivered 3,116 vehicles in January
NIO delivered 3,116 new vehicles in January, breaking 80,000 cumulative deliveries to reach 81,064 total deliveries. The delivery volume of NIO in January decreased by 72.5% compared to the previous month, mainly due to the impact of the Chinese Spring Festival and the upgrade of the production line, which lasted from January 11 to February 1.
With the delivery of NIO's latest offering, the EC6, the brand has bid goodbye to the era of having only one model on offer for sale. However, NIO did not disclose the specific delivery volume of each model this month, only announcing the average order amount.
The average order amount for NIO's ES6 is RMB 336,000, while the average order amount for NIO's EC6 is RMB 527,000.JiKe plans to launch two new car models in 2023. On the day of delivery data release, JiKe officially announced preliminary information about its third car model — JiKe 003 (tentative name).
The new car, internally code-named "BX1E," is positioned as a compact pure electric SUV built on the SEA Haohan pure electric architecture, the same as the Volvo EX30 and Smart Elf #1.
It is predicted from spy photos, and referring to the body size of Smart Elf #1, the length of the new car is about 4400mm, and the wheelbase is about 2800mm.
The exterior is designed by Stefan Sielaff, the design director of Geely, and the internal team at Geely's design center in Gothenburg, Sweden. The overall appearance continues the family style of the current JiKe and adopts the 5-door hatchback style.
In terms of power, JiKe officials said that the most powerful version of the new car can enter the 3-second club for 0-100km/h acceleration.
As for the other model, JiKe has not yet released any information. However, there are rumors online that the other model may be a sedan, with a smaller size than the 001, and is more likely to be a mid-size pure electric sedan.
Voyah: 1,548 cars delivered in January
In January, Voyah delivered 1,548 new cars, and the average transaction price for the brand's models was 3.82 million yuan.
Lu Fang, CEO of Voyah, said that January was the long holiday of the Spring Festival, and the daily operations of sales stores throughout the country and user license plates were significantly affected.
Currently, Voyah has two models for sale: Voyah FREE and Voyah Dreamer, and its new model, Voyah Chasing Light, is currently in pre-sale status.### Zhejiang Zero Run: delivered 1,139 vehicles in January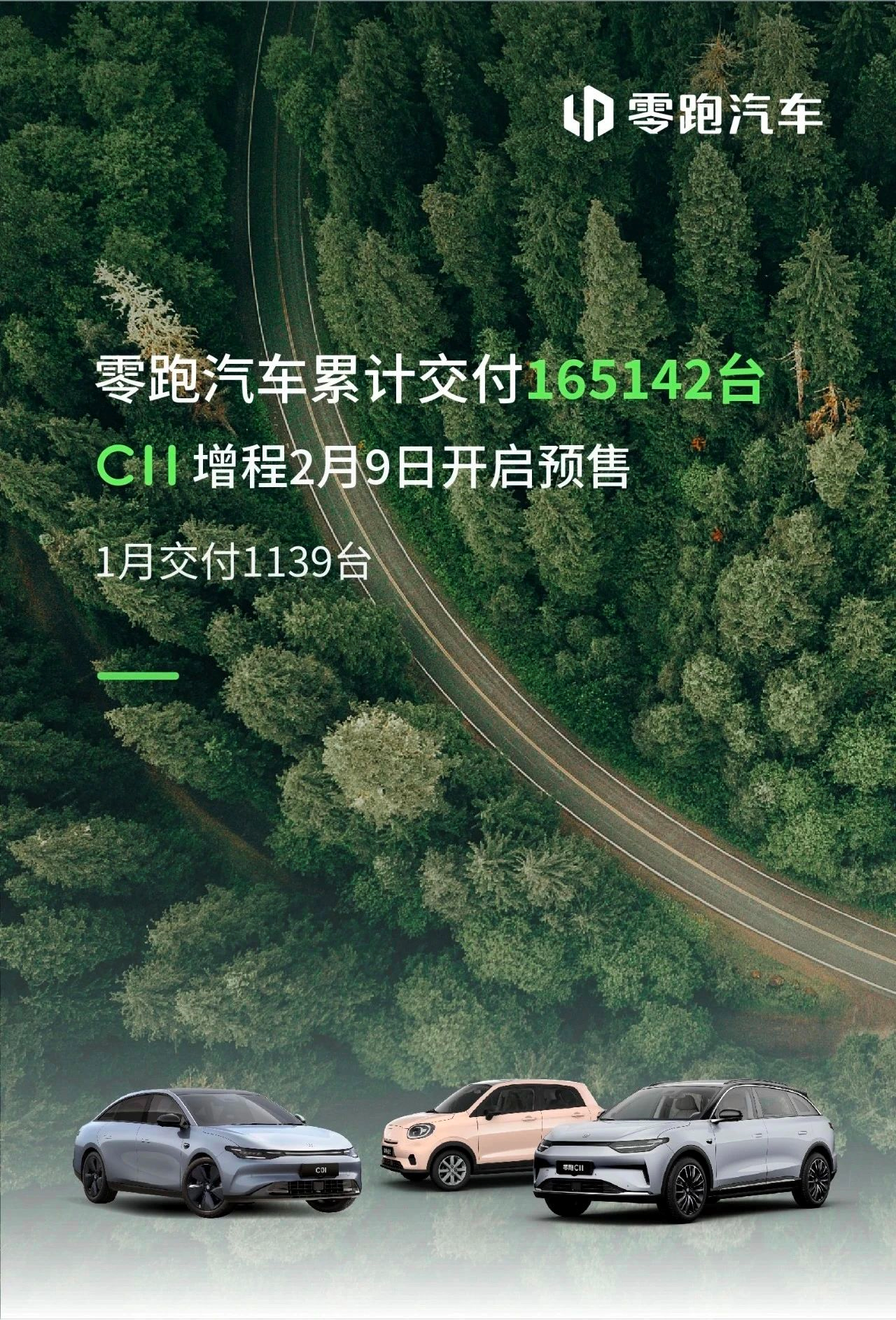 In January, Zhejiang Zero Run delivered 1,139 new vehicles, a year-on-year decrease of 85.9%, with a historical cumulative delivery of 165,142 vehicles.
Zero Run announced that its SUV product, Zero Run C11 with extended mileage, will begin pre-sale on February 9th.
The new car will be equipped with the same 1.2T three-cylinder extender as the Ideal ONE, with a single motor layout. The maximum power of the extender is 96kW, the rated power of the motor is 85kW, and the peak power is 200kW. According to official information from Zero Run, the new car's pure electric endurance will reach 285km.
Aiways: sold 10,206 vehicles in January
According to the monthly routine, the last of the sales charts is the reserved program of the month — Aiways' "new car brand." But obviously, such a plot did not happen this month.
In January, Aiways sold only 10,206 new vehicles.
On the day of announcing the sales results, Aiways released a limited-time incentive policy that offers a delivery incentive of 5,000 yuan / vehicle to its AION Y and AION S PLUS models.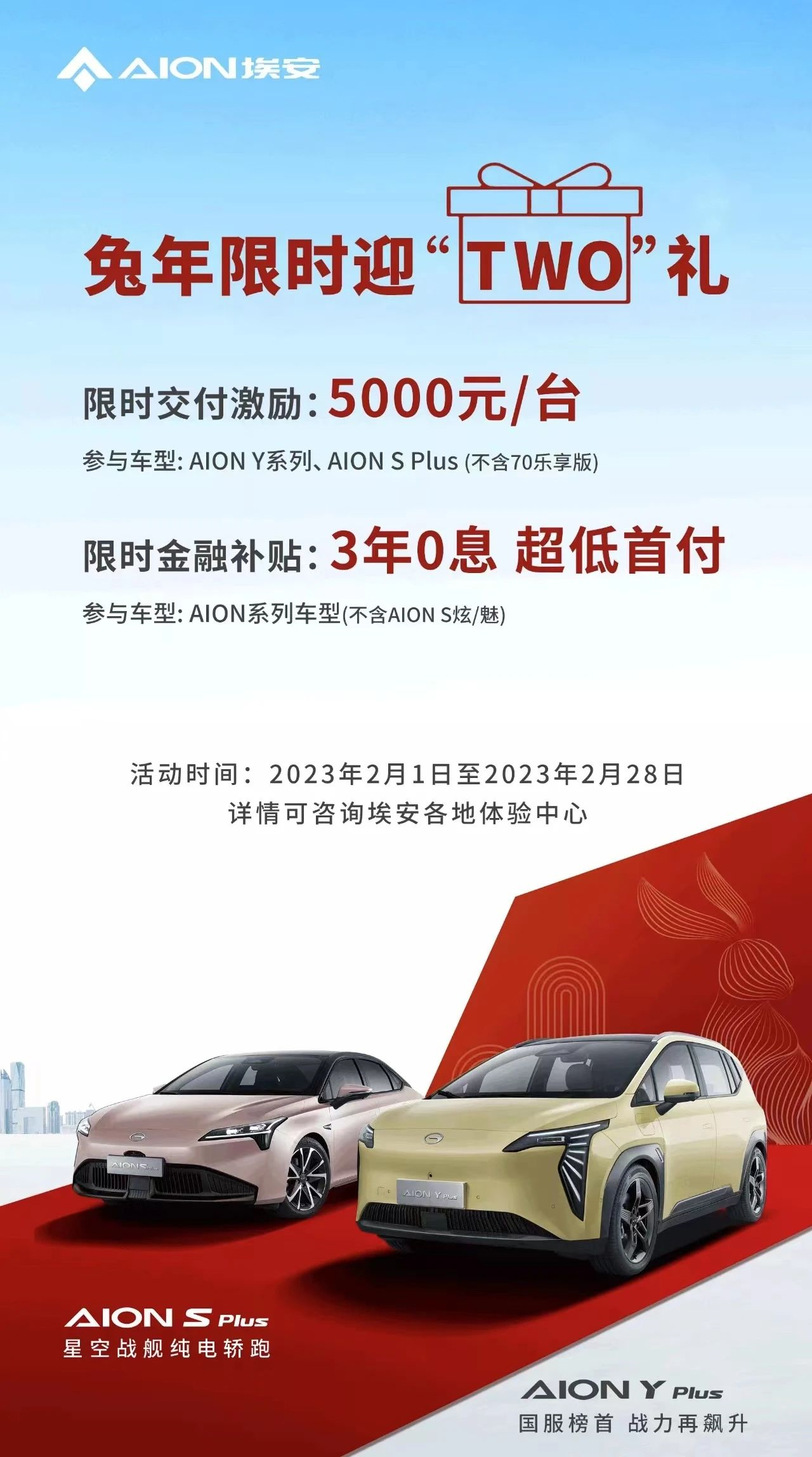 At the same time, Aiways launched a 3-year 0-interest, ultra-low down payment financial subsidy, which can be enjoyed by most of the brand's models.### "Guest Appearance" – BYD: 151,341 vehicles sold in January
Perhaps inspired by the impressive publicity effect of "new carmakers" releasing last month's sales on the 1st of each month, since last year, BYD has gradually brought forward the date of sales figures release. This month, they even synchronized the release without advance notice. One wonders how the other "new carmakers" feel.
"In January, BYD sold 151,341 new cars, a year-on-year increase of 57.8%, including 10,409 exports."
"From the division of sales network: Dynasty and Ocean network sold a total of 143,725 vehicles, DENZA brand sold 6,439 vehicles."
"From the technical route: DM models sold 78,826 vehicles, EV models sold 71,338 vehicles." With such a large volume, the hybrid and pure electric models are equally impressive, and such performance is truly "unbeatable".
With Tesla's price cuts and BYD's "cross-border integration" causing competitors to struggle, the challenges and difficulties that "new carmakers" will face in 2023 have become clear from the first month. Once the product line falls apart and the product strength weakens, it will not be easy to climb back up after falling.
Disclaimer: Tesla has not yet released January sales figures!
This article is a translation by ChatGPT of a Chinese report from 42HOW. If you have any questions about it, please email bd@42how.com.