Chinese companies electrification annual review by Zhineng Automotive: Top 10
(1) The representative of radical transformation: Volkswagen
(2) The brand power is being overdrawn: BMW
(3) Luxury beyond luxury: Mercedes-Benz
(4) Diversified development of global sales champion: Toyota
(6) The development of pure electric route is questionable: Honda
This is the seventh article of the annual review of electrification achievements. Today, we mainly talk about General Motors(GM) in the US and Chinese markets.
● GM in the US
The total sales volume in the US reached 2.274 million units, a year-on-year growth of 2.5%, surpassing Toyota to become No.1 in the United States again. Among them: Chevrolet's sales increased by 5.6%, GMC's sales increased by 7.3%, Cadillac's sales increased by 13.9%, offsetting the impact of Buick's sales decline of 42.4%. The sales of new energy vehicles are mainly dependent on the policy of IRA (The Investment Tax Credit for Renewable Energy) landing (a bit of a delayed effort, but the battery factories have been established), and the sales of Bolt EV/EUV in mid-2022 are 38,120 units, HUMMER EV 854 units, and Cadillac LYRIQ sales of 122 units.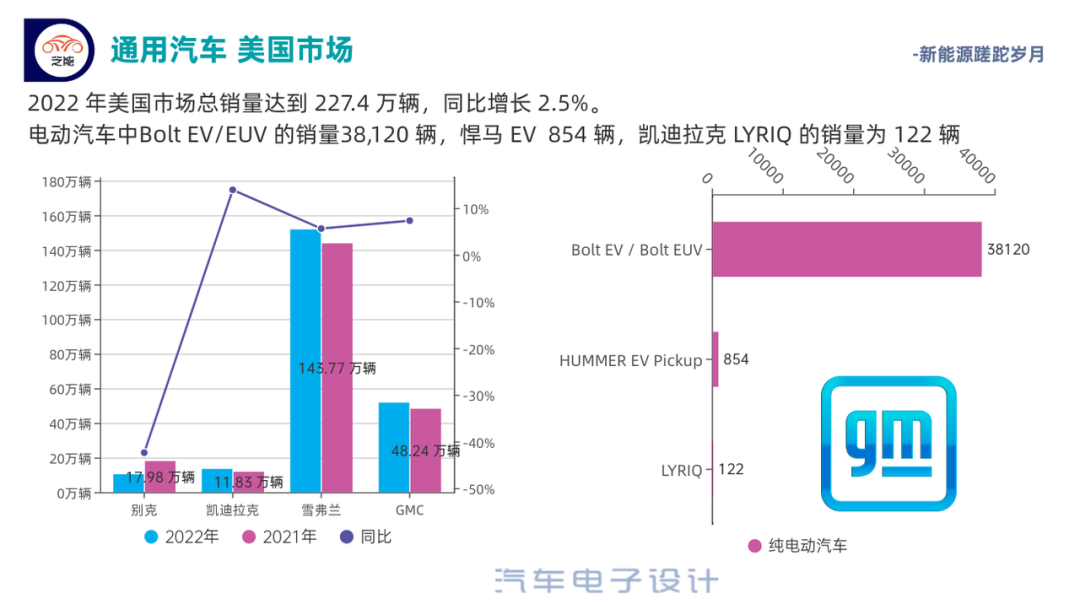 ● GM in China
GM and its joint ventures delivered over 2.3 million vehicles in China. Actually, if we only count GM's own brands (Cadillac, Buick, and Chevrolet), the total is 1.037 million. Overall, GM North America considered transformation very early and saved a lot of ammunition. Next, we need to see the performance of the Ultium platform- how this sword-like platform performs will depend on the performance of Buick and Chevrolet electric vehicles after mass production in Wuhan factory.
General Motors' Main Focus
US Market
According to research companies J.D. Power and LMC Automotive, the total sales volume of the US automobile market is expected to be 13.7 million units in 2022, which is the lowest new sales volume in more than ten years, and a decrease of 8% compared with the previous year.
For General Motors, large vehicles (pickups and full-size SUVs) have dominated the sales of 2.2 million vehicles in the United States. Taking up nearly 50% of its total sales revenue, these are the main models of General Motors, and are more profitable than sedans and medium-sized SUVs, of which General Motors only has one Malibu model that sells more than 100,000 units.
General Motors' sales of new energy vehicles are as follows:
◎Bolt EV/EUV: 38,120 units. The plan for 2023 is 70,000 units, which means that Bolt models will replace Trax, Encore/GX, and other models.
◎Hummer EV: 854 units. This model is the pioneer when expanding its market.
◎Cadillac LYRIQ: 122 units. This is mainly affected by the shortage of chips, because the sales volume of Cadillac CT4 and CT5 is only 25,000 units.
The original plan for General Motors' North American production of 400,000 electric vehicles in 2023 has been postponed to the first half of 2024. It is expected that by 2025, production capacity will be increased to 1 million units per year in North America. The delay is aimed to provide enough time for its own models. In addition, around 2025, the company's own battery production capacity will reach more than 160 GWh, and the battery cost of Ultium batteries will be lowered to below USD 70 per kilowatt-hour.### China Market
For General Motors, previous BEV platforms, whether from Bolt EV or borrowed from SAIC Group, have not performed well for various reasons. The next step is to expand investment in China and make sustained input around the Altium platform. The new challenge now is that various new models are being launched in the Chinese electric vehicle market, regardless of whether it is the Lyriq, Buick E5, or Chevrolet pure electric, all need to directly face other competitors in the fierce Chinese electric vehicle market to prove themselves.
Given the current situation of Buick and Chevrolet, it's necessary to drop the brand's burden and support the sales of pure electric vehicles around cost-effectiveness, through their own sales network and after-sales service systems. Of course, vehicles with plug-in hybrid power can also be further optimized.
Electrification and Intelligence
I believe that in the US, General Motors still has advantages around the three-electric field centered on the Ultium platform, but in China, it needs the support of intelligence. Now General Motors' strategy also revolves around software and technology subsidiaries for investment. Regarding the software-driven reform, General Motors and Ford have similar strategies, both of which integrate China's local resources instead of head-on confrontation like Germany's auto industry.
Strictly speaking, whether SAIC-GM can persuade both shareholders to invest heavily in the Asia-Pacific software center in terms of software is the key to General Motors' success or failure in China. The main reasons are as follows:
◎ It is difficult to expect Detroit's software engineers to develop a set of software that meets China's local needs in the short term.
◎ For SAIC's system, providing a good software system for other General Motors models in the short term is unrealistic.
So the problem facing GM in China is: Can JV and its subordinate R&D centers bear the heavy burden of software development? From a long-term perspective, China's software engineering resources are also very important to GMNA. Let's observe where it will go.
Summary: We understand that the electric vehicle platform is still a relatively hard architecture, revolving around the EE architecture and software development. GM has encountered great challenges in dealing with markets like China and the US – how to survive and develop in China, how to utilize the manpower resources in China, not only requires technical proficiency but also requires wisdom in management and appointment.
This article is a translation by ChatGPT of a Chinese report from 42HOW. If you have any questions about it, please email bd@42how.com.