Author: Nie Yiyao
Shanghai, starting from the "Bund" ("Wai Tan" in Chinese), has always led the fashion trend in various nicknames such as the "Paris of the East" and the "Magic City."
The openness and compatibility of the commercial port and the continuous collision of Eastern and Western cultures have provided Shanghai's unique aesthetics and fashion pioneers with the soil of development in different periods.
In the early days, fashion in Shanghai was the "foxtrot" under the pen of Mu Shiying, the gorgeous robes with green and pink colors coordinated by Zhang Ailing, and the unique and noisy beauty.
In the 1970s and 1980s, Shanghai's fashion trend radiated in various fields, representing "Shanghai Made", which people trusted and pursued. At that time, the "three essentials" for most women to choose a spouse were the Shanghai-brand watch, Forever bike, and Butterfly sewing machine. Even the US President Nixon loved White Rabbit milk candy, which was also one of them.
Entering the new century, especially in the booming new energy vehicles, Shanghai's fashion trend has a new way of opening up.
IM Automotive is the vane of Shanghai's leading fashion trend, injecting new connotations and experiences into aesthetics.
Wang Xiaohui, a Chinese artist living in Germany, praised IM Automotive in this way: "It is a balance between technology and aesthetics, a combination of purity and tranquility. People can truly feel how this technology and art crystallize and embrace technology, nature, and humanity with the power of beauty."
IM is Beautiful
IM Automotive is young but not unfamiliar. On the one hand, it comes from the high-end brand created by SAIC, which is already remarkable in itself. On the other hand, the L7, which IM has already launched, and the LS7, which will be launched in February this year, have become famous immediately because of their elegant appearance, luxurious and sophisticated interior, ultimate driving performance, and strong intelligent driving performance.
The first impression that IM Automotive gives people is that it is beautiful. The Shanghai aesthetics have never been lacking elegance, sophistication, luxury, cutting-edge, and internationalization. IM Automotive embodies this beauty to the extreme.
IM first invited the famous British design studio Heatherwick Studio to become the first official "brand partner." Later, it became an "art partner" with the international digital interactive art team teamLab.# Heatherwick Studio's Founder Thomas Heatherwick
Thomas Heatherwick, founder of Heatherwick Studio, is a young and talented artist who was named "the contemporary Leonardo da Vinci" by The Times. Heatherwick is also a renowned architect and has designed the United Kingdom Pavilion at the Shanghai Expo-the Seed Cathedral, Contemporary African Art Museum, Google's new headquarters in California, and the Fosun Art Center in Shanghai, among others.
In Heatherwick's work, it is easy to see that his use of "curved surfaces" in design has reached an amazing level. This is also why Zeekr, invited this well-known designer to participate deeply in the exterior and interior design, and charging station design of Zeekr's cars. Heatherwick has proven to have amazing artistic inspiration and creativity, enabling him to fully embody the application of "curved surfaces" in architecture and other life-arts designs. Therefore, Zeekr aims to create a mobile digital work of art with the Zeekr cars.
We can see that whether it is the Zeekr L7 or LS7, the use of curved elements is just right and complements each other from the vehicle's exterior to the interior design. Set against the backdrop of various car body details and interior settings such as futuristic screens, chrome-plated wheels and wireless charging, the overall exterior of the car is elegant and smooth and the interior intricate and luxurious.
teamLab's Founder Toshiyuki Inoko
Toshiyuki Inoko, the founder of teamLab, is a superstar in the contemporary digital interactive exhibition field. In the teamLab Borderless Museum, different works move freely, blending into each other; it is a place where humans and artworks can interact and even become a part of the artistic landscape.
This is a typical combination of art and technology, and Zeekr invited this team as "art partners", aiming to create an excellent interactive experience for users in a cabin with a strong artistic atmosphere, presenting an elf-like flowing digital work of art that perfectly combines art and technology.# An Example
One of the examples of the immersive experience is the wireless charging for the Smartcar L7. The interaction is highly ritualistic, as the charging panel automatically descends to commence charging when the phone is placed on the panel, and ascends to its standard position when the phone is removed.
This sense of ritualistic experience is not only limited to wireless charging, as there are numerous subtle details infused in the vehicle's cabin that attract users to experience them.
For instance, last year, in October, Smartcar L7 launched the IMOS 1.3.0 version. It included a series of functional optimizations, such as improved voice interaction, upgraded Carlog intelligent onboard system, and two new art themes – 'Impressionism' and 'Ink Wash Painting.' The 'Impressionism' theme takes inspiration from the renowned Impressionist Master, Monet's 'Impression, Sunrise.' It offers silky-smooth and immersive interactive aesthetics with its oil-style brush strokes and harmonious colors. The 'Ink Wash Painting' theme, on the other hand, takes classical Eastern Ink wash Art themes, and pairs them with a modern and technology-driven multi-screen interface, minimalist UI aesthetics, and a serene and refined Oriental landscape.
The interplay of Art and Technology creates an immersive experience for the passengers, where they can deeply appreciate and savor the beauty of Smartcar.
Smartcar is Cool
Aside from aesthetics, Smartcar is also cool concerning performance and handling. Smartcar collaborates with Williams Advanced Engineering Team to empower Smartcar and provide users with ultimate driving fun.
The Smartcar L7 is designed with "Four-wheel steering + hybrid tread design" similar to the Porsche Taycan. It has a large angle rotation of the two rear wheels and a minimum turning radius of 5.4 meters. The mixed tires of the front 245mm and rear 275mm provide tremendous grip. The car's maximum lateral acceleration is nearly 1G, delivering outstanding driving performance.
In April 2022, the Smartcar L7 accomplished a record accomplishment. In a drifting test, it took 1 hour and 6 minutes to complete 258 laps, breaking the Guinness World Record for "the longest drifting distance by an electric vehicle," with a score of 43.646 kilometers previously held by Porsche Taycan.In October 2022, the Smart L7 Snake Performance version ran a time of 1 minute 42 seconds and 212 milliseconds at the Zhejiang Raceway, successfully surpassing 2 million yuan high-performance cars such as the AMG EQS 53 and the Porsche Taycan Turbo S, and won the title of the fastest mass-produced electric vehicle by a Chinese brand at the Zhejiang Raceway.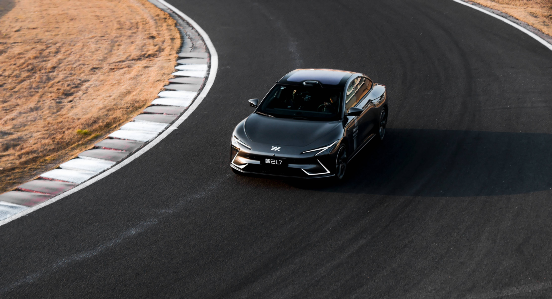 It is reported that the Smart LS7, which is planned to be officially launched in February after the Spring Festival, will perfectly continue this excellent driving control gene.
In the era of new energy vehicles, some people forget that electric vehicles should also have good driving performance. However, users who truly understand luxury brands know that driving performance is an indispensable core value of luxury cars, including high-end electric vehicles.
Because driving performance is not only being faithful to oneself, but also being faithful to safety, this is the side of Smart that combines technology and human care, and it is only natural to become a trend.
Liu Tao, CEO of Smart, said that vehicle driving control, including braking, body control, posture control, steering, etc., is a very complex dynamic system engineering and the fulcrum of the core functional support of automobiles. Good driving performance means that once encountering extreme situations, the vehicle can cooperate with the driver to avoid danger more flexibly.
In addition to driving performance, Smart's coolness is also well-explained in the driving experience.
The Star Fall ice feeling front dome of the Smart LS7 expands the view of the traditional SUV to 106 degrees and maximizes the SUV category's driving experience.
Just imagine when you are driving the Smart LS7, enjoying the blue sky, white clouds, and splendid stars while driving, it will be a very cool experience. Moreover, better vision also makes driving safer.
Smart is very intelligent
Smart represents wisdom. Of course, Smart cars are very intelligent. The intelligent advantage of Smart cars is mainly reflected in the level of autonomous driving.
Based on the hardware equipped with 11 cameras, 5 millimeter-wave radars, and 12 ultrasonic wave radars, the Smart L7 achieves a strong driving assistance capability from L4-level autonomous driving to L2+. It can handle complex road conditions such as "overtaking on congested roads", "dodging large and abnormal vehicles," and "large curvature bends.""`markdown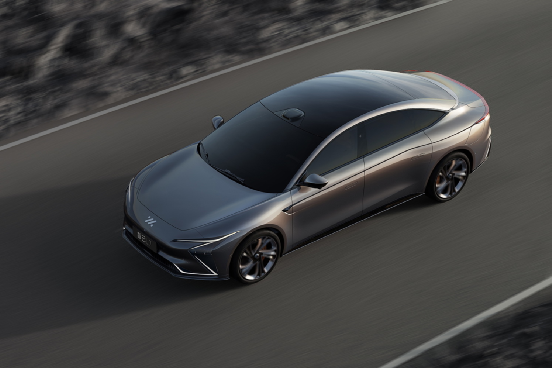 Thanks to SAIC Lingzhu and the Super Data Factory jointly established by SAIC and Alibaba, IM cars have achieved full closed-loop automated iteration capabilities.
The closed-loop automated iteration capability of the Super Data Factory analyzes and iterates data for the 10% long-tail low-probability scenarios beyond the daily driving traffic conditions for the vehicles, and these scenarios are also the most critical.
After completing the verification, development, integration, and passing the test requirements, the vehicles achieve automatic driving ability to deal with low-probability scenario traffic dangers through over-the-air updates.
Based on the closed-loop automated iteration capability of the Super Data Factory, the automated driving core iterative direction is indeed the true artificial intelligence core iteration direction of the future. Therefore, IM has competitive resources and capabilities.
In recent years, SAIC Lingzhu, who is behind IM, has been committed to the ultimate exploration of efficient computing power, and has been committed to achieving better cross-domain integration and integration of intelligent driving and intelligent cabin, bringing users a more perfect experience.
It is reported that the upcoming IM LS7 will also upgrade its hardware based on the L7, bringing users a more superior intelligent driving experience.
For example, in terms of intelligent cabin, IM has realized scene-based intelligent multi-domain integration, including pet mode, supercar mode, nap mode, etc., which will bring users a more intimate experience.
In terms of intelligent driving, IM LS7 has the highest-level intelligent auxiliary driving ability of up to dual lidar plus ORIN chip combination, further enhancing functions such as high-speed and high-level navigation NOA, and high-precision automatic parking.
Meanwhile, the IM LS7 will continue to be equipped with the DLP&ISC intelligent lighting system, as well as the Carlog intelligent car-mounted camera system pioneered by IM cars, bringing users industry-leading intelligent car experiences.
IM Knows How to Play
In terms of innovation, IM really knows how to play, the most typical example is the "Original Stone Valley" user data rights and interests plan, and the application of blockchain technology.
"`In the era when everyone is freely exploiting user data, Zhi Ji chooses to pay for it.
By offering 4.9% equity return as a founding shareholder, and leveraging blockchain technology, Zhi Ji rewards users who contribute important data by offering them 300 million pieces of "Original Stone".
Users can obtain Original Stones through mileage-based mining and cultivation-based mining, where the former accounts for 70% of the total number of Original Stones, and the latter accounts for 30%.
In July 2022, "Original Stone Valley" fully opened, launching the world's first user data rights and interests plan, and in August, formally opening the mileage-based mining to exchange "Original Stone."
In the "Original Stone" exchange program of Zhi Ji, users can use up to 6800 pieces of "Original Stone" + 10,000 yuan in cash to exchange for the laser radar fusion intelligent driving hardware system.
The Original Stone exchange program includes hardware such as high-precision laser radar and high-performance Orin X chips, allowing the vehicle to continue to evolve, improving its intelligent driving abilities.
Besides, Original Stone can also be used to exchange for software and hardware upgrades, intelligent services, limited editions, digital collectibles, and limited experience activities.
It is apparent that Zhi Ji aims to use this method to end the industry practice of exploiting user data and achieve co-creation with and sharing of the era's dividends with users.
Furthermore, the new LS7 from Zhi Ji will be equipped with the brand new Intelligent Cockpit 2.0. Combining IM OS 2.0 with Original Stone Valley and IM GO!, it breaks down the barrier between the virtual and reality, becoming the first SUV that achieves the entanglement and agitation of reality and virtuality and the first intelligent vehicle that truly applies blockchain technology.
Zhi Ji emphasizes the combination of art and technology, intelligence and humanity, and innovation in serving users, bringing ultimate enjoyment and experience.
Despite being an automobile brand, Zhi Ji inherits the trend-setting spirit of Shanghai. In the current market with new energy vehicles becoming increasingly popular, Zhi Ji stands out as a unique and striking trend pioneer.
汽车品牌
韩国品牌
美国品牌
福特
别克
雪佛兰
福特
福特(Ford)是一家美国汽车制造商,成立于1903年。
别克
别克(Buick)是一家美国豪华汽车制造商,成立于1903年。
雪佛兰
雪佛兰(Chevrolet)是一家美国汽车制造商,成立于1911年。
欧洲品牌
奥迪(Audi)
宝马(BMW)
梅赛德斯-奔驰(Mercedes-Benz)
法拉利(Ferrari)
上述文本翻译成英文:
Car Brands
Korean Brands
American Brands
Ford
Buick
Chevrolet
Ford
Ford is an American car manufacturer founded in 1903.
Buick
Buick is an American luxury car manufacturer founded in 1903.
Chevrolet
Chevrolet is an American car manufacturer founded in 1911.
European Brands
Audi
BMW
Mercedes-Benz
Ferrari
This article is a translation by ChatGPT of a Chinese report from 42HOW. If you have any questions about it, please email bd@42how.com.