Writing by: Jingtao Wu
The cross-border integration of automobile and esports may also be the future trend.
At the just-concluded Guangzhou Auto Show, Hechuang released its fourth model, also the first MPV model – Hechuang V09.
The new car attracted everyone's attention as soon as it was released, especially on various social media platforms, the discussion about Hechuang V09 was quite popular. The product highlights, such as highly recognizable appearance, 800V high-voltage system, and LIDAR, have become the focus of everyone's discussion.
However, the most popular topic among them must be that Hechuang announced that it will join hands with the world's top esports equipment brand, Razer, to create a "mobile esports fortress" based on the V09 model, which is a heavyweight news.
In fact, Hechuang's brand strategy bound with esports has already achieved certain substantial results. But the previous mode was mainly to reach a strategic cooperation with EDG esports team, and named it EDG Hechuang Auto team. Through deep binding with EDG, it created unique competitiveness of Hechuang Auto in this field.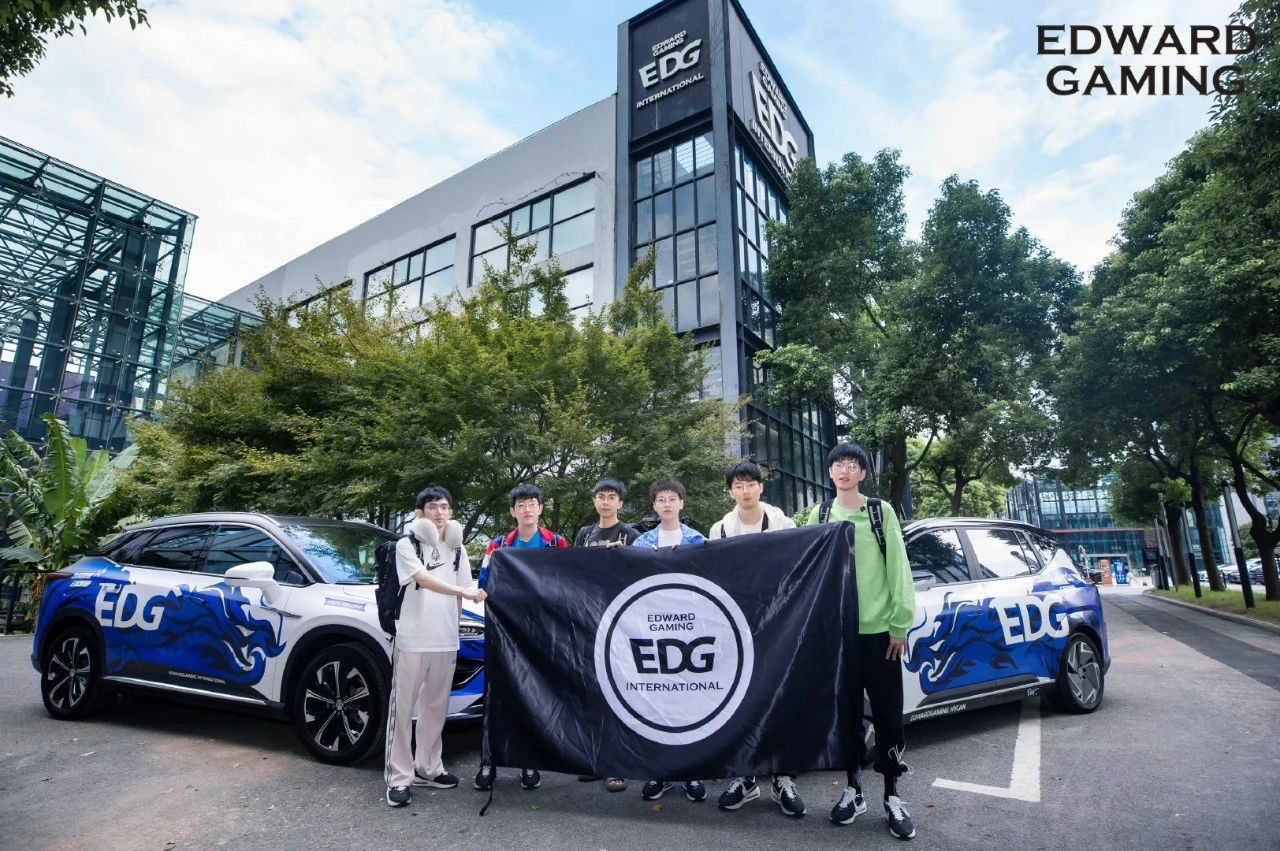 Cooperating with an esports equipment brand to build an "esports equipment cockpit" based on its own car model is still the first time, even looking at the entire automobile industry, such cross-border cooperation is also of great novelty, which naturally attracts everyone's discussion and attention.
Why did Hechuang choose this kind of cooperation and why did it choose Razer as its partner? I believe these are the two questions everyone is very interested in after learning about this cooperation.
After the Guangzhou Auto Show press conference, Hechuang Auto's directors and co-presidents Yang Ying and He Kaixin, also the vice president and dean of R&D, accepted interviews with multiple media and had face-to-face communication with the media. During the process, they revealed many new messages about Hechuang's products and development direction, including the above two questions.
MPV That Can Play Esports
Let's first turn back the clock to the press conference of Hechuang's brand, where the company released its first MPV model – V09.
The Hozon V09 is positioned as a medium to large-sized pure electric MPV. The body size has not been announced, and it is built on the H-GEA pure electric architecture newly developed by Hozon.
The new car uses the design concept of the CONCEPT-M concept car. The front of the car adopts a through-type LED daytime running light strip and a split-type headlight design. There is a set of chrome-plated decorative strips on the outside of the headlight group that is connected to the lower air intake grille, and the entire front face has a high degree of recognition.
The overall profile of the body side is more square, but on the door panel and D-pillar, Hozon V09 has designed some inclined line elements to increase the visual hierarchy of the side body.
In the rear part of the car, V09 adopts a through-type taillight design, and the shape of the taillight has a strong three-dimensional sense, which echoes the front-end design.
In terms of intelligent cockpit, the new car is expected to use two 8155 chips and support four-screen linkage.
In terms of endurance, Hozon V09 is equipped with a large-capacity high-energy-density battery of 257Wh/kg, which can achieve a range of 750+km. The entire system is equipped with an 800V high-voltage system, and the peak fast charging power can reach 380kW, which can achieve the performance of charging for 5 minutes to replenish a range of 200 kilometers.
The new car will use the newly upgraded H-VIP 3.0 intelligent driving and connected system, which has 24 high-precision sensing hardware and can achieve up to 37 ADAS driving assistance functions. Hozon V09 will also become the world's first mass-produced MPV model equipped with a laser radar, and the farthest detection distance of the laser radar can reach 300 meters.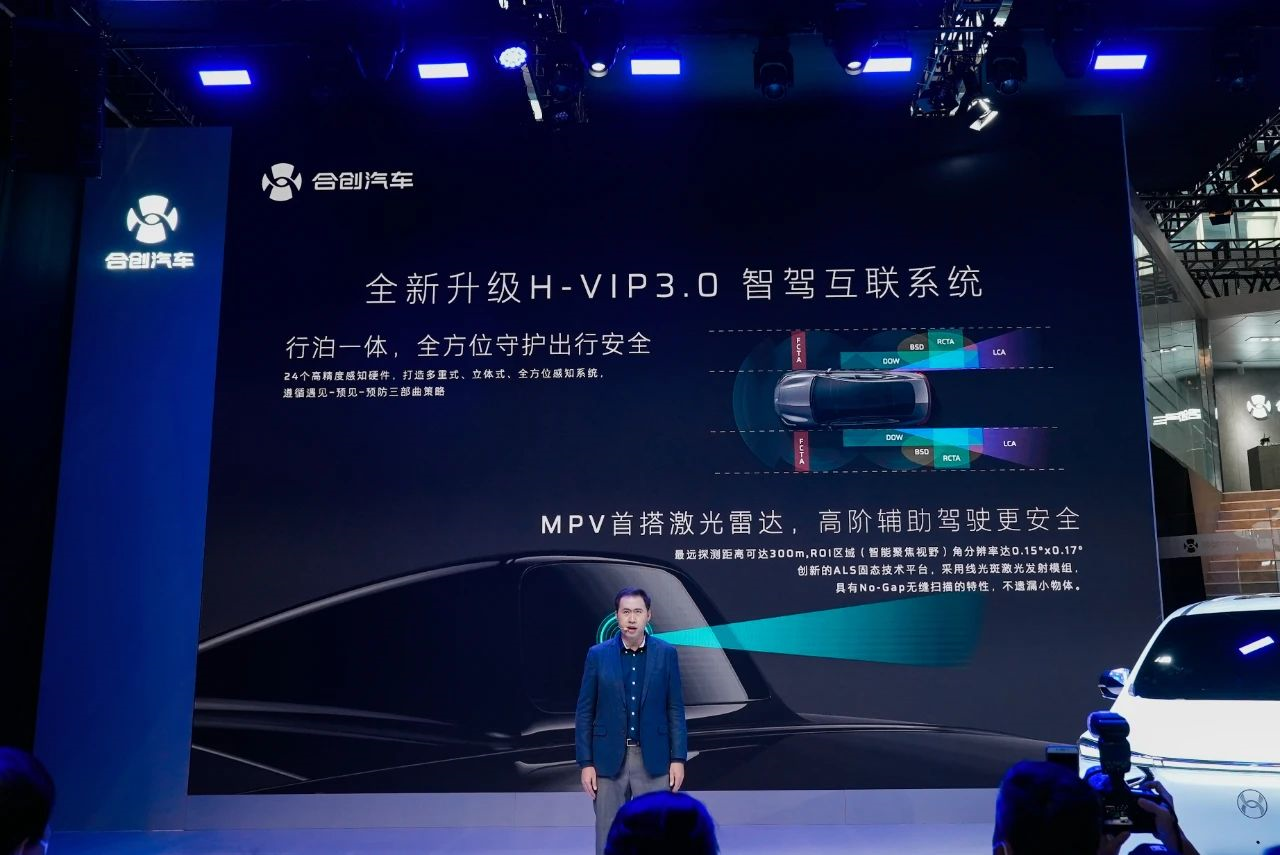 In addition to releasing basic information and parameters about a new car, HECHUANG Automotive also announced a partnership with the global top-tier esports equipment brand Razer, to create a "mobile esports fortress" based on deep linkage with EDG and profound insights into esports users' demands for "mobile esports" driving.
Liu Xin, Senior Marketing Director for Razer China, also attended the press conference and revealed information about the cooperation in the event. He said, "Razer and HECHUANG's brand concepts are highly aligned. HECHUANG's continuous pursuit of fashion trends, high-end tastes, and continuous innovation, is in line with Razer's concept of 'Creating a global player lifestyle trend brand.' Both sides have a common understanding and insight into esports fans."
"Thanks to HECHUANG V09's superior modified foundation, it has given Razer more creative space, in order to provide users with a top-notch mobile esports equipment cockpit."
Regarding this "top-notch mobile esports equipment cockpit," General Manager Liu also made preliminary introductions about which Razer-branded esports equipment it will be equipped with.
Razer will provide a large amount of top-tier esports equipment for this mobile esports fortress, including Razer Blade gaming laptops, 165Hz refresh rate esports display devices, Chroma RGB light effects linkage, and Razer professional gaming chairs, and the goal is to create a top-tier mobile esports cockpit with combined sound, light, and electricity.
In addition to hardware planning for esports equipment, HECHUANG and Razer jointly announced the launch of the HECHUANG V09 Razer Edition co-creation activity, to bring more personalized trendy modification plans to the HECHUANG V09.
Interactive forms such as crowdfunding and co-creation are not particularly new in the current automobile industry, as car brands hope to strengthen communication with users and enhance their participation in model development and design through such interactive forms.However, cross-border co-creation design activities such as those between Hechuang and Razer are not common, because this activity is not limited to the appearance and interior design of a single car model, but rather, by integrating the advantageous resources of two brands, provides this co-creation activity with more imagination and room for play. Users participate in car co-creation, and co-creation content is not limited to cars. This unique way of playing demonstrates Hechuang's exploration achievements in the field of electric vehicles, with a focus on new modification methods.
Why Choose Razer?
After introducing the co-operation between Hechuang and Razer, as well as the first co-operation plan based on the V09 model, it is necessary to answer two questions that everyone is concerned about: why did Hechuang choose this cooperation method and why did they choose Razer as their partner?
Firstly, in the interview section of the launch event, the two high-level executives of Hechuang analyzed this issue deeply.
CEO He said, "Hechuang is a technology-based auto company. Cars are our vehicle, but making cars is not Hechuang's sole purpose. Therefore, we provide good cars + good services."
"This includes system support, as well as personalized modifications that cater to the different needs of consumers, which is reserved for personalized customization. The technology can fulfill consumers' desire for what kind of car life they want."
Yang further supplemented this issue, stating, "The extension of car usage scenarios is not determined by automakers, but rather, is based on the new demands of consumers due to the high integration of current intelligence and network. Previously, cars only had high-frequency contact with consumers in mobile scenarios and had relatively little contact with consumers in other scenarios. However, as mentioned earlier, outdoor live broadcasts and other scenarios have combined cars with more contexts. At this point, consumers need more technology empowerment from cars in more scenarios. Therefore, I think it is necessary to adapt to change and adapt to consumer needs."Obviously, after deep cooperation with EDG, Hechuang has insight into the demand of e-sports users for "mobile e-sports" vehicles, and has made targeted plans for brand development.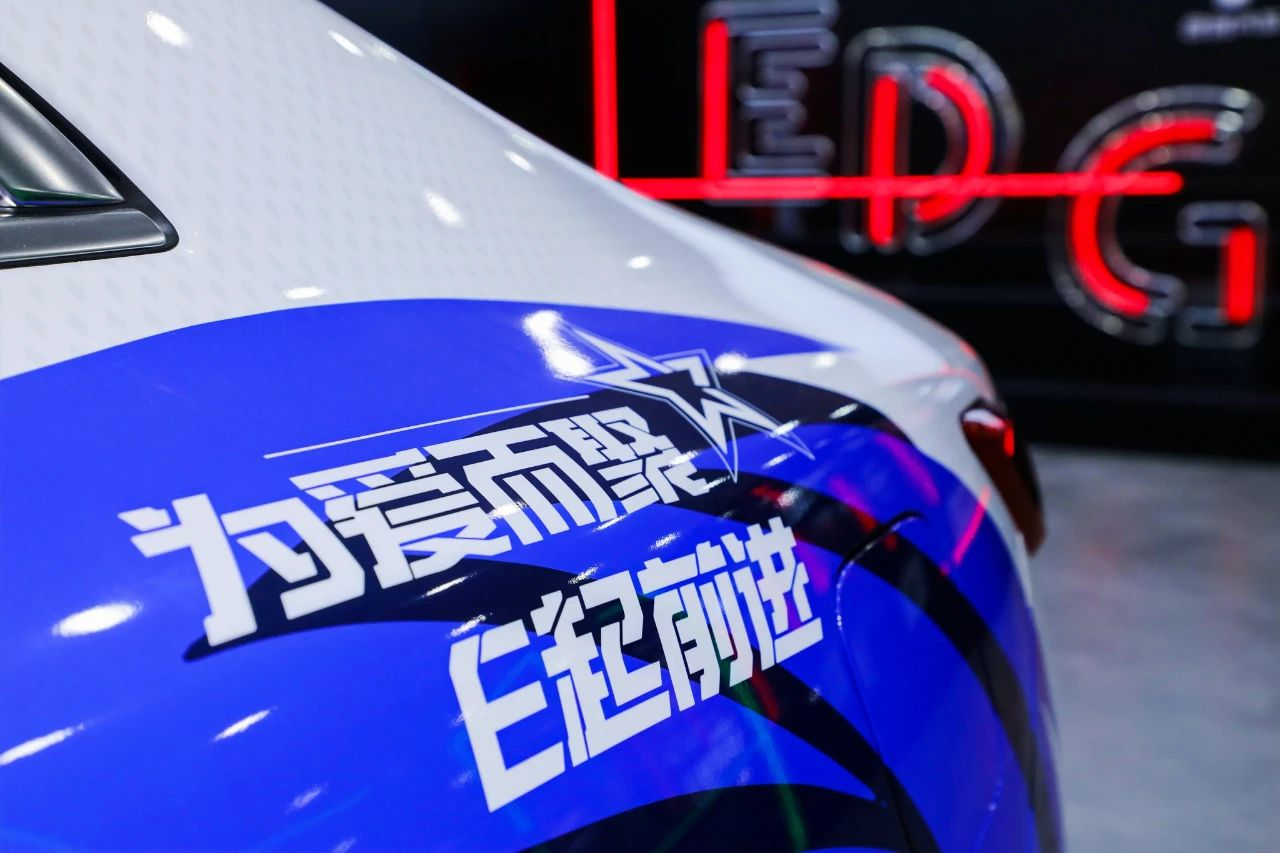 As for the second question, why choose Razer as a partner? Yang has also elaborated on the reasons.
He said: "Because we have gained a large number of EDG fans through deep cooperation, they have also become fans of Hechuang. Based on the demand of fans, we expect to create a mobile e-sports fortress. We have heard their voice, and we want to create a car for them."
"On this basis, Razer is absolutely the ceiling of hardware devices in the e-sports field, and they also think that the V09 has very good basic qualities, which can be used as a mobile e-sports fortress. Therefore, after consultation and joint research, the two sides decided to jointly develop a V09 Razer mobile e-sports fortress."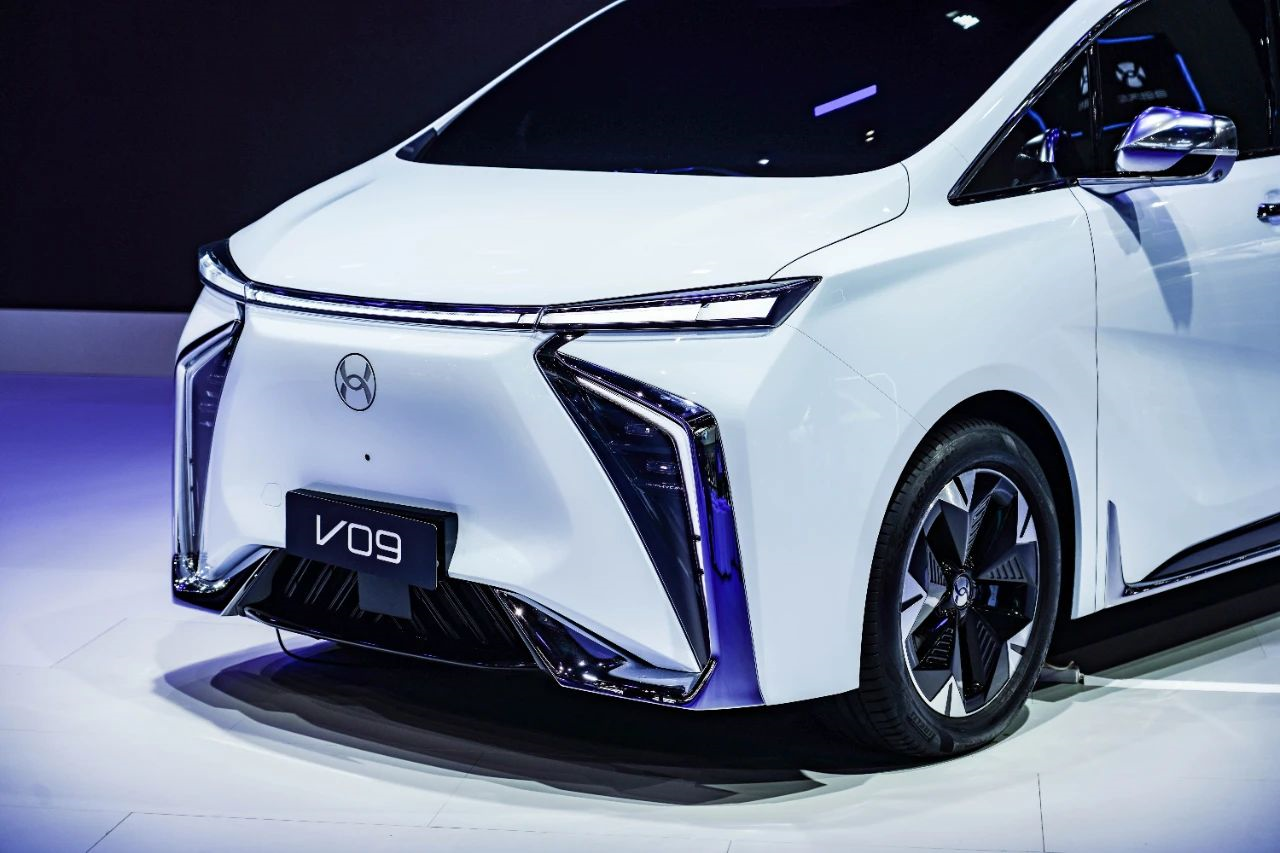 "Razer will use 100% original top-level equipment certified by the official factory on the car, especially the 165Hz high-definition display. This has not been done in cooperation before, which fully reflects their trust and attention to our car."
Steady progress and continuous exploration
From the above Q&A, we can extract two core messages.
First, the decision to build the Hechuang V09 Razer mobile e-sports fortress was not a "spontaneous behavior" of the two companies. It is a strategic collaboration with a long-term vision that Hechuang and Razer made based on comprehensive considerations of corporate philosophy, product style, and development prospects.
The second point is, for Hozon, collaborating with Razer is not an isolated event, but a further exploration of the cross-border integration of cars and E-sports after achieving remarkable results through in-depth cooperation with EDG.
Certainly, forward-looking product concepts, such as E-sports cockpits, are not easy for many consumers to digest and understand, and it is difficult to imagine the experience they can bring in actual driving scenarios.
However, the inability to foresee does not mean that it will not be seen in the future. Mr. Yang cited statistics in a previous interview: "From the perspective of statistical data, E-sports is currently the largest sports event in the world, even surpassing football. This industry can deeply influence the future main consumer groups, 90s and 00s. At present, there are more than 300 million E-sports enthusiasts in China, a very large group. So, I think this is our layout for the future main consumer groups of E-sports and a reflection of our segmentation for the E-sports group."
As we can see, the integration of cars and E-sports has a considerable foundation in terms of audience size. With the continuous increase in demand for car consumption from this group of young consumers, and with the continuous extension of highly integrated intelligent and networked use scenarios of cars, there are conditions for further exploration and practice of the integration of cars and E-sports, regardless of demand or technology.
If the deep binding with EDG is the first exploration of Hozon's integration of cars and E-sports, mainly focusing on brand promotion and product promotion, then this collaboration with Razer is their exploration of the 2.0 era of the integration of cars and E-sports.
Going from the promotional level to the product level, using tangible products to promote the further deepening of the integration of cars and E-sports, this attempt is worth our continued attention.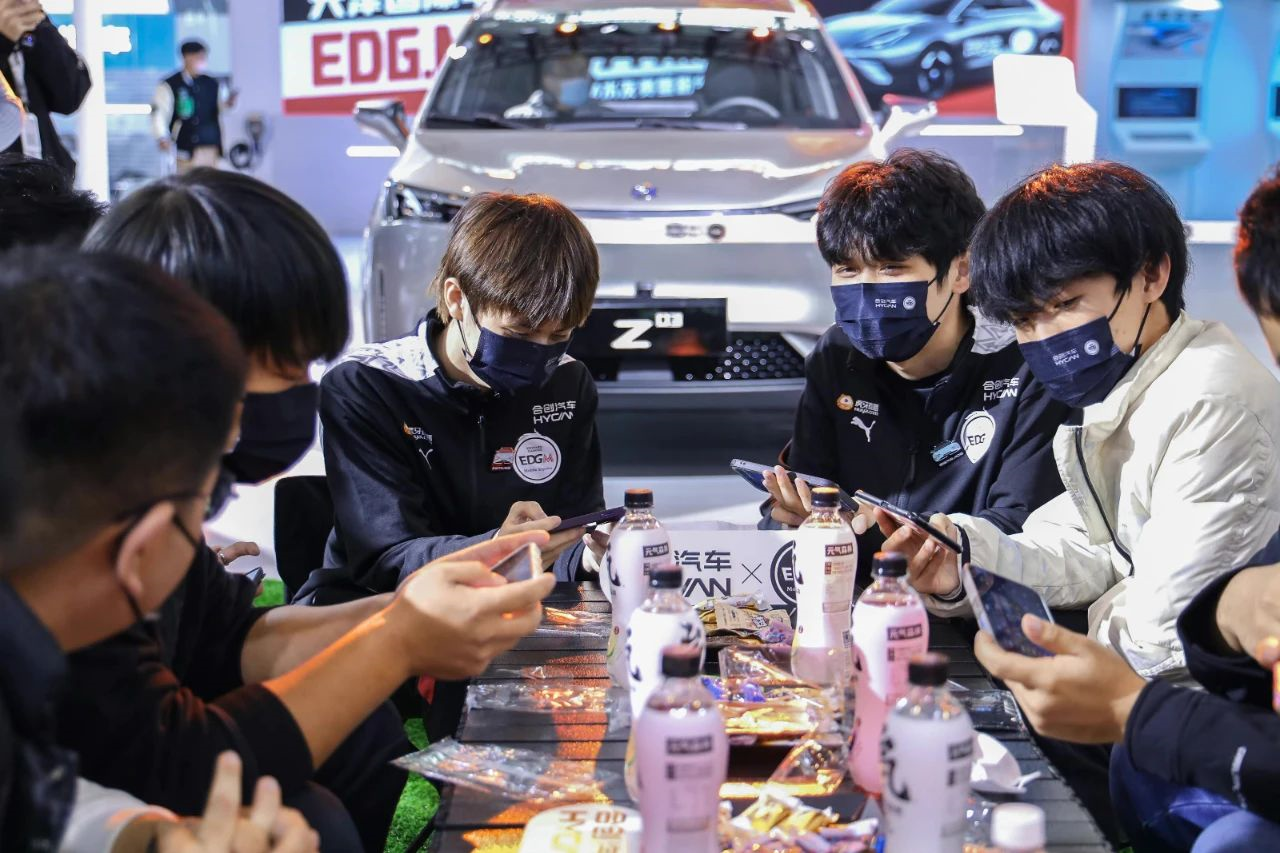 This article is a translation by ChatGPT of a Chinese report from 42HOW. If you have any questions about it, please email bd@42how.com.