Test Drive of NIO's D9, the Luxury MPV that Aims for 600K Sales in 2025
Thanks to Garage 42's invitation, I had the rare opportunity to test drive NIO's latest offering, the D9.
Let's take a closer look at NIO's strategy in the high-end luxury MPV market, especially after losing its partnership with Mercedes-Benz. How can NIO leverage its product offerings to achieve its ambitious goal of 600,000 sales by 2025?
Missed Opportunity
NIO is often associated with Mercedes-Benz and BYD, as it was formed in 2010 by these two companies, establishing one of the earliest "luxury electric vehicle" brands in China.
In 2014, NIO's first product, the DENZA 300, was launched, which coincided with the beginning of China's new energy vehicle policies. However, its high official price of CNY 369,000 and an after-subsidy price of CNY 255,000 was not competitive, as entry-level BBA models were also available at that time. Meanwhile, other new energy vehicle manufacturers offered much lower pricing, with official prices often ranging from CNY 100,000-200,000 and after-subsidy prices as low as CNY 70,000-80,000. NIO lost the competition.
Later, the release of the DENZA X failed to break that sales curse and it was dubbed a "rebranded Tang" by outsiders. The car was eventually only featured in the Mercedes-Benz showroom.
In late 2021, NIO announced a reshuffling of its shareholders, with BYD increasing its stake to 90% and Mercedes-Benz reducing its stake to 10%. Many people thought it was the end of the cooperation between the two companies, but BYD actually holds the power to speak for NIO, and it will be the main driving force for NIO's future growth.
Winning Strategy: Products or Price?
I was always curious as to why NIO chose an MPV as its first car model after the brand's facelift. What was the logic behind it?
The Long-Standing Dominance of Japanese Brands in the High-end MPV Market in China
For a long time, the high-end MPV market in China has been dominated by Japanese brands, while the largest domestic automakers have focused on American-style large SUVs and pickups, as well as German luxury and performance models, and domestic brands that trade price for volume and specialize in sedans and SUVs.
However, in the face of Japanese MPVs like the Serena for family use, and the luxurious and business-oriented Alphard and Vellfire, the high-end domestic new energy MPV market has become a blue ocean of breakthroughs for domestic brands.
Silence Speaks Volumes
In my fixed impression, MPVs have always been synonymous with poor control, low configurations, and high prices, largely due to the stereotype that a certain luxury Japanese MPV created for me.
I was not expecting any domestic brands to excel in NVH. Currently, among the cars I've experienced, the Mercedes-Benz EQS and the Ideal L9 have the best NVH. However, to say the least, the DENZA D9 surprised me!
During daily driving, I felt an unimaginable silence. I could hardly feel any noise or excessive vibration from the outside of the car at speeds of 60, 80, or 100 km/h, thanks in part to its four-door double-layer laminated glass.
The other part is its flat ratio 60 full-series standard Michelin ContiSportContact 5P tires. I believe that under the weight of 2.5 tons, not only the 40-degree lithium iron phosphate battery, but also sufficient shock absorbers and soundproofing cotton are required to achieve such extraordinary performance.
Is Intelligence in Conflict with Luxury?
In terms of body size, the D9 is 5,250 × 1,960 × 1,920 mm in size, with a wheelbase of 3,110 mm. These data already surpass the mainstream MPVs on the market. The most important feature of an MPV is its size. It not only needs to be large in appearance, but also spacious inside. Obviously, the D9 has taken the first step.
The second row configuration is almost fully extended!Equipped with two aviation seats with electric leg rests, ventilation, heating, massage, and all the necessary features.
The panoramic sunroof comes with an electric sunshade and a 12.8-inch headrest screen with an 800W pixel camera, allowing remote video conferences and recording precious moments during family trips.
Two 5.5-inch armrest screens are located on the second row armrest, which can complete most of the in-car adjustments, from the basic seat adjustment to the comfort configuration.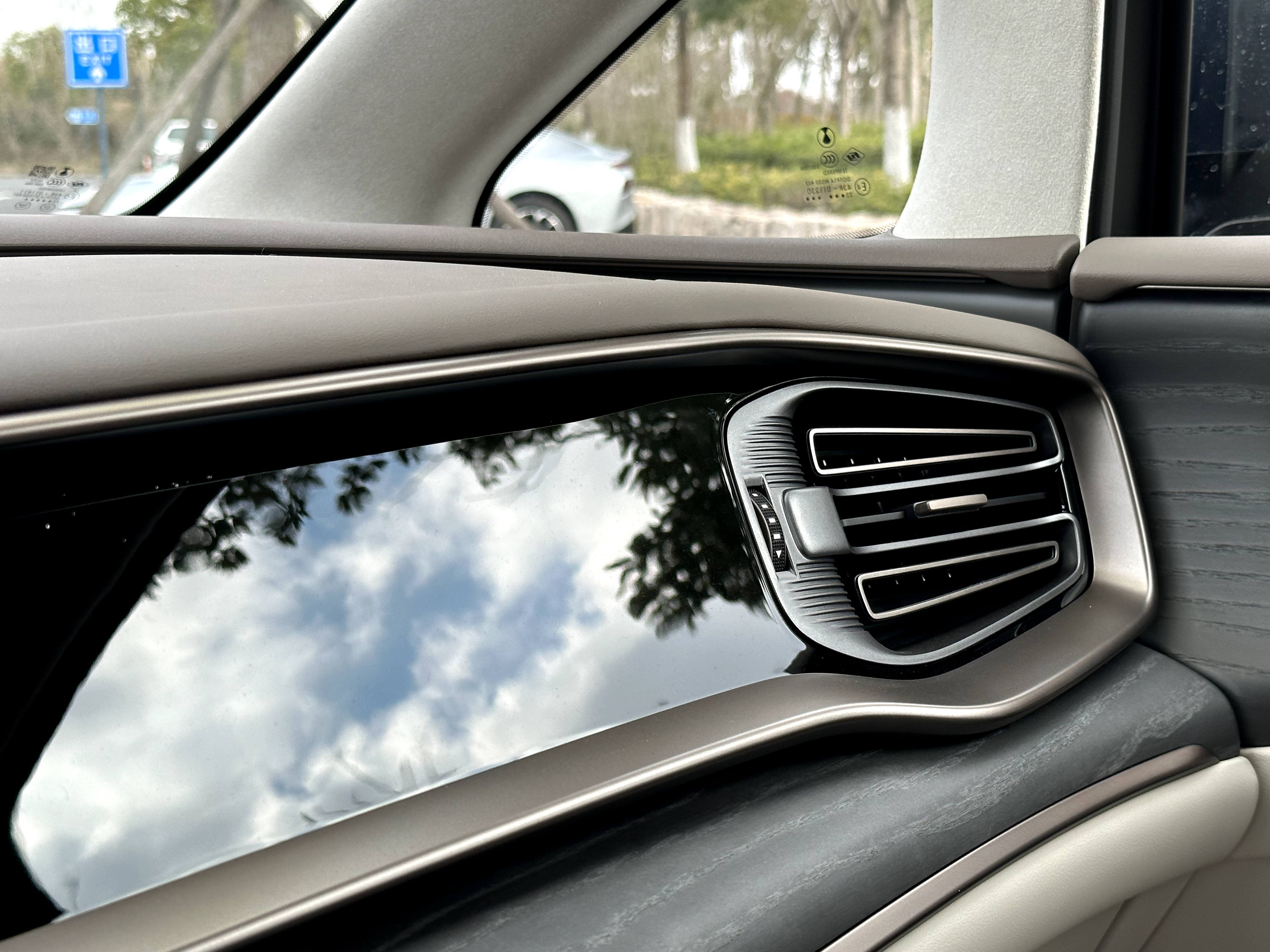 In terms of interior design, the first impression of the D9 is its use of different materials and colors to create a true sense of luxury, as opposed to using fake brown interiors like other models. The co-driver's side includes a large high-gloss black decoration panel with a real wood veneer panel that runs through the entire center console. The air conditioning vents are decorated in matte silver, and the surrounding areas are decorated with dark gold with a matte texture, matching the leather-wrapped center console. The overall look and feel create a surprising sense of luxury.
During the D9 product launch, a model with a 17.3-inch 2.5k resolution and a co-pilot screen was also introduced. This configuration may appear in later 4-seater models.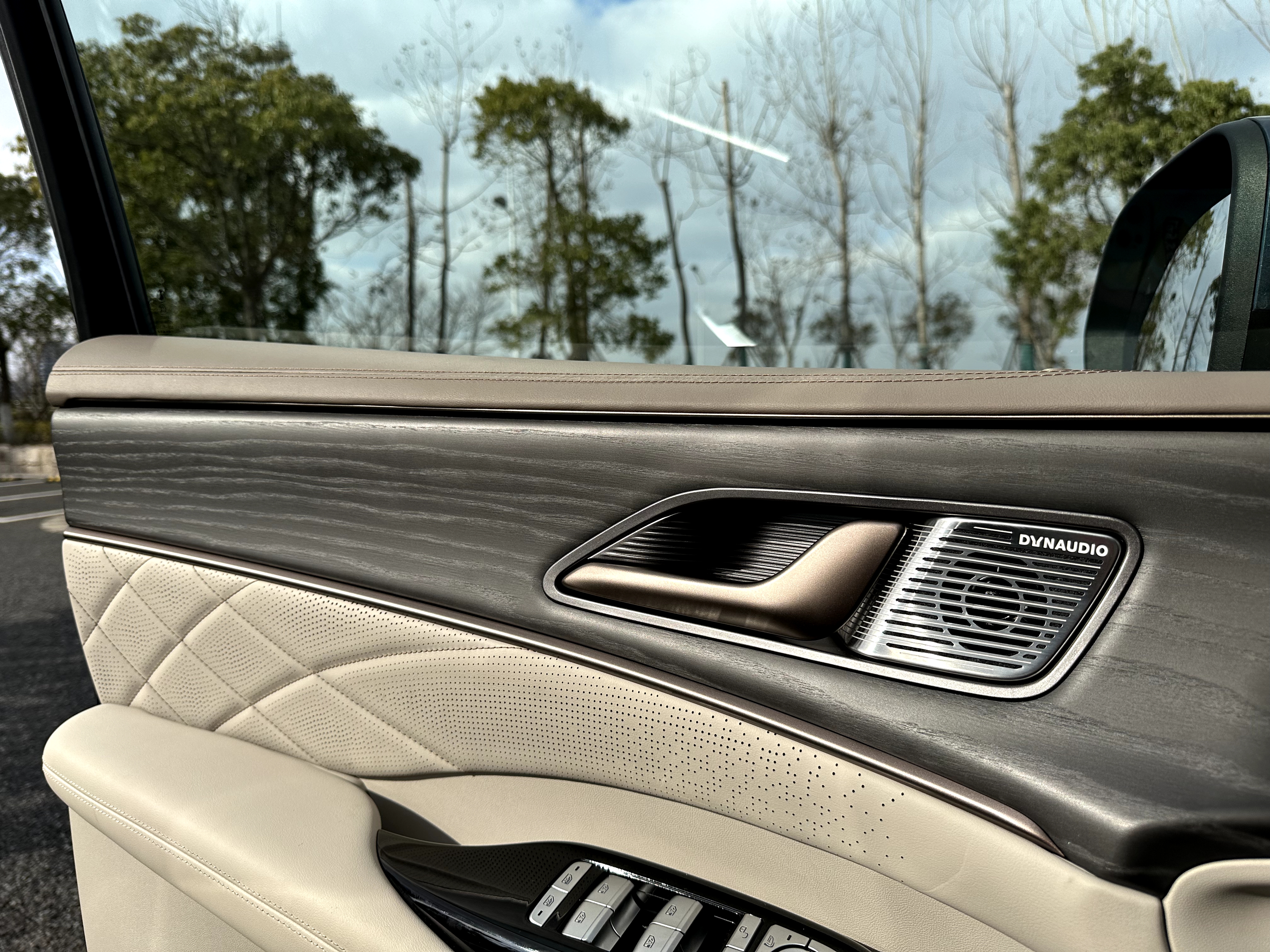 The door panel is covered with genuine leather that features unique lines and perforations. The ambient lighting stretches from front to back, and it is not simply a short light strip.
The matte dark gold door handle is very tactile and next to it is the standard 14-speaker Denon sound system across the entire series, which comes with 7.1 surround sound and a dedicated mid-bass unit for second-row passengers. Coupled with good NVH performance, it is definitely more than enough.
Smooth and seamless car infotainment system breaks my inherent perception of DENZA, and the extremely narrow border exceeded my expectations.
The conversational ability of the voice assistant is also extremely smooth, with broad control permissions over the given voice, including the three key functions of four-tone area speech recognition, continuous conversation, and visible speech, all of which are standard across the board.
Although it is not as good as the T0 team's on-board voice assistant, its capabilities are infinitely close, and the voice quality of the voice assistant even makes me feel like I am talking to the brand's voice assistant of some new power in China.
Regularly used operation buttons are also arranged with physical buttons, such as switching between pure electric and hybrid modes, switching driving modes, opening and closing sun visors and sliding doors, adjusting volume, and so on. I believe all of these were thoughtfully considered before the final draft.
Conclusion
From 2014 to 2022, DENZA incurred cumulative losses of over RMB 5.22 billion. Can it straighten its back with the D9 and the next two models?
We cannot be certain, but what I can see is a very good start, a brand that is willing to make changes, and even though it is backed by BYD, it wants to showcase the strengths of Mercedes-Benz and make up for the shortcomings of BYD in order to have a place in the increasingly competitive new energy market.
This article is a translation by ChatGPT of a Chinese report from 42HOW. If you have any questions about it, please email bd@42how.com.