Sales Report: Tesla vs. BYD in 2022 in China
Author: Yi Han Wu
Editor: Xian Zhi Wu
At the beginning of the new year, all major car companies have successively released their December 2022 sales and the overall annual sales performance. Among them, Tesla delivered 405,278 new vehicles in the fourth quarter, an increase of 31.3% year-on-year. Moreover, Tesla delivered 1,313,851 vehicles throughout the year, a 40.34% increase year-on-year, achieving 87.59% of its initial annual target of 1.5 million deliveries.
In addition, it has been reported that Tesla will release a new model priced around CNY 170,000-220,000 in 2024, possibly named Model 2.
In the field of new energy vehicles, BYD has surpassed Tesla
In contrast, BYD's performance is completely different.
In December 2022, BYD delivered 235,197 new energy vehicles, up 150.36% year-on-year, and achieved 1,863,494 deliveries throughout the year, up 208.64% year-on-year. As early as October, BYD had already achieved its previous goal of selling 1.2 million vehicles annually.
Additionally, BYD delivered 911,140 pure EVs over the year, up 184.01% year-on-year, and delivered 946,239 plug-in hybrid electric vehicles (PHEVs), up 246.69% year-on-year.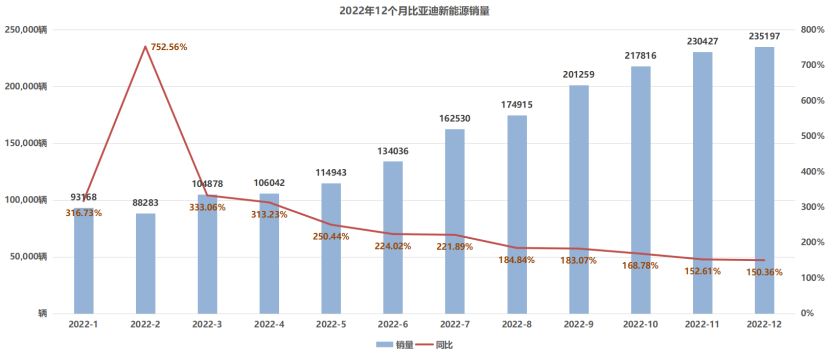 In 2022 Q1, Tesla's sales exceeded BYD by about 23,700 vehicles. However, BYD overtook Tesla in the next three quarters, and the gap became wider and wider. BYD has sold nearly 550,000 more new energy vehicles than Tesla in 2022. However, in the pure electric vehicle market, Tesla still dominates the global sales with 1.31 million vehicles sold in 2022, while BYD ranks second with 910,000 vehicles sold.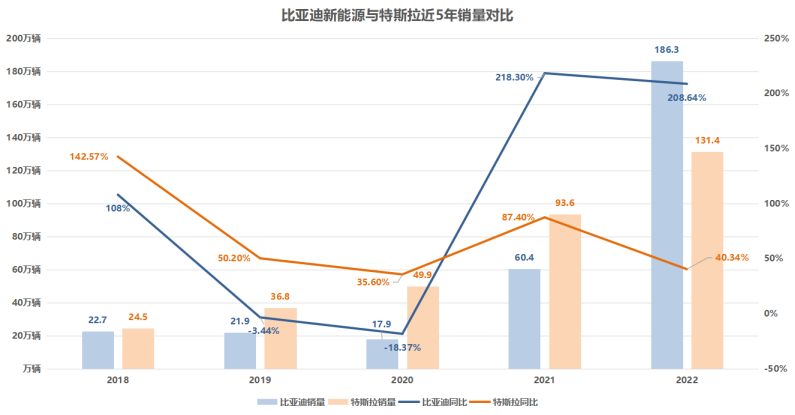 Between 2012 to 2022, Tesla delivered over 3.6 million vehicles. By comparison, BYD delivered a total of 3.37 million units since starting its new energy vehicle delivery in 2008 up until 2022. Despite trailing behind Tesla for an extended period, BYD has made a comeback in 2022.
In addition, there have been rumors that BYD's target for 2023 is set to be 4 million units. However, BYD has expressed that the future market remains uncertain and will adjust as needed, so there has been no official response given.
Vehicles Below 200,000 RMB Leaked
Previously reported by the media, Tesla plans to launch a low-priced vehicle that may be a compact or small car. Recently, the new car model was leaked, possibly named Model 2, and is expected to sell for $25,000 USD (approximately 170,000 RMB).
Musk previously stated that the company is developing a new car that will cost at least half of Model 3 in production costs and will surpass the total sales of all Tesla cars. However, the new car is not expected to launch for delivery anytime soon.
According to stock analysts at Loup Ventures, Tesla announcing the launch of a low-priced electric car model too early could negatively affect the sales of their current Model 3.
Model 3/Y were the hottest-selling models and delivered over 1.24 million units in 2022. Model Y is currently Tesla's best-selling model, and Model 3 is the closest in production costs to Model 2. Once the new car is launched, it may affect Model 3 sales.Regarding the best time for listing, based on Musk's announcement of a three-year preparation time and the current situation, it is expected that delivery will not be possible until 2024 at the earliest.
Tesla's delivery performance in 2022 was not ideal, and some adjustments may be made in 2023 to reverse the situation.
In addition, Tesla announced at the Guangzhou Auto Show that on January 6, 2023, it will officially announce the prices of its Model X and Model S series vehicles in the mainland China market, and begin deliveries in the first half of 2023, which may bring some sales growth for Tesla.
This article is a translation by ChatGPT of a Chinese report from 42HOW. If you have any questions about it, please email bd@42how.com.