HiPhi Z, the Next-Generation Pure Electric GT Sports Sedan
Written by Rui-Chen Zhang
Edited by Xian-Zhi Wu
On December 21, 2022, the first batch of mass-produced HiPhi Z vehicles were officially manufactured in the Yancheng factory and are expected to be delivered in January 2023. At the 2023 Guangzhou Auto Show, HiPhi presented their entire family of vehicles, including the HiPhi X and the HiPhi Z, with the new "Star Mercedes Silver" color debuted to the public for the first time.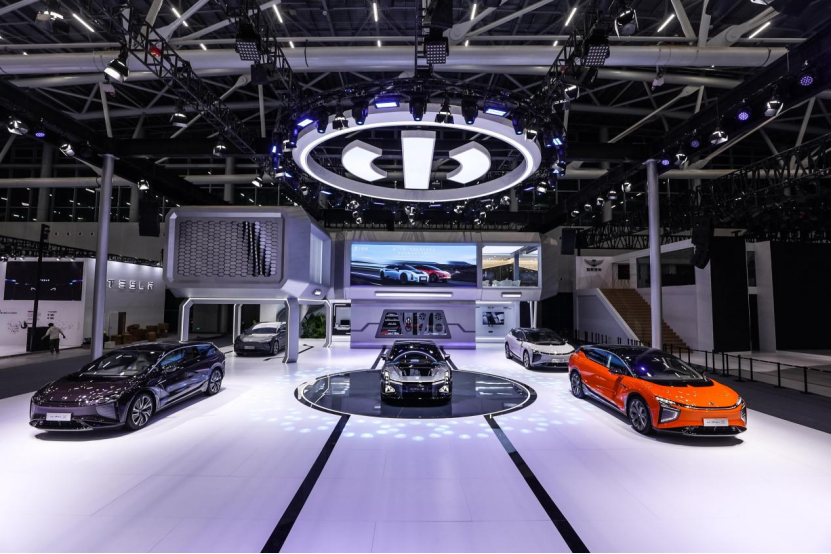 In recent years, most automakers have followed a routine by first creating high-end models as a benchmark before releasing various mass-market products to penetrate the market. However, HiPhi takes the opposite approach. The HiPhi Z, their second flagship model following the HiPhi X, can be said to be the most expensive domestically produced pure electric sedan currently available, becoming an "alternative" in many people's eyes within the new energy sector.
The HiPhi Z is a large luxury, four-door pure electric GT sports sedan with dimensions of 5036/2018/1439mm, a wheelbase of 3150mm, and a techno-mechanical design. The door-opening method, similar to the HiPhi X, is a gull-wing style. The HiPhi Z is available in both four- and five-seat versions, with prices ranging from RMB 610,000 to RMB 630,000. In addition, both models support the optional installation of certain components.
The HiPhi Z is equipped with dual motors, with a total output of up to 494kW and peak torque of 820N·m. The official 0-100 km/h acceleration time is 3.8 seconds. Moreover, the HiPhi Z is equipped with a 120 kWh battery pack, and its CLTC range can reach up to 705 km.
In terms of intelligence, the HiPhi Z is equipped with HiPhi's self-developed HiPhi OS system, which is the HiPhi OS 2.0 system that the HiPhi X upgraded through OTA. The cabin is equipped with an intelligent digital assistant, the HiPhi Bot, similar to NIO's NOMI, which provides convenience for drivers to operate the vehicle's systems. Additionally, it is equipped with a Qualcomm Snapdragon 8155 chip, which can provide a smooth and stable experience for the vehicle's system. However, as a pure electric flagship vehicle priced above RMB 600,000, shouldn't it be equipped with a more advanced Snapdragon Automotive Digital Cockpit Platform 8295, which is more precise and is used by competitors such as Li Auto?On the smart driving configuration, the HiPhi Z from Gaohe is equipped with one LiDAR, 13 cameras, 5 millimeter-wave radars, 12 ultrasonic radars, and 1 three-zone hand-off detection sensor, with a total of 32 driving assistance sensors. With the coordination of high-precision maps and positioning modules, it can achieve a maximum detection distance of up to 250 meters.
Currently, the HiPhi Z has officially launched a test drive experience in multiple cities, and the first batch of test drive vehicles will be available at 14 Gaohe experience stores in 12 cities, including Shanghai, Chengdu, Guangzhou, and Shenzhen.
The HiPhi X started delivery in May 2021 and ranked second in sales of luxury electric cars priced above 500,000 RMB in August of the same year, and then surpassed the head of the game, the Taycan, to top the list the following month. The HiPhi X delivered 4,200 new cars from January to November 2022, accounting for 24% of the market share of the 500,000 RMB and above luxury pure electric vehicle segment.
However, Gaohe, which once occupied one-third of the market share, seems to be on a decline now.
Currently, Gaohe has not released official sales data for 6 consecutive months, the last time being 535 units in June. According to the data from the insurance companies, the sales in July, August, September, and October decreased month by month, with only 238 units insured in October, which is nearly 50% lower than the 535 units of actively announced sales in June. Fortunately, in 2023, Gaohe will no longer be in a situation of relying on one car to conquer everything, and the arrival of the HiPhi Z may help reverse the downward trend in sales for Gaohe.
This article is a translation by ChatGPT of a Chinese report from 42HOW. If you have any questions about it, please email bd@42how.com.