Recently, foreign netizens have discovered that Mercedes-Benz has launched an Acceleration Increase service in its online store in the United States. It will soon be offered to EQE/EQS sedan and SUV customers in the form of an annual subscription, with a subscription price of $1,200.
The purpose of this service is to increase the maximum power and torque of the vehicle's electric motor, thereby unleashing more performance.
Mercedes-Benz stated that after subscribing, the performance improvement will increase the maximum electric motor power by 20-24%. The 0-60 mph (96 km/h) acceleration time will be reduced by 0.8-1 s, and the specific improvement depends on the vehicle model. The additional performance will be available in all Dynamic Select driving modes.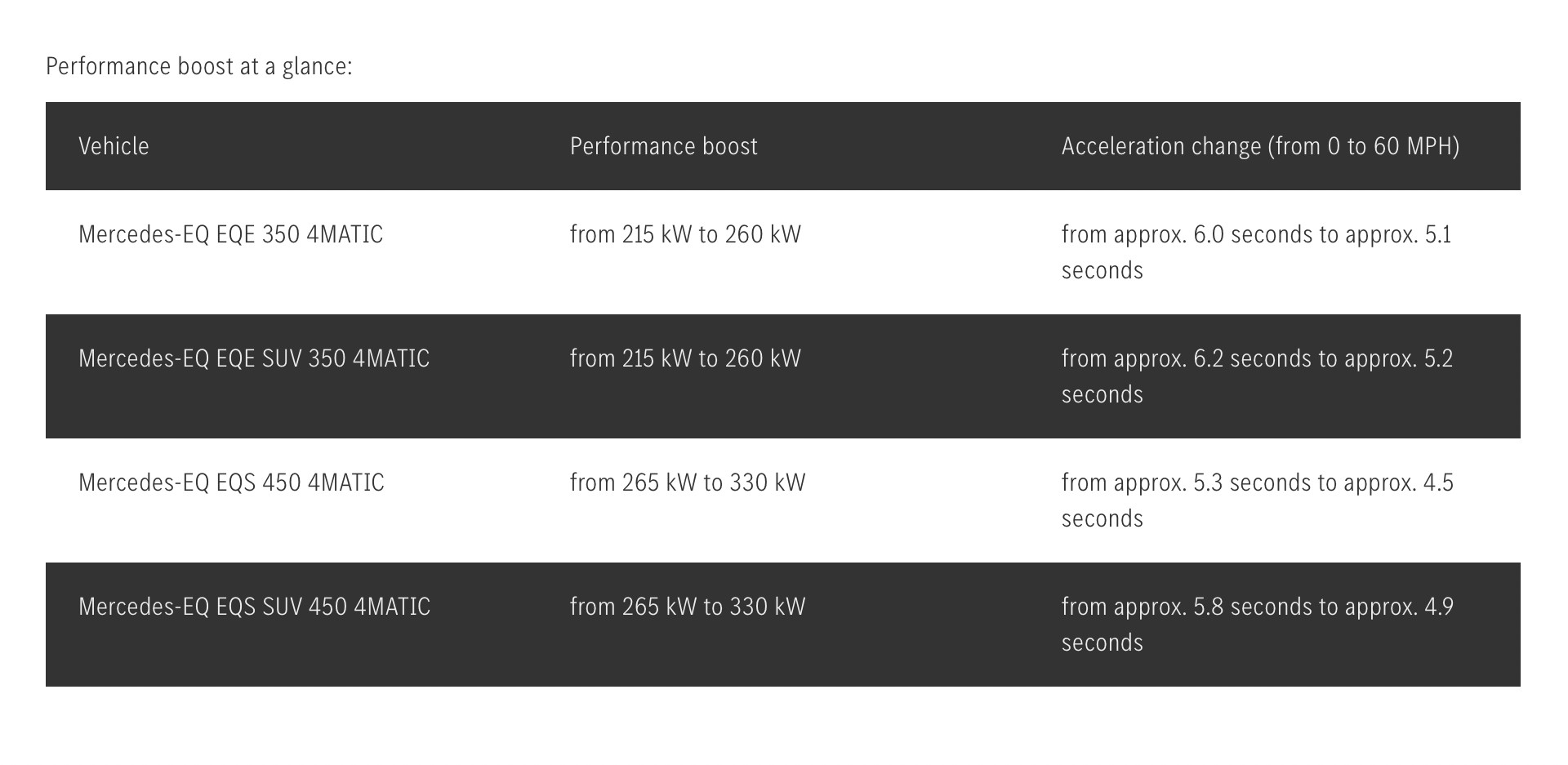 As can be seen from the above figure, after the EQE 350 4MATIC and EQE SUV 350 4MATIC are subscribed and activated, the maximum output power of the electric motor is increased from 215 kW to 260 kW, and the performance is improved by 20.93%.
The 0-60 mph (96 km/h) acceleration time for the EQE 350 4MATIC is reduced from 6.0 s to 5.1 s, and the EQE SUV 350 4MATIC is reduced from 6.2 s to 5.2 s.
On the EQS 450 4MATIC and EQS SUV 450 4MATIC, the performance improvement is even more significant. The maximum output power of the two vehicles' electric motors is increased from 265 kW to 330 kW, and the performance is improved by 24.53%.
The 0-60 mph (96 km/h) acceleration time for the EQS 450 4MATIC is reduced from 5.3 s to 4.5 s, and the EQS SUV 450 4MATIC is reduced from 5.8 s to 4.9 s.### Conclusion
As early as June 29th this year, Mercedes-Benz announced on its official WeChat account that it will offer a paid unlock rear-wheel steering service on the EQS 450+ Pioneer Edition, with an annual fee of RMB 4,998, and car owners can enjoy a free trial for three months.
BMW also introduced multiple paid subscription services, including heated seats, heated steering wheel, and adaptive high beam function, etc., on the Connected Drive store overseas in July this year, supporting one-time purchase and monthly subscription. The basic seat heating function subscribed monthly costs RMB 122.
Such a subscription model is indeed controversial, and some joked that "having paid for a complete set of rooms, the landlord locked one of the bedrooms, and you have to pay monthly rent to use it."
Would you pay a monthly fee to the manufacturer to decrease the acceleration time by 1 second per 100 kilometers for your car? What do you think about the manufacturer's subscription-based payment model for vehicle features? Feel free to share your thoughts in the comment section.
This article is a translation by ChatGPT of a Chinese report from 42HOW. If you have any questions about it, please email bd@42how.com.