On January 9, 2021, my WeChat, Weibo, and other major social media platforms were flooded with posts about NIO ET7, which is now occupying the homepage of various apps on my phone.
With a dual-motor acceleration of 3.8 seconds for 0-100 km/h, a 100-degree large battery, a LIDAR, an 8 million pixel camera, and an Orin processor with 1,016 TOPS, NIO ET7 takes advanced driving assistance, three-electric systems, and entertainment configurations to a whole new level.
However, in the following year, many new players also joined the competition with similarly impressive features, intensifying the market competition to a new level.
Today, after almost two years since its release, NIO ET7 once again becomes the focus of attention. In the latest European New Car Assessment Programme (Euro NCAP) crash-test result released this month, NIO ET7, which was officially launched in the European market last month, was featured on the list and achieved high scores in multiple test categories.
Previously, we could only feel the impressiveness of NIO ET7 from its features, but this time E-NCAP unveils the full design, enabling us to "see" ET7.
Let's take a look at the score
Before analyzing the score structure of NIO ET7, let's have a brief introduction to E-NCAP.
E-NCAP, the European New Car Assessment Programme, is one of the most authoritative safety testing institutions in the automotive industry. All vehicles sold in Europe must be subjected to impact testing by E-NCAP.
One of the biggest advantages of E-NCAP is its comprehensive and up-to-date project portfolio. For example, in order to test vehicle active safety functions, the association added the "safety assistance" section. At the same time, the frequency of E-NCAP updates is also very high.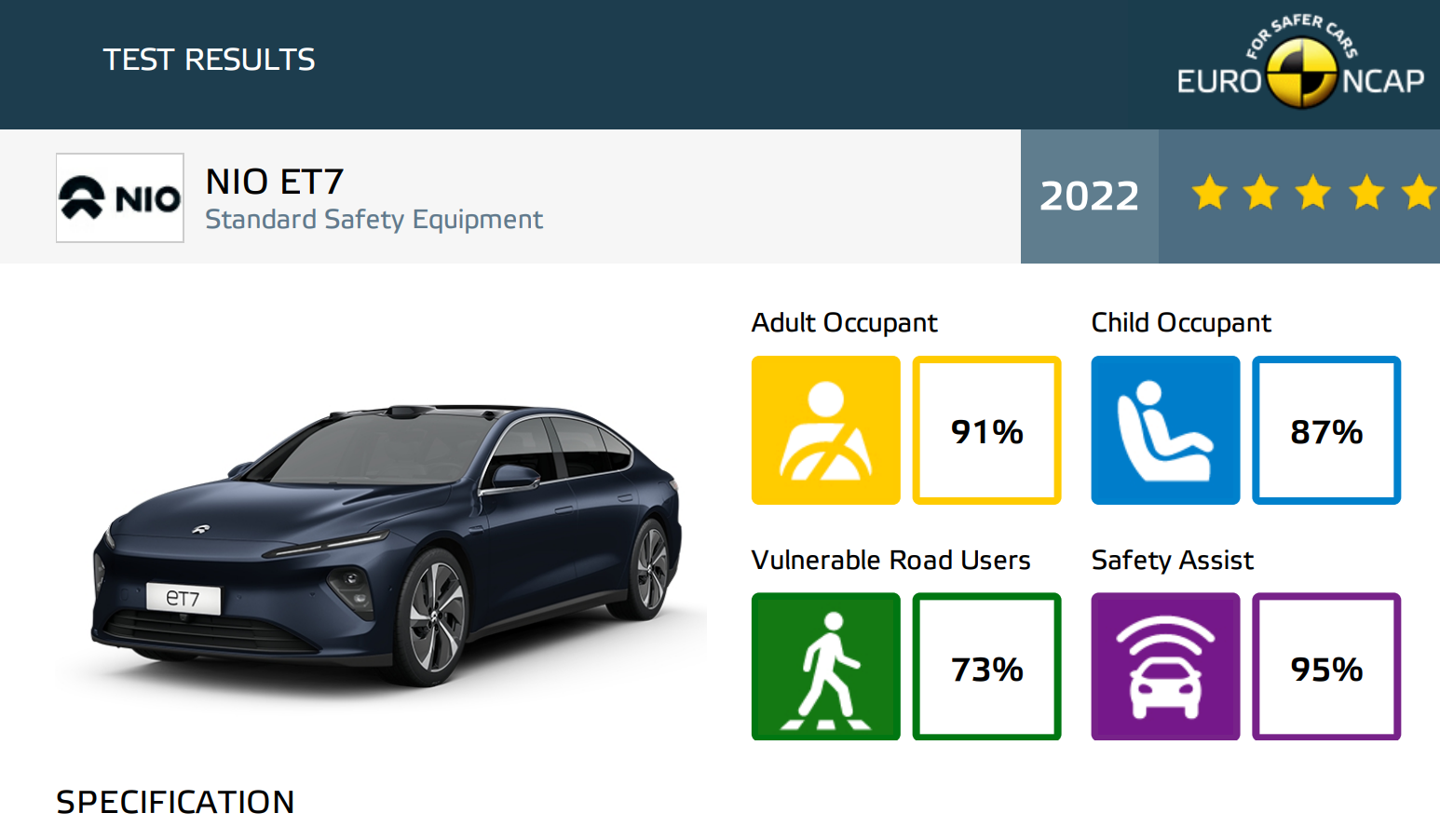 In this test, NIO ET7 achieved scores of 91%, 87%, 73%, and 95% in passenger safety, child safety, vulnerable road user safety, and assistant safety, respectively.
Its total score also surpasses WEY Coffee 01, ORA Funky Cat, and BYD ATTO 3, and becomes the highest scoring Chinese pure electric vehicle tested by E-NCAP.Of course, this comparison is based on an indisputable fact: NIO ET7 is the most expensive (in terms of domestic price) among Chinese models tested in E-NCAP this year.
So, in addition to dual motors, air suspension, and renewable Karuun material, where does NIO's cost go? Also, what does NIO rely on to achieve a high score?
In Real-Life Collisions, It All Comes Down To Structure, Materials, and Airbags
Let's get back to the test items. If you know enough about E-NCAP or observe carefully enough, you will find that in the four testing categories, some of the items in passenger safety, child safety, and vulnerable road users safety test the vehicle's passive safety capability, and the auxiliary safety tests the vehicle's active safety ability. Therefore, E-NCAP not only requires the vehicle to "hit hard," but also requires the vehicle to be able to identify the edge of the road and obstructive vehicles even when not in automated-driving mode, so as to avoid danger.
In short, passive safety capability refers to how well the vehicle can withstand an accident or collision when they are inevitable. The core test is the vehicle's body structure, technology, and material.
From the collision videos, it can be seen that the body of ET7 did not undergo serious deformation in both the 50% frontal vehicle-to-vehicle collision test (50 km/h relative speed 100 km/h) and the direct side (60 km/h) and angled pole (32 km/h) collision tests. The A-pillar and B-pillar did not suffer bending or deformation either.
This excellent performance is due to the great contribution of the structure and material application. ET7 uses a large amount of hot stamped steel with a strength of up to 1,500 Mpa, with a weight ratio of over 40% on the upper body.Perhaps many people don't know that there has been a significant change in the front crash beam of the ET7 compared to the ES8.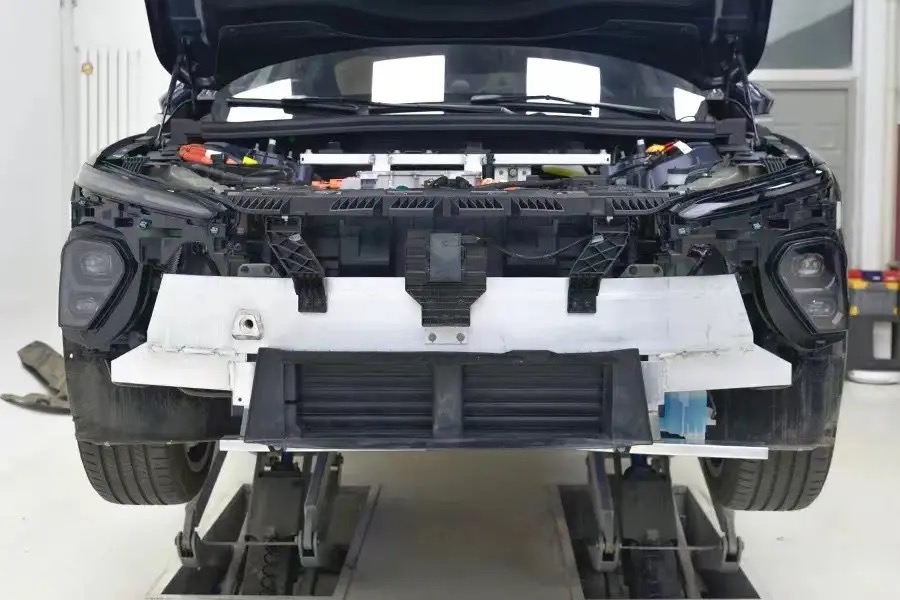 The front aluminum alloy crash beam used in the ET7 is trapezoidal in design, with two nearly half-meter long Japanese-style sub-crash beams independently welded on both sides of the crash beam. This was done in order to cover more of the car's body.
The overall length of the ET7's front crash beam is 1,533 mm, and the overall height is 252 mm, covering 77% of the car's width. Whether in coverage or volume, it is at the forefront.
Like the EC6, the NIO ET7 also has a Torque box, which is in a very central position. It is located at the tail end of the front longitudinal beam, on the inner side of the wheel hub, with the A-pillar above and the threshold beam and longitudinal beam on both sides.
Therefore, its role is as the "hub" for transmitting impact force. When the car body collides, the impact force from the lower collision passes through the longitudinal beam and wheel hub to the Torque box, which absorbs the impact force and transmits it to the threshold beam or A-pillar, thus avoiding the impact force from being directly transmitted to the passenger cabin and battery pack.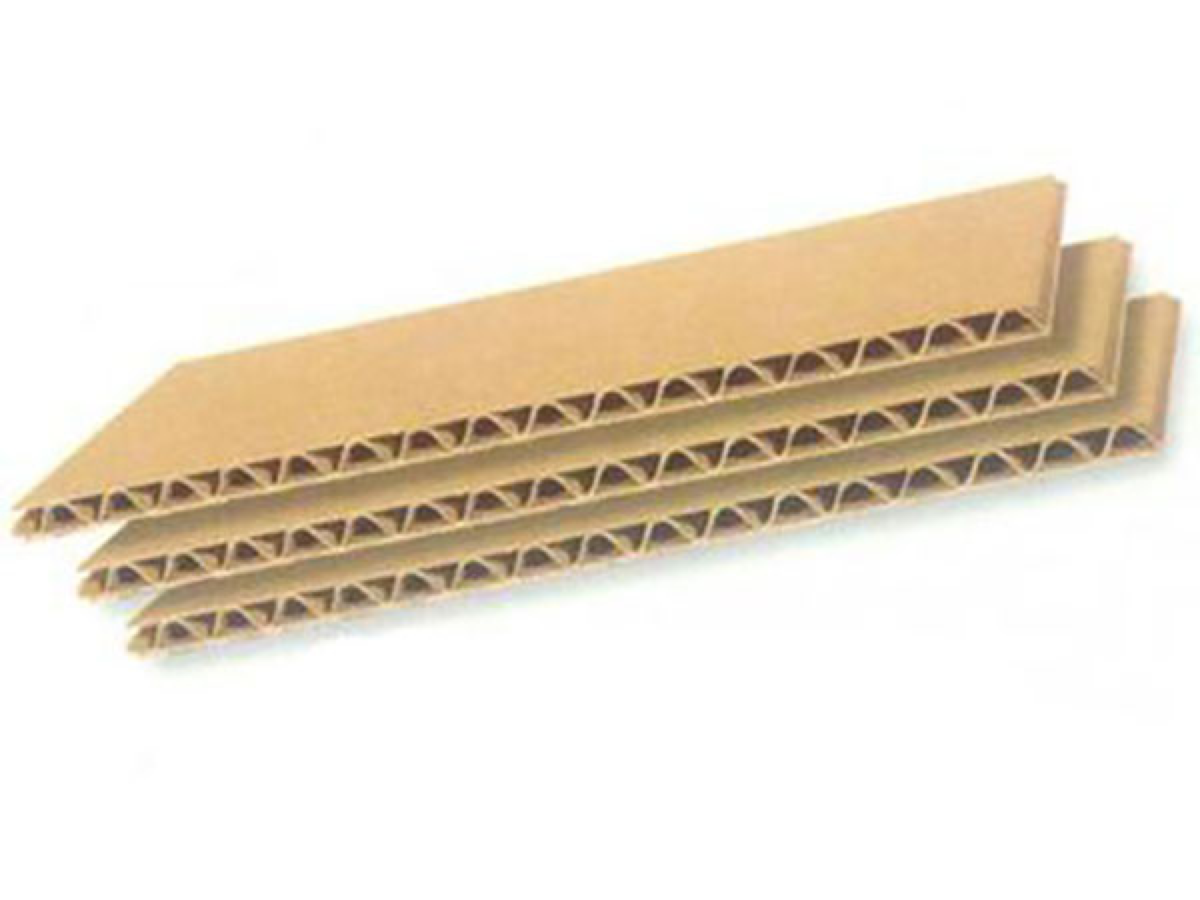 The Torque box's design is also very sophisticated. Its three-dimensional grid shape can ensure stronger support and structural strength, similar to the principle of corrugated cardboard.
In addition, the E-NCAP test includes a side pillar collision test. In this test, the vehicle collides with a rigid slender pillar at an angle to the direction of travel at a speed of 32 km/h to simulate a vehicle striking a tree or utility pole while out of control.
This lateral impact can cause enormous impact on the B-pillar of the vehicle, and the driver's head and neck may also be injured due to the collision.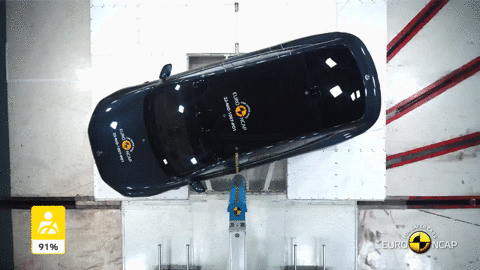 However, according to the video, in this test, there was no obvious deformation on the B-pillar of the NIO ET7, and the central airbag popped out immediately at the moment of collision, timely holding the lateral swing of the dummy.
Uncommon Far-Side Central Airbag
The central airbag here is not common, and the NIO ET7 is also the first domestic large sedan in the Chinese market with a standard far-side central airbag.
The core function of the far-side center airbag is to avoid the collision between the driver and passenger's head in the event of a side collision or rollover. The IIHS crash test standard in the United States has already added tests for such situations.
Thanks to the application of the far-side center airbag, the performance of the NIO ET7 in the side collision test also received a high score of 15.5 points (out of 16 points).
The NIO ET7 also performs well in terms of child safety. In frontal and side collision tests, the NIO ET7 provides protection for the key body areas of 6-year-old and 10-year-old dummy children, and received full marks in this test.
But the NIO ET7 did not score the highest in every category. In the test of safety for vulnerable road users, the NIO ET7 scored 73%.
The safety of vulnerable road users mainly includes two parts: pedestrian impact test with relatively lower vehicle speeds, and AEB capability for pedestrians.
The main focus is on protecting vulnerable road users. Pedestrian impact tests include various body part tests (at 40 km/h) in which NIO ET7 scored 24.6.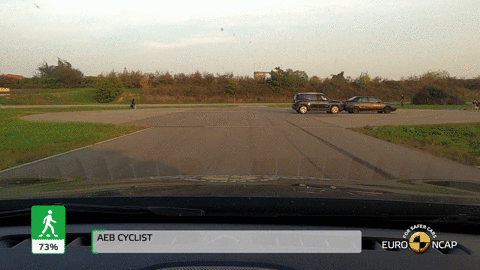 In AEB tests for pedestrians and bicycles, NIO scored 7.1 and 7.8, respectively.
High Scores in Safety Assistance
Passive safety is ensured by the body structure, craftsmanship, materials, and airbags. In the era of new electric vehicles, intelligence is often reflected in the use of sensors to assist drivers in avoiding risks.
Passive safety may be where NIO spent money users cannot see, whereas the test results for "safety assistance" are closely linked to visible configurations and software development capability.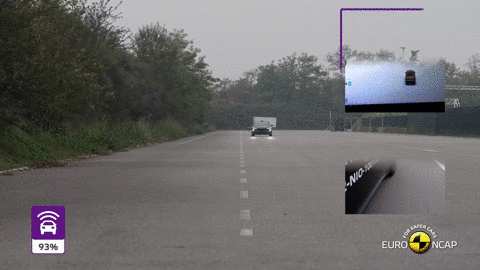 In safety assistance tests, NIO ET7 scored 15.2, ranking high in the list.
Let's take a look at the detailed items of safety assistance tests, including AEB for cars, AEB for convoy cars under left turns, LKA, and lane keeping in dangerous situations.
The principle behind AEB is actually similar to that of autonomous driving. It relies on the vehicle's sensors to detect potential dangers and react instantly. However, no matter what state the vehicle is in, AEB must function normally.
Based on the test video, the NIO ET7 can detect suddenly decelerating vehicles in front and oncoming vehicles, as well as survey road edges, issue warnings, and correct direction in a timely manner.
Why do we attach so much importance to AEB capability? The core reason is that we do not expect AEB to help users avoid all dangers, but it can at least slow down as much as possible and reduce the severity of impact when collision is unavoidable.
Whether it is a pure visual or multi-sensor fusion route, software is the fundamental factor that determines the performance of functionalities. We hope that basic features like AEB can be improved continuously to help more users avoid danger, which is ultimately saving family after family.
Conclusion
I am not surprised that the NIO ET7 was able to achieve the five-star standard evaluation in E-NCAP this time.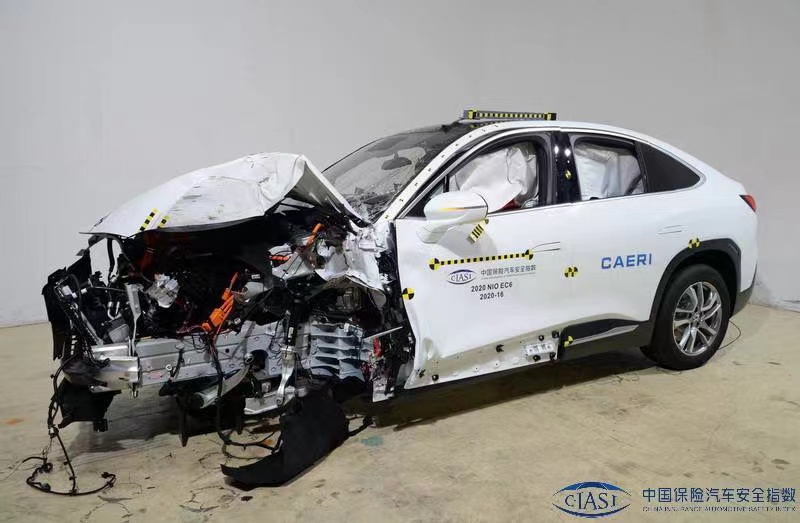 There are two core reasons: On the one hand, NIO has always been very generous in the "materials" it uses for the vehicle body. Vehicle models like ES8 and EC6 have received high safety ratings in China's domestic crash tests. On the other hand, NIO has always positioned ET7 as a "global model". Therefore, as a global model, it must pass strict safety tests in various regions. The remote center airbag is a vivid example. There are no relevant requirements for remote center airbags in China, nor has it become a new trend in the industry. But NIO has already taken into account users in other countries and regions.Meanwhile, NIO has made such configurations as standard, rather than exclusive to "IIHS Test Zone" users.
Therefore, I'm looking forward more to the ET7 that has just achieved good results in Europe, and can be tested again by other institutions such as C-NCAP to prove whether its safety is "globally unified" enough.
In addition, we have repeatedly mentioned the word "standard" in reference to the ET7. Nowadays, users dislike strategies with multiple SKUs, and prefer clear and simple configuration differences. Safety configuration is an area where consumers have weak perception. In the past, when users bought a car, they had to open the configuration table and compare the number of airbags one by one. When there are differences in electronic safety configurations such as collision warning and AEB emergency braking, consumers do not have a strong perception, but these functions are closely related to safety.
Therefore, we strongly advocate for safety configuration as standard.
If you say "material stacking" or "inward spiraling" is not a good thing in the automobile industry, my view is that as long as it can benefit consumers, it is a good thing. "Spiraling" on safety is even more praiseworthy.
This article is a translation by ChatGPT of a Chinese report from 42HOW. If you have any questions about it, please email bd@42how.com.