Author | YiHan Wu
Editor | Xianzhi Wu
On November 16th, the release of BYD's 3 millionth new energy vehicle was announced at the BYD global headquarters. It took BYD 13 years to produce the first 1 million new energy vehicles, one year for the second million, and only half a year to reach the 3 millionth milestone. BYD has become the first Chinese brand to achieve this achievement.
Since the beginning of this year, BYD's sales have grown significantly, totaling 1,402,919 units from January to October, an increase of 158.52% YoY. In October, 217,816 new energy vehicles were delivered, an increase of 168.78% YoY. From January to October, a total of 1,397,870 vehicles were delivered, an increase of 233.92% YoY. The YoY growth trend has slowed down since March, but it has remained above 168% YoY.
Data shows that in October, BYD ranked first in domestic sales among manufacturers. Among the top twenty new energy vehicle deliveries, BYD models accounted for a significant portion of the market. The BYD Song model was the most delivered, with 0.9 million units more than the second-ranked Wuling Hongguang MINI EV (47,868 units delivered in October) and 1.5 million units more than the third-ranked Tesla Model Y (41,488 units delivered in October).
Moving towards High-end and Personalization
At the event, Wang Chuanfu, Chairman and President of BYD Co., Ltd., presented BYD's 3 millionth new energy vehicle, the BYD Haibao, to Chinese football player Wang Shuang."`
The BYD Dolphin is a pure electric mid-size sedan, which started pre-sales on May 20th of this year and officially went on sale on July 29th. It is reported that the delivery volume in August was only 1,726 vehicles, while the delivery volume in September increased to 7,473 vehicles, and in October the delivery volume exceeded 10,000, reaching 11,267 vehicles. The BYD Dolphin has only been on the market for three months, but its monthly delivery has achieved an impressive result of exceeding 10,000.
However, the high starting point of the BYD Dolphin does not mean that it will have a smooth road ahead. On November 15th, one day before the offline launch of BYD, a Dolphin owner posted a video online showing the vehicle on fire.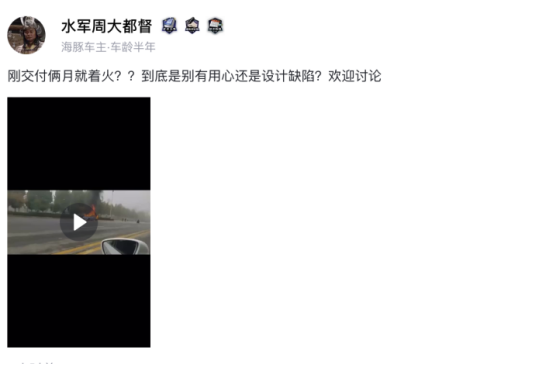 According to the pictures circulating online, the rear half of the car has been burnt to a crisp after the fire was extinguished. It is understood that the car is a new vehicle that has not yet been registered. After some media sought to verify the cause of the fire, BYD replied that it is still under investigation, and the specific cause has not been disclosed at present.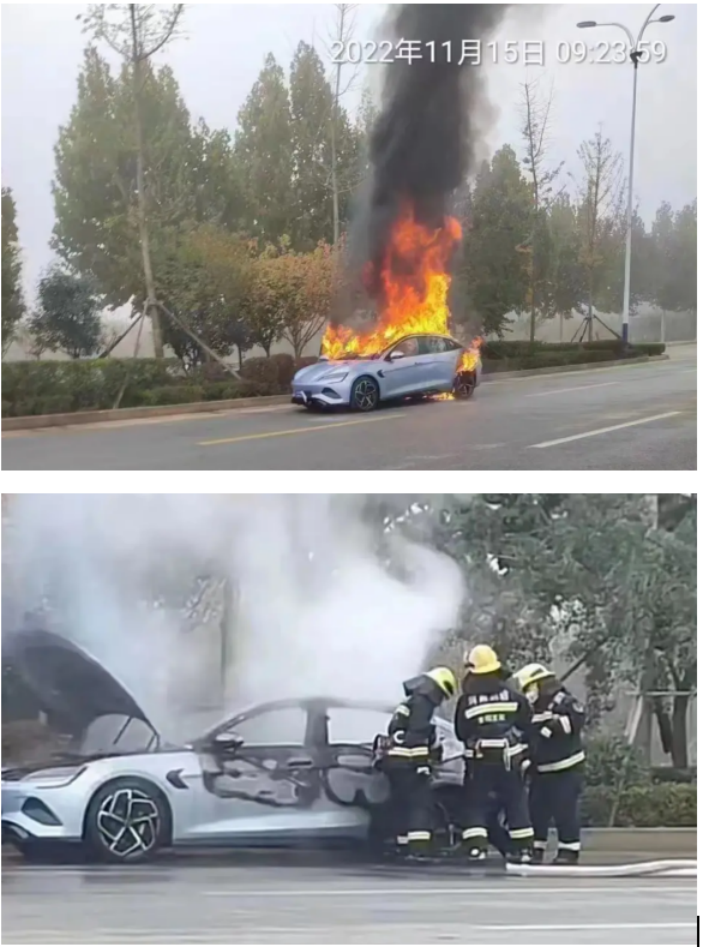 The Dolphin is equipped with BYD's blade battery, which has been a source of pride for the company. The blade battery is designed so that even if the internal structure is damaged, it still won't catch fire, overheat, or self-ignite.
The cause of the fire in this incident is currently under investigation, and it cannot be determined whether it was caused by a problem with the vehicle itself or by external factors.
What's interesting is that at the launch event the following day, Wang Chuanfu said that on top of the existing "four-in-one" safety system, BYD will bring another disruptive "black technology" to provide top-level safety protection for users. "For the peace of mind of our users, BYD will pursue safety to the end." And this technology will be debuted in the recently announced high-end brand, Yinlong.
"""markdown

Then, Wang Chuanfu also announced that Yang'ou will officially release and unveil its first car in 2023 for the first time. In addition to the Yang'ou brand, BYD will also launch a brand new brand with great professionalism and personalization in 2023 to meet the personalized needs of consumers. BYD plans to form a brand matrix including BYD Dynasty, BYD Ocean, Tang, Yang'ou, and the new brand with great professionalism and personalization.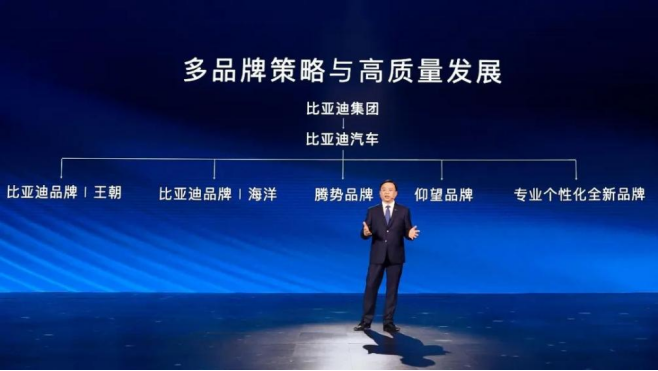 With 3 million new energy vehicles delivered, BYD launches a new brand with great professionalism and personalization. Wang Chuanfu said that the new brand with great professionalism and personalization will be a "bold breakthrough in style".
"`
This article is a translation by ChatGPT of a Chinese report from 42HOW. If you have any questions about it, please email bd@42how.com.