Author: Michelin
"Crowding out at the original price"
"Crushed in hand"
"Take it, or lose 1000"
…
Not long ago, I was busy with Double Eleven and stumbled upon a post on idle fish selling Tesla orders. Then I saw those messages.
The style of these messages is different from what I remember. A few months ago, the news of "scalpers making 200,000 by reselling Tesla orders" even made it to the hot search list. "Make 10,000 yuan by reselling one order", "scalpers who used to grab iPhones are now stockpiling Tesla orders," all left a deep impression at that time.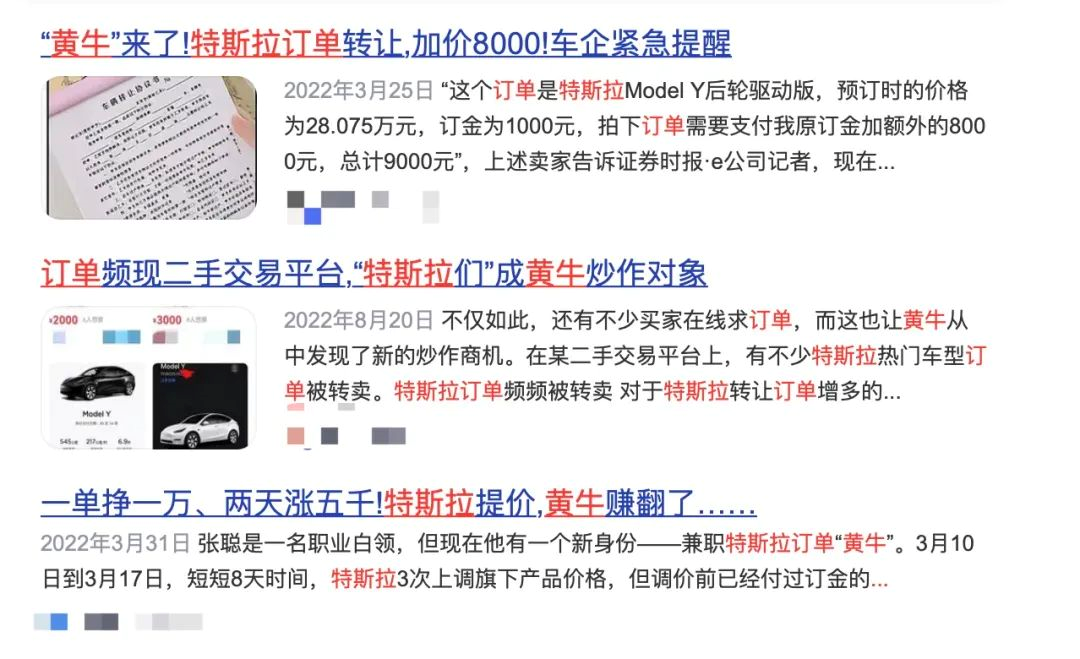 In just six months, the scalpers who stockpiled electric vehicle orders seem to be no longer prospering. To unravel the doubts in my mind, I had a chat with the scalpers who were reselling electric vehicle orders on Idle Fish. To summarize their recent experiences, they have been losing money.
If there are scalpers who happened to stockpile iPhone 14 in September and then followed up with Tesla orders, they might have hit a double jackpot in October. The former iPhone 14 became the least popular new iPhone, and the latter's Tesla orders are no longer the "money tree" in the hands of scalpers.
So, did the measures taken by car companies to prevent the transfer of orders work, or have electric vehicle orders lost their appeal?
Tesla price cuts cause scalpers to suffer
Talking about reselling electric vehicle orders, the most popular among scalpers is Tesla.
The "love-hate relationship" between Tesla and scalpers dates back to the beginning of this year. Especially from March 10th to 17th this year, Tesla raised prices three times in a row, with a magnitude of 20,000 to 30,000 yuan. At that time, scalpers bought orders before the price hike, and resold them at a price lower than the official website, earning the difference in between. The order prices changed almost every day, equivalent to the fluctuations of peak house prices.
The practice of reselling orders for new energy vehicles even made it to CCTV's list.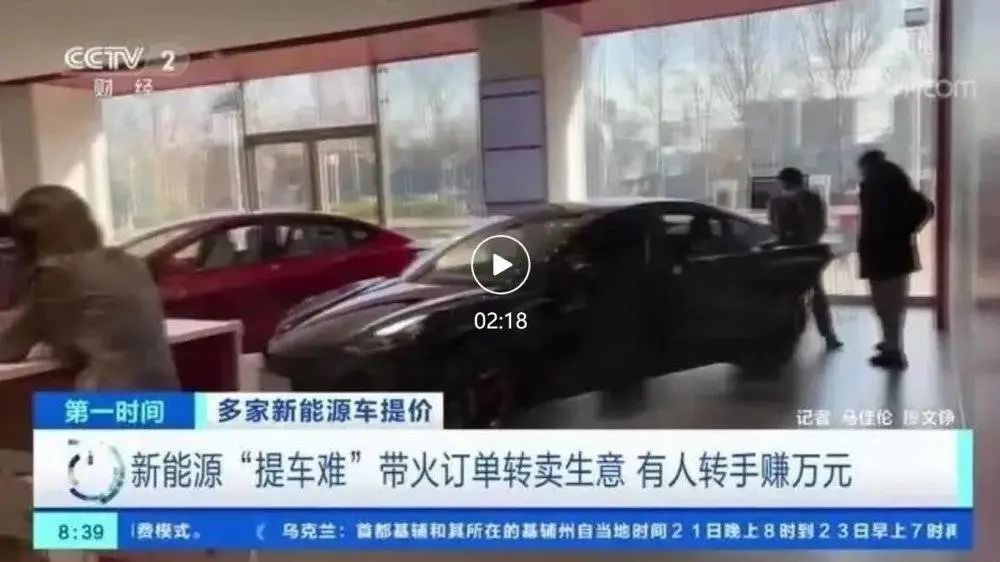 After all, consumers who planned to buy cars at the beginning of the year not only had to endure a sharp rise in car prices and wait for several months, but also had to suffer from scalpers, which was simply outrageous. Of course, where there is demand, there is a market. During the peak period in March and April, the transfer fee of an order ranged from 10,000 to 20,000 yuan, which still could not keep up with the speed of new car price increases. It can be imagined how popular the orders in scalpers' hands were.
As a store owner of a physical second-hand car store, Xiao Yu has sold about thirty Teslas on idle fish in the past few months. He told GeekCar that the Model Y Standard Range is the most popular, followed by the Model 3 Standard Range, which are both cheaper.
In March, a Standard Range Model Y could be marked up to 15,000 yuan. Now, orders sold at the original price are also rarely inquired. The cold light silver paint, which is worth 8,000 yuan and has "3-day free trial" offer, was still a premium item at the bottom of 10, but now, it has been treated the same as other free paint, with order prices ranging from a markup of 3,000 yuan to the original price, and another discount.
And these cold light silver Model Y orders were acquired by him with a markup in the first place.
"The wind of price reduction started at the end of August and early September, especially when insurance subsidies were introduced. The orders could not be marked up," Xiao Yu said. "Besides, the delivery time is now short."
On October 24, Tesla officially announced a price reduction, with domestic models Model 3 and Model Y seeing a price cut ranging from 14,000 to 37,000 yuan. The delivery time has also been shortened, with the delivery time of both Model 3 and Model Y now ranging from 1 to 5 weeks. Even if you go to the official website to place an order, you can probably receive the car before the end of the year and enjoy the benefits of national subsidies and insurance subsidies as an ordinary consumer. It is really hard to find a reason to pay scalpers at the last minute.
Now, it's not uncommon to see orders being sold at a discount of 20% or 50% on platforms such as Xianyu and Xiaohongshu, which make up at least half of the market. Among them are individual car owners who are eager to sell, as well as professional scalpers who have made pots of money selling Teslas. However, despite the discounts, there are few people inquiring about them.
A shorter delivery cycle and stable prices have cooled off the scalping market for electric car orders and the market has returned to normal. This isn't just true for Tesla, as the surge in raw material prices has subsided, electric car prices have stabilized, and delivery times have gradually shortened, causing the scalping market to freeze completely.
I asked Xiao Yu again, what should I do if I can't sell the orders I've received recently? "Bring them back and sell them as new used cars."
Recently, Xiao Yu has discovered a new "business opportunity" with Tesla, and has posted links to Tesla's referral code on Xianyu.
As for the residual value of orders and the value of time, if the long delivery cycle of the first half of the year and the trend of continuous price increases gave orders additional value beyond the deposit, then the purchase rights of car companies, especially those that fluctuate over time, have shown scalpers the value of time in the additional value of orders.
At Xiao Cai's place, the orders for Jikey 001 are priced according to the month, and there is quite a difference: the original 5,000 yuan deposit for a car purchase, orders not locked in April are about 20,000 yuan, and orders in May can double that amount. Orders beyond that won't have such great profits, especially those after July or August, which are being discounted since they may not be delivered this year. To Xiao Cai, this is pretty much the current market situation.
The reason for such a big price difference is that in the first half of the year, as raw material prices rose, car companies made adjustments to purchase rights in addition to price adjustments.Taking Geely's Zeeker 001 as an example, besides the price increase, the company successively announced the cancellation of inflationary benefits for car purchases starting from May, as well as the cancellation of the complimentary 7kW intelligent home charging pile and free upgrade to 21-inch wheel hub starting from June. These two waves of benefits adjustments not only allow the orders placed in April and May to be delivered earlier, but also enable customers to enjoy the value of the attached benefits.
The car manufacturers' offered purchase benefits were originally aimed at attracting customers with benefits, especially when new brands or models are introduced to the market, offering attractive benefit configurations to the first several thousand car buyers, which has attracted many customers to place orders in advance.
However, the shrinking of these benefits, particularly the immediate reduction of them, has also allowed scalpers to sniff out profitable "business opportunities".
Caution on Transferring Orders: "How Do I Prove My Mother Is My Mother?"
In order to prevent scalpers from trading orders, car manufacturers have brainstormed many ways to prevent profit-seeking scalpers from churning orders, such as "initial owner privileges", "real-name booking", "real-name delivery", etc.
A friend of mine who bought a popular internet-famous car, the Cyber Tank 300, last year encountered a difficult problem when trying to transfer ownership to his mother-in-law: "Please prove that your mother is your mother". After all, Cyber Tank only allows orders to be transferred between direct relatives, with ID cards, household registration books, and marriage certificates all required as proof.
Similar threshold settings have made many order transfers only possible through vehicle registration transfer. Once registered from the original owner to the new one, the car becomes a "brand new used car". At this point, a group of "scalpers" have emerged, different from those who sell orders themselves, they are only the "porters" of the orders, helping customers to process the name-change service. Direct relatives? Real-name orders? It can all be done with money.### Translation
As for how to operate without renaming and reselling orders, "it's a trade secret, hehe."
If flipping orders is a big risk for big rewards, then the "consultancy fee" and "service fee" for transferring orders will have less risk as compared to the initial investment. As for potential risks when modifying information, they will be shared by the service provider and the buyer and seller parties.
All we can say is: there are risks in transferring orders, be careful when paying.
Finally
If the measures taken by car companies such as "real-name certification" and "non-resale agreement" were aimed at combating order-hoarding in the past; then today, with the electric vehicle price surge receding and the supply chain recovering, the waiting time for users shortening, and more, all of these have fundamentally dealt with scalping orders.
When the supply can meet demand, scalpers' space for survival will be narrower and narrower.
This reminds me of the saying: Seagulls follow trawlers because they believe that sardines will be thrown into the sea. As sardines disappear, seagulls naturally disperse. Or, they turn their heads to find other "prey."
This article is a translation by ChatGPT of a Chinese report from 42HOW. If you have any questions about it, please email bd@42how.com.