Author: Zhu Yulong
After two years of launching pure electric compact cars, in August 2022, China Wuling's new energy vehicles sales surpassed one million units. This is a remarkable milestone. At the GSE conference hosted by Wuling, we can analyze this issue from the perspective of quality, safety, and ecology. We can explore several questions:
In the long run, does the A00 grade compact cars have a place in the Chinese market?

Can these A00 compact cars, if configured with 8, 12, or 20 kWh, establish themselves in Southeast Asia, South America, and other regions, and become a world-class product from users' perspective of covering a radius of 50 km for travel needs.
The pricing in 2020 is affected by low battery prices, high point prices, and the explosive factors of pricing (use your imagination). This conforms to the road of common prosperity.
Why did Wuling's A00 wave become popular?
Wuling's compact cars have become popular for many reasons. It is also a completely new market under the background of new energy vehicles going to rural areas. The development of existing pure electric vehicles is based on the rollout of subsidies, and most car manufacturers focus on the travel needs of restriction cities and large cities. Under the trend of financial subsidies, they strive to achieve full life-cycle parity in the A-B segment.
However, SAIC-GM-Wuling's strategy is different.
Unlike before, the endurance range of the Hongguang MNI EV of 120 km and 170 km is independent of subsidies and entirely based on cost and market demand.

This car truly meets the needs of consumers, opens up a new blue ocean market, lowers the car price enough to provide consumers with a new option of low cost and low mileage. Consumers are allowed to explore their own usage patterns to cover their travel needs as much as possible.Of course, this car accurately captures a core demand, targeting young consumers in various cities across China. With its affordable price, it provides basic mobility. Its compact design perfectly addresses pain points in urban travel such as traffic jams and difficult parking. That's why I was surprised to see a young lady driving a cute MNI EV in my neighborhood. Currently, purchasing limitations in cities severely hinder the consumption needs of young people.
What's interesting is that this car can still fit young people inside. Even when there's a party to attend, it can still accommodate passengers. I found it amusing when I saw two guys sitting in the car with the young lady.
Despite its low price, the MNI EV also considers safety. The most significant difference between this and the "three no" electric bicycles (no insurance, no license plates, and no guarantees) lies in whether it considers users' safety. The MNI EV's battery design is based on previous attempts in the Baojun series. It's a mature evolution of electric vehicle battery design. In terms of crash structure, it uses a cage-shaped high-strength steel body structure design. Over 57% of the car's body consists of high-strength steel.
Therefore, given its actual sales of 1 million units, there are few incidents of spontaneous combustion, which can be compared to other cars.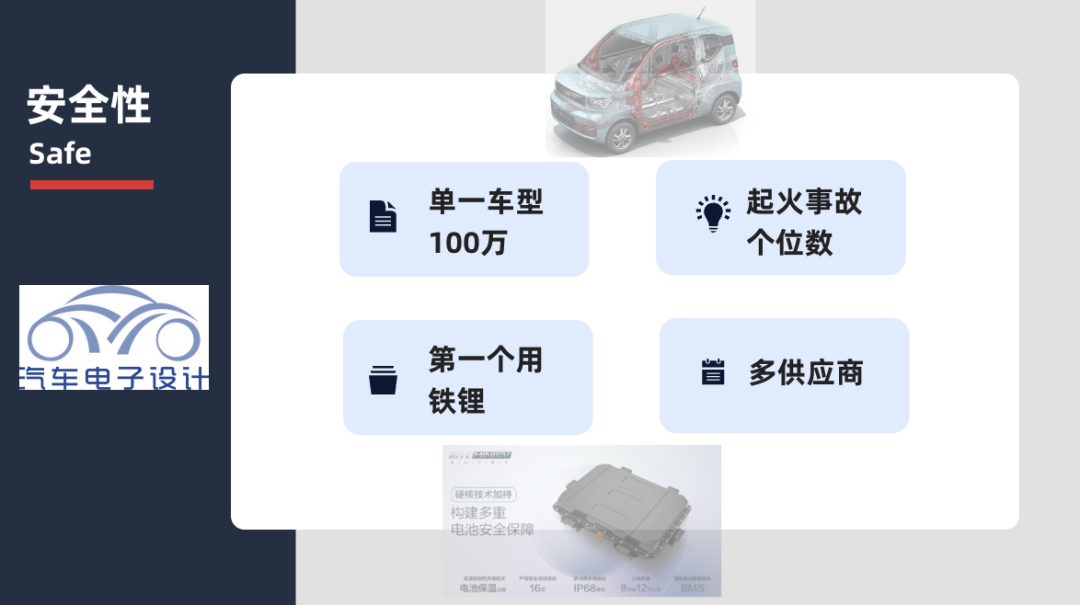 With the support of SAIC-GM-Wuling's system, I believe Wuling adopted the original strict manufacturing standards of General Motors when creating this car. It is certified by GMS-BIQ4 and has a Manufacturing Excellence Index KPI (MEI), which defines global manufacturing indicators as the best in the world. The car is produced using highly automated assembly lines, advanced stamping, welding, painting, and final assembly processes, which fully ensure the extreme care taken at every step and guarantee the high level of product quality. It's entirely different from traditional perceptions that cheap products have quality control shortcomings as the manufacturing processes are at a high level of quality."`markdown

Due to its simplified range, this car is designed around the minimum requirements for the power grid and charging infrastructure. I saw a Hongguang Mini parked and charging at the village committee last time, and found it to be very convenient. The main body is designed with the consideration of the widest charging convenience in China, at 1.5kW (220V AC charging). This design allows the Hongguang MINI EV to be charged conveniently with a household 220V power source without relying on traditional charging piles. It's a flexible solution to users' charging needs. In a sense, this plan is quite demanding for users, and is designed with consideration of the convenience of electric bicycles in terms of charging.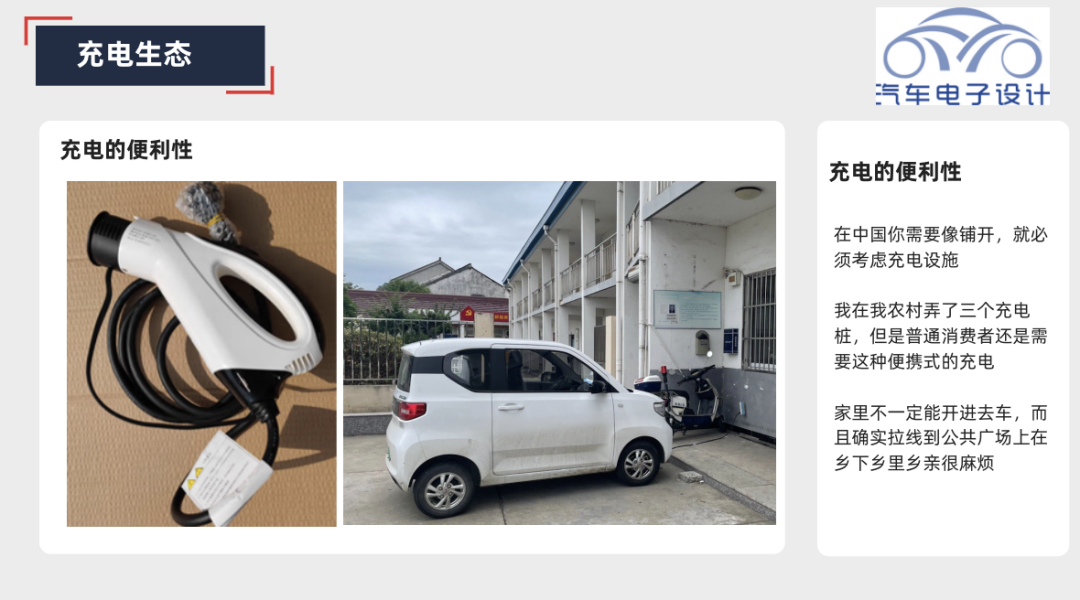 Not only that, the maintenance and operational costs of the Hongguang MNI EV are also very low. New cars are exempt from purchase tax, and the cost of each kilometer is only 5 cents, which can save almost 10,000 yuan per year for most rural users. On the GSE platform, the use of vehicle interconnectivity, such as sending short messages and notifications to consumers through apps when the car doors or windows are not properly secured, is indeed a smart and interconnective direction for these small cars. When Wuling expanded nationwide, it did consider many details.
Considerations for Going Global
In August of this year, Wuling's first new energy global car Air ev (right-hand drive version) was launched at the Indonesia International Auto Show, with a price of 238 million Indonesian rupiah for the 200km standard version and 295 million Indonesian rupiah for the 300km long-range version, equivalent to approximately RMB 110,000 – RMB 135,000. From a logical standpoint, Wuling New Energy is also preparing to globalize its small car strategy, and will target India, Egypt, and other countries and regions worldwide in the future.
Note: At present, the pricing strategy is still relatively expensive.
"`
I think that in the next few regions, Wuling can go abroad with the help of universality and its own strength. The low price in China was made possible by mass production, and it is really worth considering the global value of this product by selling it overseas for what it's worth.
Conclusion: As a genuine people's transportation vehicle, the Hongguang MINI EV has become another legendary car for SAIC-GM-Wuling, opening up the blue ocean market for transportation vehicles. I think what the Hongguang MINI EV brings us is its precise positioning, convenient charging experience, and consumer-friendly price, offering consumers an excellent choice. In advocating common prosperity and solving the problem of cost-effective transportation in rural areas, Wuling's GSE platform has taken a unique path. The question now is how to go to the world.
This article is a translation by ChatGPT of a Chinese report from 42HOW. If you have any questions about it, please email bd@42how.com.