Author: Xiong Ruifeng
Under strict control, the industry has gradually resumed.
"Salespeople know the sales volume best!"
Recently, I met a sales manager from a 4S dealership in Guangzhou. He has been in the industry for many years and has had good data on the transaction rate of following up on phone leads.
However, in March and April of this year, he couldn't get an intention customer after communicating for a long time. At that time, he began to consider changing careers. Fortunately, with the introduction of various encouraging policies and the easing of the epidemic in May, he could finally breathe a sigh of relief.
Under the epidemic, April was undoubtedly the darkest moment for the entire industry. The outbreak in Northeast China, North China, and other regions brought the two major automobile industrial bases and parts industry clusters in China to almost a standstill. As the impact of the epidemic in May gradually eased, the passenger car market trend has accelerated to rebound. The retail sales volume reached 1.354 million in May, which was a direct increase of 29.7% compared to the grey April, although it decreased by 16.9% year-on-year in May last year. Moreover, the month-on-month retail sales growth rate in May was the highest in nearly six years.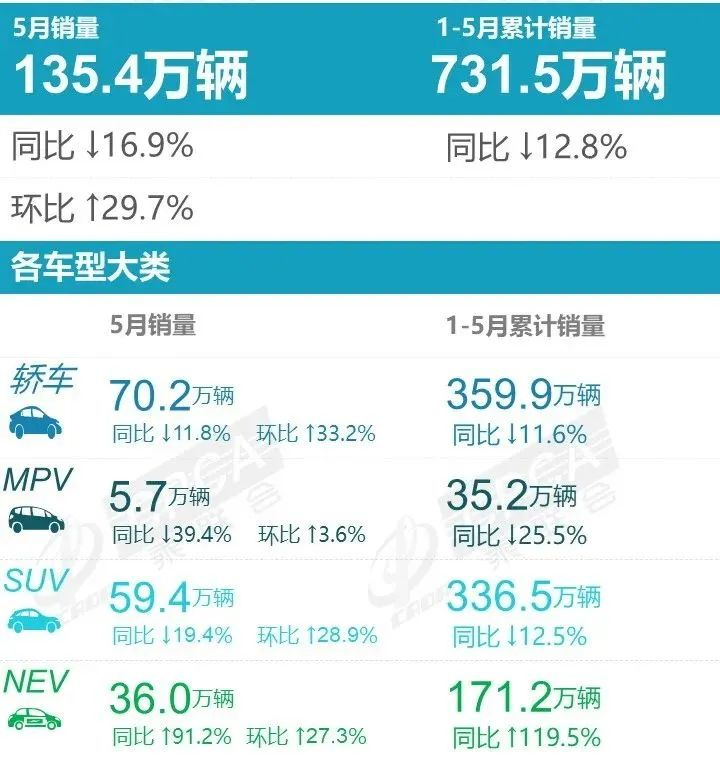 In terms of specific data, the production and sales of the four major types of passenger cars (sedans, SUVs, MPVs, and crossover passenger cars) in May all showed rapid growth on a month-on-month basis. Sedans increased by 81.3% and 73.6%, respectively, while SUVs increased by 67.4% and 65%, respectively.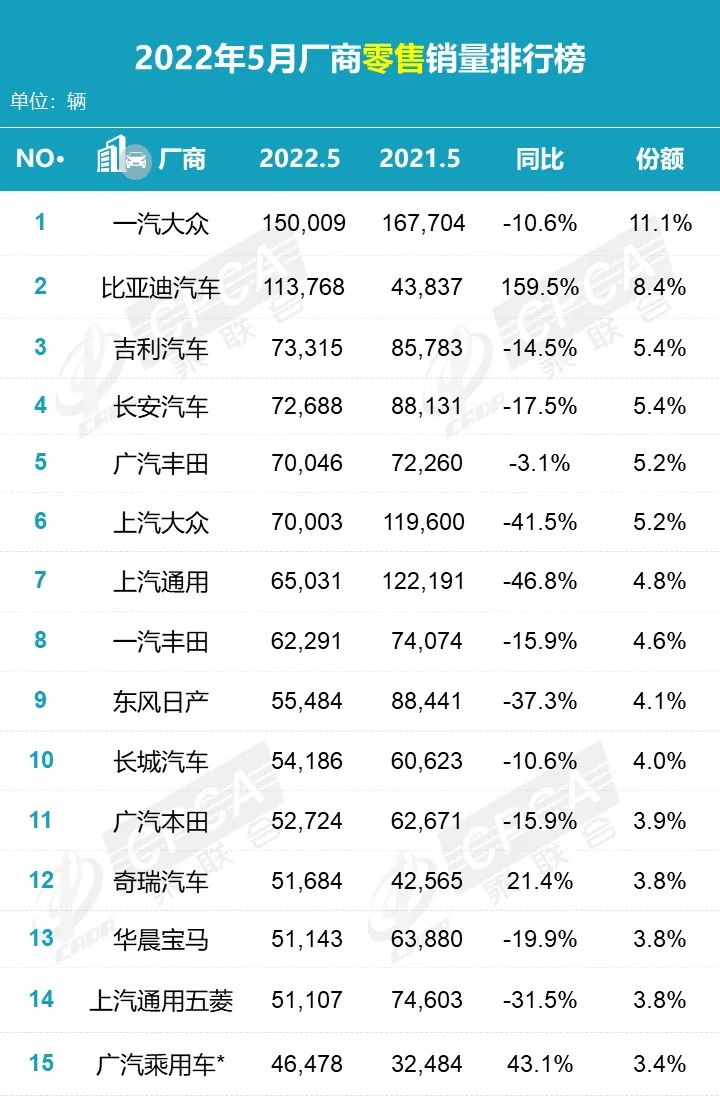 In terms of specific manufacturers, thanks to the significant control of the epidemic situation and the orderly and effective resumption of work, production, and sales across the country, especially the introduction of a combination of policies, the automobile industry is experiencing a rapid recovery process. In April, nearly all the data of the joint venture brands including FAW-Volkswagen, SAIC Volkswagen, and SAIC-GM, which had almost halved in sales, have been comprehensively improved. In particular, FAW-Volkswagen surpassed BYD with a sales volume of 150,009, regaining the championship position.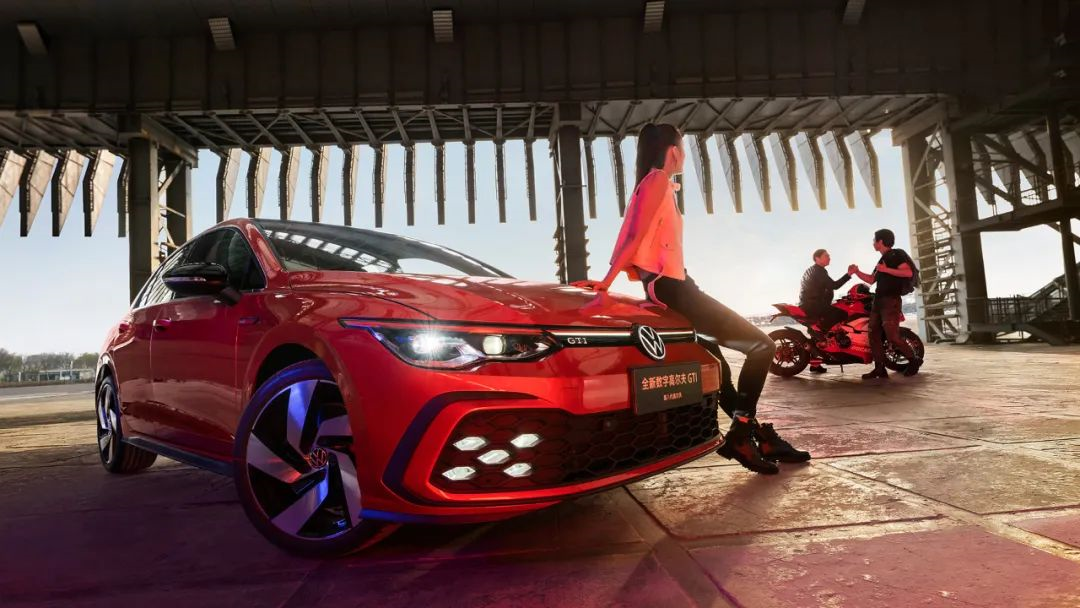 Byd, as the current "popular brand", ranked second with 113,786 vehicles sold, and a year-on-year growth rate of 159.5% fully demonstrates its strong market recognition, with a market share of 8.4%, which can be regarded as a milestone for domestic brands.
Independent brands make a perfect comeback
In terms of sales of segmented models, the sales of domestic passenger car market reached 702,000 vehicles in May, a year-on-year decrease of 11.8%, and a month-on-month increase of 3.2%. The cumulative sales of January to May was 3.599 million vehicles, a year-on-year decrease of 11.6%.
The Wuling Hongguang MINIEV surpassed the long-time champion Dongfeng Nissan Sylphy again with the amazing count of 29,169 vehicles sold. Although still in the second place, the year-on-year sales decline of 30.7% of the Sylphy makes its position precarious at any time and might be surpassed by BYD Han (sales volume: 23,934 vehicles, year-on-year growth rate: 191.4%), the third place.
It is worth mentioning that BYD Qin, which was originally ranked third in April, was surprisingly surpassed by its sibling the BYD Han in May, and dropped to fifth place (sales volume: 20,753 vehicles).
FAW-VW Bora and Sagitar also showed obvious signs of recovery, while Volkswagen Magotan performed strongly. With a significant terminal discount, it achieved a good result of 15,687 vehicles sold, further narrowing the gap with Toyota Camry (sales volume: 16,694 vehicles) and surpassing GAC Honda Accord (sales volume: 14,053 vehicles) and Dongfeng Nissan Teana.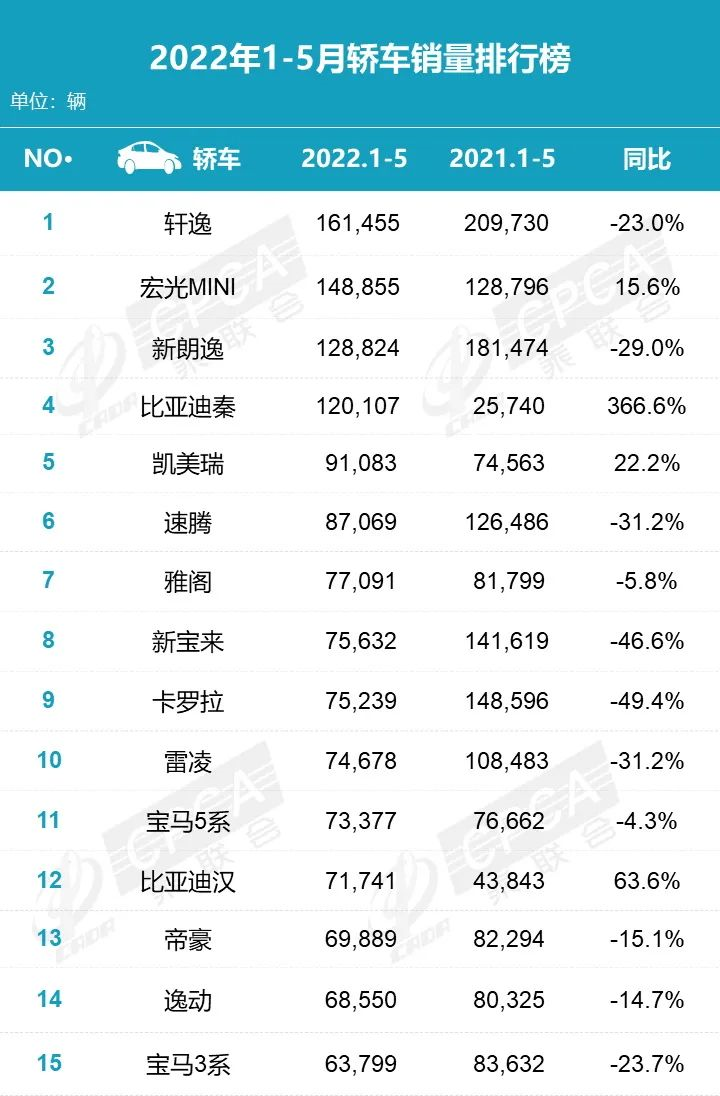 In terms of cumulative sales from January to May, although the Sylphy won the championship with cumulative sales of 161,455 vehicles, the second-placed Wuling Hongguang MINIEV (sales volume: 148,855 vehicles) is accelerating the narrowing of the gap. The third place is expected to be taken by the Volkswagen Lavida coming from SAIC-VW. Moreover, BYD Han seems to be coveting the position of BMW 5 series in the follow-up rankings.
Joint ventures express "cannot afford to play"In terms of SUV sales performance, the sales volume in May reached 594,000, a year-on-year decrease of 19.4% but a month-on-month increase of 28.9%; meanwhile, the cumulative sales volume from January to May was 3.365 million, a year-on-year decrease of 12.5%.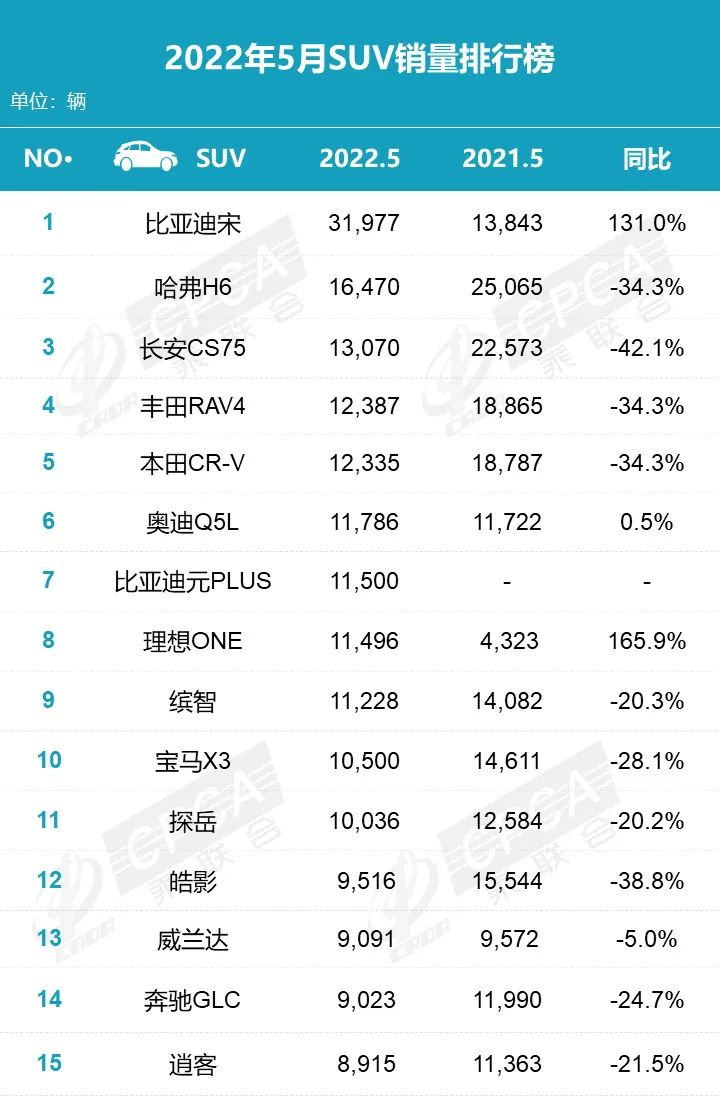 Among them, the top three are all occupied by domestic brands, especially the first-place BYD Song exhibiting a dominant posture, with a sales volume of 31,977 in May alone, nearly twice that of the second-place Haval H6 (16,470); while the third place is Chang'an CS75 (11,598), which, however, still has a large gap in sales volume compared to the same period last year, with a year-on-year decline of more than 30%. Furthermore, there were still no Gelly models in the top fifteen SUV sales chart in May.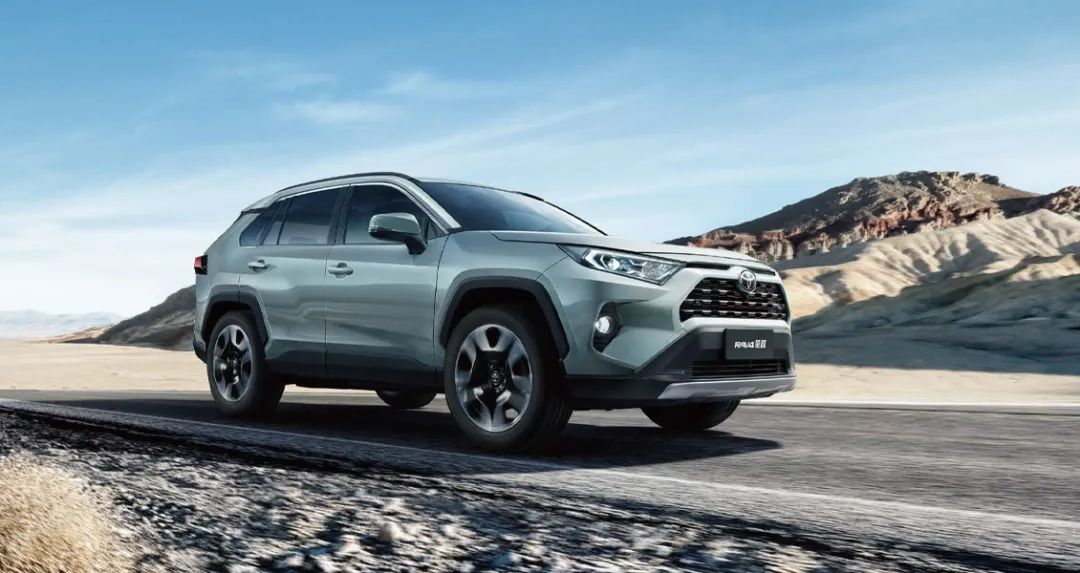 The Toyota RAV4 surprisingly entered the top five and surpassed the Honda CR-V, becoming the sales champion of joint venture SUVs. In addition, Idean ONE's production capacity is gradually recovering, and sales have returned to the monthly delivery of ten thousand cars club.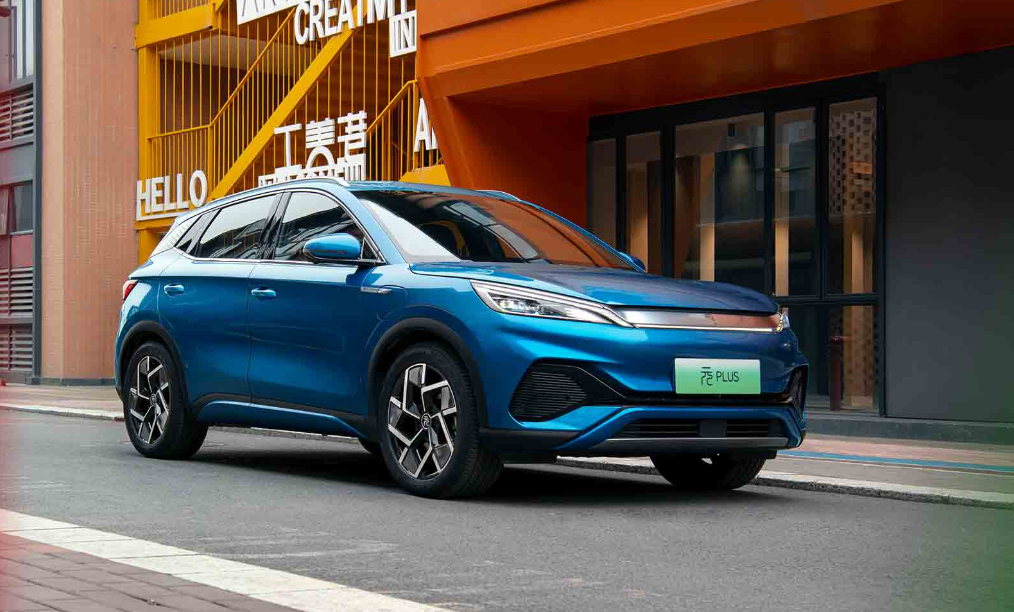 Besides BYD Song, BYD's Yuan PLUS also achieved a sales volume of over ten thousand (11,500). After product upgrades, Yuan PLUS's almost perfect product strength has regained market recognition, and it has also become the only model in the subcompact SUV segment that can compete with joint venture brands such as Honda Vezel.
In the cumulative sales chart of SUVs from January to May, BYD Song still ranks first, with a cumulative sales volume of 130,786, a year-on-year increase of 111.2%; Haval H6 and Chang'an CS75 still occupy the second and third places, respectively; while Model Y ranks fifth with a score of 81,516 and becomes the sales champion of luxury SUVs.
Luxury Brands in Full Swing
After experiencing a sharp decline in April, luxury brands welcomed a comprehensive recovery in May.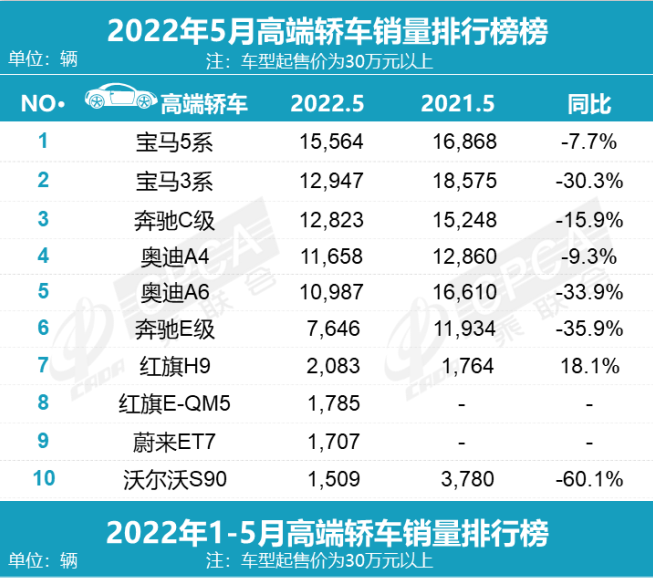 The BMW 5 Series, despite experiencing a "Waterloo" in April, still demonstrated its king status in May with 15,564 units sold, regaining the top spot on the luxury car sales chart.
Meanwhile, its younger brother, the BMW 3 Series (sales: 12,947 units), also took second place; however, with a 30.3% year-on-year decrease in sales, combined with recent heavy discounts on the Mercedes-Benz C-Class (sales: 12,823 units) and Audi A4L (sales: 11,658 units), the runner-up position is precarious.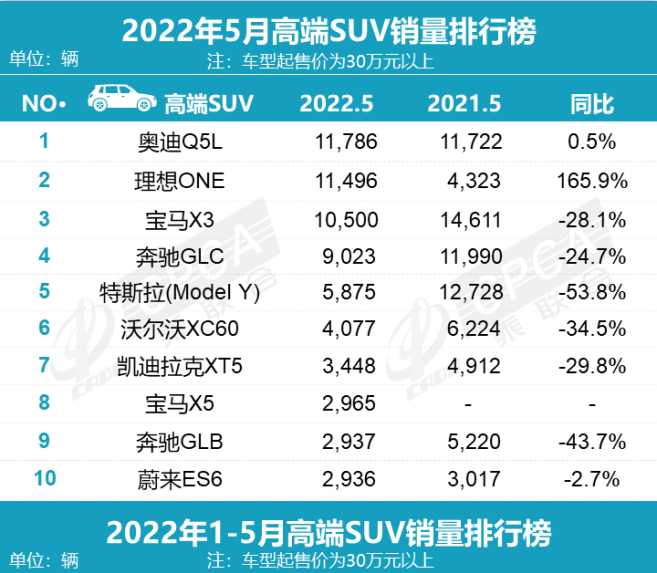 In terms of luxury SUVs, as the impact of the epidemic gradually dissipates, the little-known Audi Q5L surged into the top 6 of May's SUV sales chart with 11,786 units sold, a 0.5% year-on-year increase, and became the top seller in the luxury SUV market. Meanwhile, the two old rivals, the BMW X3 (sales: 10,500 units) and the Mercedes GLC (sales: 9023 units), both took third and fourth place, respectively.
In addition, the domestic BMW X5, which was launched in March, also entered the top 10 for the first time with sales of 2965 units, ranking eighth.
As for the perennial winner, the Tesla Model Y, due to the factory shutdown in April, it was almost invisible in the luxury SUV sales chart, yet as production gradually recovered in May, it secured the fifth spot with monthly sales of 5875 units and a year-on-year decline of 53.8%.
However, in terms of total sales from January to May, the Tesla Model Y still ranks first thanks to its strong performance in the first quarter, followed closely by the Mercedes-Benz GLC, which leads the BMW X3 by over 5,000 units. For second-tier luxury brands, it seems that there is little obvious change in sales ranking.
It is evident that both luxury sedans and SUVs have fully recovered in the market, especially the luxury SUV market which has experienced an explosive growth. With the implementation of relevant subsidy policies and the full connectivity of the supply chain, it is believed that sales of luxury brands will soon recover to pre-pandemic levels.
BYD Is Able to Compete
Supported by oil prices and various policies, the new energy vehicle (NEV) market continued to show strong growth in May, with sales reaching 360,000 units, up 91.2% YoY and 26.9% MoM; and the cumulative data from January to May reached 1.712 million units, up 119.5% YoY. According to monthly change patterns, the annual production and sales in 2022 are expected to exceed 5 million units.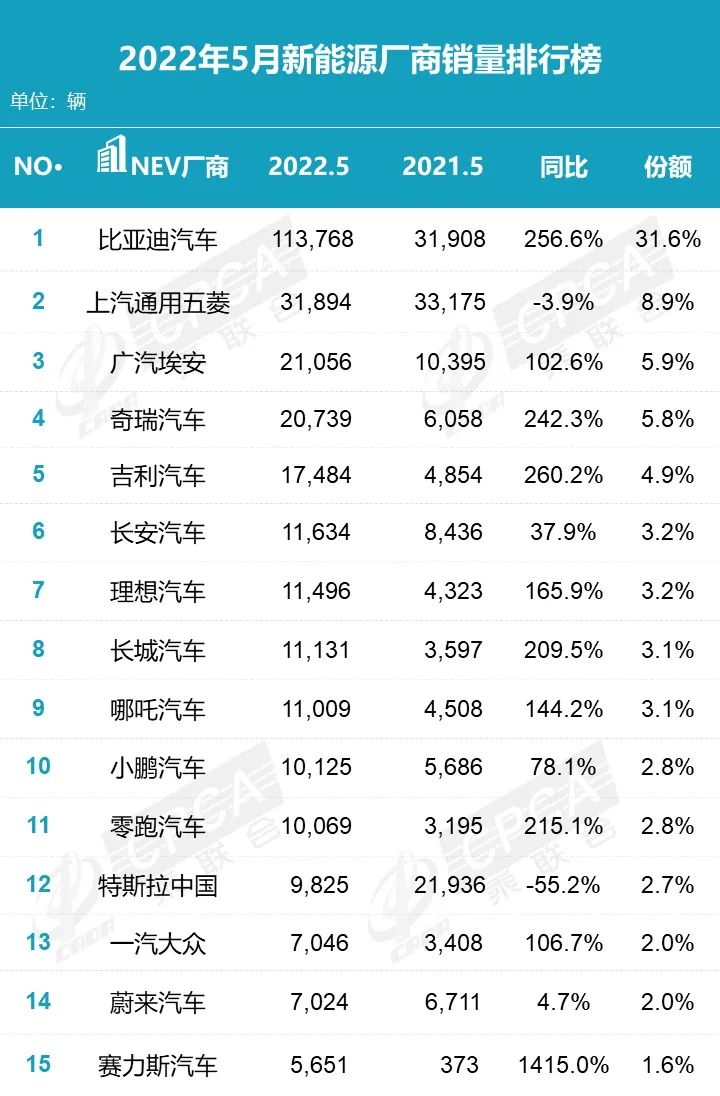 The force behind the "high growth" is BYD's sales record of 113,768 units, up 256.6% YoY, and a market share of 31.6% that other brands can only dream of. In addition to traditional car companies pushing for the production and sale of NEVs, emerging car companies have also quickly bounced back in May, with Ideal, NIO, XPeng, and Leapmotor all selling more than 10,000 units in the month, with a significant increase in MoM growth rate.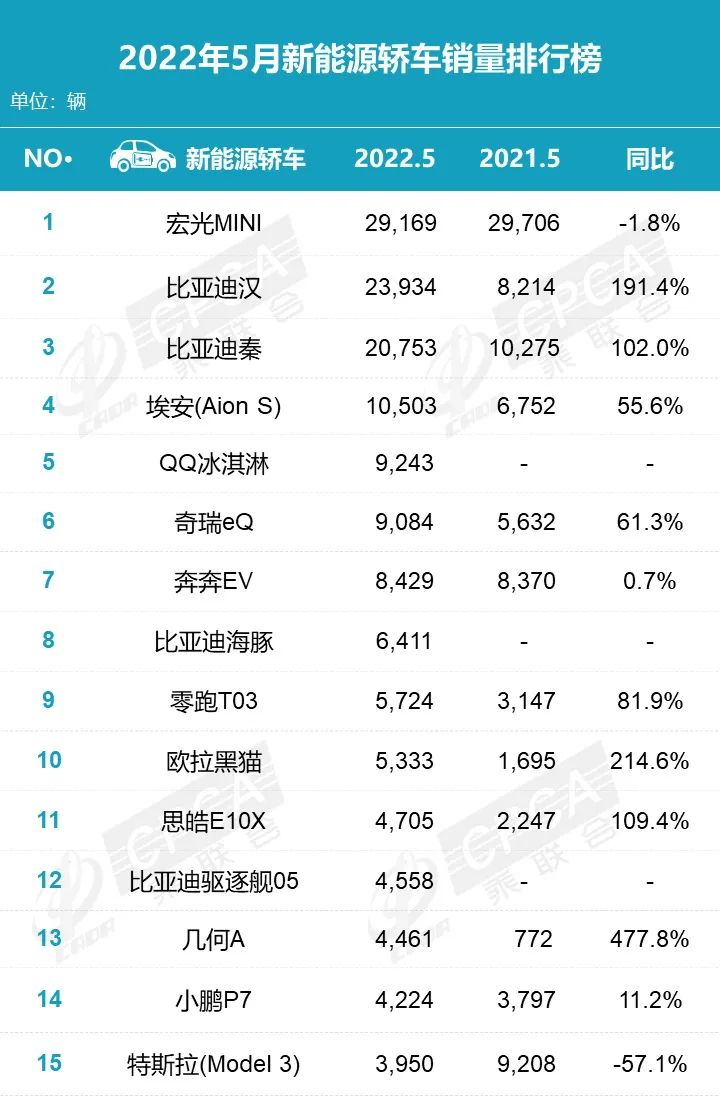 In terms of NEV sedans, Wuling Hongguang MINIEV is still the leader, with sales of 29,169 units in May, a YoY decrease of 1.8%. The second and third places are both taken by BYD Han (sales: 23,934 units, a YoY increase of 191.4%) and BYD Qin New Energy (sales: 20,735 units, a YoY increase of 102.0%).
In terms of NEV SUVs, BYD Song New Energy (sales: 31,977 units, a YoY increase of 592.4%) is the undisputed leader, followed by its own younger brother Yuan PLUS (sales: 11,500 units), and Ideal ONE, a new force brand (sales: 11,496 units, a YoY increase of 165.9%). It is worth mentioning that due to the influence of Huawei, Wanjie M5 also made it into the top ten this month with a record of 5,033 units, and the cumulative delivery volume from January to May also reached 13,199 units.
After the Tesla factory resumes normal production, it may further boost the sales of domestic new energy vehicles, and at that time, the "war" between BYD and Tesla will become the annual drama.
This article is a translation by ChatGPT of a Chinese report from 42HOW. If you have any questions about it, please email bd@42how.com.